---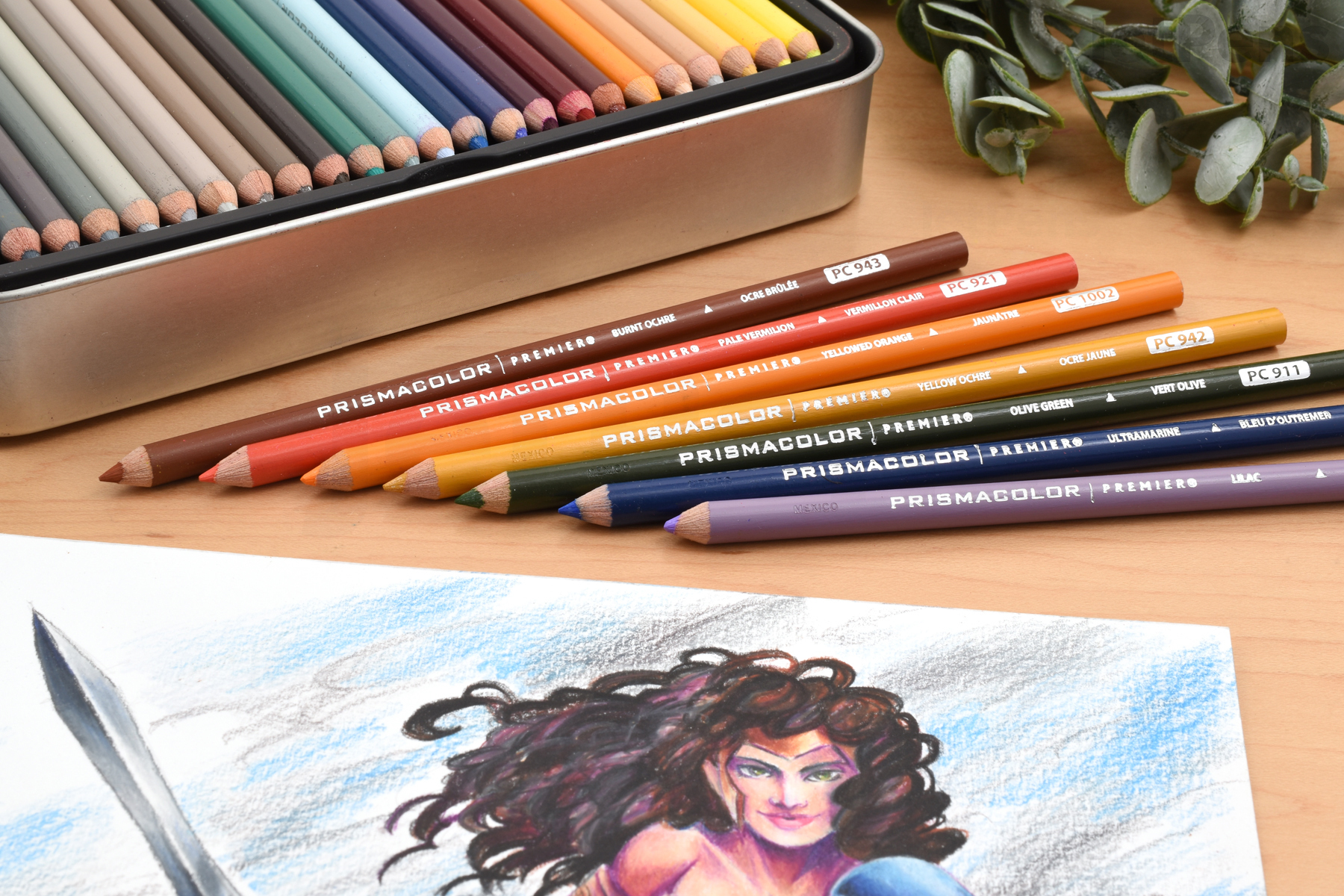 As simple as they seem, colored pencils are a foundational part of any art kit.
Their intuitive design has made them a favorite family art supply, but colored pencils also come in artist-quality varieties that are as far removed from basic pencils as sports cars are to go carts. These performance colored pencils allow artists a fine degree of control over texture and detail, creating endless possibilities for sophisticated drawings.
Like watercolors, colored pencils can be blended and layered together to develop complex hues. They also require few supplies, are low maintenance, and have no risk of stains or spills. This makes them ideal for both traveling artists and beginners: a pencil set, sketchbook, sharpener, and eraser are all you need for most colored pencil techniques. Keep reading to see what to look for in a colored pencil, our top colored pencil recommendations, tips on how to use colored pencils, and detailed test results for opacity, erasability, solubility, and more.
TOP CHOICE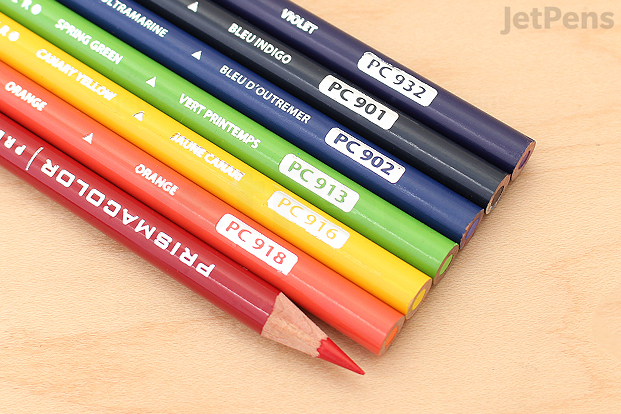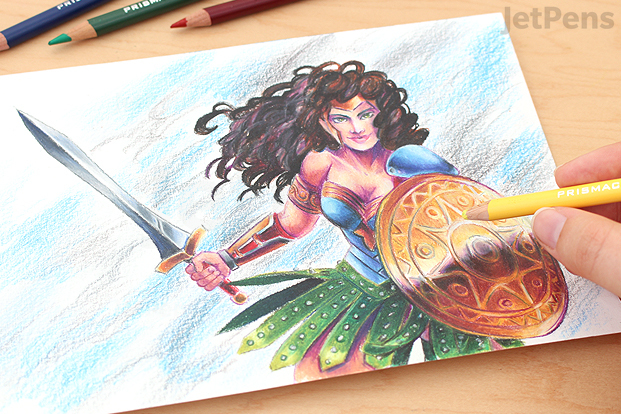 If you want one set of colored pencils that will work for almost any project, go with Prismacolor Premier Color Pencils. They come in a set of 72 vivid colors with extremely soft wax cores that apply smoothly and can easily achieve full coverage. We especially love them for blending and burnishing. In testing, we found that layers of color almost melted together with very little effort. Because they are so soft, Prismacolor Premiers lose their points quickly and may leave crumbs on the paper. Their wax binders also make them vulnerable to wax bloom, a gradual oxidation process where wax rises to the surface of a drawing, leaving a pale film. However, this is possible with all wax-based pencils, and using fixative or dabbing gently with a cloth are simple fixes. Prismacolor Premiers are highly opaque and suitable for colored paper as well as other papers like coloring books and sketchbooks.
WHY BUY GOOD COLORED PENCILS?
High-quality colored pencils are worth the investment for a simple reason: they allow you to appreciate the full range of what colored pencils can do. Colored pencils come in student, scholastic, and artist grade, which have increasingly high ratios of pigment to filler. If you've ever used colored pencils and found them frustrating and dull, you were probably using student-grade pencils. Artist-grade pencils are not only more vivid, but have improved blending, layering, and coverage. Better pencils make it easier to get an image from your mind to paper, and they're just more fun to play with.
COLORED PENCIL ACCESSORIES
HOW TO USE COLORED PENCILS
How to Color with Colored Pencils
If you're used to drawing with graphite pencils, you might already be familiar with some of these techniques. Try all of these methods with light pressure first.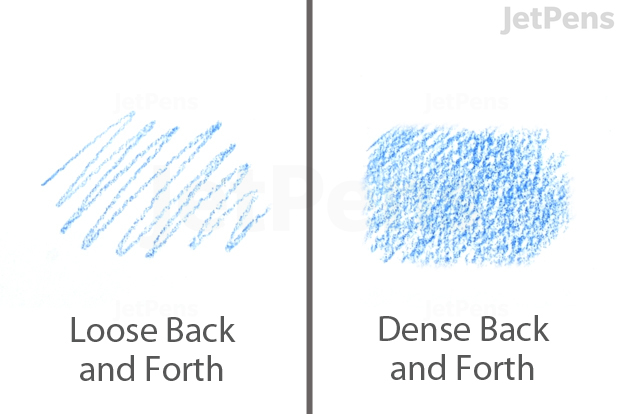 Back and Forth Stroke
Make one continuous stroke back and forth like a very quick zig-zag. This is the simplest method for covering an area.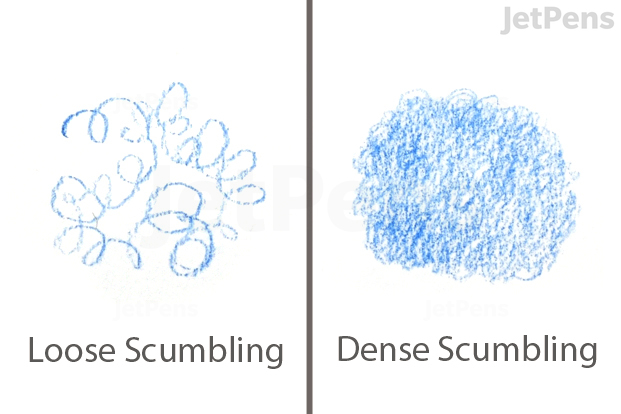 Scumbling
Tiny overlapping loop-de-loops give a smooth, soft texture.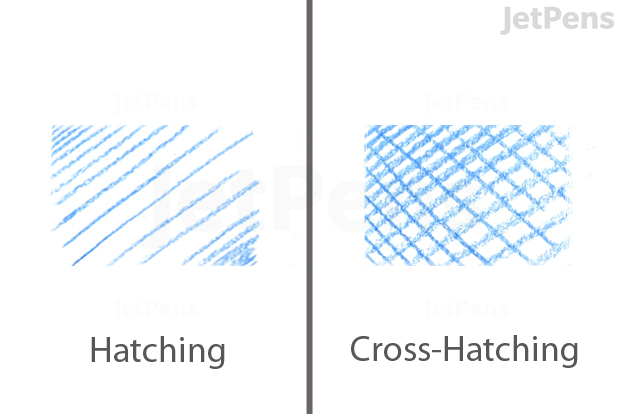 Hatching and Cross-Hatching
Hatch with parallel lines (straight or curving around your shape) or turn hatching into cross-hatching with another layer of lines on top.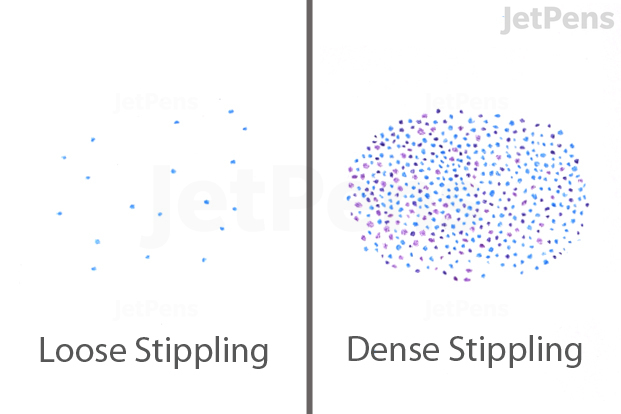 Stippling
Cover an area with tiny dots. Pack them closely or space them out to control intensity of color. We think stippling with multiple hues looks cool.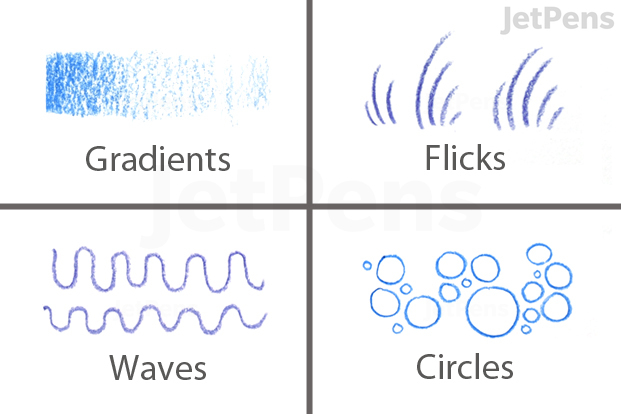 Exercises to gain confidence and control
Practice gradients, flicks, waves and circles to get used to your new pencils.
How To Choose Colors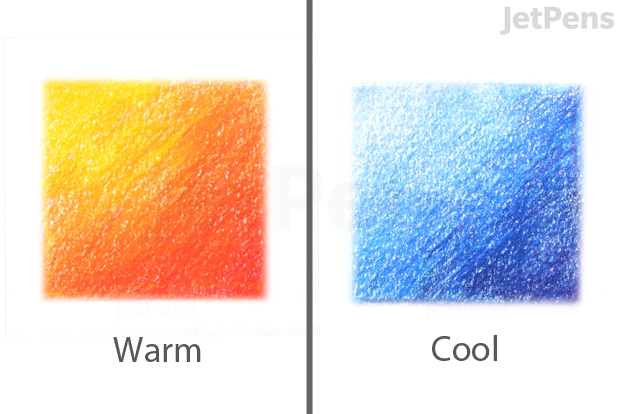 Even when you're drawing from life or a photo, picking colors doesn't need to be painstaking. If you correctly place your values (levels of light and dark), you're most of the way to a great drawing. The next consideration is color temperature. Warm colors are closer to red and yellow, while cool colors are closer to blue. Value and temperature together are almost all of the battle!
If you're drawing with a limited range of colors, be sure it includes dark, light, warm and cool. Layering warm and cool pencils will give you a neutral hue. Neutrals are a necessary part of the balance of any composition—don't neglect them.
Temperature is closely related to complementary colors, colors opposite to each other on a color wheel. Complementary colors will always lose vividness if you layer them, but you can choose to do so to create black and brown hues with more depth. To layer colors without creating a neutral hue, choose analogous colors, adjacent on the color wheel, which stay vivid.
"Analogous" and "complementary" are simplified terms. Here's a quick glimpse of the science behind layering pencils:
When white light shines onto a pigment, the pigment reflects colored light that hits your eye and absorbs all other colors of light. For example, the mark made by a green pencil reflects green light and absorbs all other wavelengths.
White pigment reflects almost all light, while black pigment absorbs almost all light.
When you layer non-opaque pigments, you add their absorptive properties together. When layering pigments that reflect similar wavelengths, your result is a vivid color. When layering pigments that would normally reflect very different wavelengths, that mixture absorbs a wider spectrum, reflecting less light, and you end up with a result that looks like black.
Shadows are always tinted the complementary color of the light that cast them. This isn't an art rule, just a rule of the laws of physics. Here's a tip for drawing in nature: yellow-orange sunlight casts cool blue shadows (but keep an eye out for any other light reflecting into those blue shadows, like warm light bouncing off the ground).
How to Layer Colored Pencils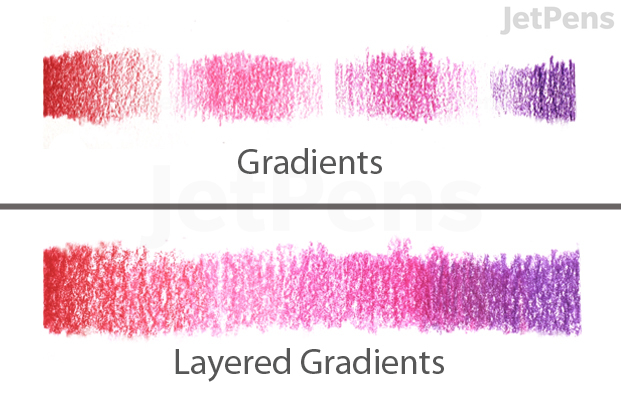 Layering colored pencils is essential for a vibrant finished piece. We recommend beginning your drawing with lighter colors. It's easier to add dark on top of light, and light colors are more forgiving for a starting sketch. Then, layer your colors with gentle pressure.
Use gentle pressure for more control over your results, and to preserve the tooth of the paper, which allows you to add more pigment later. When blending one color into another, gradually decrease your pressure to fade edges and blend smoothly. Frequently switch back and forth between the colors you're blending and layer lightly again and again to build color intensity and even coverage.
The opacity of your pencils' cores will affect how your layers build. Less opaque pencils will end up with greater depth of color, as new layers show through more to the ones below.
Combining different brands and types of colored pencils can benefit a drawing. Hard pencils will be better for details, soft pencils will be better for coverage, and you might want to include a color only made by one brand. But don't switch between hard and soft pencils accidentally—if you get used to one range of pressure, it won't have the same effect with a different lead hardness.
How to Burnish Colored Pencils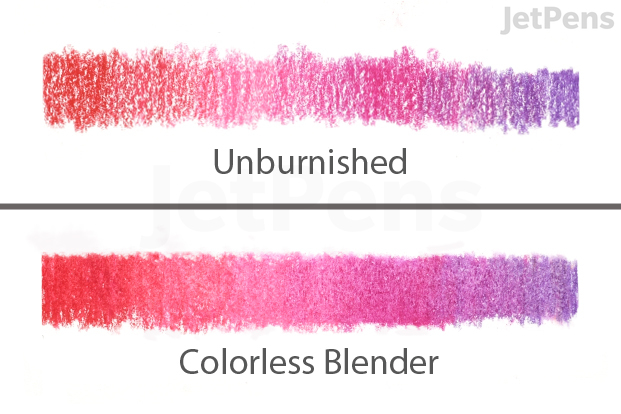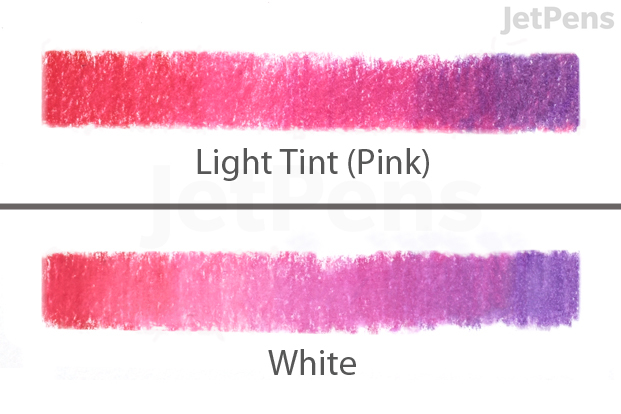 As we mentioned earlier in this guide, burnishing is achieved simply by layering with heavy pressure until no paper shows through. It compresses the fibers of your paper, making it harder to add additional pigment, and the end product is shiny and smooth.
You can burnish a drawing with any colored pencil, but most will affect the hues of your careful blending and layering. The all-purpose option is a colorless blender pencil (not included in sets). A colorless blender saves overuse of your other pencils, creates the brightest burnished colors, smooths out gradients, and preserves complex mixes of color. You can also use white or a light tint, like cream, pale pink, or blue. If this washes out your drawing, you can layer your original colors on top in a two-step burnishing process.
Finishing Your Drawing
Smooth out your lines.The eye is drawn to sudden changes. Double-check that none of your lines are wavering, jagged, broken, or unfinished, and give them a touch-up if they are.
Create confident edges. Make sure your areas of color touch, either blending into each other or with firm divisions. Don't leave any gaps.
Fill with color. Use layering or burnishing techniques to make sure color fills aren't patchy.
What to Draw
A still life of your favorite objects. Collect one or two of your most beloved possessions—it's fun to draw things that you love.
Observational sketches. Go outside and draw what you see! Sunlight provides a great opportunity to practice color temperature, and making quick drawings means you can quickly improve.
An existing drawing or painting you're fond of. Keep an eye out for dark, light, and color temperature. Search the Internet and find a challenge to undertake.
TEST RESULTS
We tested all of our colored pencil lines to help you choose the best option for your use. Since each colored pencil line can contain dozens of colors, we chose to compare similar hues from each line rather than test every pencil color. We separated our tests into two tables: general properties and solubility. These traits will affect your options while drawing.
General Properties
All tests except opacity were performed with representative reds from each pencil line.
Swatch: We shaded each swatch from soft to hard pressure to show the full range of shading available.
Erasing: We erased the center of each swatch with a Sakura Foam Eraser.
Smudging: We rubbed half swatches with a finger to see how much color would smudge.
Opacity: We swatched white pencils on black paper to see how opaque the pencils were. If a line did not include white, we used the lightest available substitute.
Crumbling: We made a partial swatch with hard pressure and photographed the crumbs left on the paper. Crumbs won't affect your drawing if gently brushed away, but they do indicate a pencil will get used up more quickly and have a shorter lifespan.
Click here to see our full general property testing results.
Click here to hide our full general property testing results.
Solubility
All tests were performed with representative reds from each pencil line.
Swatch: We shaded each swatch from soft to hard pressure to show the full range of shading available.
Water: We drew over the swatches with a water brush.
Odorless Mineral Spirits (OMS): We drew over the swatches with odorless mineral spirits.
Ink: We drew over the swatches with a Pentel Pocket Brush Pen and Copic Multiliner SP Pen.
Click here to see our full solubility testing results.
Click here to hide our full solubility testing results.
Our writers draw on their personal expertise, consult our in-house subject matter experts, and do extensive research to make our guides as accurate and comprehensive as possible. We then test every finding that makes it through the research stage. Only the techniques and tools whose performance we personally confirm make it into our guides as recommendations.
CONCLUSION
Colored pencils are easy to get started with yet full of potential. Whether you prefer sketching on the go, drawing detailed portraits, or coloring for stress relief, these versatile and high-quality tools deserve a place in your art kit.
Name
Colors
Set Sizes2
Hardness
Price
Blackwing Colors
12
12
Soft
$$
Caran d'Ache Museum Aquarelle
76
N/A
Soft
$$$$
Caran d'Ache Sketcher
1
N/A
Medium
$$$
Faber-Castell Albrecht Dürer Watercolor Pencils
120
6, 12, 24, 36,
60, 120
Medium
$$$
Faber-Castell Polychromos
120
24,36
Soft
$$
Pilot FriXion Colored Pencils for Adults
24
12, 24
Medium
$$$
Prismacolor Col-Erase
25
12, 24
Hard
$
Prismacolor Premier
72
72
Soft
$$
Prismacolor Verithin
41
24, 36
Hard
$
Tombow Irojiten
90
30, 36
Medium
$
Uni Arterase
36
12, 24, 36
Medium
$$$
Uni Pericia
36
12, 24, 36
Soft
$$$
Uni No.888
36
36
Soft
$
Uni Vermilion and Prussian Blue
2
N/A
Medium
$
Notes
1Artists use odorless mineral spirits as a milder substitute for turpentine. Despite the name, they do give off fumes. Only use them in a well-ventilated room.
2Set sizes listed are limited to sets carried by JetPens.
---
---