---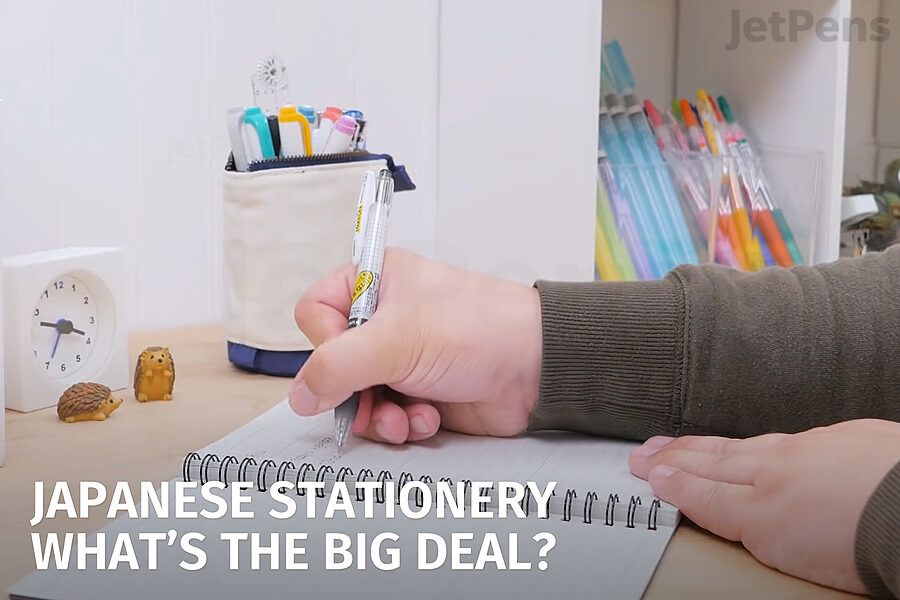 Japanese stationery is having a moment. A quick glance around the sea of blogs and social media posts about planners, study tools, calligraphy, and journaling reveals a love for Japanese writing instruments that spans the globe. Japan's reputation for technological advancement and quality is reflected in their humble pens and stationery. In this guide, we'll explain why Japanese stationery consistently dominates "best of" lists worldwide and show you some of our favorite Japanese pens and stationery.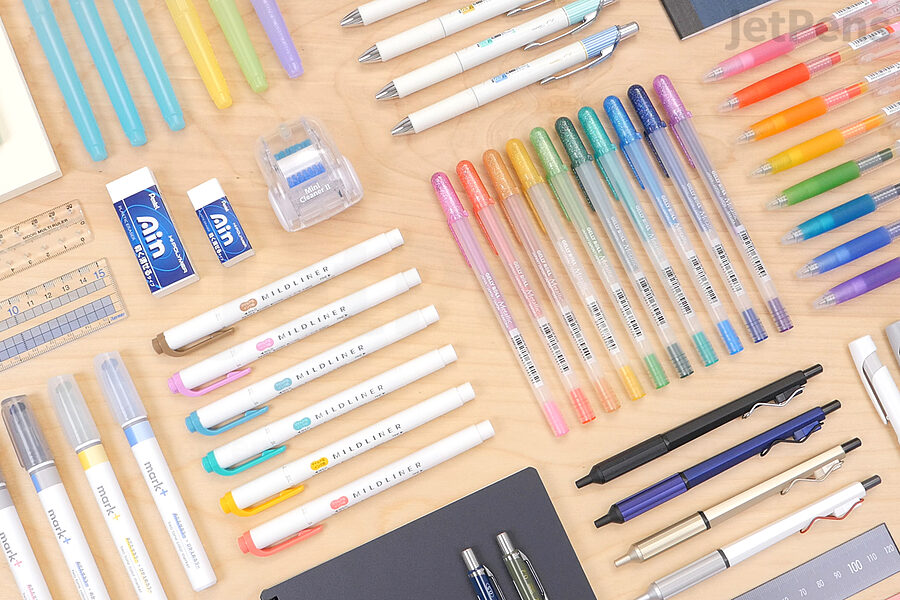 WHY IS JAPANESE STATIONERY SPECIAL?
Quality, Design, and Innovation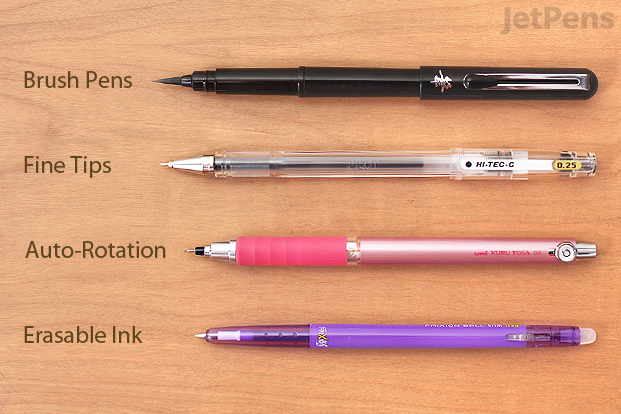 Japanese stationery is primarily known for its thoughtful design and excellent quality. This is because Japanese customers demand a lot of their stationery and manufacturers respond accordingly. Dedicated teams of designers and engineers scrutinize the smallest details to make products that are practical, attractive, and reliable. Even inexpensive items are usually well made. The competitive Japanese stationery market leads manufacturers to constantly innovate by improving existing product lines and inventing new ones.
A Focus on Writing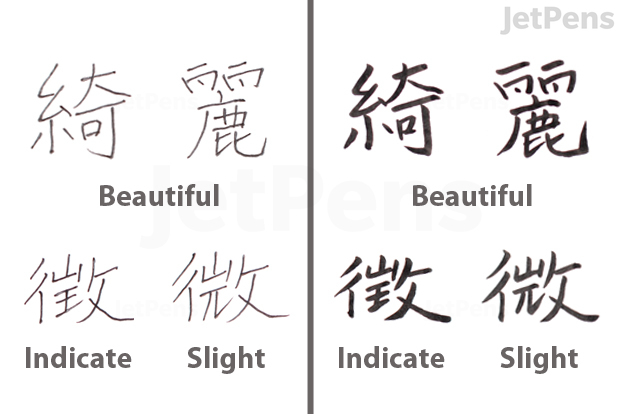 Some of these high expectations may stem from Japan's strong tradition of calligraphy. This tradition admires beautiful penmanship as art. Children continue to learn calligraphy, or shodo, in school. Japanese calligraphy requires superior writing materials that facilitate subtle stroke endings, called tome (full stops), hane (small hooks), and harai (sweeping strokes). It's not surprising if this emphasis on writing from a young age leads to a lifelong appreciation for fine writing materials.
Even ordinary Japanese writing benefits from tools with specific characteristics. It uses characters, some of which are very detailed and can look similar to others. Japanese pens often have astonishingly tiny tips that are far smaller than anything made by Western manufacturers. This keeps intricate characters tidy and readable, even when written at a small size.
FINE-TIP JAPANESE PENS
Japanese pens usually come in very small tip sizes. This helps people all over the world write in small spaces like calendar squares. Finer pen tips are naturally scratchier, but Japanese manufacturers have engineered advanced pen tips and inks for a remarkably smooth experience. This also applies to Japanese fountain pens, which almost always have finer nibs than their Western counterparts.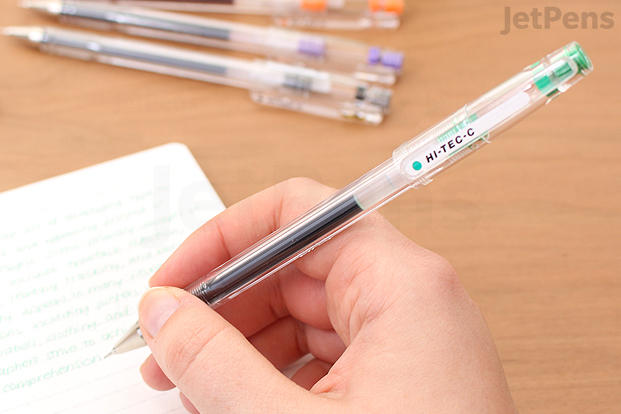 The
Pilot Hi-Tec-C
is a needle-point wonder. It combines a revolving carbide ball that reduces writing friction with a high-viscosity biopolymer ink that resists feathering and bleeding. Its 0.25 mm tip makes it the go-to pen for people who demand the finest of fine tips, although it is also available in sizes up to 0.5 mm. It comes in 15 colors and several body styles, including a
multi pen
called the
Coleto
. This
customizable multi pen
allows students, artists and planner people to choose up to five components in the colors and tip sizes of their choice. Read our
Comprehensive Guide to the Hi-Tec-C
to learn about each version of this classic pen.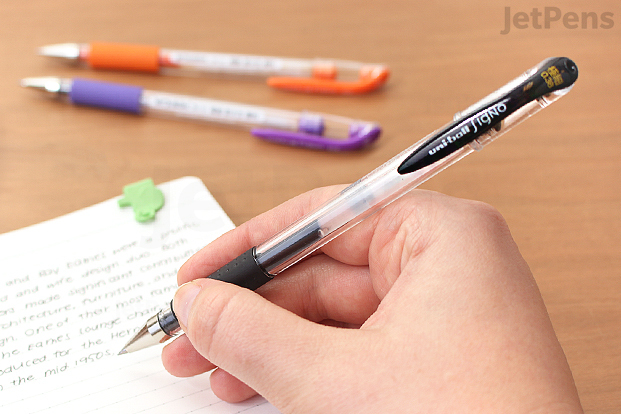 The
Uni-ball Signo
is the Hi-Tec-C's arch-nemesis. It uses an equally highly-engineered ink and tip to match - or some would say, exceed - the smoothness of its rival. The Signo's finest tip is 0.28 mm, but the 0.38 mm size is by far the most popular for its balance of fineness and smoothness. Most Signos use a conical tip. This is less precise than a needle tip, but it is more durable and easier to use when writing at an angle. In 2017, Uni released a
needle-tip variant
of the Signo with a flared base for added strength. Uni also makes a
customizable multi pen
, called the
Uni Style Fit
, which can use either Signo ink or Uni's super-smooth Jetstream ballpoint ink. Our
Comprehensive Guide to the Uni-ball Signo
profiles each version of the Signo to help you pick the right one.
JAPANESE GEL PENS
You can find gel pens everywhere. They are almost always smooth, reliable, and intensely pigmented, especially when compared to ballpoint and rollerball pens. That explains why one of the most popular pens in the United States, the Pilot G2, is a Japanese gel pen. So are the Pilot Hi-Tec-C and Uni-ball Signo. Although they are now commonplace, gel pens were invented very recently - by Japanese manufacturer Sakura.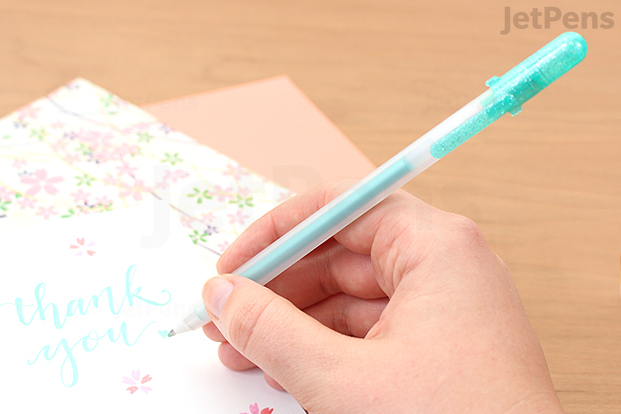 Sakura set out to develop an ink formula that was smoother than ballpoints, less runny than rollerballs, and less sensitive to storage position than either. The answer lay in gels' ability to be solid at rest and liquid when distributed. After carefully refining its ink formula and pen design, Sakura released the
Ballsign
in 1984. It quickly became popular in Japan, and the Ballsign was introduced to the United States a few years later under a new name: the
Gelly Roll
. This early gel pen delighted the children of the '90s and is now a crafting favorite available in many
different finishes
.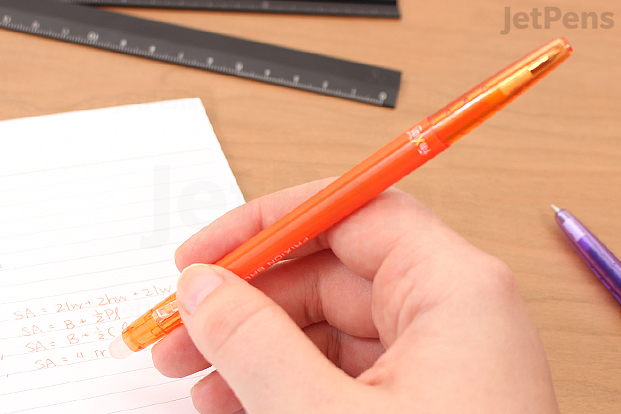 The
Pilot FriXion
is the most astonishing Japanese gel pen currently available. It features innovative erasable ink that disappears when hot. Each pen comes with a hard rubber eraser that generates heat with friction. This has made it popular with students, planner people, and others who appreciate the flexibility - and magic - of
erasable ink
. Over time, Pilot has expanded their line of FriXion products to include a wide range of colors and styles. These include
multi pens
, pens that
imitate colored pencils
,
markers
,
highlighters
, and
stamps
.
JAPANESE BRUSH PENS
Japanese is traditionally written with a brush. Brushes give tremendous possibilities in terms of line variation and expressiveness, but brushes aren't nearly as easy to carry as modern pens. Enter the brush pen. Brush pens do for brushes what the fountain pen did for dip pens by combining a brush tip with a built-in ink reservoir for convenient use. Brush pen tips can be made with felt, synthetic hair, and even real hair. Each material offers different characteristics for calligraphers and artists alike.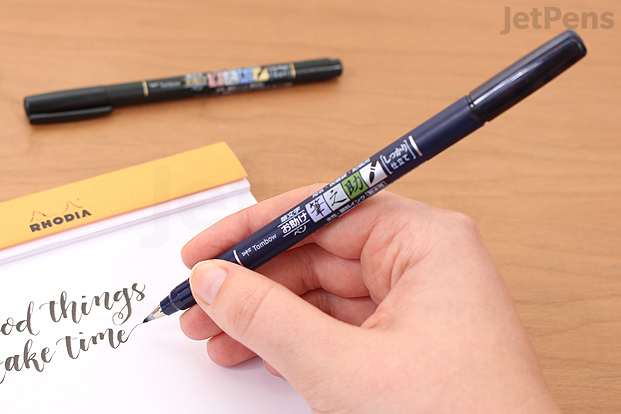 Tombow Fudenosuke Brush Pens
feature an elastic tip that gives users great control over their strokes. This allows them to make thin or thick lines easily. They are made for writing kanji, but their flexible tips also make them an excellent choice for brush lettering, drawing, and sketchnotes. Tombow Fudenosuke Brush Pens come in soft tips for more expressiveness and hard tips for smaller, more precise writing. The hard tipped pen is also especially suitable for beginners. Check out our
Guide to Brush Lettering for Beginners
to learn more about brush pens and lettering.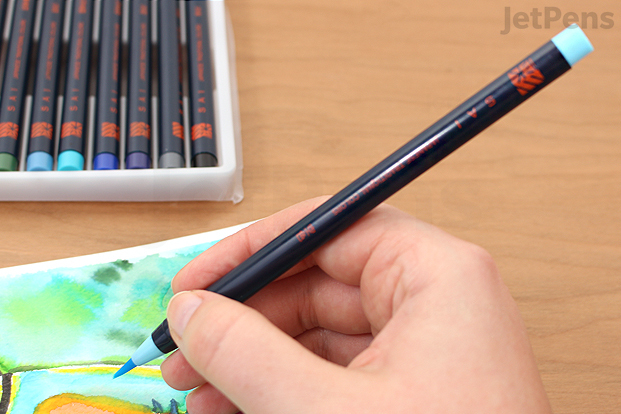 Although they were originally developed for calligraphy, brush pens are also great for art. They hold ink in an easily-transportable form and require very little cleanup, so artists can work wherever they happen to be.
Akashiya Sai Watercolor Brush Pens
use beautiful water-soluble ink that allows artists to produce gradients and easily blend colors. The synthetic bristles give a similar feel to regular brushes. In testament to their ingenious design, these brushes won the 2007 Stationery of the Year award from ISOT, the largest stationery and office products trade fair in Japan. You can read more about them in our Guides to
Choosing a Brush Pen for Art
and
Watercolor Supplies
.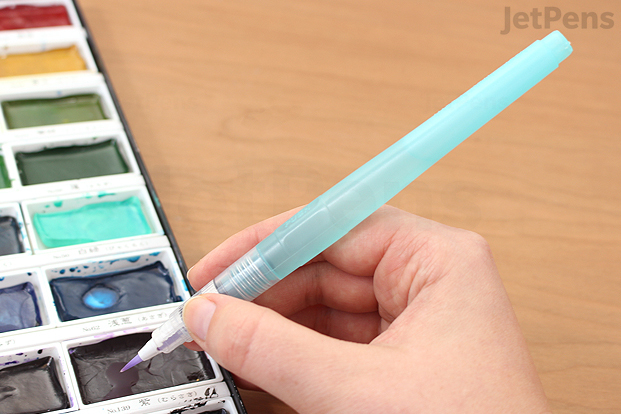 Water brushes
are similar to other brush pens, but instead of holding ink or paint, they hold plain water for use with watercolors and other water-soluble mediums. This lets artists use their regular paints and inks almost anywhere without lots of other equipment. Several Japanese companies produce water brushes, but
Kuretake Water Brushes
are excellent representatives of the field. They come in several different sizes and tip shapes, including an unusual
flat head brush
that is ideal for washes. Take a look at our
Guide to Water Brushes
to see how to use these highly portable brushes in your art.
JAPANESE FOUNTAIN PENS
Japanese fountain pen manufacturers regard the nib as the heart of the pen. Accordingly, they make their nibs in-house instead of outsourcing their production. This allows them to exercise great care and control so that their nibs are consistently high quality. As is the case for other pens, Japanese fountain pens are especially known for their fine nibs.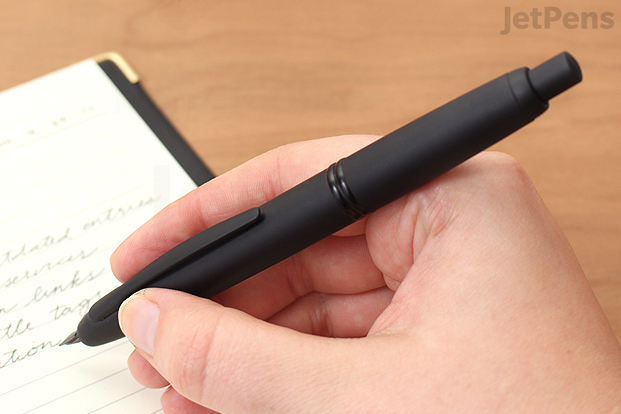 Have you ever heard of a retractable fountain pen? They're not common, but they do exist - and our favorite retractable fountain pen comes from Japan. The
Pilot Vanishing Point
lets people who love fountain pens write and take notes without risking their nib drying out as they pause for thought. Although the gold nib is extra slim to allow it to retract into the pen body, it comes in sizes ranging from extra fine to broad. Read our
Guide to Luxury Japanese Fountain Pens
to see more details about the Vanishing Point and other high-end Japanese fountain pens.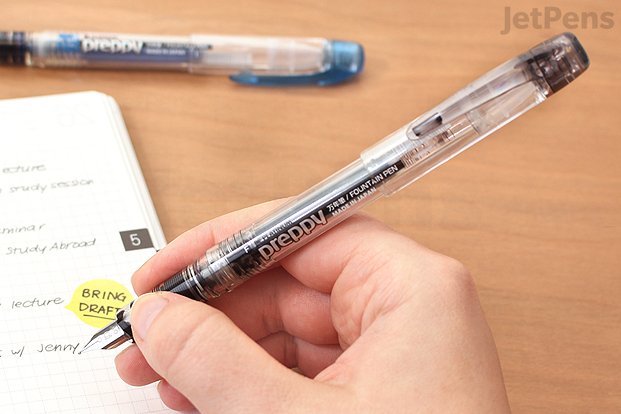 At first glance,
Platinum Preppy Fountain Pens
don't look like much. Yet they are among the most recommended and appreciated fountain pens around. The first reason for this love is that they are both
inexpensive and well made
. If you're
not sure if you want a fountain pen
, getting a Preppy lets you test a converter-capable pen for less than $5. The Preppy's reputation rests on more than price, though. These humble pens are equipped with an advanced "slip and seal" cap that dramatically reduces the chance that the pen will dry out from disuse.
Platinum
also equips most of their other fountain pens with this cap, including the luxury
3776 Century
.
JAPANESE HIGHLIGHTERS
Japanese stationers have brought the humble highlighter far beyond the basic yellow marker we grew up with. If regular highlighters hurt your eyes, you use highlighters for underlining, or if you wish your notes were more tidy, Japanese highlighters are for you.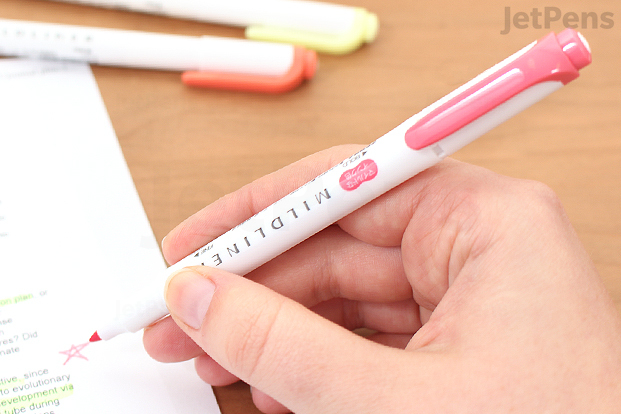 Zebra Mildliners
are must-have study tools. Instead of traditional fluorescents, they use "mild" hues that stand out without being too bright. These soft color highlighters come in 15 different shades, including unusual options like gray, dark blue, brown, and vermillion. This makes them ideal for color coding and remarkably attractive. In addition, they augment the standard chisel tip with a finer tip on the opposite end of the pen. This works well for underlining, circling words, and drawing shapes to flag specific terms.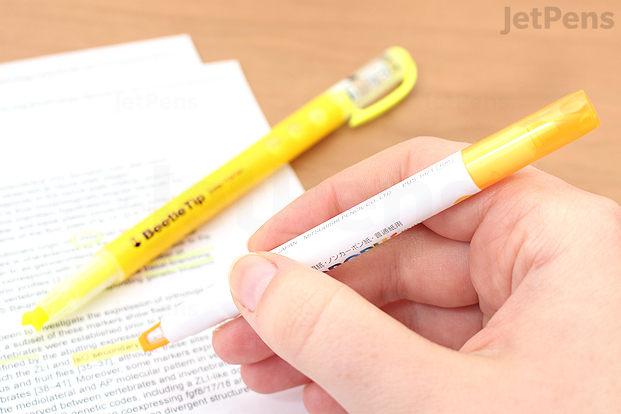 Both of these highlighters feature specialized tips to make your highlighting experience easier. The
Uni Propus Window
features a clear window in the tip so that you can see what you're highlighting. This lets you keep your notes neat and easily readable by only highlighting what you intend to. The
Kokuyo Beetle Tip
is meant for people who often use different line weights. Its instantly-recognizable pronged tip can make broad, fine, or double lines depending on how you hold it. This saves time and helps you focus on what you are reading.
JAPANESE MECHANICAL PENCILS
The Japanese preference for fine writing means that their mechanical pencils are much more likely to accommodate fine leads than Western models. The smallest-tipped mechanical pencil we've encountered is the 0.2 mm Pentel Orenz, but Japanese mechanical pencils come in a wide range of sizes, including 0.3 mm and the more common 0.5 mm. In addition to using smaller leads, Japanese manufacturers constantly attempt to solve problems like lead breakage and dullness through engineering.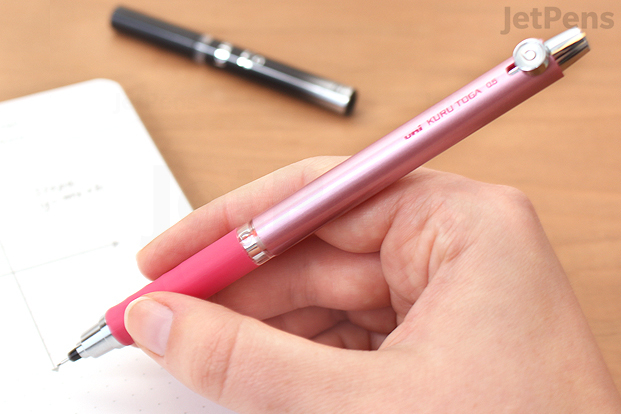 Almost all pencils suffer from the same problem: their lead wears down on one side as you use it and causes the tip to become dull. Uni has solved this problem with the
Kuru Toga
. These mechanical pencils use an auto-rotation mechanism that turns the lead slightly each time you lift the pencil. The lead wears down uniformly and keeps a point at all times. You don't need to use a specific lead with the Kuru Toga, but its
companion pencil lead
has a soft outer layer with a harder core that is easily shaped to a point. You can read more about the Kuru Toga's remarkable mechanism in our
Comprehensive Guide to the Kuru Toga
.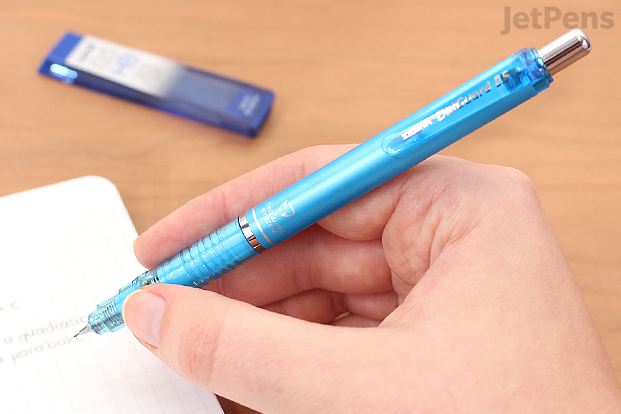 Mechanical pencils use slender leads that break easily. Rather than accepting this, several Japanese manufacturers have designed their pencils to protect fragile leads. Zebra has done it particularly well. The
DelGuard
has a two-part lead-protection system. A spring in the pencil barrel allows the lead to slide back into the pencil if it feels too much vertical pressure, while another spring dynamically extends a metal sleeve to reinforce the lead if too much sideways pressure is placed on it.
JAPANESE PAPER & NOTEBOOKS
Japanese consumers have little patience for paper that bleeds or feathers, so even paper products that are intended for everyday or school use are typically much higher quality what most Americans are used to. Japanese manufacturers also compete to improve notebooks by developing new bindings and page styles that are easier to use or solve a common problem.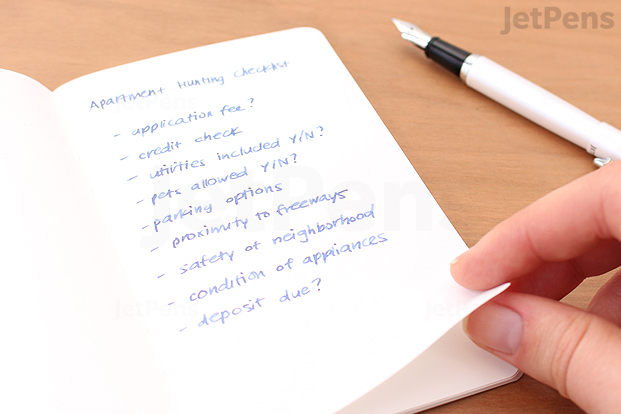 If you
use fountain pens
or hate bulky notepads, you need to try
Tomoe River Paper
. Its exquisitely smooth surface shows fountain pen inks to their full effect, dramatizing any shading or sparkle they display. It is also stunningly thin. This allows
notebooks
made with Tomoe River Paper to hold as many sheets as other notebooks while taking up less space.
Despite its delicate appearance, Tomoe River Paper is surprisingly resilient and strongly resists bleedthrough. It does display significant showthrough, but that hasn't prevented it from developing a devoted following. You can find it in loose-leaf form as well as in various notepads and notebooks, including the super-popular Hobonichi Techo Planners. Watch our Tomoe River Video to see how it pairs with various inks and compares to other paper.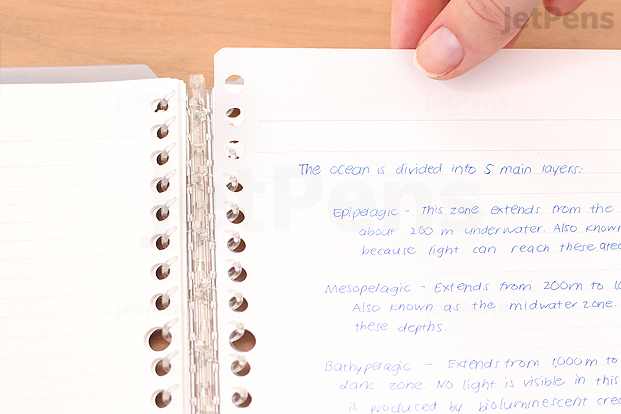 If you just open your notebook to the next available page when you need to take notes, different topics can get jumbled together. This makes it difficult to find the right information later when you need it. To solve this problem, Japanese manufacturer Kokuyo developed its
"Smart Ring" Binder Notebooks
. Their plastic ring bindings open easily to allow you to rearrange pages and stay organized. Unlike binders, these Binder Notebooks are just as thin as regular notebooks.
Kokuyo Campus Smart Ring Binder Notebooks also use an unusual paper style. They enhance lined paper with unobtrusive dots along each line. The dots let you draw diagrams with perfectly straight lines without graph paper. Like other Kokuyo Campus paper, these notebooks' paper is smooth and resists both bleeding and feathering. You can read more about it in our Guide to Our Favorite Notebooks for Fountain Pen Use.
JAPANESE OFFICE SUPPLIES
Pens and paper get most of the love, but Japanese designers also strive to make humble office supplies like paperclips, erasers, and correction tape a little bit better.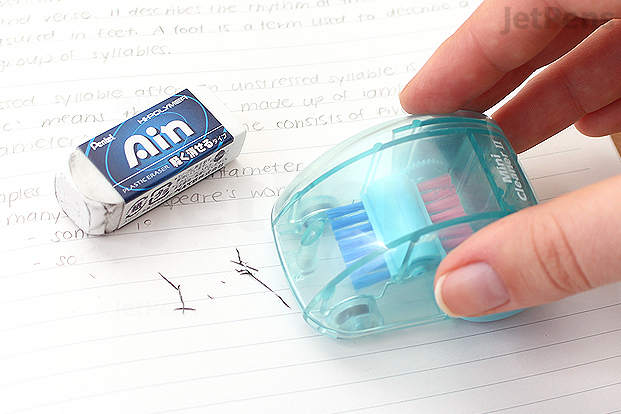 Fixing even small mistakes generates a lot of
Eraser
debris. People often just brush it away, but that only moves the mess from your paper to the desk. Japanese stationers haven't eliminated eraser dust, but they do have ways to make it better. Debris from the
Pentel Hi-Polymer Dust-Gathering Ain Eraser
sticks together to form easy-to-manage clumps. Instead of brushing aside lots of little pieces, simply pick up one or two and drop them in the trash.
You can also handle eraser dust by cleaning up in style. The Midori Eraser Dust Mini Cleaner uses its revolving brush to scoop up eraser debris with just a couple of passes. These adorable car-like sweepers are a perfect example of the Japanese focus on marrying form and function - they look cute and work well too.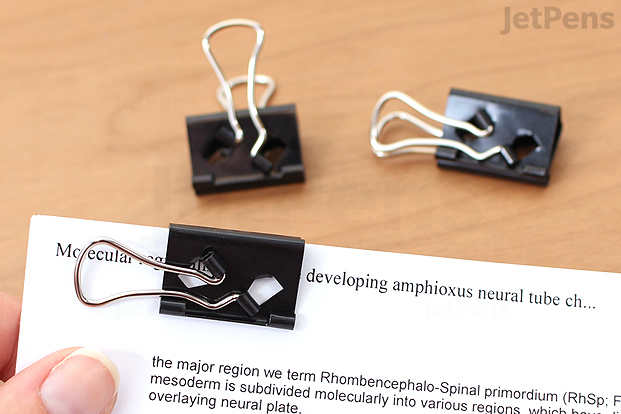 Ordinary binder clips have handles that stick out at an angle. This makes them get in the way when you stack or flip through clipped pages. Unlike regular clips,
Velos Binder Clips
have handles that fold to the side rather than straight down. This simple detail lets you clip, stack, and flip through pages without even noticing that the binder clips are there.
OSHIMAI (THE END)
These are just a few examples of how Japanese stationery goes the extra mile. What are your favorites? Let us know in the comments below!
---
---