---
Top Choice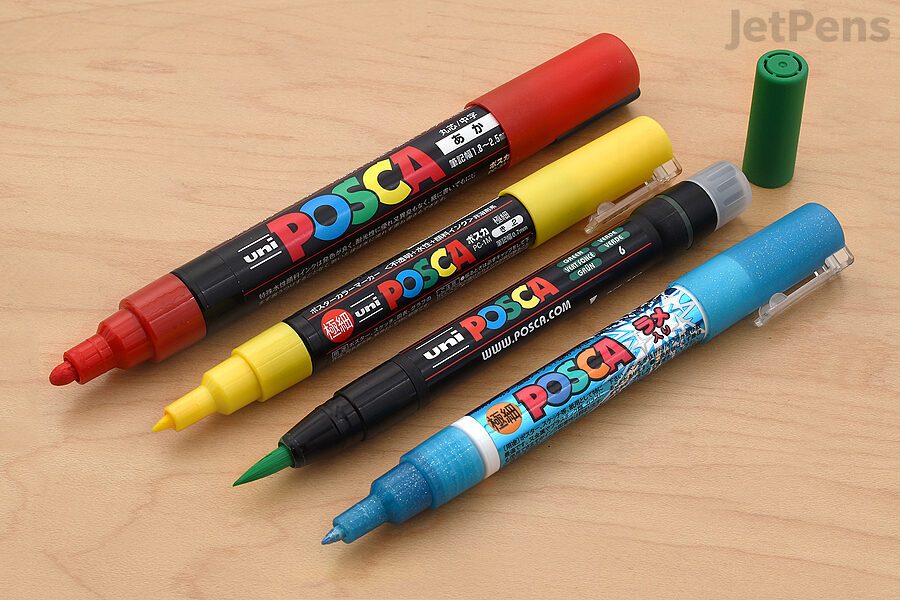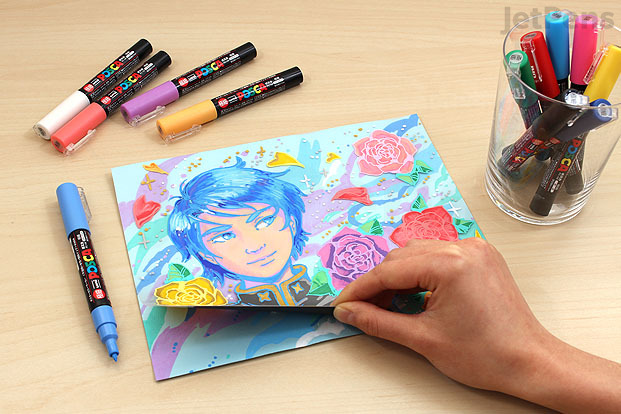 Our, and the rest of the world's, all-around favorite paint pen is the Uni Posca. First, its ink formula is bold and quick-drying. Posca colors are close to perfectly opaque, with just a hint of translucency that creates depth when layered. They can be blended when wet and come in novel options like subtle glitter or moody dark colors.
After creating a great paint formula, Uni poured it into a dazzling range of tip sizes. These pens come in sizes from extra fine, which are great for adding lines or details in a drawing (though the fine tips can catch on rough surfaces like toothy paper), to ultra-chunky extra broad. Our favorite size for most applications is the medium point, which works fabulously well for anything from laying in color in a drawing to making an eye catching sign. Unique among paint pens, the Posca also offers a brush tip. While the brush tip is wider and less precise than most brush pens, it creates lively and energetic lines.
Posca ink is permanent on paper and fairly durable on nonporous hard surfaces, though it can be scraped or scrubbed off. Use a sealant on anything that will get knocked around if you want to keep it forever.
Our one quibble with these pens: you'll like them so much you'll use them up, and they're not refillable!
Paint Pen Considerations
There are a few considerations to keep in mind when selecting a paint pen. Here's what we thought about as we selected our recommendations.
Removability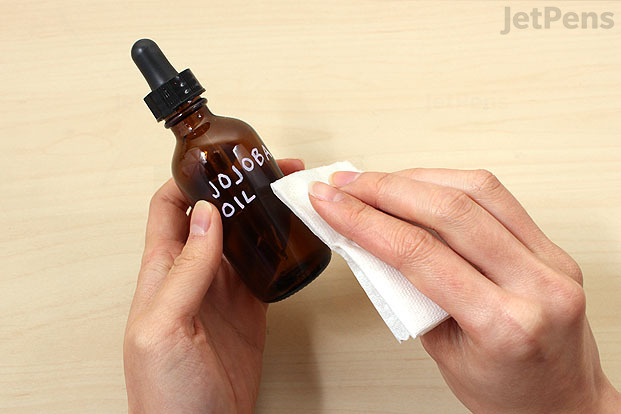 Consider whether you want to create something permanent or temporary. Oil-based paint markers are much harder to remove and often marketed as "permanent." That said, they're not unremovable, and you often don't even need to resort to nasty solvents like paint thinner. Coconut oil and mineral oil work well for breaking down oil-based paints. Water-based paint markers are much easier to remove—simply use a damp towel. If you leave the paint on for a few days, rubbing alcohol or a household cleaner will do the trick.
Odor
Keep your work area well-ventilated since most paint markers emanate a strong odor. See the
chart
below to see which pens emit a strong odor and which emit a fainter scent.
Pigmentation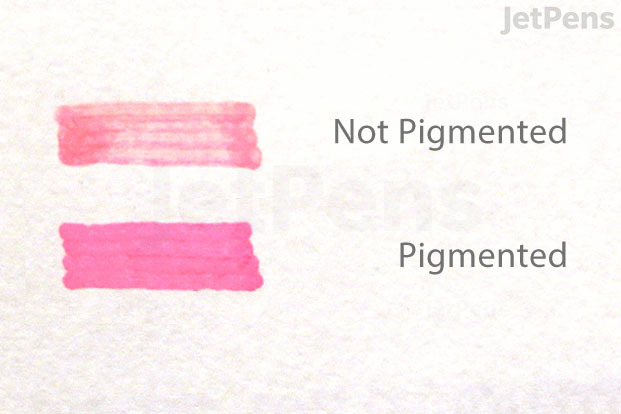 Most paint pens put down thick, creamy paints that dry matte and opaque. Other paint markers create a subdued, slightly translucent look. For dark surfaces, opaque paints produce the highest color payoff.
Drying Time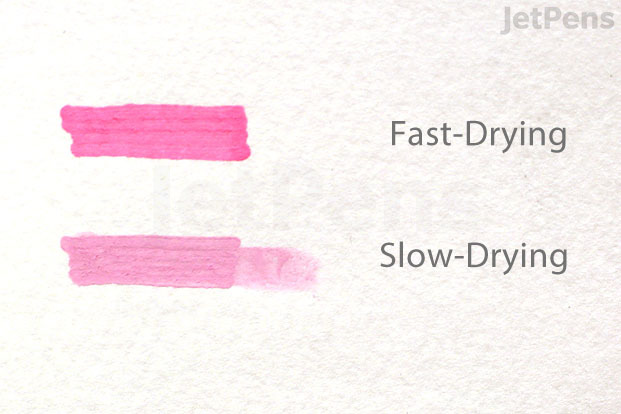 Paint markers dry immediately on porous surfaces like paper but require more drying time on non-porous surfaces like glass. Most paint pens dry within a few minutes, but beginners may fare better with a fast-drying paint pen.
Paint Pen Recommendations
While the same paint pen can serve many functions, some are more suited to particular crafts. We've tested and found the best.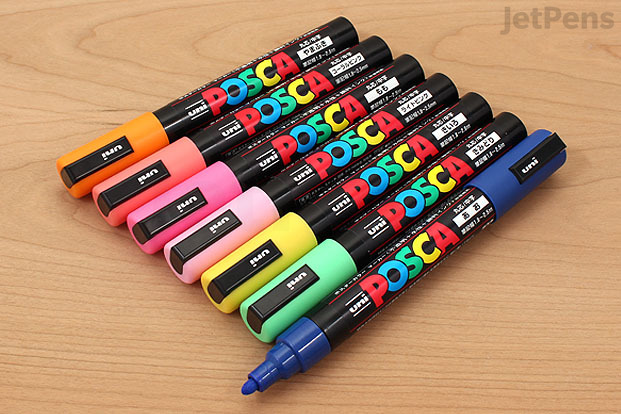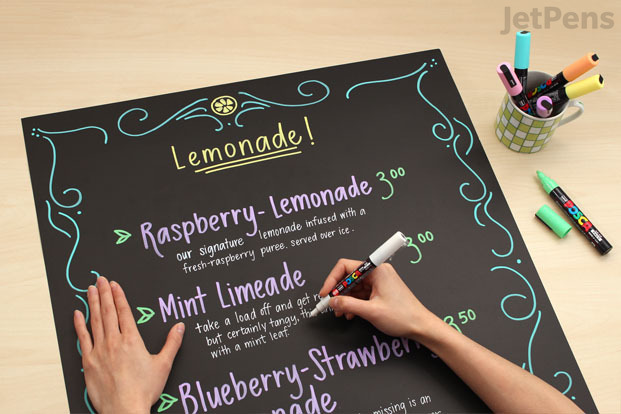 We've already sung the virtues of Poscas, but they truly shine in signage. Do you ever wonder how restaurants and cafes create beautiful signs that emanate a cozy, personable DIY feel? Use the Uni Posca Paint Markers with medium-sized tips to create eye-catching signs for your business or upcoming party. Poscas require a longer drying time, but the paint will appear vibrant and stay on for a long time. On nonporous surfaces, they are removable with water or household cleaning formulas.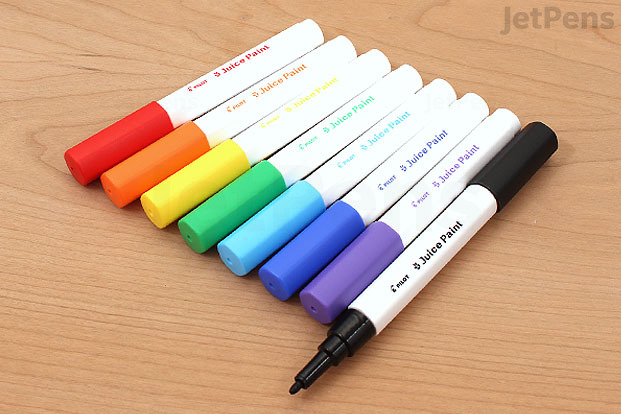 Pilot Juice Paint Markers deliver vibrant, opaque ink that has a bold and electrifying appearance on both light and dark surfaces. With their wide range of colors, including metallic and pastel options, a sign artist can truly express their vision. Their fast-drying qualities also render them an excellent option for signage. They are not permanent on nonporous surfaces and require minimal effort to remove—perfect for menus that need to be regularly refreshed.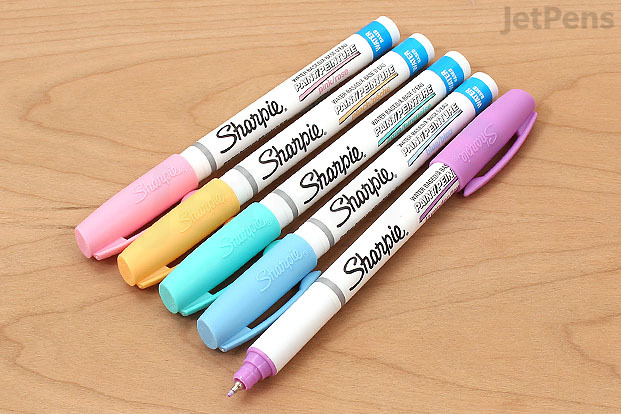 Add a dash of color to the kitchen cabinet or your next house party by labeling glass homegoods with Sharpie Water-Based Paint Markers. Great for both dark and light glass, they create a soft, muted finish reminiscent of children's finger paints. While their color range is limited compared to oil-based Sharpie paint markers, they offer black, white, metallics, and pastels, which should cover the vast majority of labeling needs. Sharpie Water-Based Paint Markers, while water and fade-resistant, come off without too much effort for easy removal.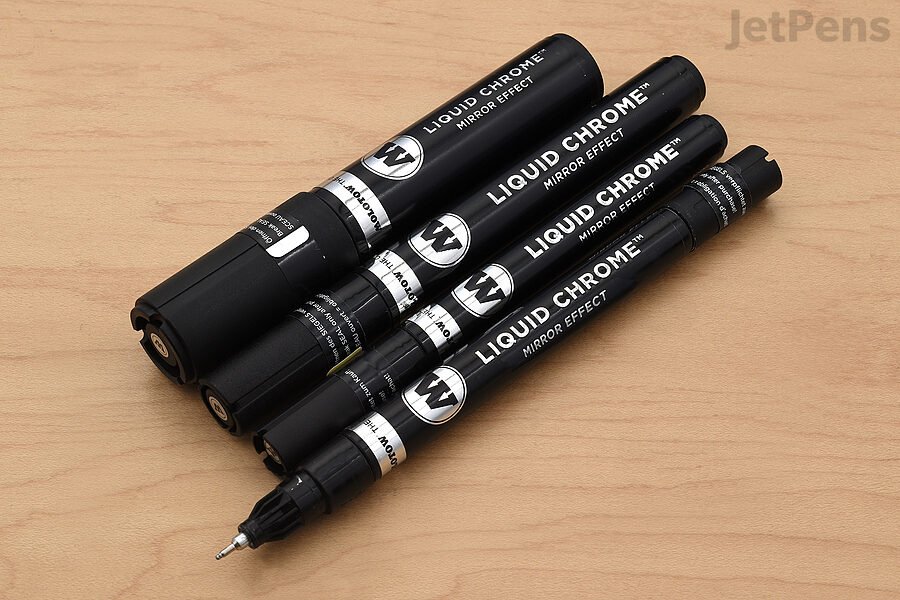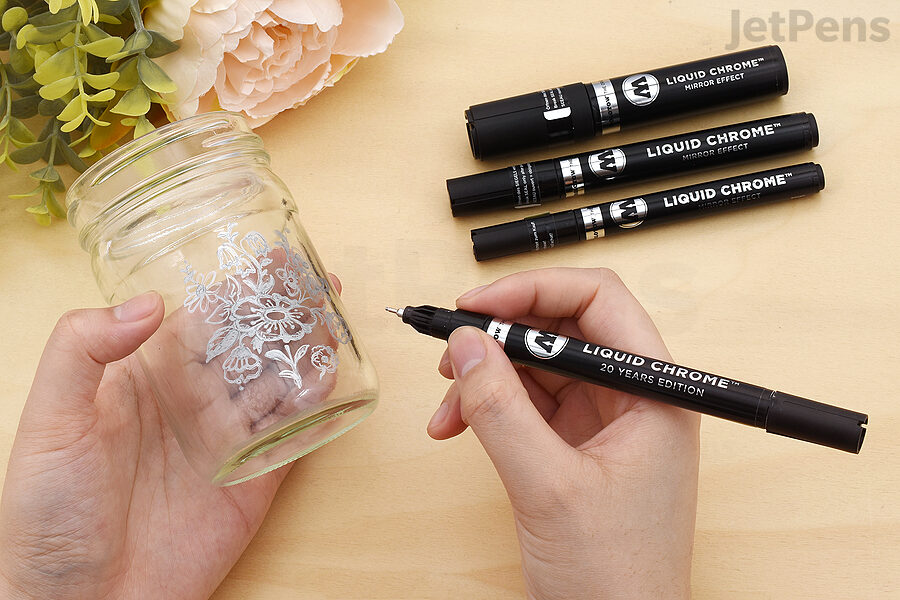 The super-shiny silver ink of the Molotow Liquid Chrome Markers shimmers on glass. It's great for either decoration on clear surfaces or legible, durable labels on darker glass. It has such impressive water resistance we even recommend it for use in laboratory settings, though it can be removed with rubbing alcohol easily.
The Liquid Chrome needs a little more time than other recommendations to fully dry, and we don't recommend using it on porous surfaces, as it will soak in and lose some of its gorgeous shine. Tip sizes range from a fine 1.0 mm to chunky 5.0 mm. This pen is not scent-free. Molotow Liquid Chrome Markers can make striking, almost mirror-like effects—try them and see!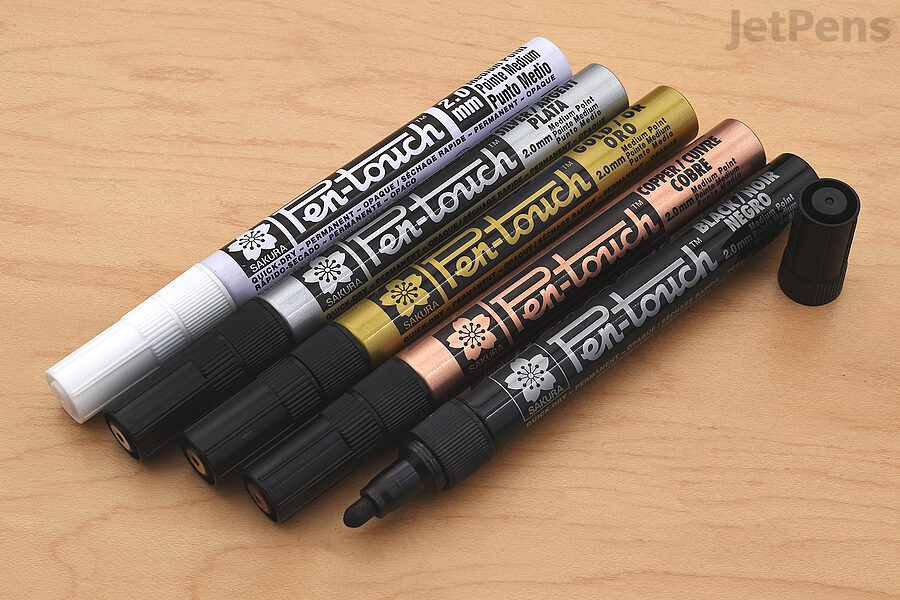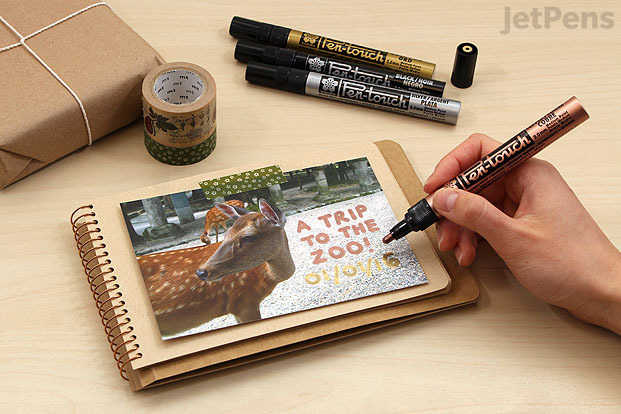 Lettering and doodles give photographs a personal, intimate feel. The Sakura Pen-Touch Paint Marker's bold, thick metallic paint is beautiful on glossy photographs. These pens dry extremely quickly so smearing will not occur. The paint is also waterproof and fade-resistant, so you don't need to worry about your writing disappearing. Keep in mind that these markers are extremely difficult to remove, so test your designs and letters before decorating photographs. We have discovered that dabbing a small amount of coconut oil with a cotton swab onto glossy photographs will remove paint without causing damage.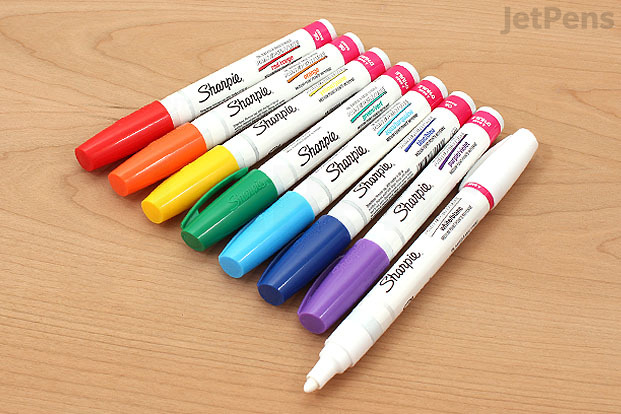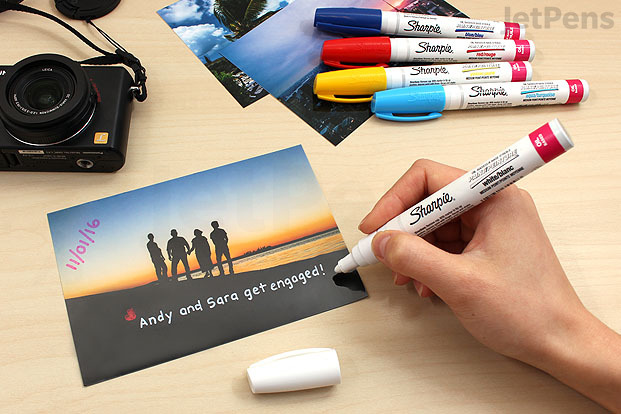 Transform photographs with Sharpie Oil-Based Paint Markers. These pens glide smoothly across photographs and produce vivid colors with a subtle sheen. Their water and fade resistance let you cherish memories forever. These pens require only a bit of prep—simply push the tip into the body, shake, and press the tip onto a surface until it saturates with ink.
We like these pens for their applications beyond photos—their ink is also vivid on fabric! That said, it bleeds through thin cloth like that of t-shirts easily, so put cardboard under any of those projects.
Test Results
We tested our pens for pigmentation, drying time, odor, and how easy they were to remove with water.
Conclusion
Add a pop of color to your life with paint pens. Let us know which pens are your favorites in the comments below!
Shop This Post
| | | | |
| --- | --- | --- | --- |
| Molotow Liquid Chrome Markers | 1.0 mm, 2.0 mm, 4.0 mm, 5.0 mm | Chrome | Add Items to Cart |
| Pilot Juice Paint Marker | Extra Fine, Fine | Black, Pink, Red, Brown, Orange, Yellow, Green, Blue, Purple, Gold, Silver, White | Add Items to Cart |
| Sakura Pen-Touch Paint Markers | Fine, Medium | Black, Gold, Silver, Copper, White | Add Items to Cart |
| Sharpie Oil-Based Paint Markers | Extra Fine, Medium | Black, Pink, Red, Brown, Orange, Yellow, Green, Blue, Purple, Gold, Silver, White | Add Items to Cart |
| Sharpie Water-Based Paint Markers | Extra Fine, Medium | Black, Pink, Orange, Blue, Purple, Gold, Silver, White | Add Items to Cart |
| Uni Posca Markers | Extra Fine, Fine, Medium, Broad, Extra Broad, Brush | Black, Pink, Red, Brown, Orange, Yellow, Green, Blue, Purple, Gray, Gold, Silver, White | Add Items to Cart |
---
---