---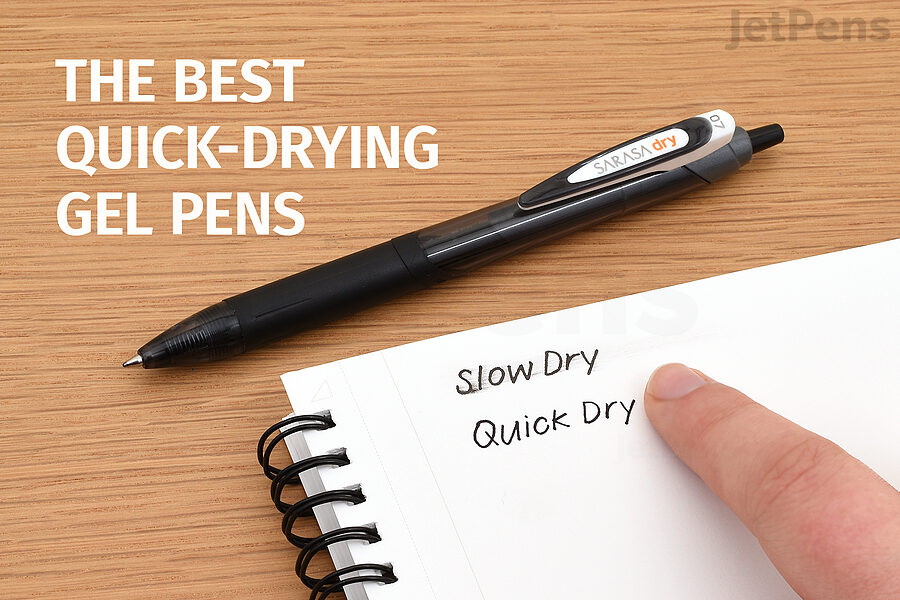 We love gel pens for their smooth ink and vivid colors, but they don't always dry quickly—and there's nothing as frustrating as unsightly smears all over your carefully written notes. To help you avoid this fate, we tested all of our gel pens to find the absolute best non-smear pens for every use.
Top Choice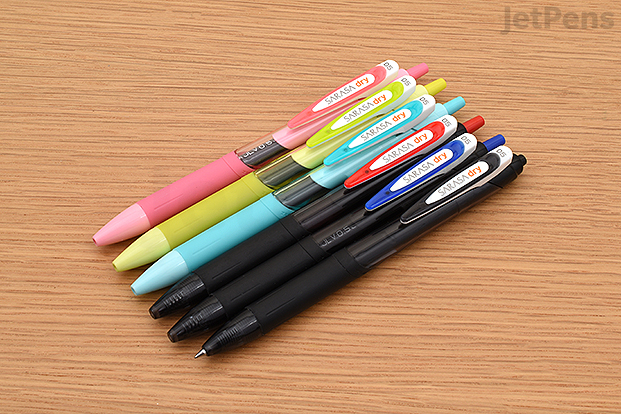 The
Zebra Sarasa Dry
is unequivocally the best quick-drying gel pen. Thanks to Zebra's special DRYJELL ink technology, all tip sizes of the Sarasa Dry become smear free in just two or three seconds on smooth Rhodia paper. This makes it the perfect fast-drying pen for left-handed writers and fast note-takers. We're especially fond of the Japanese-made Sarasa Dry for its sturdy binder clip and cute style, but there is an American version that dries just as fast: the
Zebra Sarasa Dry X20
. It also is a bit cheaper than the Sarasa Dry since it does not have the binder clip. The Sarasa Dry's one weakness is that it is not at all waterproof. If you need a quick-drying pen that can also stand up to errant spills and coffee rings, keep reading to see our other picks.
Quick-Drying Gel Pen Considerations
Paper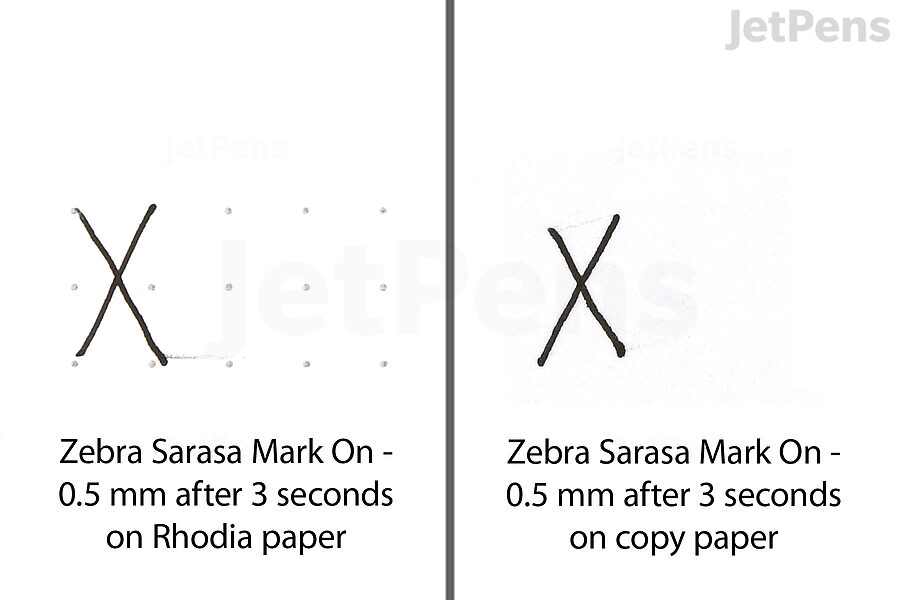 The paper you choose to write on can significantly affect dry time. Ink-resistant papers, like
those for fountain pens
, will also resist gel ink and cause it to dry slower. To ensure the fastest dry times, it's best to use absorbent papers like copy or filler paper.
Tip Size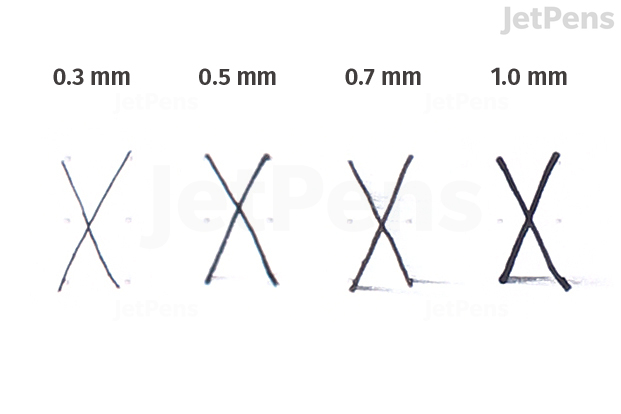 Whether a particular drying time counts as slow or fast depends on the pen's tip size. Pens with larger tips deposit more ink on the page and are expected to dry more slowly, while fine-tip pens put down less ink and dry more quickly. We recommend sticking with fine tip sizes if you feel strongly about preventing smears.
Water Resistance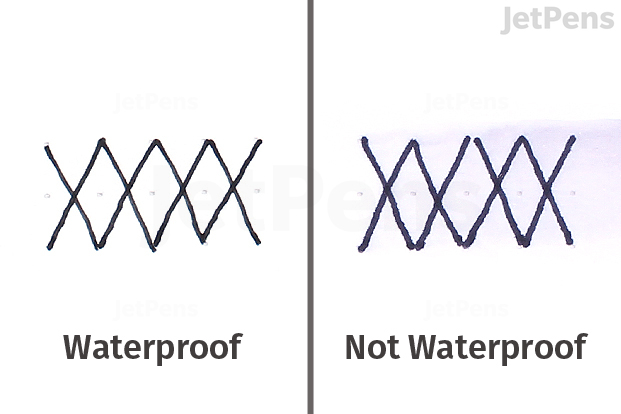 Any non-waterproof ink can smear when exposed to moisture, even if it's been dry for days. If you have sweaty hands, live in a rainy climate, or tend to be clumsy with your drinks, choose waterproof or water-resistant options to keep your writing legible.
Gel Pen Test Results
We tested the drying times of all of our gel pens by drawing X's on Rhodia paper and then brushing over them with a finger at 3, 5, 10, 20, and 30 seconds. For tests that showed no smearing at 3 seconds, we narrowed the drying time down to the second. The drying time recorded in the final column reflects the amount of time the samples took to dry completely, even if there was only a small amount of smudging. You can use the pictures to make more granular comparisons.
We tested all tip sizes of each pen. We did not perform separate tests for different versions of pens that use the same ink (for example, the Pentel EnerGel-X and EnerGel RTX), as their results should be identical.
Specialty and crafting gel pens, like those with metallic, glitter, or pastel inks, tend to be slow-drying and therefore were omitted from our tests.
Click here to view gel pen test results.
Gel Pen Test Results
Our writers draw on their personal expertise, consult our in-house subject matter experts, and do extensive research to make our guides as accurate and comprehensive as possible. We then test every finding that makes it through the research stage. Only the techniques and tools whose performance we personally confirm make it into our guides as recommendations.
Conclusion
Quick-drying gel pens let you enjoy the smooth writing and vivid hues of gel pens while keeping your paper and hands smudge-free. What do you think are the best gel pens that don't smear? Let us know your favorites in the comments below!
Shop This Post
| | | | | |
| --- | --- | --- | --- | --- |
| Parker Jotter Gel Pen | 0.7 mm | Black | Not waterproof | Add Items to Cart |
| Pentel EnerGel Gel Pen | 0.3 mm, 0.35 mm, 0.4 mm, 0.5 mm, 0.7 mm, 1.0 mm | Black, Pink, Red, Orange, Yellow, Green, Turquoise, Blue, Blue Black, Purple, Brown, Gray | Water Resistant | Add Items to Cart |
| Pentel EnerGel Permanent Gel Pen | 0.5 mm, 0.7 mm | Black, Red, Blue | Waterproof | Add Items to Cart |
| Pilot FriXion Gel Pen | 0.38 mm, 0.4 mm, 0.5 mm, 0.7 mm, 1.0 mm | Black, Pink, Red, Orange, Yellow, Green, Turquoise, Blue, Blue Black, Purple, Brown | Waterproof | Add Items to Cart |
| Uni-ball One Gel Pen | 0.38 mm, 0.5 mm | Black, Pink, Red, Orange, Yellow, Green, Blue, Blue Black, Violet, Brown | Water Resistant | Add Items to Cart |
| Uni-ball Signo Gel Pen | 0.28 mm, 0.38 mm, 0.5 mm, 0.7 mm, 0.8 mm, 1.0 mm | Black, Pink, Red, Orange, Yellow, Green, Turquoise, Blue, Blue Black, Purple, Brown, Gray | Waterproof | Add Items to Cart |
| Zebra Sarasa Dry Gel Pen | 0.4 mm, 0.5 mm, 0.7 mm | Black, Red, Blue | Not Waterproof | Add Items to Cart |
| Zebra Sarasa Mark On | 0.4 mm, 0.5 mm | Black, Red, Blue | Waterproof | Add Items to Cart |
---
---