---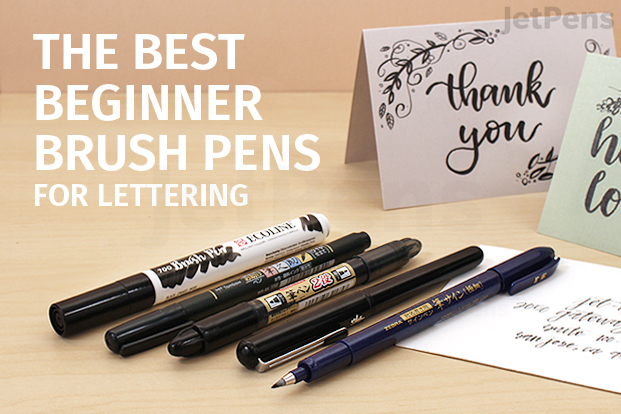 Lettering with brush pens is a fun way to flex your calligraphy muscles without having to reach for messy dip pen nibs and inks. These portable pens provide greater line variation and the ability to create larger letters compared to traditional calligraphy nibs. Although more casual than most forms of calligraphy, it does take some patience and practice to learn how to use a brush pen. In this article, we'll be teaching you how to create beautiful script using brush pens and throwing in some tips and tricks along the way.
Brush Pen Recommendations
Here is a quick rundown of our favorite brush pens for lettering. For a more in-depth guide on how to select the perfect brush pen for your application, see our Guide to Choosing a Brush Pen for Calligraphy.
Through Thick and Thin: Practicing Brush Strokes
Like most skills, brush lettering and calligraphy doesn't just happen overnight. Doing drills and practicing different strokes will help you master it much faster. With the right tools and drills, you'll be on your way to creating beautiful lettering in no time at all. Check out the video below to see lettering demos and our brush pens in action!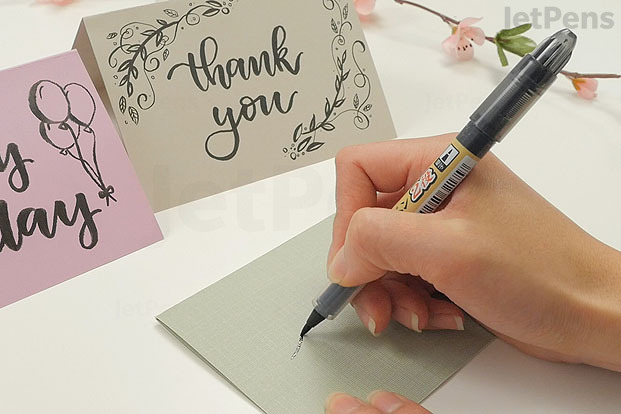 Basic Strokes
There are two basic strokes in calligraphic lettering: the down stroke and the up stroke. Down strokes should be made with heavier pressure which in turn produces thicker lines. Up strokes require a lighter touch, yielding thinner lines. We suggest starting with calligraphy practice paper to get the hang of producing consistent angled lines.
Advanced Strokes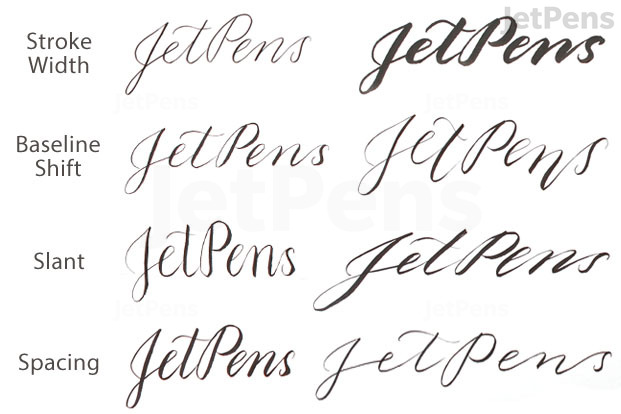 Now that you've mastered the basic strokes, add your own personality to the letters by varying these characteristics:
Stroke width: Achieve dramatic stroke width variation by using thicker brush pens that can create heavy lines.
Baseline shift: The baseline is where the bottom of a letter rests. By staggering this placement, you can create a whimsical look.
Slant: Angle your letters for a greater sense of movement or keep them straight and regular.
Spacing: Add space between individual letters to create a light, airy feel or condense them to make words fit in small areas.
Experiment until you get the desired look. Keep reading to see a variety of different styles in the "Just My Type" section.
Tips and Tricks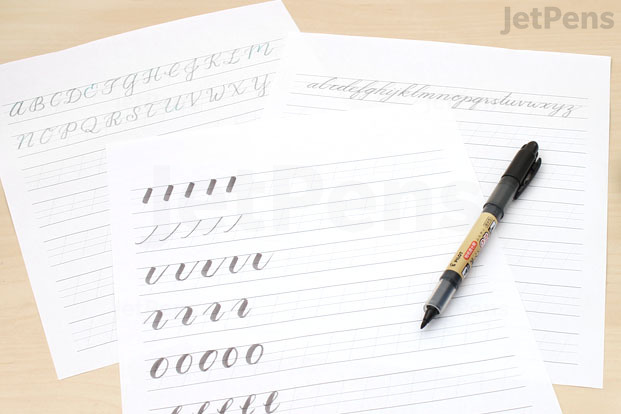 Here are some pointers to keep in mind as you practice the down and up strokes:
Write out the letters first with a pencil and trace over it slowly with the brush pen. When finished, erase the pencil marks.
Use printable practicing paper to get used to the strokes. There are a variety of practice papers available including plain sheets, sheets with angled lines, and alphabet sheets. You can download our practice sheets here: basic strokes, capital alphabet, and lowercase alphabet.
When holding the brush pen, keep the angle of the pen tip consistent (usually 45° angle). Don't hold the pen upright as it's more difficult to get uniform line variation that way.
Move your arm rather than your wrist while writing. Again, this will help keep the line variation more regular.
Be patient and write slowly. Pause at the beginning and end of heavy strokes for added drama and crispness.
If you're not getting the look you want, try different brush pens! As we mentioned earlier, different types of brush pens create different effects.
Just My Type
The beauty of brush pen lettering is the incredible range of styles you can create--it's not limited to just one type of calligraphy. We've gathered a variety of popular styles below and used them in some applications for your viewing pleasure. Did your favorite style make the cut?
Final Flourish
The lettering possibilities are endless with brush pens. Are you a fan of brush lettering? Let us know your favorite brush pen and lettering style in the comments below!
Practice Sheets
Use our printable practice sheets to hone in on your brush lettering skills. See examples for basic strokes, capital alphabet, and lowercase alphabet below.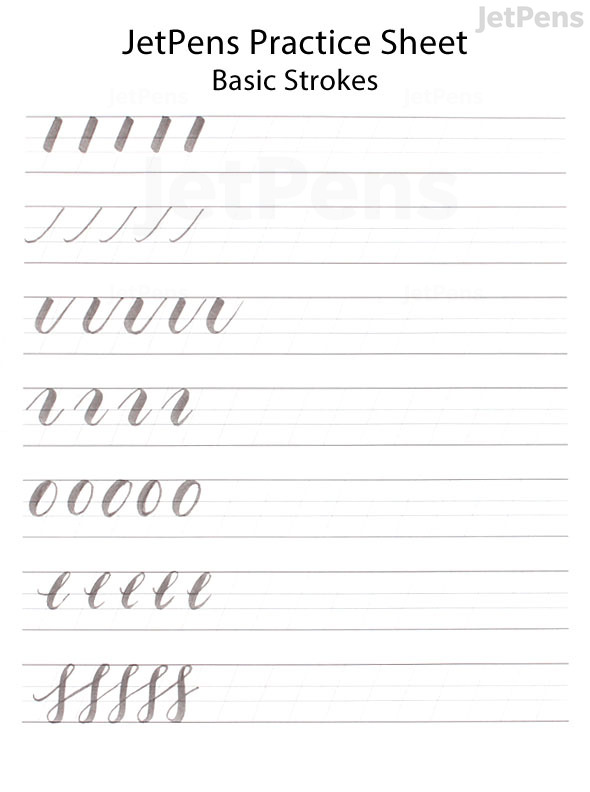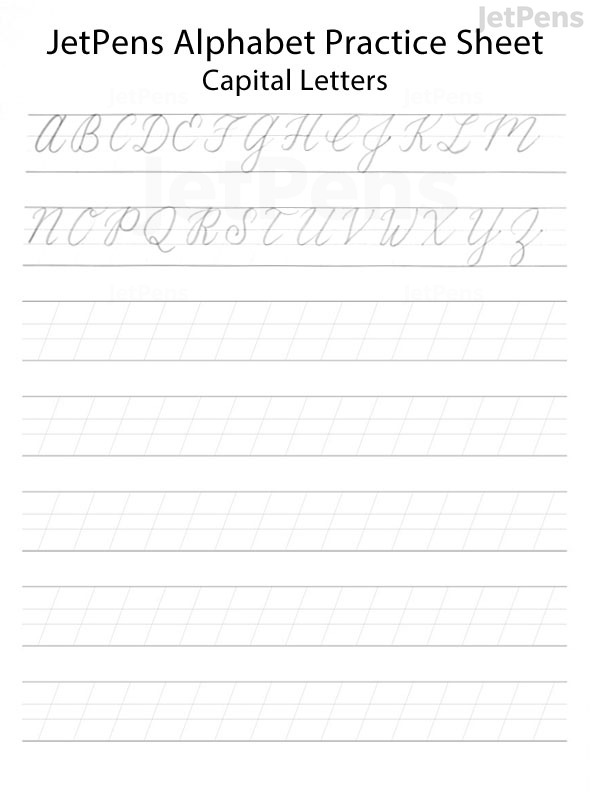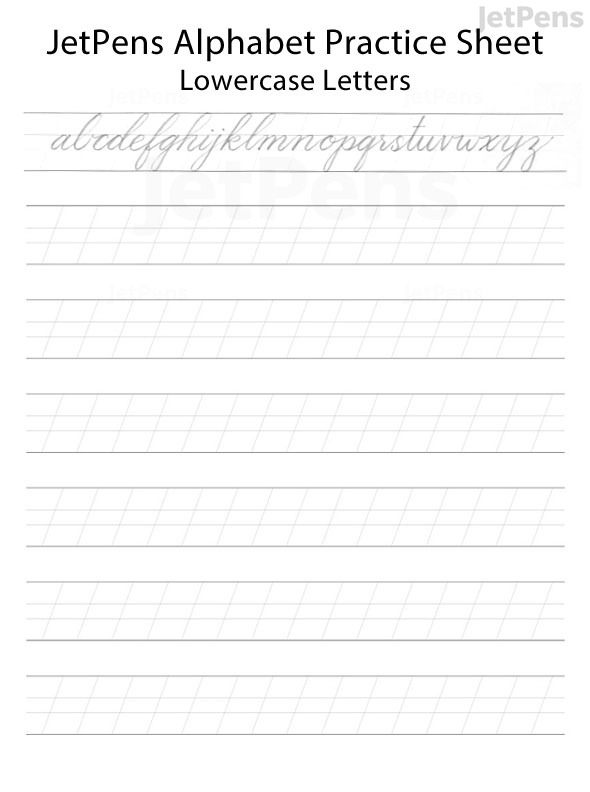 Shop This Post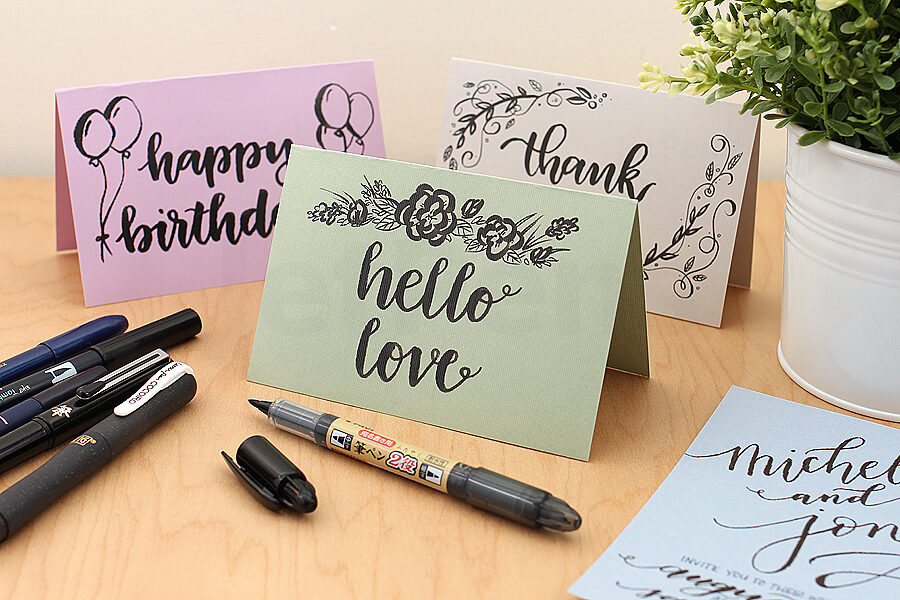 Still not sure what to try? Check out our
JetPens Brush Lettering Pen Sampler
for some of our favorite and most popular brush pens for lettering. Experiment with a variety of brush types, from firm felt tips that are as easy to use as a normal marker to soft bristle tips that let your letters swell and flow spectacularly. This sampler is great for beginners and anyone else who wants to try a variety of different brush pens for lettering.
---
---