---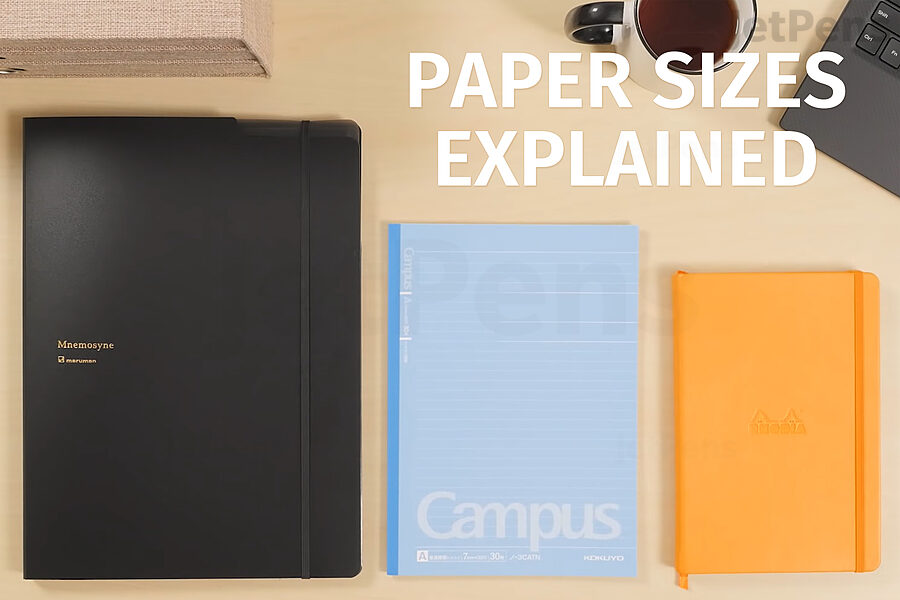 A4, B5, A5—these are some of the most commonly used paper sizes in the world, but to North Americans they may sound more like bingo calls than paper sizes. In the US, Canada, and Mexico, the standard paper size is Letter size: 8.5" × 11". Outside of North America, however, Letter size is rarely used.1 Instead, other countries use a system of paper sizes that may seem confusing at first but is actually quite simple and logical once you understand the methodology behind it.
Read on or watch the video below to learn more about how international paper sizes work, how different sizes compare to Letter size, and which paper sizes work best for different applications.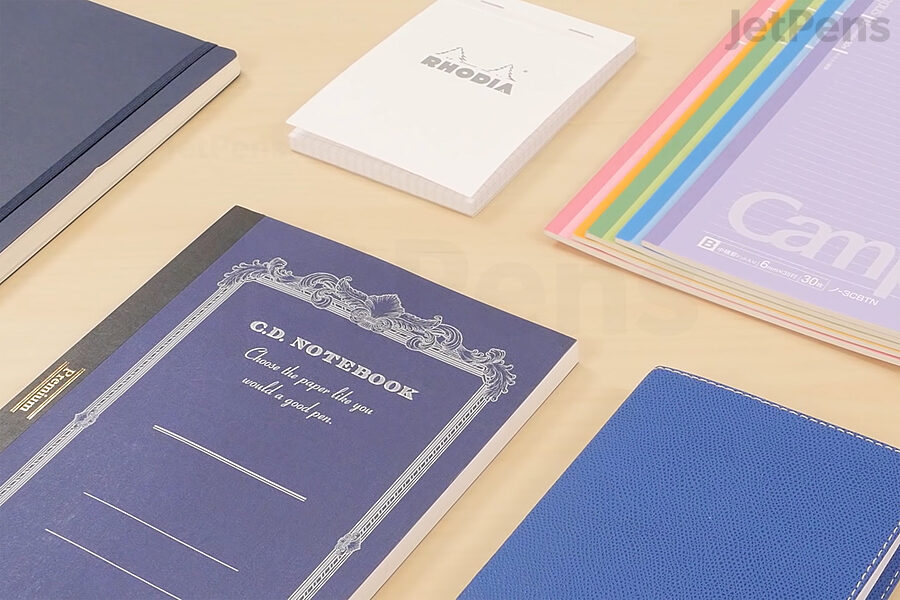 Understanding International Paper Sizes
Most countries outside of North America use paper that fall into one of two sizes: the A sizes and the B sizes. There are also C sizes, but it is mainly used for creating envelopes manufactured to fit A size papers, so we won't discuss it here. A sizes are more commonly used than B sizes, so let's begin with them.
A Sizes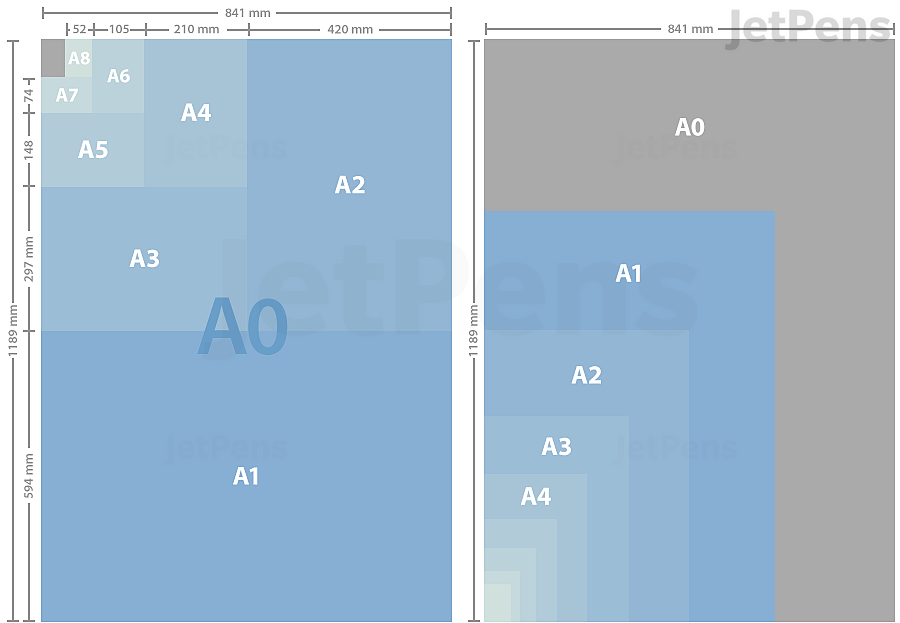 A sizes of paper were originally introduced in Germany during the 1920s and quickly spread throughout Europe. By the 1970s it became widely used throughout the world and was codified by the
International Organization for Standardization (ISO)
.
A sizes start with the largest size, A0, which is 84.1 cm × 118.9 cm, or about 33.1" × 46.8". Each smaller size is obtained by taking the next largest size and cutting it in half, creating a size with the same proportions and half the surface area.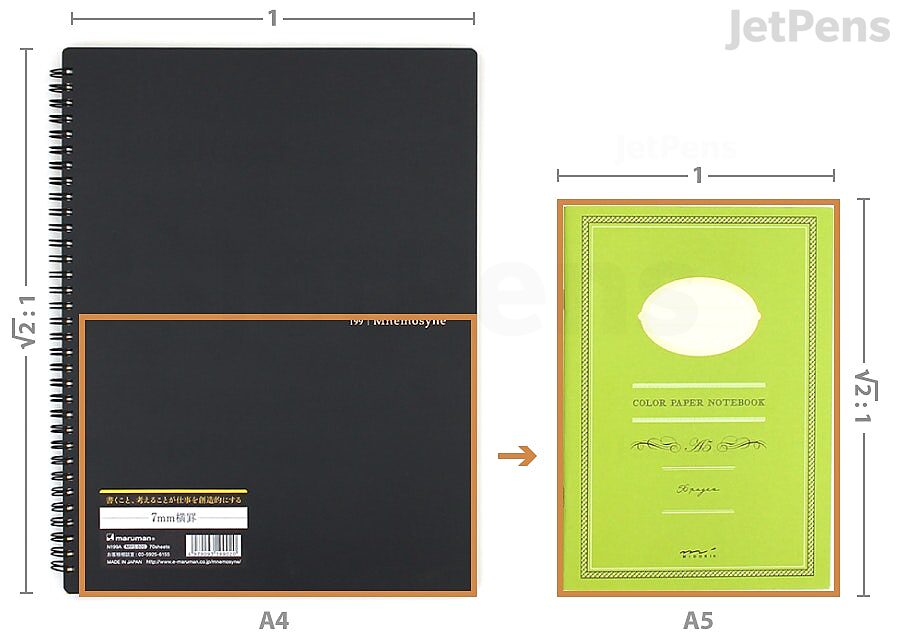 In most cases, cutting a piece of paper in half would result in two pieces with completely different proportions than the original piece. In this case, however, it works due to the interesting mathematical phenomenon that when a sheet of paper with an
aspect ratio
(the ratio of its width to its length) of 1:√2 is cut it in half, the resulting two sheets of paper will have the same aspect ratio of 1:√2.
2
Within the A sizes, A4 size is the closest to North American Letter size and is the standard paper size in countries that use A sizes. At approximately 8.3" × 11.7" (21 cm × 29.7 cm), it is slightly longer and narrower than Letter size.
B Sizes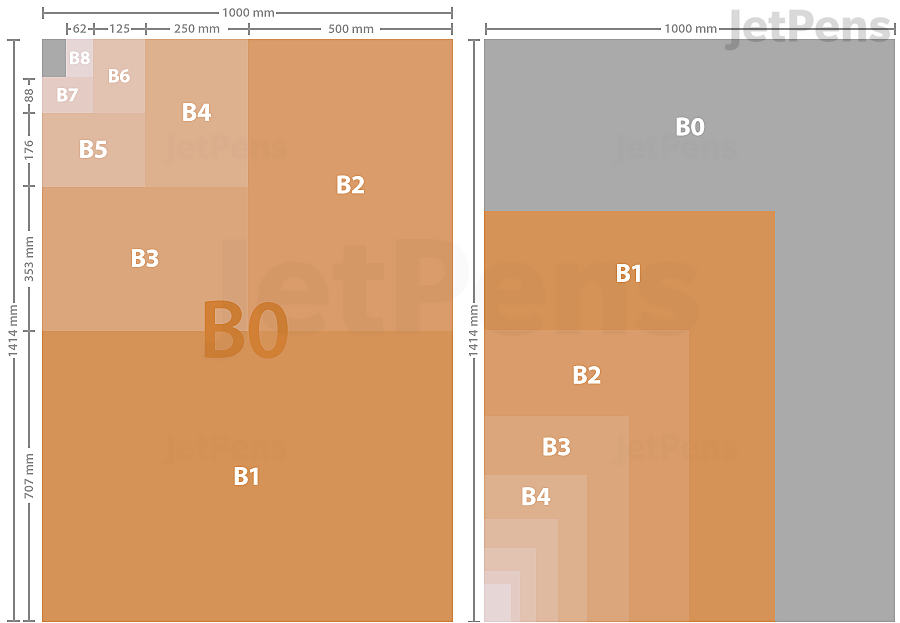 B sizes of paper sizes are based on the same principles as the A sizes, with an aspect ratio of 1:√2 and each size having half the area of the next largest size. The difference is that B sizes are in between the A sizes, offering improved granularity. For example, B5 size offers a choice halfway between A4 and A5.
Unfortunately, B sizes get a bit more complicated. Unlike A sizes, which are the same everywhere, the exact dimensions of B sizes are defined differently in Japan than they are in the rest of the world.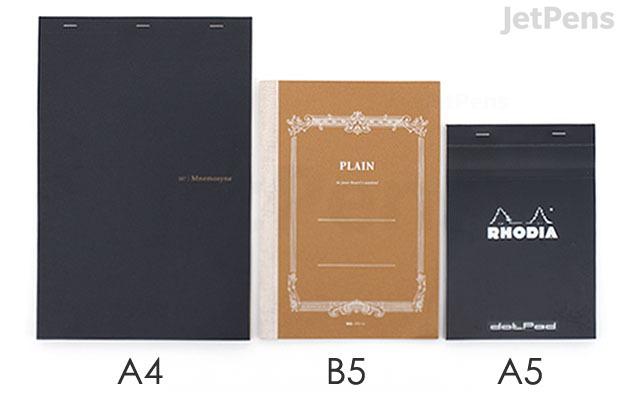 The Japanese Industrial Standards Committee (JIS) defines B sizes as slightly larger than the ISO B sizes. Specifically, JIS B sizes are 6% larger in area and about 3% larger in width and length than ISO B sizes. Because of this, B size paper from Japanese brands is often (but not always) slightly larger than B size paper from non-Japanese brands. One exception to this trend is with B5 size. Many Japanese brands that otherwise use JIS sizes for B size paper use a size for B5 similar to ISO B5, often (but not always) calling it "Semi B5" size.
If all of that is too complicated to remember, just note that B sizes can vary slightly from one product line to another, so be sure to check the specific product dimensions for any B size paper or notebook if it needs to be exactly the right size.
Common Paper Sizes
Below, we have listed the most commonly used paper sizes for loose leaf paper, notebooks, and notepads from largest to smallest. For B sizes, we list the Japanese sizes since they are much more commonly used among the products we carry. ISO B sizes are listed separately in a drop-down table further down. As explained above, A sizes are the same in Japan and internationally.
Size
(Large to Small)
Width
Length
Area
Comparison to Letter Size
B4 (JIS)
10.1 in
25.7 cm
14.3 in
36.4 cm
145.0 in²
935.5 cm²
A4
8.3 in
21.0 cm
11.7 in
29.7 cm
96.7 in²
623.7 cm²
Letter
8.5 in
21.6 cm
11.0 in
27.9 cm
93.4 in²
602.6 cm²
B5 (JIS)
7.2 in
18.2 cm
10.1 in
25.7 cm
72.5 in²
467.7 cm²
Semi B5 (JIS)
7.0 in
17.7 cm
9.8 in
25.0 cm
68.6 in²
442.5 cm²
A5
5.8 in
14.8 cm
8.3 in
21.0 cm
48.2 in²
310.8 cm²
B6 (JIS)
5.0 in
12.8 cm
7.2 in
18.2 cm
36.1 in²
233.0 cm²
A6
4.1 in
10.5 cm
5.8 in
14.8 cm
24.1 in²
155.4 cm²
Pocket*
3.5 in
8.9 cm
5.5 in
14.0 cm
19.2 in²
124.6 cm²
B7 (JIS)
3.6 in
9.1 cm
5.0 in
12.8 cm
18.1 in²
116.5 cm²
A7
2.9 in
7.4 cm
4.1 in
10.5 cm
12.0 in²
77.7 cm²
*Pocket size is not standardized, but it is a commonly used size that is typically around 3.5" × 5.5".
ISO B Sizes
ISO B Sizes
Choosing a Paper Size
There are a few considerations to keep in mind when choosing a paper size. Larger paper sizes offer more space for writing and drawing, but they also take up more space on your desk, in your bag, or on your shelf. What size is right for you will depend on how and where you intend to use it. Here are some recommended paper sizes and products we think are best for a variety of applications.
Conclusion
We hope that this article has helped some of you to understand international paper sizes. They can seem complicated at first, but like the metric system they are actually pretty straightforward once you understand how they work. Do you have a favorite paper size for journaling, sketching, or note-taking? Let us know in the comments section below!
Recommended Uses for Different Paper Sizes
Size
(Large To Small)
Width
Length
Area
Recommended Use
B4 (JIS)
10.1 in
25.7 cm
14.3 in
36.4 cm
145.0 in²
935.5 cm²
Sketchbook, Comics and Illustrations
A4
8.3 in
21.0 cm
11.7 in
29.7 cm
96.7 in²
623.7 cm²
School Notes, Office Notes, Sketchbook, Comics and Illustrations
Letter
8.5 in
21.6 cm
11.0 in
27.9 cm
93.4 in²
602.6 cm²
School Notes, Office Notes, Sketchbook, Comics and Illustrations
B5 (JIS)
7.2 in
18.2 cm
10.1 in
25.7 cm
72.5 in²
467.7 cm²
School Notes, Office Notes, Sketchbook
Semi B5 (JIS)
7.0 in
17.7 cm
9.8 in
25.0 cm
68.6 in²
442.5 cm²
School Notes, Office Notes, Sketchbook
A5
5.8 in
14.8 cm
8.3 in
21.0 cm
48.2 in²
310.8 cm²
Office Notes, Journal, Sketchbook
B6 (JIS)
5.0 in
12.8 cm
7.2 in
18.2 cm
36.1 in²
233.0 cm²
Office Notes, Journal, Sketchbook
A6
4.1 in
10.5 cm
5.8 in
14.8 cm
24.1 in²
155.4 cm²
Office Notes, Journal, Sketchbook
Pocket*
3.5 in
8.9 cm
5.5 in
14.0 cm
19.2 in²
124.6 cm²
Pocket Notebook, Sketchbook
B7 (JIS)
3.6 in
9.1 cm
5.0 in
12.8 cm
18.1 in²
116.5 cm²
Pocket Notebook, Sketchbook
A7
2.9 in
7.4 cm
4.1 in
10.5 cm
12.0 in²
77.7 cm²
Pocket Notebook, Sketchbook
1) Outside of North America, Letter size is sometimes referred to as American Quarto.
2) To demonstrate this phenomenon mathematically, suppose there is a sheet of paper with a long side of length a and a short side of length b, such that a/b = √2. Cutting this sheet of paper in half results in a new sheet with a long side of length b, a short side of length a/2, and an aspect ratio of b/(a/2). It then follows that: b/(a/2) = 2/(a/b) = 2/√2 = √2
---
---