---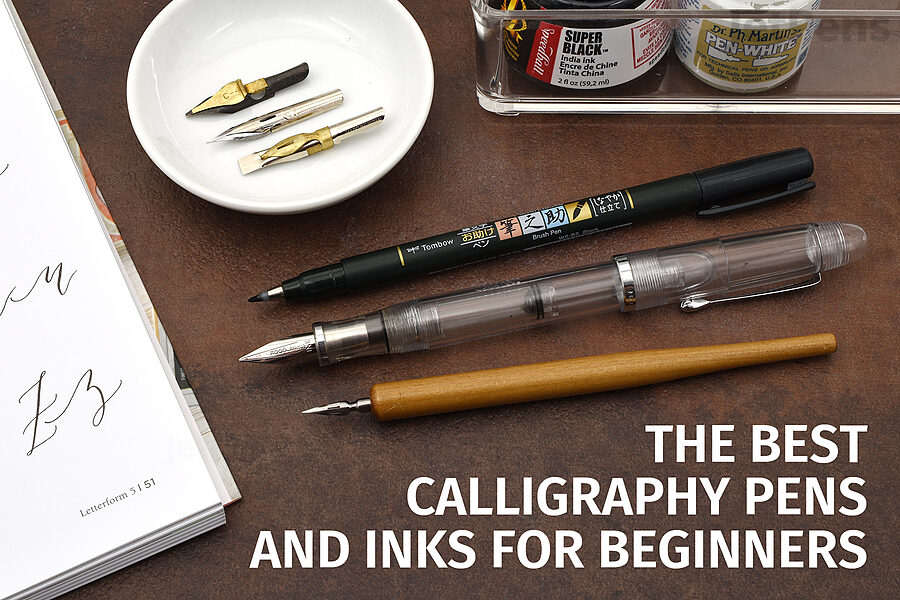 You do not have to be a serious calligrapher or professional to take your writing from mundane to spectacular: all you need are the right tools and some practice. However, with so many pens, nibs, and inks out there, it can be overwhelming to parse through the different varieties. Never fear: we have blackened our hands and desks with ink to bring you some of our favorite calligraphy pens and inks.
Things to Consider
Pen Style
There are three types of pens to choose from: a traditional dip pen, a disposable pen, or a cartridge-filled pen. Which you choose boils down to personal preference.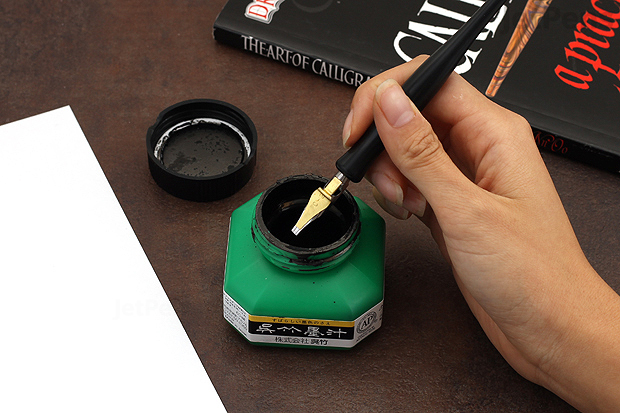 Dip pens allow for more freedom in nib and ink choice, though they tend to be messy and have a steeper learning curve. Dip pens also require more tools to get started, as nibs must be used with nib holders. There are two types of holders:
straight holders
feel like regular pens.
Oblique holders
position the nib at the proper writing slant for right-handed calligraphers. Not all nib holders can be used with every nib, so be sure to check our
Beginner's Guide to Nibs and Nib Holders
for a compatibility chart.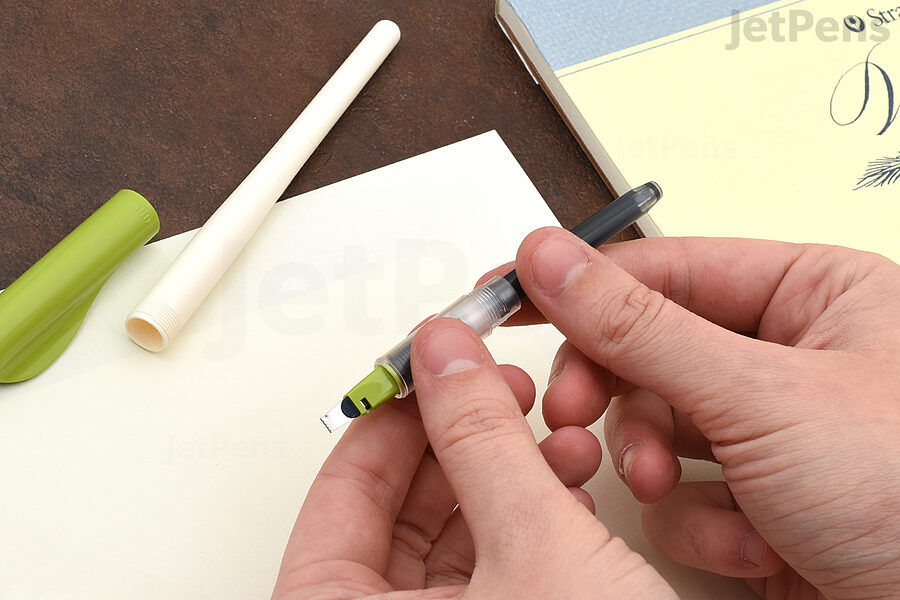 On the other hand, a disposable or cartridge-filled pen is much cleaner and more convenient. However, these pens are more limited in the kinds of inks and nibs available. Traditional calligraphy inks are thicker and will clog the feed mechanism of cartridge-filled pens, and disposable pens are not refillable.
Nibs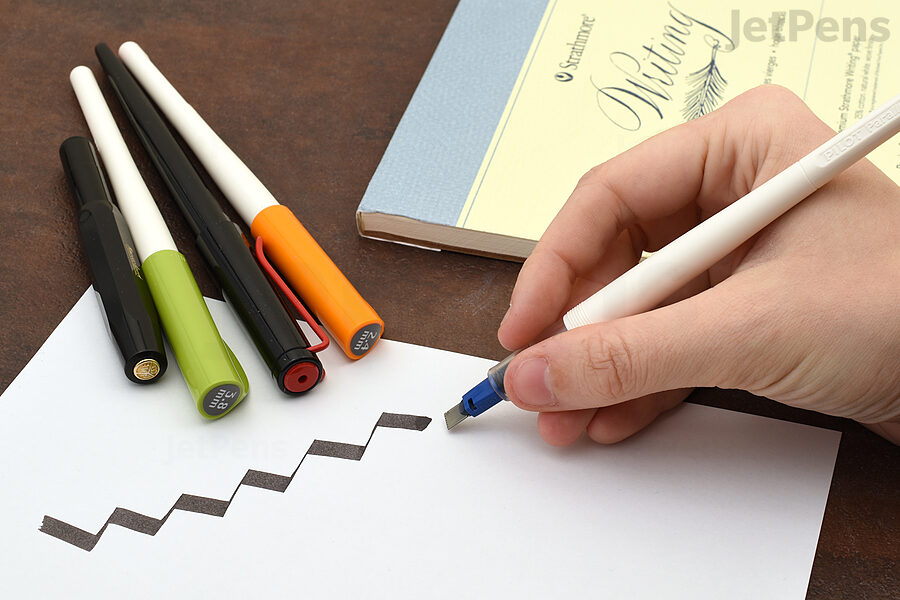 There are two main kinds of nibs: italic nibs and flex nibs. Italic nibs have a blunt edge and are usually used for Gothic, Italic, and other squared styles. These nibs rely on the difference between the length and width to product line variation. They are usually not flexible.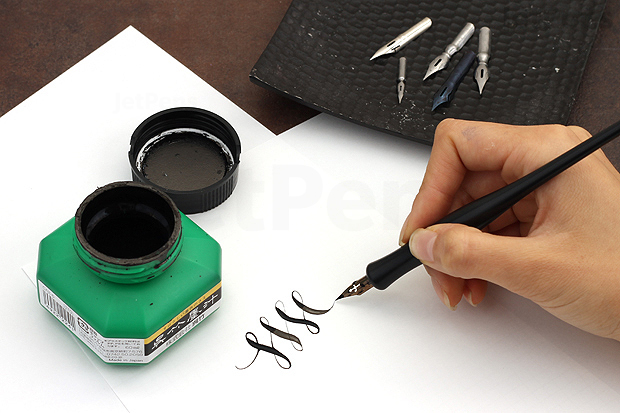 Flex nibs, also called pointed pen nibs, have two tines that come to a point. They are able to produce line variation because the tines separate when pressure is applied to the nib. The more they separate, the wider the line width. Controlling the amount of pressure applied to the nib is the foundational technique used in most modern and pointed pen calligraphy.
Ink and Paper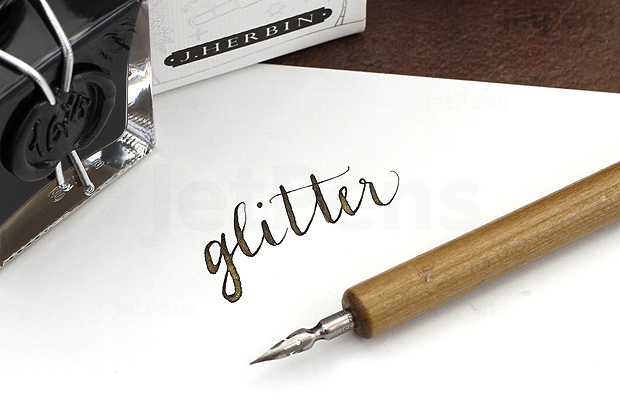 Many of the cartridge-filled pens recommended in this guide are
fountain pens
. They can be filled with cartridges or paired with a converter for access to hundreds of different bottled inks. However, make sure to fill these pens with an
ink made specifically for fountain pens
. India and calligraphy inks are formulated with binders that will clog the feed and nib, which will ruin the pen. Learn more about fountain pen inks in our
beginner's guide
.
With dip pens, the possibilities are endless. It is better to use calligraphy inks because they are more viscous than fountain pen inks and will cling to the nib better. This prevents the ink from sliding off the nib and creating unsightly blobs. Some calligraphy inks come in different colors or even with glitter mixed in, which can add texture and dimension to your calligraphy. Fountain pen inks can be used with dip pens, though calligraphers may find it helpful to thicken the ink.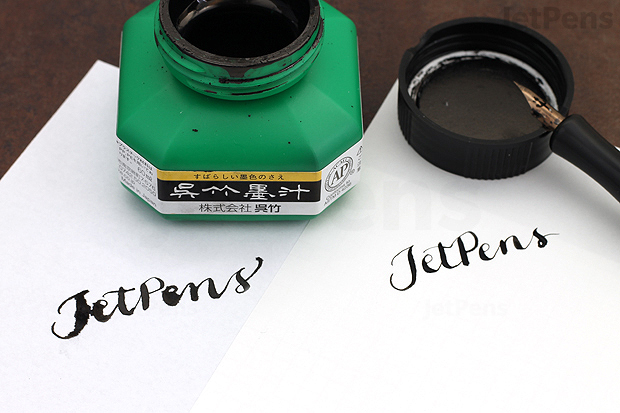 When choosing paper, forgo your regular printer paper. Calligraphy pens generally dispense more ink, and with low quality paper, bleeding is more likely to happen. Choose something that is higher quality so it will not bleed or feather. If you are not sure what kind of paper is suitable for calligraphy, look for
paper that is fountain pen friendly
.
The Best Calligraphy Fountain Pens
Italic Fountain Pen Recommendations
Fountain pens with italic nibs are a practical way to introduce some extra style to your writing. If you are already familiar with fountain pens, these pens will be easy to get started with and allow you to focus on learning a new calligraphy style.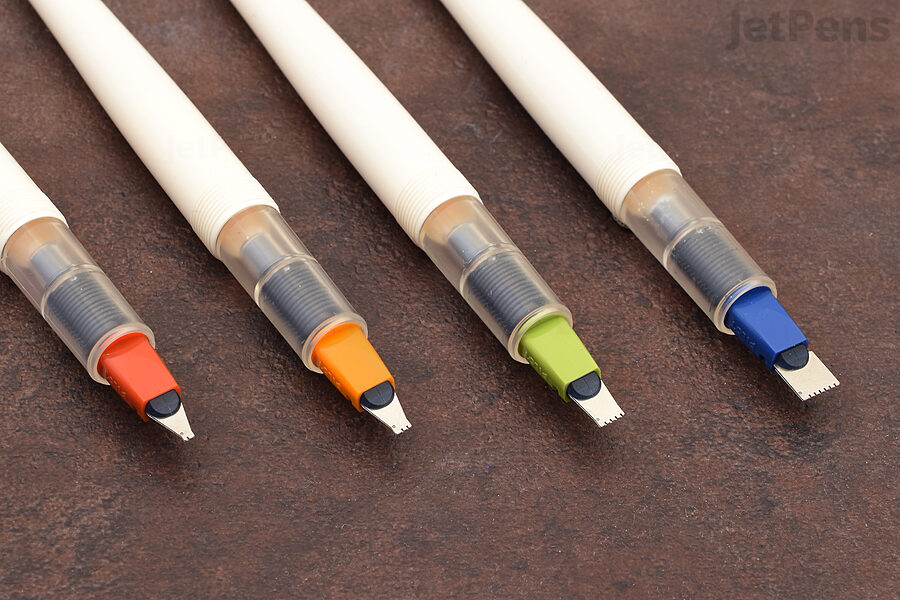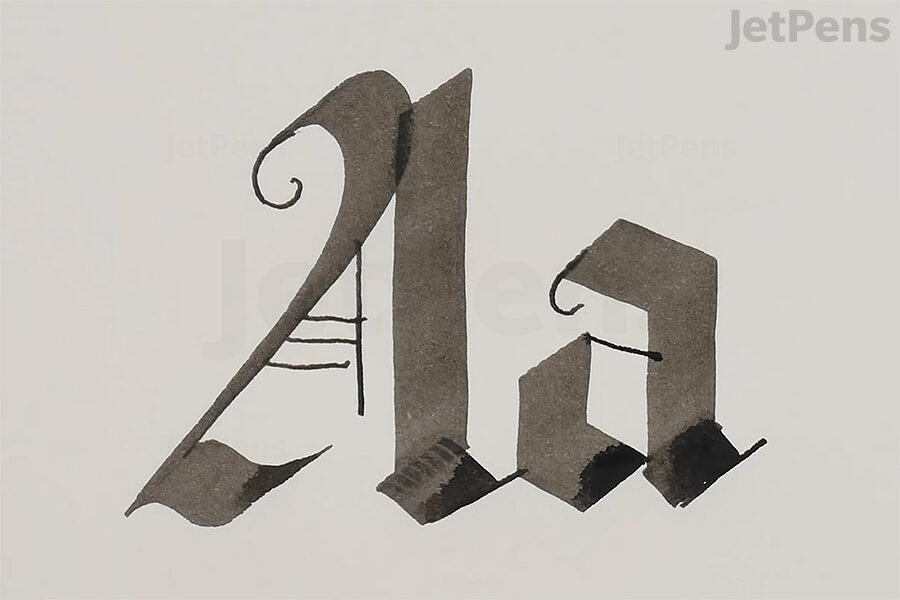 The Pilot Parallel Calligraphy Pen is one of the most unique calligraphy pens on the market. What sets it apart from similar pens is the nib, which consists of two parallel plates that lay flat against each other. Ink flows between the plates and is dispensed along the entire edge of the nib, including the corners. The Parallel can also create gradation effects when used with another Parallel. That, combined with its varied range of nib sizes and superbly juicy flow, makes it a great pen for lettering and other applications.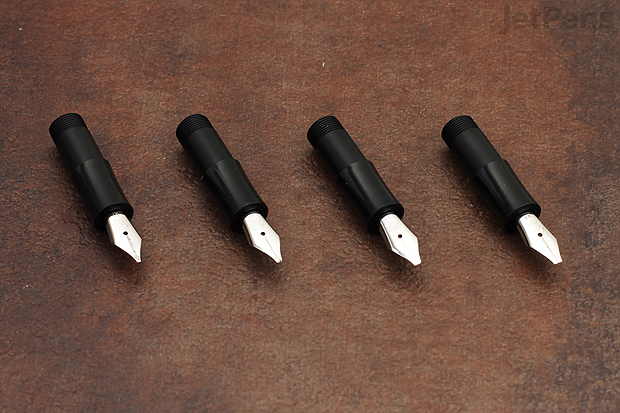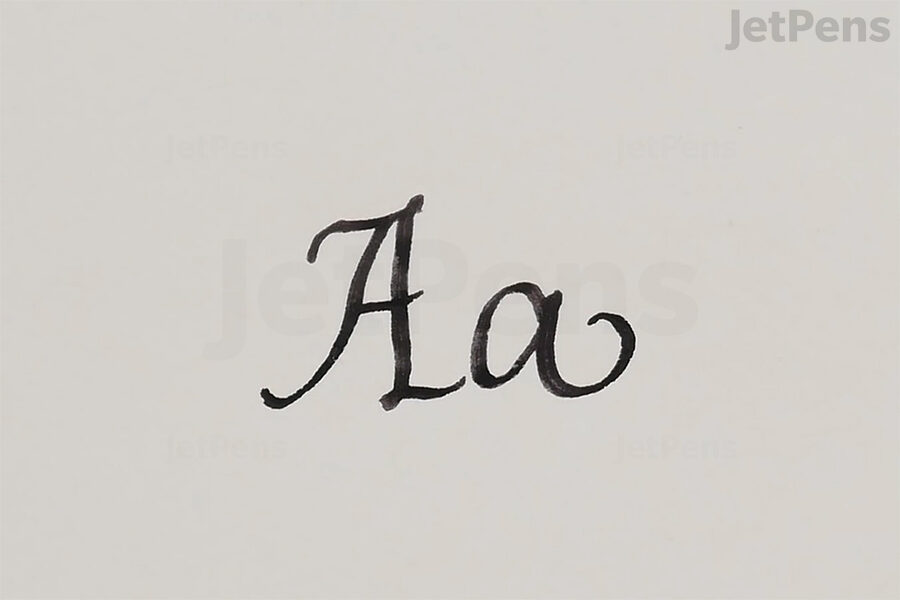 The Kaweco Calligraphy Sport Fountain Pen is another juicy pick. The ink flows freely, just like in the Parallel, but tends to pool at the ends of letters. Its range of nib sizes is not as dramatic as the Parallel's, but a variety of effects is still possible. Like other Kaweco Sports, this pen is compact and portable. It is available as a single pen with nibs from 1.1 mm to 2.3 mm in size, or in sets that include two to four nibs.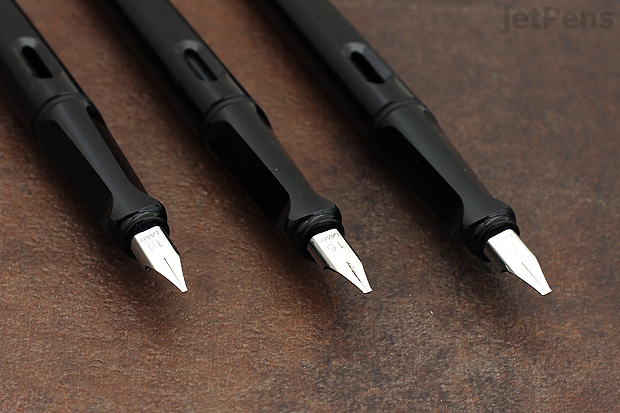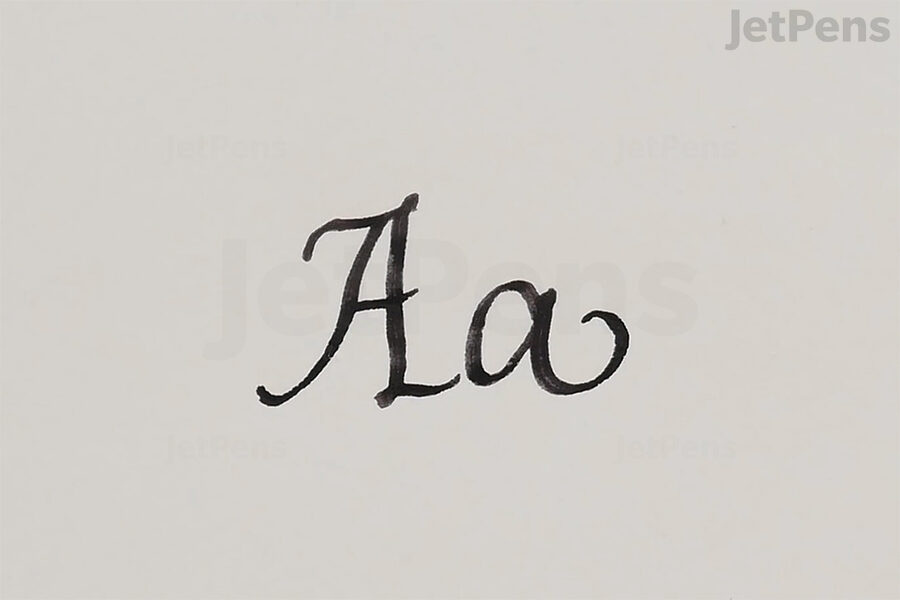 This calligraphy pen has a slightly drier flow compared to the previous two recommendations, but it still provides nice ink flow and smoothness. It is a good option for those who do not want to wait a long time for the ink to dry. The pen has a triangular section that guides your fingers into an ergonomic grip. The long pen body evokes the aesthetics of a traditional pen holder and is well-balanced for a comfortable writing experience.
Flex Nib Fountain Pen Recommendations
If you have ever seen a fountain pen with a nib that flexes like that of a dip pen, chances are you were looking at a vintage fountain pen. Today, vintage gold nibs are highly sought after because of their impressive line variation. Modern flex nib fountain pens are better categorized as soft nibs. They have a delightful springiness when gentle pressure is applied, but they are not meant to be stressed in the same way as vintage flex nibs or dip pen nibs. Pressing too hard on a fountain pen's soft nib may "spring" it, or cause the tines to become permanently separated. Use a light touch and apply gentle pressure when flexing a soft nib.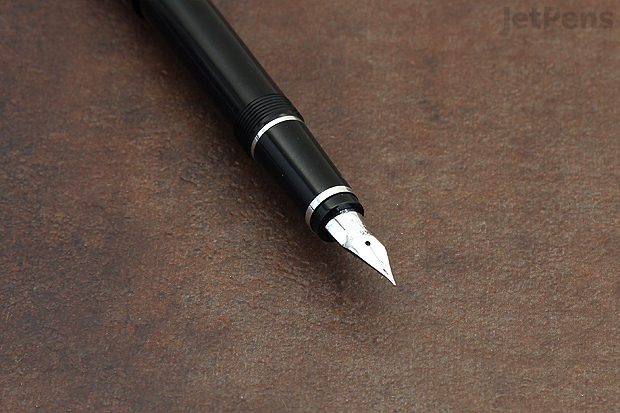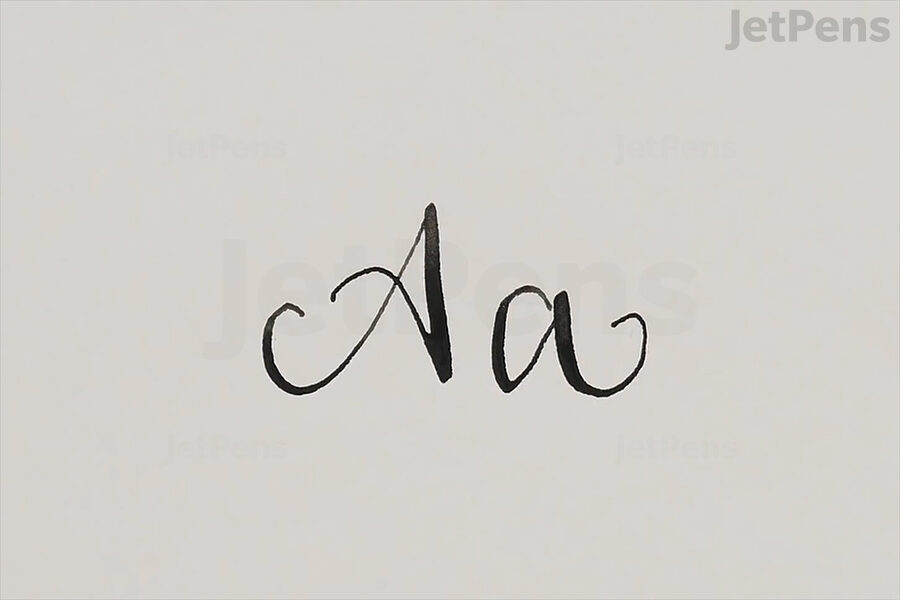 The Pilot Elabo—also known as the Falcon—has a uniquely-shaped nib made from 14 karat gold with a nice amount of softness. You will not get all the swooping flourishes or line variations possible with dip pens when using the Elabo, but for everyday writing, it provides the right amount of grace and understated flair.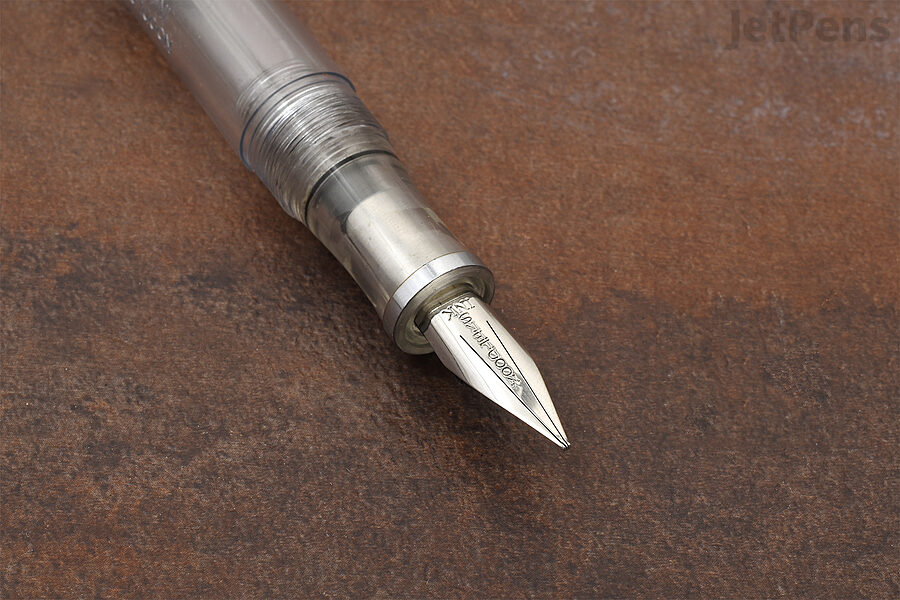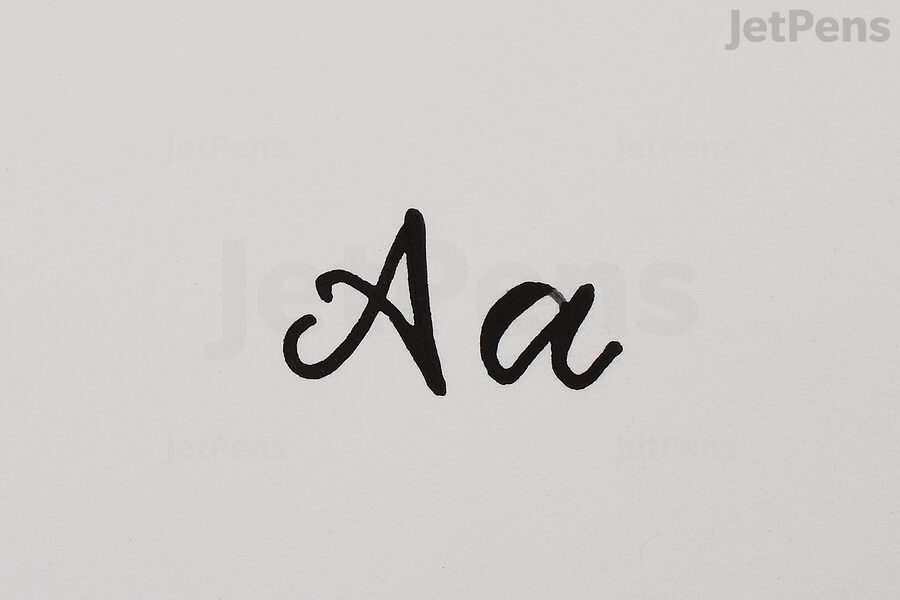 The Noodler's Triple Tail Flex Fountain Pen was made for calligraphers who enjoy tinkering and are not afraid to get inky fingers. The pen can be adjusted to change ink flow. It will be wetter when the nib and feed are pushed deeper into the grip section, and drier if the nib and feed are less deeply seated in the grip section. The Triple Tail comes with a special three-tined nib that offers excellent line variation.
The Best Calligraphy Nibs
Italic Nib Recommendations
For the crispest lettering, italic dip pen nibs are the best choice. They come in a wide variety of tip sizes, including ultra broad ones that cannot be offered in fountain pens and markers.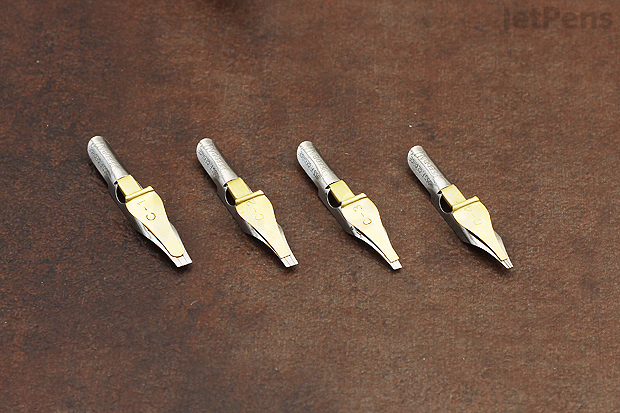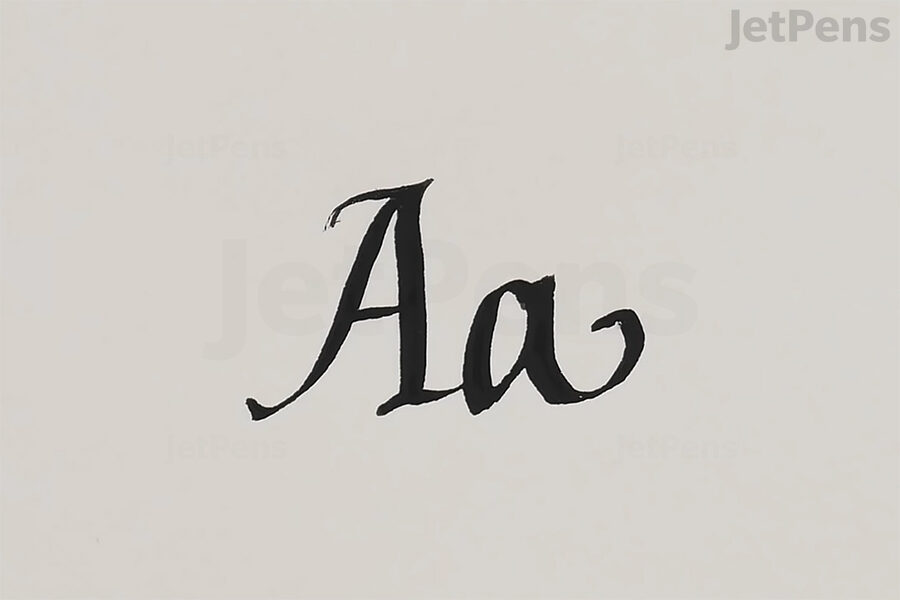 The Speedball Calligraphy Pen Set comes with everything you need to get started on your calligraphy journey, including four italic nibs with an interesting look. They have three tines instead of the usual two and a slightly angled blunt edge. They also come with brass reservoirs that improve flow consistency and keep you from having to dip the nibs as often. These nibs must be paired with a holder, which is included in the set.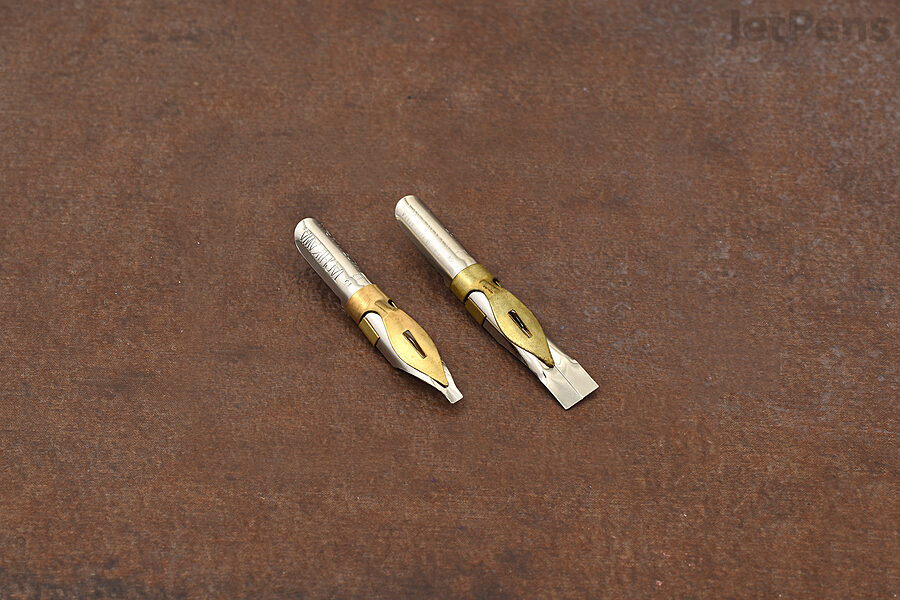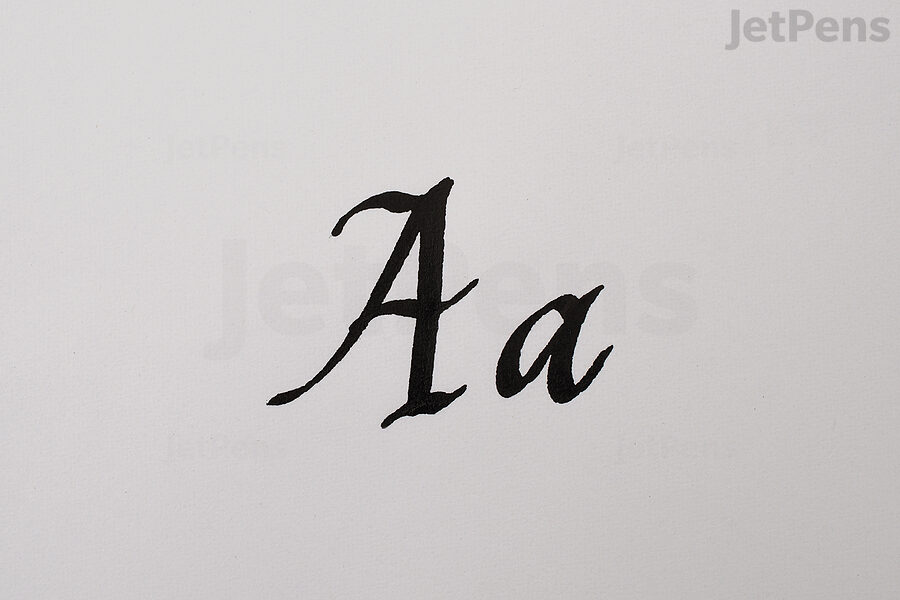 The Tachikawa Type C Nibs are suitable for more experienced calligraphers who are already familiar with italic letterforms. The nibs create bold downstrokes and extra fine horizontal strokes, but their sharp corners can dig into the writing surface when not held at the proper angle. It will take a little practice to learn how to use them correctly, but calligraphers who stick with them will appreciate the incredibly crisp lettering these nibs create. The Type C nibs are available individually, so those who only need a few nib sizes can choose exactly which ones to add to their collection.
Flex Nib Recommendations
Metal dip pen nibs are the best way to create the strokes that are key to Copperplate, Spencerian, and other pointed pen calligraphy. There are numerous nibs to choose from: they can be extremely flexible, stiff as a nail, or somewhere inbetween. Be sure to pick the right one for your project: calligraphy that needs to have thick downstrokes will benefit from a flexible nib, while subtle line variation is best suited for stiffer nibs. Dip pen nibs are made from stainless steel and will eventually wear out. Replace them when hairlines become too thick for your preference.
The Best Calligraphy Markers
Italic Marker Recommendations
Italic markers are more beginner-friendly and cleaner than italic nibs. They do not need to be dipped into messy ink bottles, nor do they require cleaning. Finally, they do not need to be refilled: when the marker runs empty, you can simply throw it away.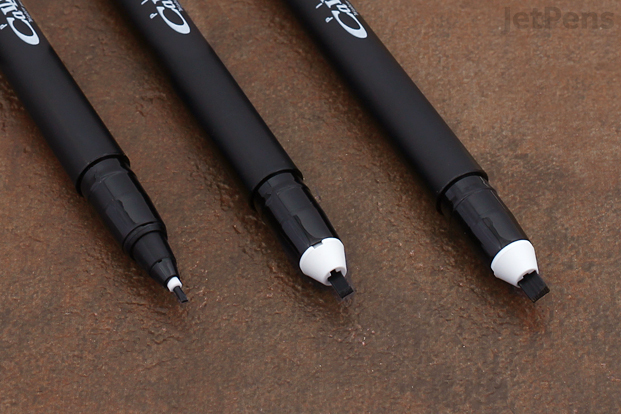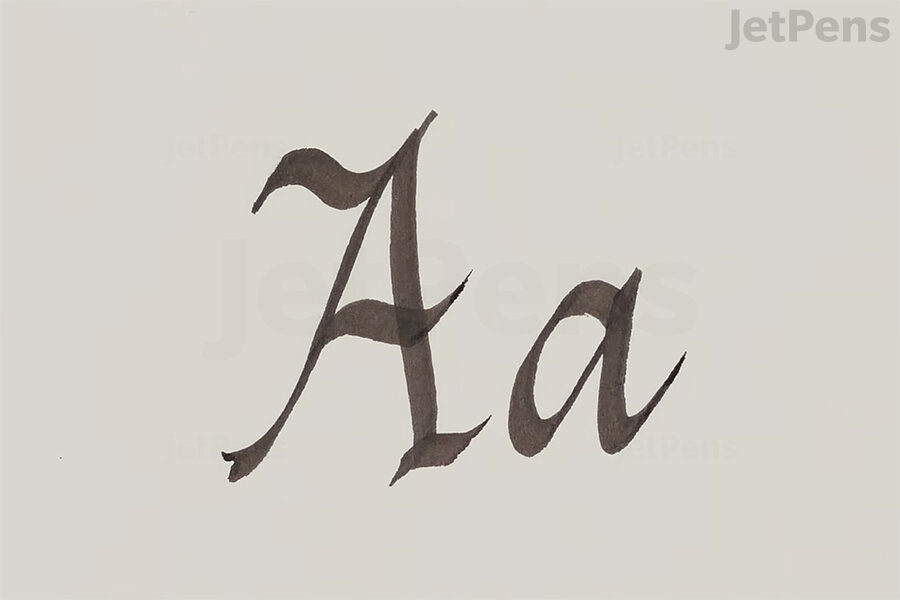 The Sakura Pigma Calligrapher Pen combines the crisp lines of a metal calligraphy nib with the convenience of a marker. The tip is made of durable nylon and stays firm longer than a felt tip. The pen uses the same archival-quality ink as Sakura's Pigma pens, so it is waterproof and fade-resistant on most papers.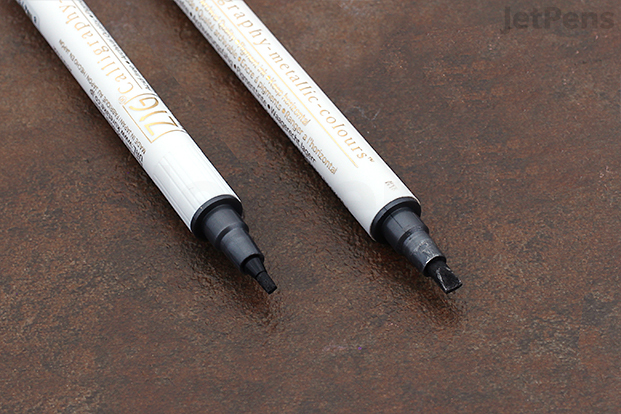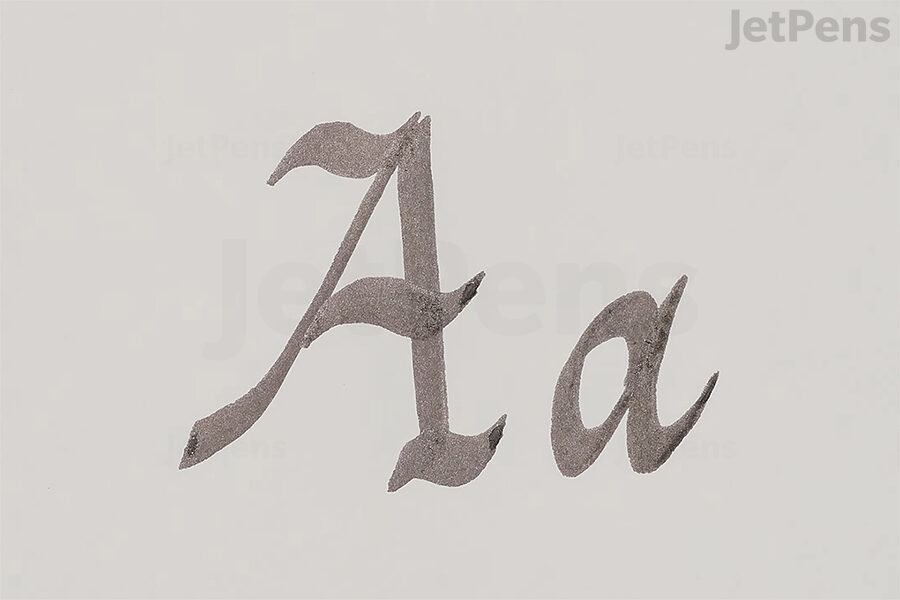 If you've ever wanted an italic marker with metallic ink, try the Kuretake ZIG Calligraphy Metallic Double-Sided Marker Pen. This double-sided marker has a 3.5 mm tip on one end and a 2.0 mm tip on the other. It comes in six shimmering colors that work well on both light and dark papers. Plus, you can blend colors by touching the nibs of two different markers together.
Flex Marker Recommendations
Though brush pens are not able to create the same hairline upstrokes as metal nibs, they are much easier to start learning with and far more convenient. A brush pen has an ink reservoir inside and fewer moving parts. They are especially handy for calligraphers on the go.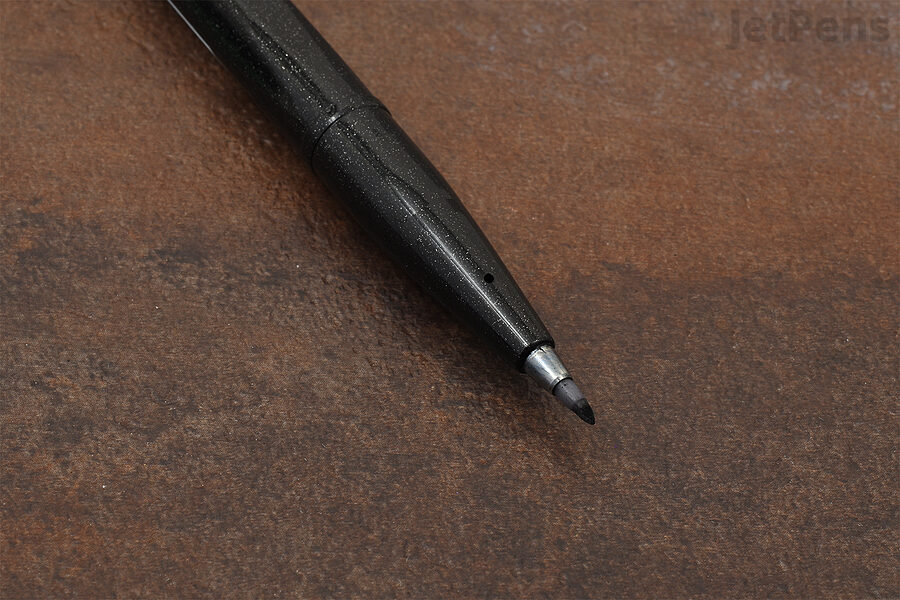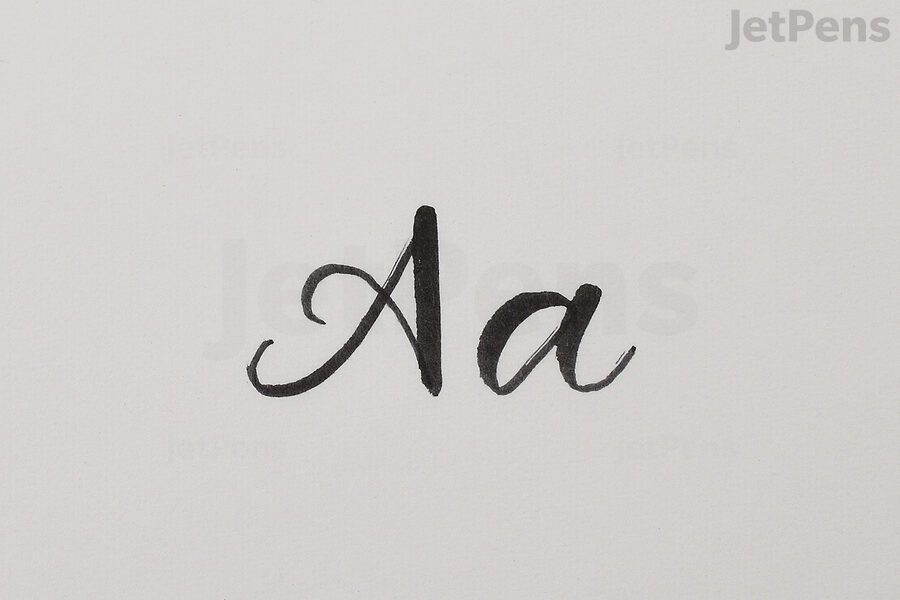 The Pentel Fude Touch Brush Sign Pen is beloved by amateur and professional calligraphers alike. Their small tips are easy to control yet create a surprising amount of line variation. As an added bonus, these brush pens come in twenty four vibrant and pastel colors that are suitable for any calligraphy project. However, the ink is not water-resistant.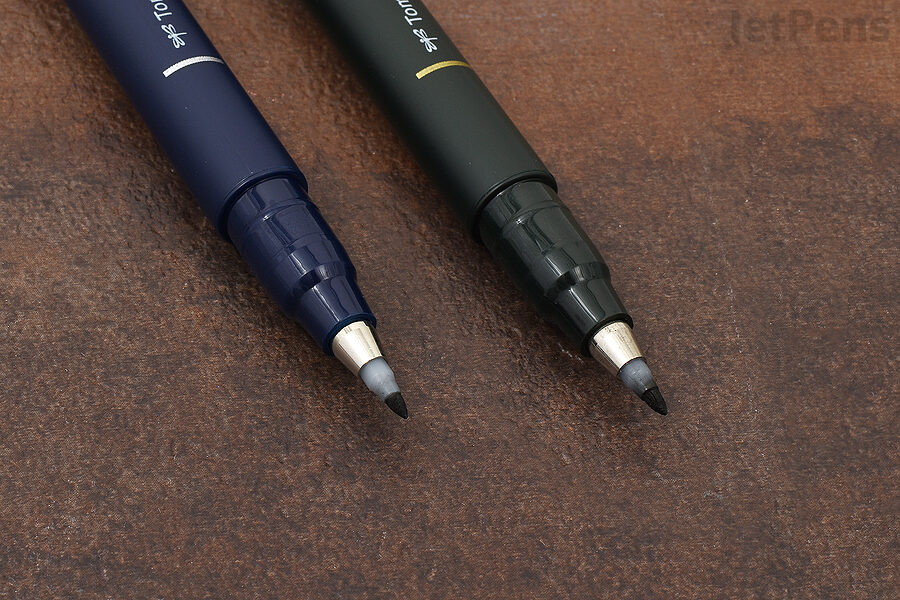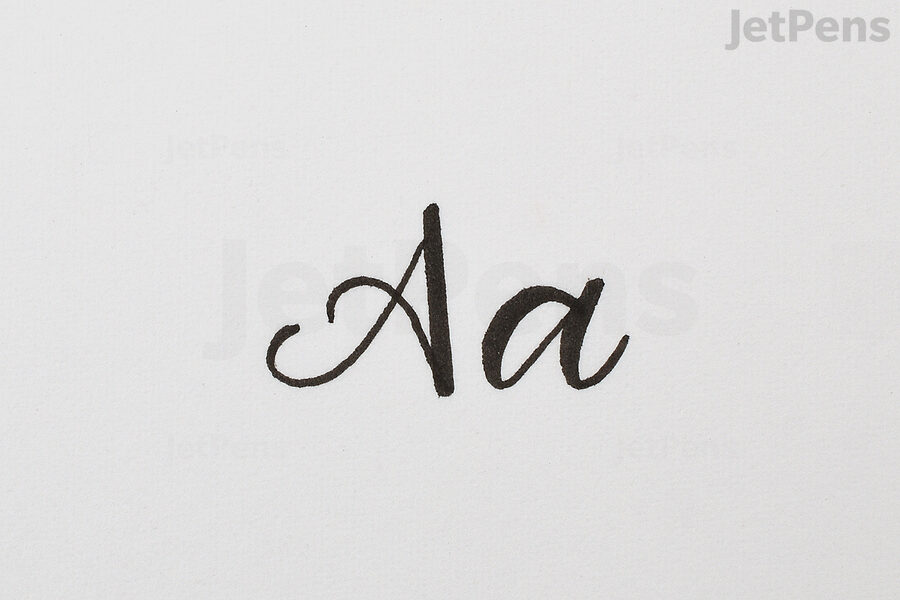 If you plan to pair your calligraphy with watercolors, reach for the Tombow Fudenosuke Brush Pen. Its black ink is completely waterproof, which makes it especially suitable for use with water-based coloring tools. The Fudenosuke comes in two tip types. The soft one is more responsive to writing pressure, while the hard one is easier to control. Both produce line variation that is suitable for modern calligraphy.
Note that the colorful Fudenosukes have water-resistant ink, while the Neon ones are not waterproof or water-resistant.
The Best Calligraphy Inks
These inks should only be used with dip pens. Filling a fountain pen with India or calligraphy ink will clog the nib and feed, damaging it permanently.
How to Use a Dip Pen
Prepping the Nib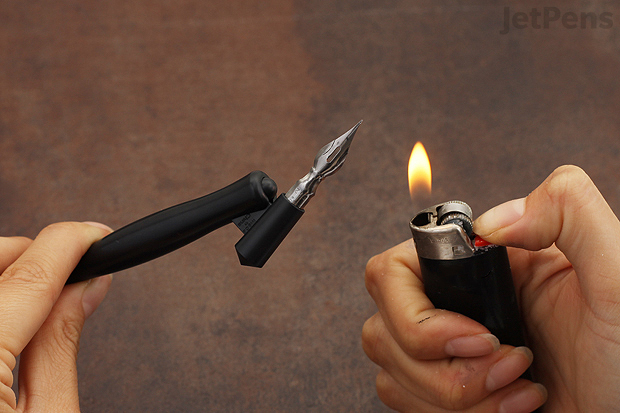 First, clean the oil from a new dip pen nib. Manufacturers coat the nib with a protectant oil to prevent the nib from rusting. However the oil will cause ink to run off of the nib, so it is important to clean the nib for it to write with an even flow. There are several ways to clean a nib: use a gentle brush with a small amount of toothpaste to carefully rub the oil off with a good rinse. Rubbing alcohol also works, but be sure not to soak it for too long. Another method is to use a lighter to burn the oil off, but be careful when using fire. Make sure the nib is completely cool before handling it.
Installation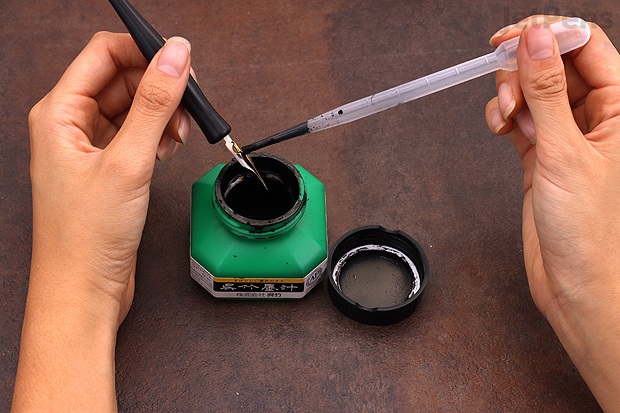 After installing the nib into the holder, dip it into the ink. If your nib has a built-in reservoir, you can use an eyedropper to fill it for a more uniform flow.
Nib Cleaning and Storage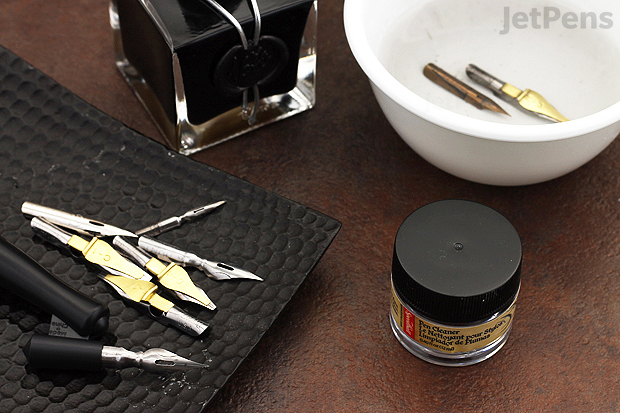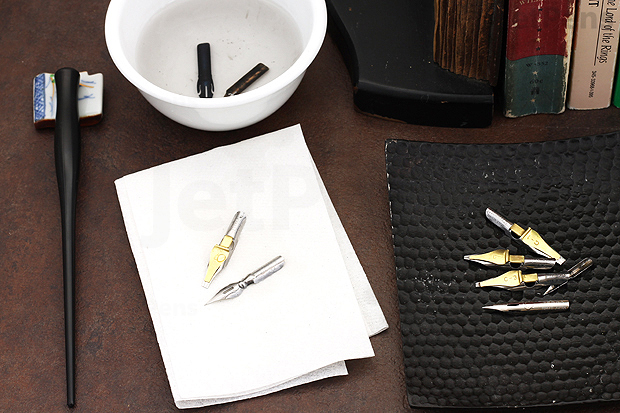 When you have finished writing, be sure to clean the nib and dry it off completely to prevent rusting. Most non-waterproof inks will clean off well with mild soap and water. For peskier waterproof, acrylic, or India inks, you may need a special cleaner.
Tips for Using Flex Nibs
Writing Angle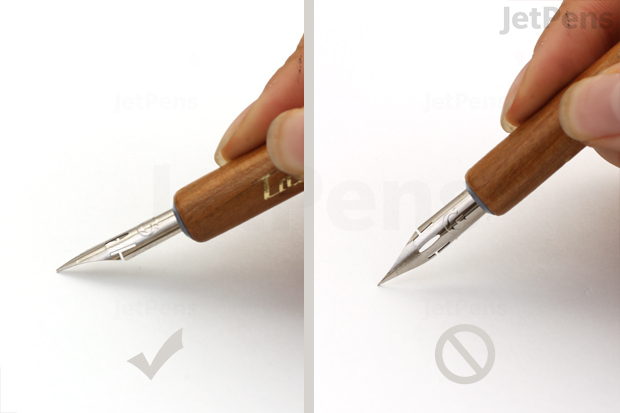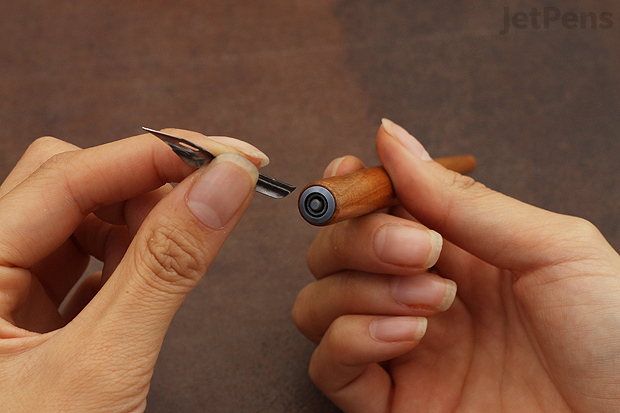 The best writing angle for a flex nib is 45 degrees. If your nib holder has a directional grip (such as one that guides your fingers in a specific position), be sure to install the nib properly. Some nib holders have two grooves: nibs will usually go into the outer groove. Small nibs, like the Brause 66 Extra Fine Arrow Nib, will go into the smaller groove.
Railroading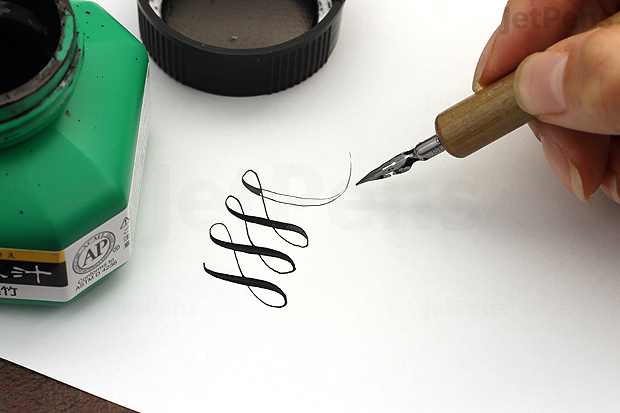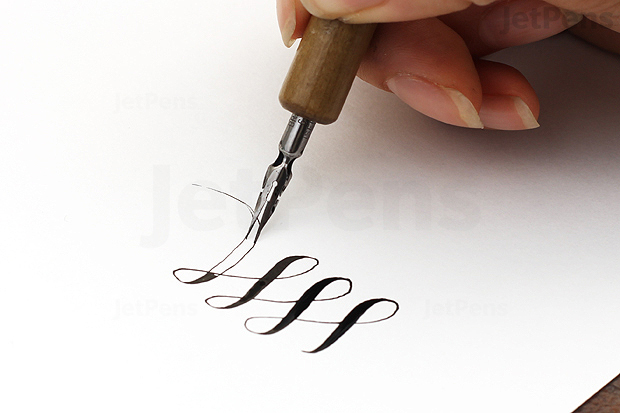 A common problem when writing with flex nibs is called "railroading." This is when the ink follows the two tines rather than flowing smoothly between them, creating an effect that looks like a railroad track. This happens when there is not enough ink on the nib, so be sure to dip often.
Excess Ink Flow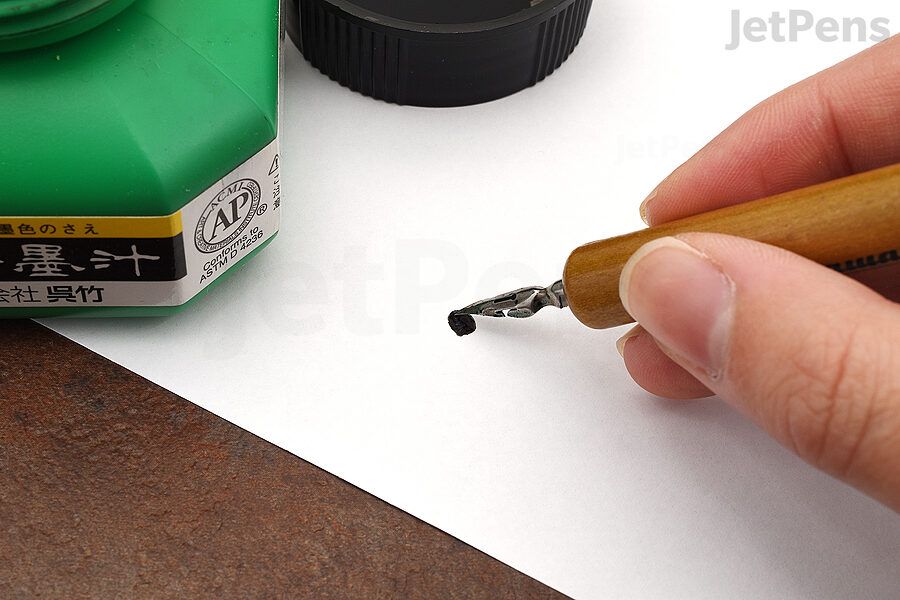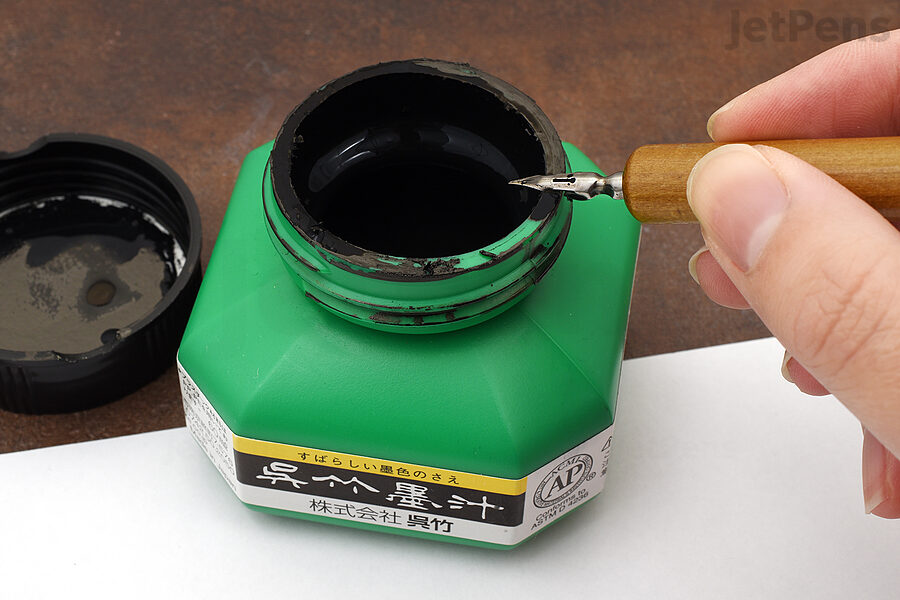 Have you ever touched the nib to paper and expected a beautiful hairline, only for an unsightly blob of ink to form? There are usually two reasons why this happens: the first is that the nib has not been completely cleaned of manufacturing oils. Be sure to prepare new nibs before using them. The second reason is that there is too much ink on the nib, and it cannot flow gradually while writing. Thankfully, there is an easy fix: after dipping the nib in ink, tap or drag the underside of the nib against the edge of the bottle or mixing palette to get rid of excess ink.
Calligraphy Strokes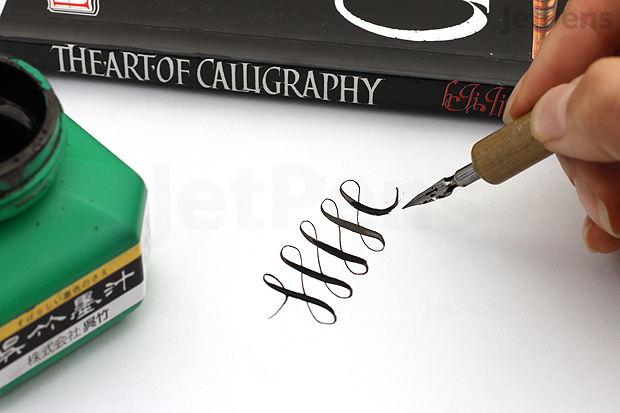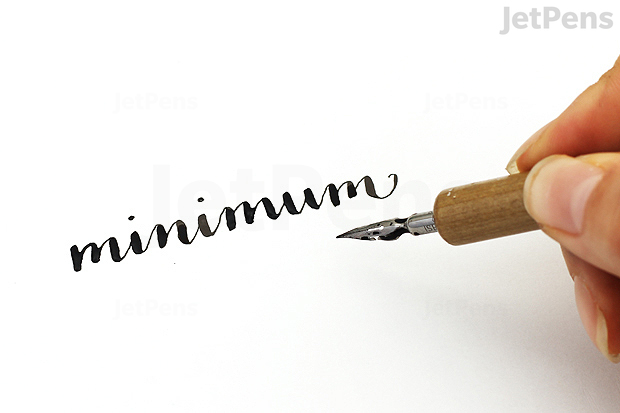 Getting used to flex nibs takes a lot of practice and patience. Flex nibs are responsive and express every change in pressure, making it difficult to maintain consistency. Practice up and downstrokes until you are familiar with how the nib responds.
Shop This Post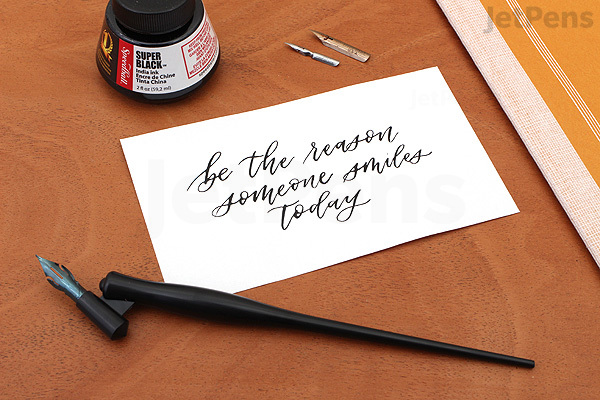 Conclusion
Whether you use the calligraphy pens and inks recommended in this guide or try your hand at brush calligraphy, the art of lettering is a fun way to express your creativity. Even if your first few tries may not be Instagram-worthy, with some practice, we are certain you will find a calligraphy style to call your own.
Calligraphy Nib Recommendations
Name
Nib Type
Line Width
Flex Level
Add to Cart
Brause 66 Extra Fine Arrow Nib
Flex
Extra Fine
High
Add to Cart
Brause 361 Steno Blue Pumpkin Nib
Flex
Fine
Moderate
Add to Cart
Speedball C Series Nibs
Italic
1.8 mm (C4), 2.0 mm (C3), 3.0 mm (C2), 3.5 mm (C1)
Low
Add to Cart
Speedball No. 512 Bowl Pointed Nib
Flex
Fine
Moderate
Add to Cart
Tachikawa Type C Nibs
Italic
1 mm, 2 mm, 3 mm, 4 mm, 5 mm, 6 mm
Low
Add Items to Cart
Zebra Comic G Model Nib
Flex
Fine
Moderate
Add to Cart
Calligraphy Fountain Pen Recommendations
Name
Nib Type
Line Width
Flex Level
Add to Cart
Kaweco Calligraphy Sport Fountain Pens
Italic
1.1 mm, 1.5 mm, 1.9 mm, 2.4 mm
None
Add Items to Cart
LAMY Joy Calligraphy Pens
Italic
1.1 mm, 1.5 mm, 1.9 mm
None
Add Items to Cart
Noodler's Triple Tail Flex Fountain Pens
Flex
Medium
Medium
Add to Cart
Pilot Elabo Fountain Pens
Flex
Soft Extra Fine, Soft Fine, Soft Medium, Soft Broad
Medium
Add Items to Cart
Pilot Parallel Pens
Italic
1.5 mm, 2.4 mm, 3.0 mm, 3.8 mm, 4.5 mm, 6.0 mm
None
Add Items to Cart
Calligraphy Marker Recommendations
Name
Nib Type
Line Width
Flex Level
Add to Cart
Kuretake ZIG Calligraphy Metallic Double-Sided Marker Pens
Italic
2 mm / 3.5 mm
None
Add Items to Cart
Pentel Fude Touch Brush Sign Pens
Flex
Fine
Medium
Add Items to Cart
Sakura Pigma Calligrapher Pens
Italic
1.0 mm. 2.0 mm, 3.0 mm
None
Add Items to Cart
Tombow Fudenosuke Brush Pens
Flex
Fine
Medium (Hard), High (Soft)
Add Items to Cart
---
---