---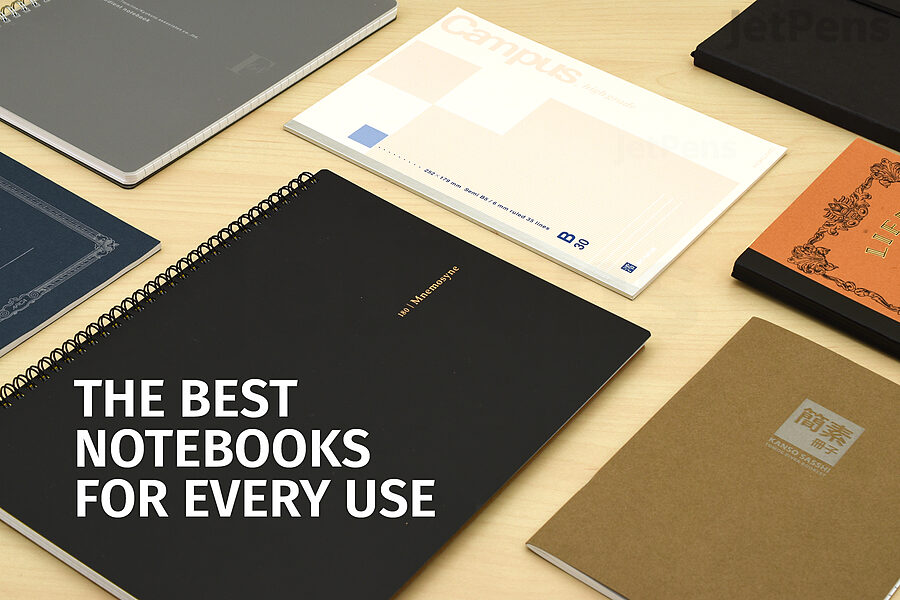 Whether they're musings, compositions, sketches, or just everyday notes, we trust notebooks to keep our thoughts and discoveries in one place. To help you find the best notebook for your needs, we've curated a list of outstanding notebooks for many popular uses like note-taking, journaling, and more. These choices come in comfortable medium sizes and feature common sheet styles so you have the freedom to use them however you like.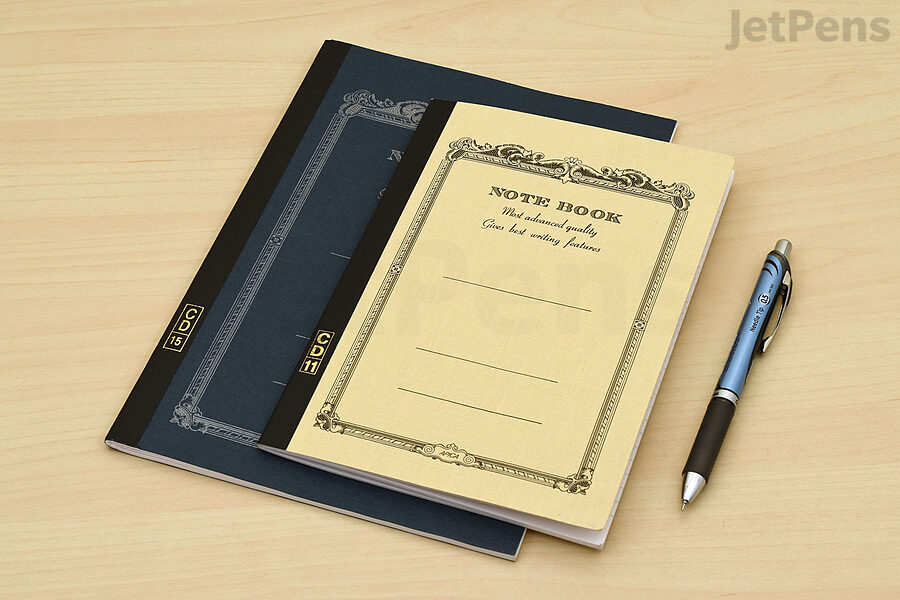 Apica CD Notebooks are perfect for those who simply want reliable, all-purpose notebooks. They contain smooth, lined paper that handles even fountain pen ink well. These lightweight notebooks are remarkably inexpensive for their quality, so you can use as many as you need without feeling like every word has to be perfect. Apica also makes heftier,
premium versions
with even smoother paper for those interested in a more luxurious experience or more sheet styles.
While most notebooks use A rule (7 mm) or B rule (8 mm), Apica created their own unique 6.5 mm rule, called D rule. They named their notebooks after this: "C" stands for college, and "D" signifies the ruling. After their 6.5 mm ruled notebooks were established, Apica expanded range to include other line spacings. Interestingly, the A5 size is the only one that features the namesake CD rule now.
Apica CD notebooks come in several colors and sizes. This includes the stylish Paris series, which is effectively an extension of the line with French design motifs.
Use our comparison tool to see the available options side by side.
Considerations
Paper Size
Standard size notebooks and notepads are usually letter or legal size (U.S.), or
A4
(ISO 216 international paper size standard). These notebooks are best for taking notes at school or work. Notebooks about half that size (
A5
) are usually used as journals and small sketchbooks. Another popular size is
B5
, which is in between
A4
and
A5
. We think
B5
notebooks are "just right"--not so big that they become a hassle to lug around and not so small that you can't finish your thoughts in one page. There are also people who prefer pocket sizes (
A6
), as they're much easier to carry around. For more pocket notebook picks, take a look at our guides to
Memo Pads
and
Pocket Notebooks
. If you're not sure what paper size you should use, read our
Paper Sizes Explained
guide for more detailed information.
Sheet Style
Lined, graph, and plain notebooks comprise the three most common sheet styles, but there are other styles that may be worth considering depending on your needs.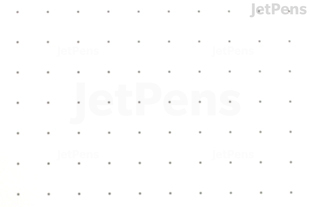 The versatile dotted grid pattern features dots that can be used as guidelines as you're writing while still being unobtrusive enough for doodles.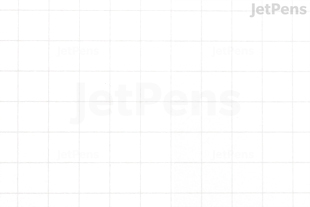 Notebooks printed with graph paper are useful for engineers or designers who are constantly making diagrams, mock-ups, and so on.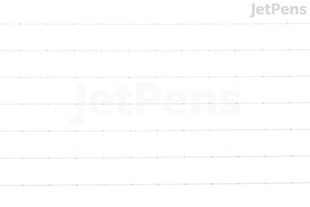 The dotted line pattern is a ruled style that features evenly spaced dots along the lines. This is great for students as it helps keep notes organized and neat when writing and drawing diagrams at the same time.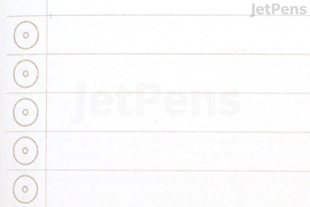 Pre-formatted sheet styles such as those in planners or some journals encourage people to use the notebooks in a certain way. Although this guide focuses on sheet styles with broader applications, you are encouraged to explore them if you want a more directed experience.
Line Spacing
Most people use medium (college) ruled paper, which is 7 mm. Wide ruled (8 mm and up) paper is usually used in grade school or by people who have larger handwriting. People with very small handwriting can also use narrow ruled (6 mm) paper. For graph styles, the standard size is 5 mm. The less common 3 mm grid is also available for those who do very detailed work.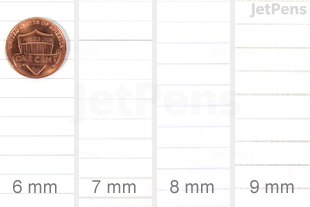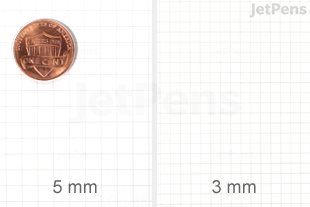 Binding
Notebooks are bound in several different ways, including glue, staple, thread, spiral, rings, or a combination of the above. The binding method determines how flat a notebook lays, how well it stays together, and generally how sturdy it is.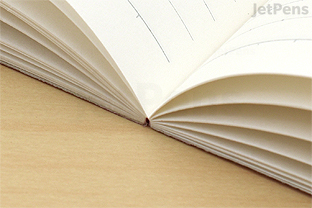 Glue binding tends to not be as secure as other types of binding. Traditionally, glue-bound notebooks don't lay completely flat, but they can be made to lay flat when combined with thread binding. Some glue-bound notebooks are made intentionally so that pages can be removed easily. You can see this in top-bound sketchbooks and the like, which is perfect for those who need to remove their work from the notebook cleanly.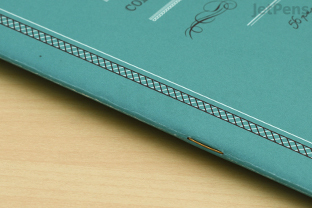 Staple binding is used for thinner notebooks (roughly 64 pages or less). Staples are placed in the middle of the pages and then the pages are folded into a notebook. Some notepads have staple bindings at the top of the notebook, where pages have to be folded back or removed in order to use the next page. Look for staple bindings when choosing a pocket or thin notebook.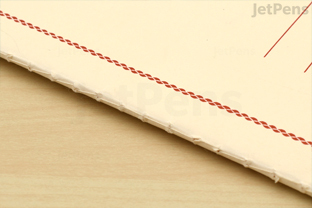 Thread or stitched binding is similar to staple binding, as thread is stitched through the middle of the pages and then folded to create the notebook. Thread binding can accommodate more pages and is sturdier than staple binding. This binding style is ideal for people who need more pages and more stability in their notebook.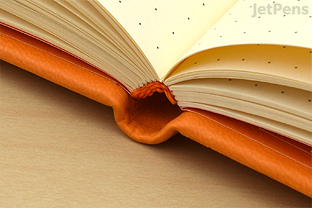 A combination of thread and glue allows for a more tightly bound notebook that can also lay flat. It's also not limited by number of pages. This type of binding is great for people who prefer a sleek notebook with a sturdier binding.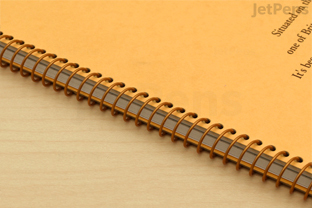 Spiral notebooks have a spiral wire running through the pages. Though this binding is secure, wider spirals may move out of place as the notebooks are opened and closed or be prone to deforming. Tightly wound spirals are a better choice if you're looking for a spiral notebook because they are sturdier and less likely to move out of place.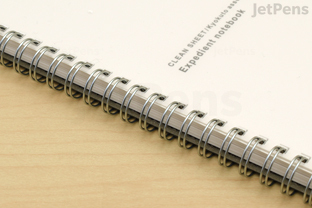 Ring binding comes in single and twin versions. Twin rings are the most secure out of all the bindings we've mentioned, and allow notebooks to lay completely flat. The slight disadvantage to this kind of binding is that it's bulkier and not as streamlined.
Paper Weight
Paper weight is expressed as grammage (grams per square meter) or pounds (in the States). It does not necessarily correlate with paper quality. Some papers that have lower weights but are made for fountain pens, such as Tomoe River paper at 58 gsm, are very high quality. On the whole, heavier paper is thicker and more durable. They can withstand more robust erasing and have less showthrough. People who draw or who write on both sides of the paper should consider heavier paper.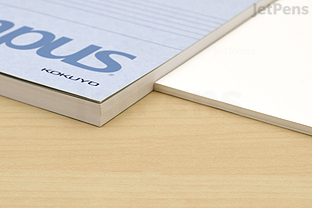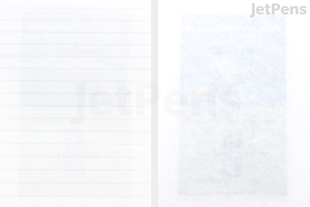 Sheet Count
Notebooks don't just come in all sorts of shapes and sizes, they also vary in the number of sheets within the notebook. Some people prefer thinner notebooks while others need an encyclopedia-like notebook to chronicle their thoughts. However, sheet count isn't the only factor in notebook thickness: if you want more pages without the extra mass, try finding paper with a lower weight. You'll be amazed by how many more sheets you can carry!
Cover Material and Design
Notebook covers are made from all kinds of materials, including thick cardstock, hard chipboard, flexible plastic, and luxurious leatherette and leather. If you tend to carry your notebook with you everywhere, you should choose a sturdier cover that can withstand a few knocks. Covers with rounded corners are also a good choice, since they won't get worn down or accidentally folded. We like covers that multitask; for example, some covers have pockets that let you slip in business cards or other loose leaf paper.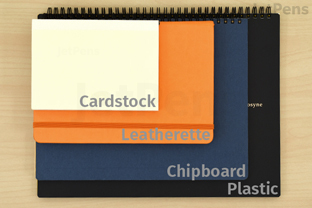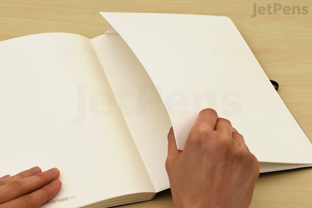 Perforation
Whether you need to tear out homework to turn it in or just have to frame an awesome sketch, perforated notebooks make it easy to remove and share pages. Look for perforation with dots set closely together for that smooth, easy tear. Perforations that are not set close enough usually need you to fold or crease the paper to help them tear cleanly.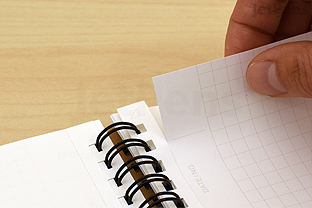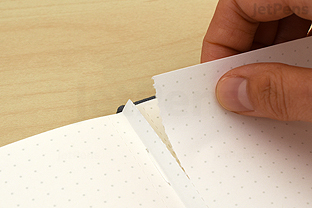 Refillability
Some manufacturers offer covers to protect notebooks from the wear and tear of regular use. Covers come in many different designs, from simple sleeves to organizers with built-in pockets. Once you find one you like, you can keep using it for years even if your taste in paper changes. Many covers have specific refills that are made to fit them, but most will accommodate any refill in the correct size. Binder-style notebooks like the Kokuyo Smart Ring use loose sheets for their refills. This is especially useful for students and others who often need to rearrange their notes.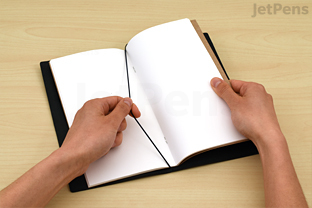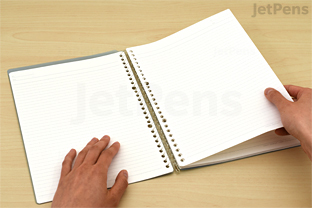 Our writers draw on their personal expertise, consult our in-house subject matter experts, and do extensive research to make our guides as accurate and comprehensive as possible. We then test every finding that makes it through the research stage. Only the techniques and tools whose performance we personally confirm make it into our guides as recommendations.
Conclusion
Even with the pervasiveness of smartphones and tablets, there's nothing that can truly replace the joy of writing in a good notebook. What do you think of our picks? Let us know what your favorite notebooks are in the comments below!
| Product | Paper Size | Sheet Style | Binding | Cover Material | # Pages | Perforations | Covers |
| --- | --- | --- | --- | --- | --- | --- | --- |
| Apica CD Notebooks | Semi B5, A5, B7, A7 | Lined | Thread | Paper | 56, 68 , 72 | No | Yes |
| Clairefontaine My Essential Notebooks | A5 | Lined | Thread | Cardstock | 192 | No | No |
| Field Notes Signature Notebooks | 4.3" x 6.5" | Blank, lined | Thread & glue | Cardstock | 72 | No | No |
| JetPens Tomoe River Kanso Sasshi Booklets | A5, 3.4" x 5.4" | Blank | Staple | Cardstock | 96 | No | No |
| Kokuyo Campus Dotted Rule Notebooks | A4, semi B5, A5, A7 | Dotted rule | Glue, twin ring | Cardstock, cardstock & plastic | 60, 80, 100 | Varies | Yes |
| Kokuyo Campus High Grade MIO Notebooks | Semi B5, A5 | Lined | Glue | Cardstock | 60, 160 | No | Yes |
| Kyokuto Expedient Notebooks | B5 | Blank, dot grid, lined | Twin ring | Cardstock & plastic | 160 | No | No |
| Leuchtturm1917 Notebooks | B5, A5, A6 | Blank, dot grid, graph, lined | Thread | Synthetic leather | 120, 128, 186 | No | No |
| Life Noble Notebooks | A4, A5, 3.3" x 5.0", A7 | Blank, graph, lined | Thread, twin ring | Cardstock | 60, 80, 200 | No | No |
| Maruman Mnemosyne Notebooks - Creative Style | A4, A5, A7 | Blank, graph | Twin ring | Plastic | 140, 160 | Yes | No |
| Midori MD Notebooks | A5, B6 slim, A6 | Blank, graph, lined | Thread & glue | Cardstock | 176 | No | Yes |
| Rhodia Reverse Books | 8.3" x 8.3" | Dot grid, graph | Twin ring | Cardstock | 160 | Yes | No |
| Rhodia Webnotebooks | A5, 3.5" x 5.5" | Blank, dot grid, lined | Thread & glue | Synthetic leather | 192 | No | No |
| Stillman & Birn Zeta Sketchbooks | 7.2" x 10.0", 5.6" x 8.8", 5.5" x 8.5", 3.5" x 5.5" | Blank | Thread & glue, twin ring | Chipboard, synthetic leather | 50, 52 | No | No |
| TRAVELER'S COMPANY TRAVELER'S notebooks | A5 slim, 3.5" x 4.9" | Blank, graph, lined, specialty | Staple, thread | Leather (covers), cardstock (refills) | 32, 48, 64, 80, 128 | Varies | Yes |
---
---