---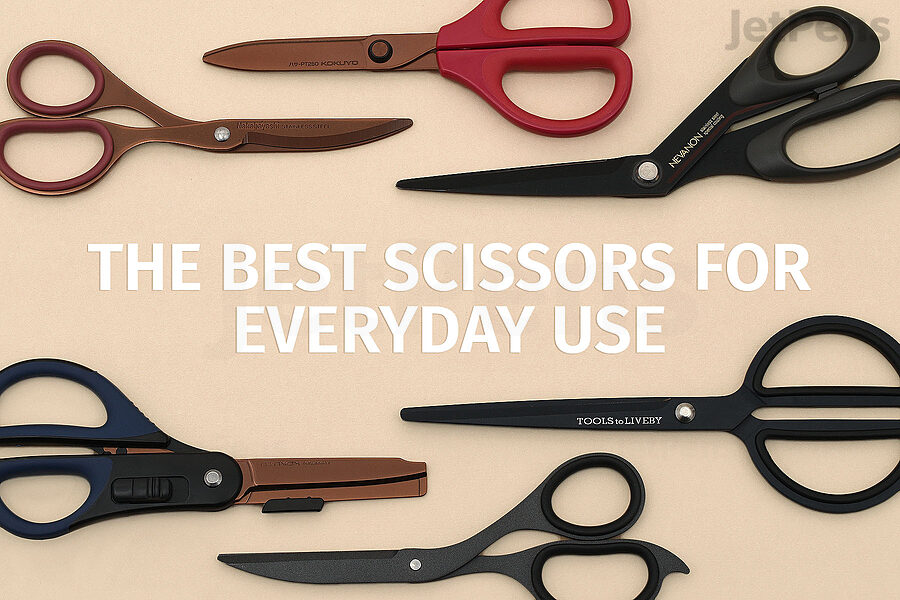 Scissors are the unsung heroes of office supplies. They are there for us when we need to snip the tags from a new sweater, cut out crafts, or open a package. While most of us just reach for whatever is available, a comfortable, sharp pair of scissors can be a revelation. After testing the different pairs that we carry, we're excited to show you these hand-picked scissors that are a cut above the rest. Read on or watch the video below to see an overview of our scissor recommendations.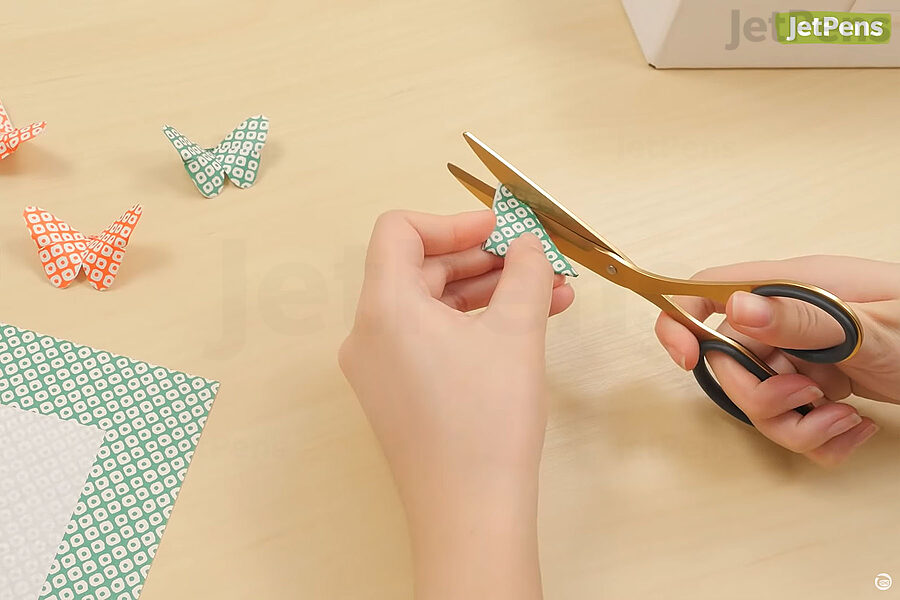 Top Choice Scissors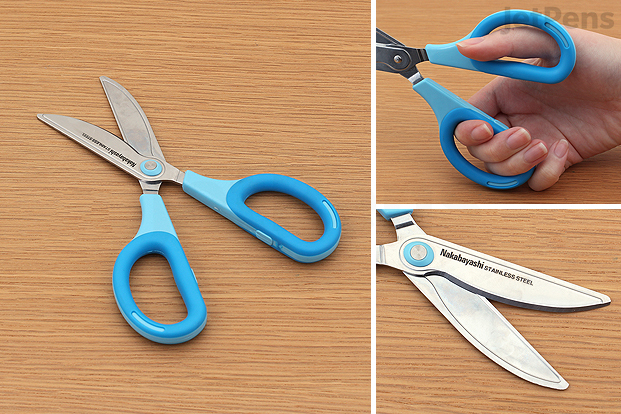 Whether you use them around the office or for crafting, these
scissors
are easy to use and durable. The Sakutto Cut scissors are available in a variety of blade shapes and coatings. The
Standard
scissors have straight blades while the
Hikigiri
scissors have curved blades that slice as you cut, reducing the amount of force you need to exert. Both scissors are available with uncoated stainless steel blades or non-stick fluorine coatings, but only the Hikigiri scissors come with durable titanium coatings.
The Sakutto Cut Scissors have large handles lined with hard rubber, which makes them comfortable to hold and use whether you're right-handed or left-handed. Both the Standard and Hikigiri have a ridge on the inside flat surface of the blade that keeps adhesive residue from building up on them.
SCISSOR CONSIDERATIONS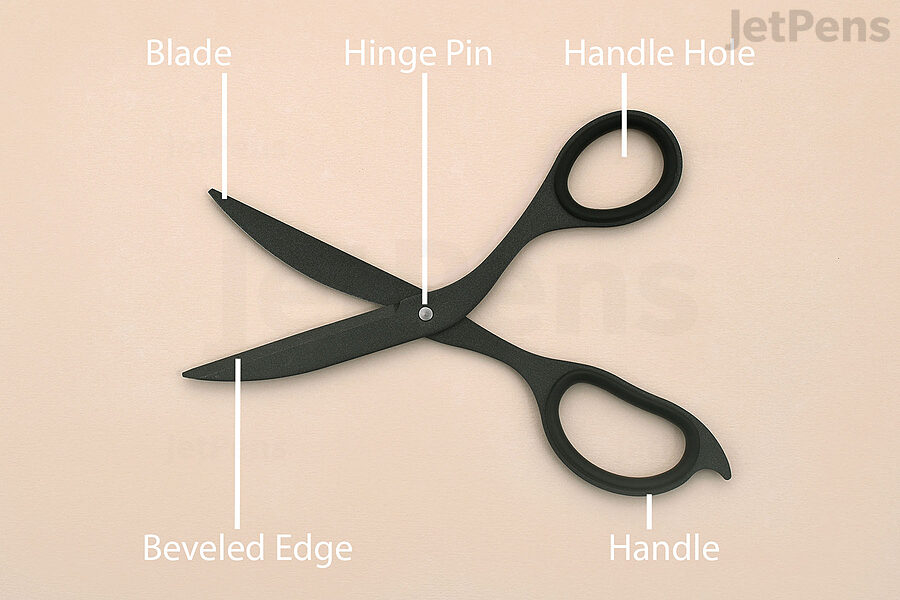 Beveling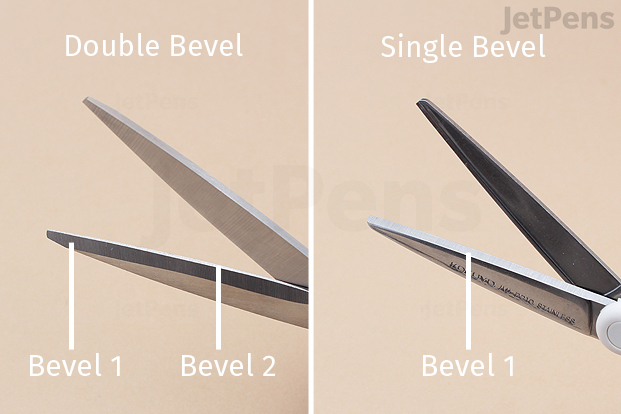 The feeling of a sharp blade slicing neatly through paper is incredibly satisfying. If you want fuss-free cuts, consider beveling when selecting scissors. A beveled edge refers to an edge that is slanted rather than perpendicular to a surface. Most cutting tools have a beveled edge for safety and wear resistance. Some have a double bevel, in which a less acute cutting edge tops a sharply angled back bevel. This sacrifices some sharpness, but it protects the blade from chipping.
Coating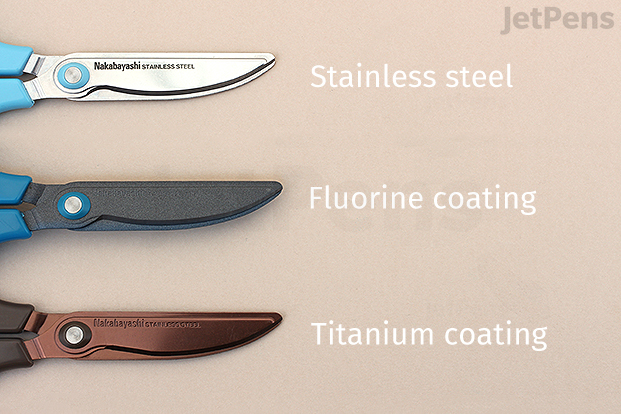 There are typically three types of blade finishes: uncoated, fluorine coated, and titanium coated. Most scissor blades are made of stainless steel. An added fluorine coating prevents sticky residue from building up on the blades when you cut through tape or labels. A titanium coating provides three times the blade durability of uncoated stainless steel, which makes titanium-coated scissors long-lasting and good for cutting cardboard and other thick materials.
Blade Shape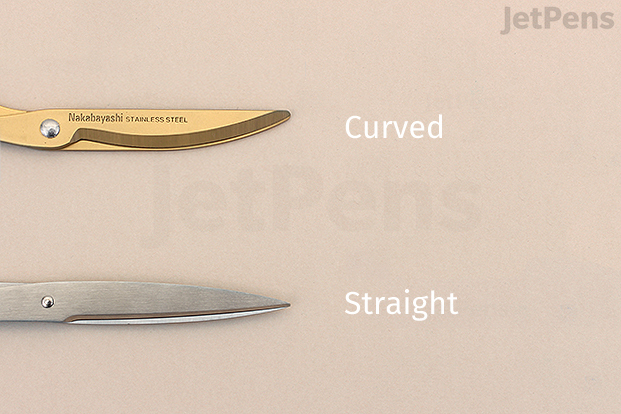 While most scissors come with straight blades, some scissors feature curved blades. The top blades on certain scissors are curved like the blades on pruning shears. They allow you to cut cleanly without expending a lot of force. The curved edge is longer than the straight edge, so it pulls along the surface of whatever you're cutting. The scissors create a slicing action in addition to the shearing action of standard scissors.
Blade Ridge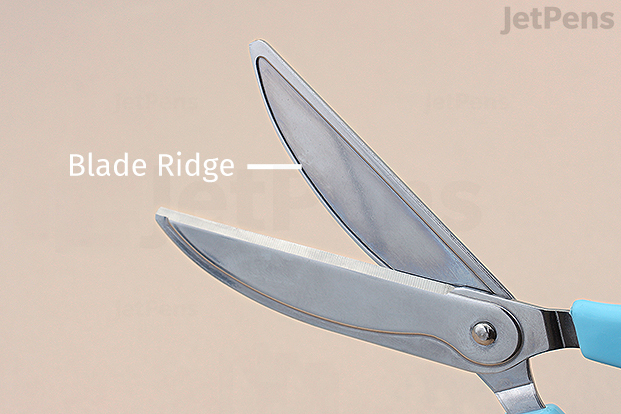 When cutting through tape with regular scissors, the blades can become sticky with adhesive residue. This makes them difficult and uncomfortable to use, as it takes more force to separate the blades to cut through materials. While fluorine coating is one anti-residue feature, some scissors have ridges built into the blades. This keeps the adhesive from sticking to the blade edges, preventing the scissors from becoming gummy with adhesive build-up.
Safety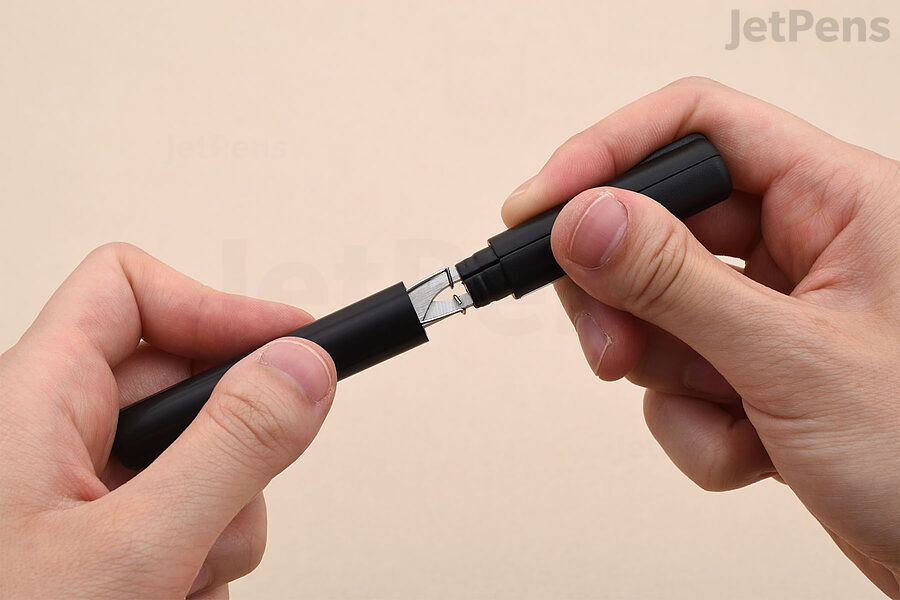 When selecting scissors, safety features are an important factor that can sometimes be overlooked. Many portable scissors (and some full-size scissors) come with sheaths that cover the blades. Sheaths prevent the blades from hurting you or poking holes into your bags.
Comfort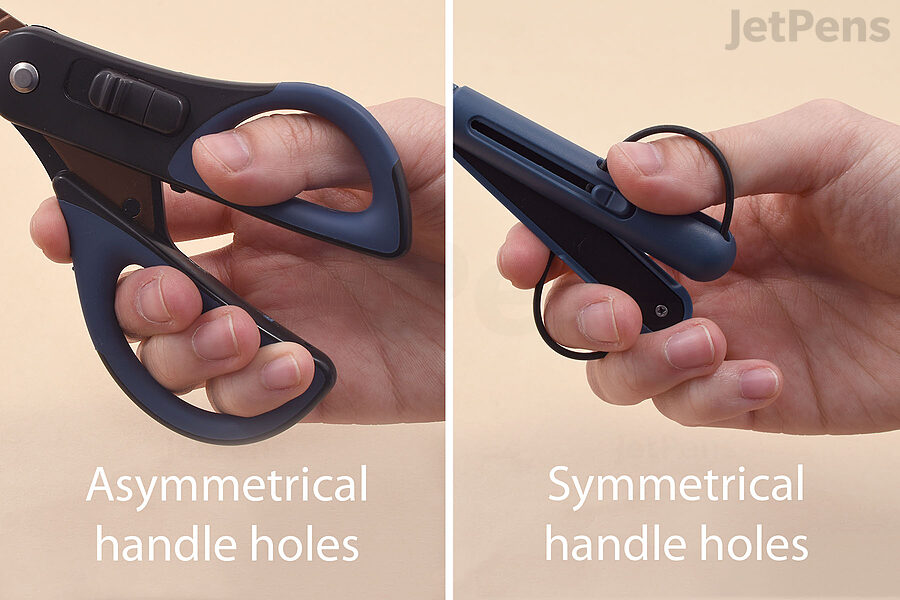 How comfortable a pair of scissors is depends on the size and material of its handles. The most comfortable scissors are full-sized with asymmetrical handle holes. They are built so that you can put your thumb through the upper hole and two fingers through the elliptical lower hole. This helps your hand balance the scissors comfortably. Scissors with two equal-sized holes are meant for you to place your thumb and one finger through each hole. They're not as comfortable to hold since your other fingers are outside of the handle, forcing you to clench your fingers into your palm to get a good grasp on the scissors.
In terms of material, many scissors have stiff plastic handles. Some scissor handles have holes lined with a soft rubber or plastic material that adds extra comfort.
Size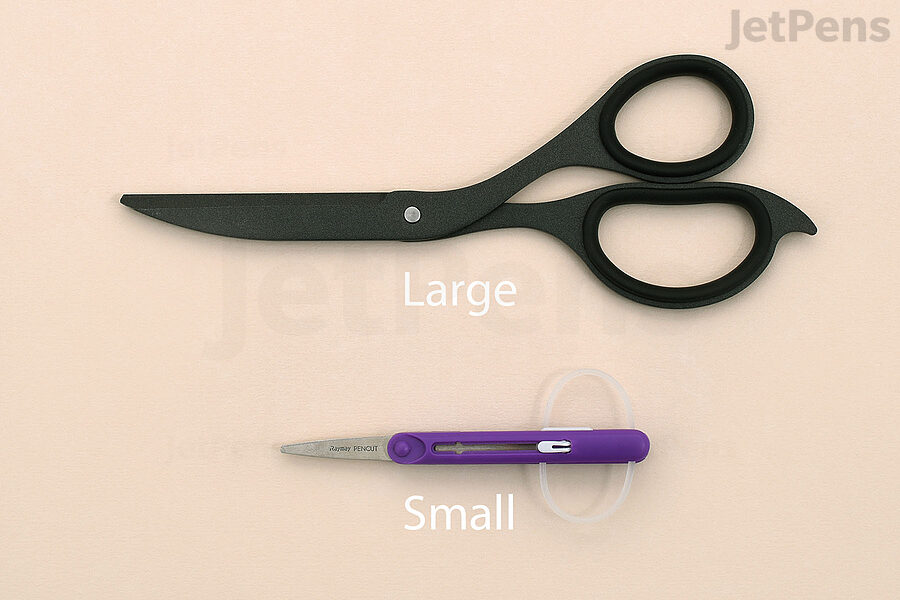 Scissors come in all shapes and sizes. Frequent travelers might consider small scissors to keep in their bags for making little snips on the go. Small scissors are often not as sharp as large scissors and cut less with each snip. Larger scissors do not offer as much portability as their smaller siblings, but they are more versatile for a wider range of applications.
Scissor Recommendations
Left-Handed Scissors
Good quality left-handed scissors are important for accurate, ergonomic use. Most scissors are designed for right-handers with the top cutting blade oriented on the right. This position makes it easy for right-handers to see the line they're cutting as they hold a piece of paper with their left hand. Left-handers using right-handed scissors won't be able to see what they're cutting as easily. There's also the issue of hand strain. When you use right-handed scissors with your right hand, the thumb hole connects to the blade closest to the body. This allows you to cut straight. Holding right-handed scissors in your left hand positions the shearing blade further away from you and causes you to cut outwards. Your left hand twists itself to the right in order to cut a straight line. This twisting strains your hand over long periods of cutting. Luckily, left-handed scissors are available.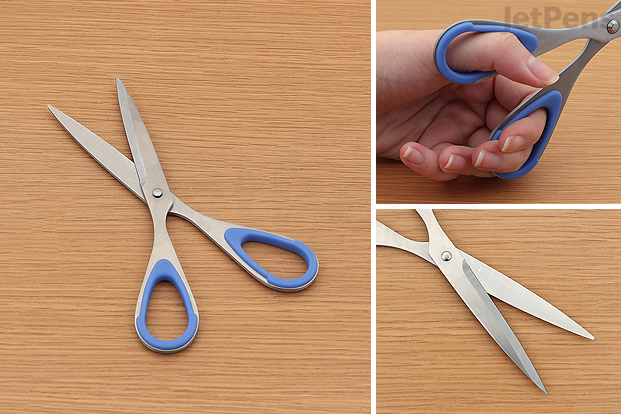 Our top recommendation for left-handers is the
Canary ESR-175L
. They have blades oriented for left-handed users, so you'll always see the line you're cutting. These double-beveled scissors have rubber-lined handles so they're ergonomic and comfortable to use.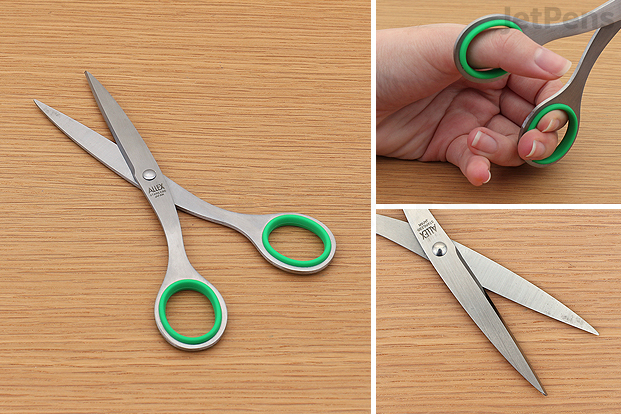 If you prefer scissors with smaller handles, the
Allex S-165L
is a great option. These scissors have circular handles that comfortably fit one finger in each handle hole. Like the ESR-175L, the rubber grips are removable. The Allex are also single-beveled, which are sharper but more prone to chipping.
Specialty Scissors
The following scissors have special features that make them useful for tasks where regular scissors just won't cut it, from zigzag blades for shredding to a built-in cutter for opening packages.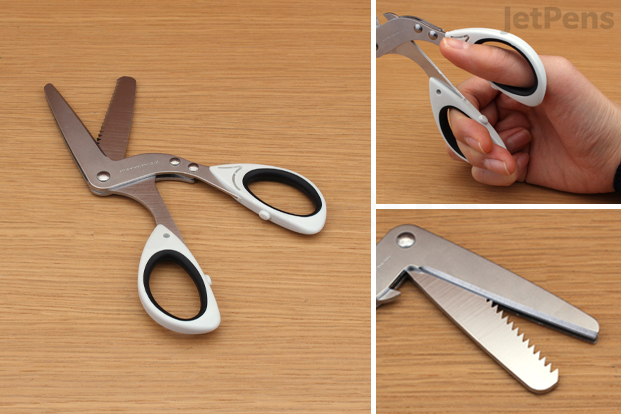 Shredder scissors are convenient for cutting documents with sensitive information and take up much less space than a conventional paper shredder. Our favorite shredders are the
Sun-Star Shredder Scissors
. Its powerful zigzag blade minces paper, cardboard, and credit cards into 2.2 x 3 mm bits. Because the shredding width is about 2.2 mm, you can shred just the lines with sensitive information and leave the rest of your document intact. The scissors also have a claw-like tooth attached to the bottom blade so that you can break electronic storage devices like USBs and CDs. Beyond their office functions, these shredder scissors can even be used for mincing and chopping herbs.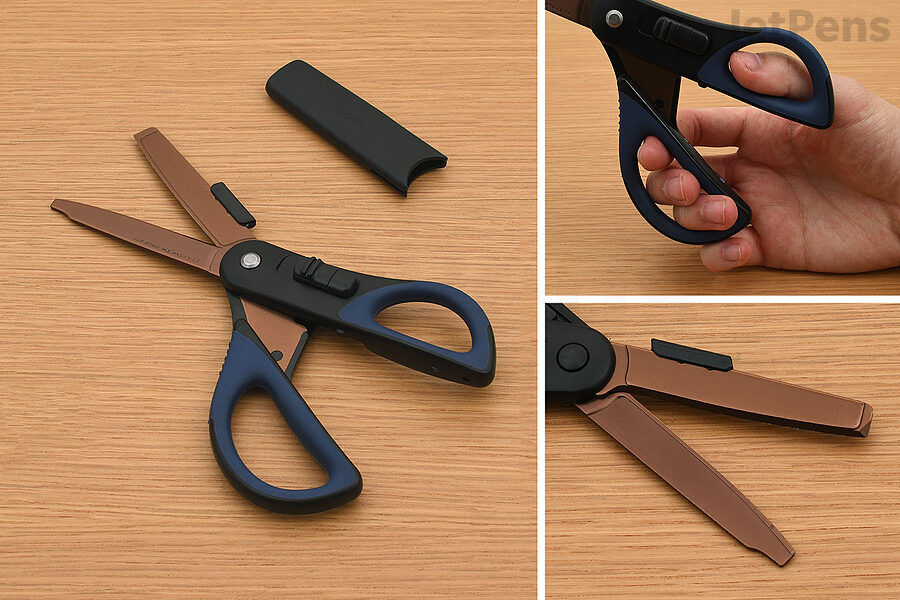 The
Kokuyo Hakoake 2Way Scissors + Cutter
is a convenient all-in-one tool for cutting tape and opening boxes. The scissor blades feature small ridges on the inside of both blades, reducing the amount of sticky material that touches the blades. They also have a special "glueless" treatment, which makes it harder for sticky material to adhere to them.
The cutter can be utilized by squeezing the scissor handles together and pushing the slider on the side of the top handle forward. This allows the top scissor blade to move down and exposes the tip of its cutting edge.
The blade protrudes only 1 mm so you won't cut too deeply into the package you're opening and damage the items inside. The scissors also have a small plastic finger rest on the top blade to help you press down more comfortably when using the cutter. Releasing the scissor handles will cause the edge to retract, preventing you from accidentally leaving it exposed when not in use.
Fans of all-in-one tools can also check out the Stickyle Tasuno, which has scissors on one end and a double sided Phillips-head screwdriver attachment on the other.
Our writers draw on their personal expertise, consult our in-house subject matter experts, and do extensive research to make our guides as accurate and comprehensive as possible. We then test every finding that makes it through the research stage. Only the techniques and tools whose performance we personally confirm make it into our guides as recommendations.
COMPARE THESE SCISSORS
Do you want to review all of our recommended scissors at once? Use our comparison tool to see their specifications side by side.
CONCLUSION
From rigorous shredding to fine, precise cuts, scissors are a must for any home or office. What are your favorite scissors? Let us know in the comments below!
---
---