---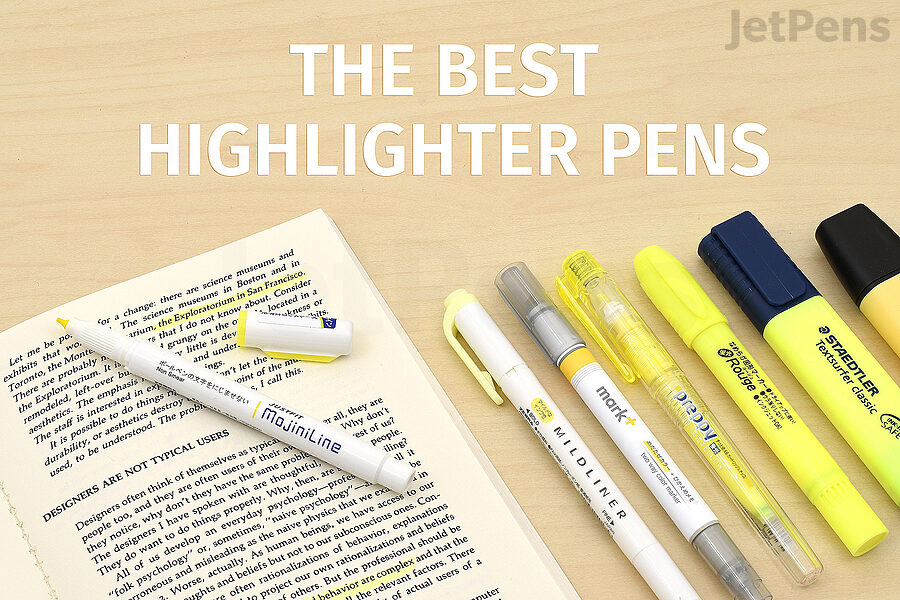 Highlighters are indispensable tools for school and work. Like blazes on a trail, they mark important information and point us in the right direction. It can be hard to navigate the wide range of options, so we tested every highlighter pen we carry to guide you through the forest of neon. Keep reading to find out how to choose a highlighter, our test results, and recommendations for specific uses.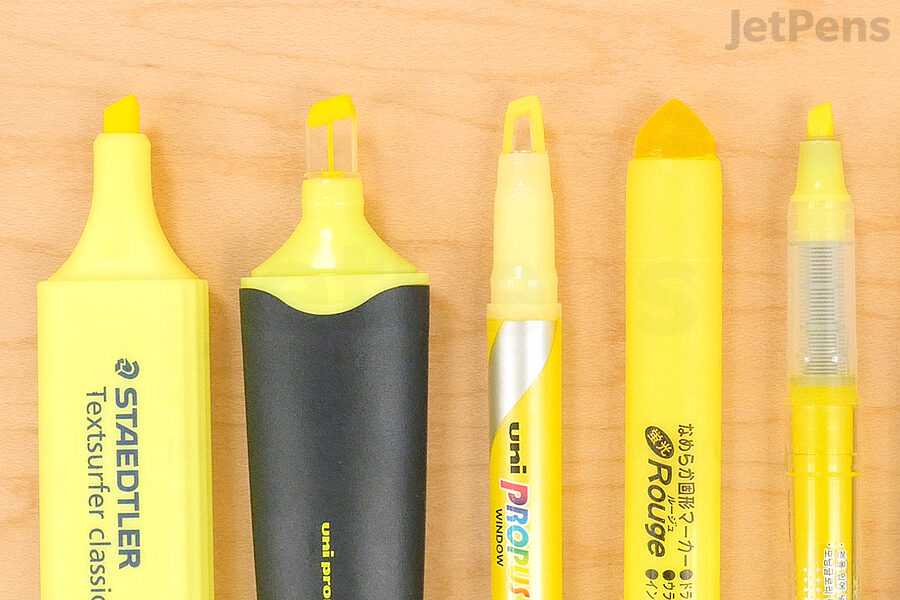 Watch the video above to see an overview of our highlighter recommendations.
Top Choice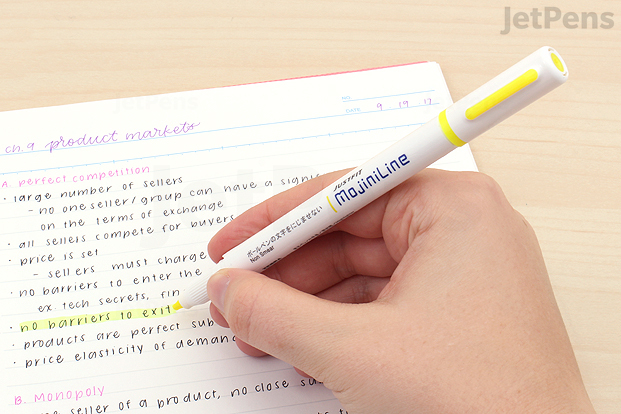 Our best overall pick is the
Zebra Justfit Mojini Line
—its ink is specially designed to keep written notes safe, and it handles various types of ink admirably. It didn't smear over ballpoint, rollerball, gel pen, fountain pen, pencil, or inkjet ink after the ink had dried. The Justfit Mojini Line Highlighter has a flexible chisel tip that can highlight curved surfaces like thick books, and it comes in five colors.
Highlighter Pen Considerations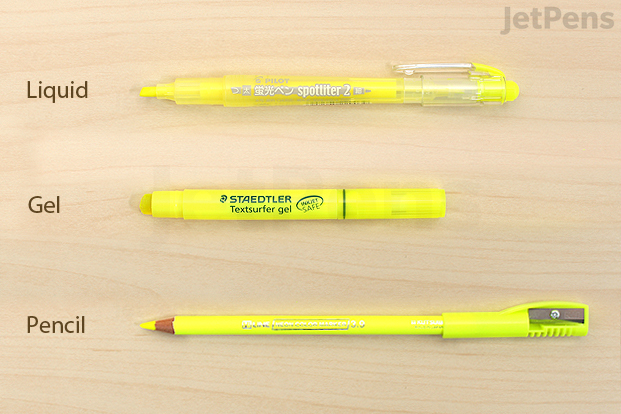 Material Composition
Most highlighters use liquid ink and function similarly to felt-tip pens or markers. Liquid highlighters have the widest selection of colors, tip features, and body designs. Varieties with broad tips or wet ink flow may bleed through paper.
Gel highlighters mark paper with a gel stick rather than ink. They are designed to be more resistant to smudging and bleedthrough, but are also less precise and may leave "crumbs" of gel on your paper. They are less likely to dry out if left uncapped.
Pencil highlighters are very bright colored pencils. They will not bleed through paper at all and need no drying time. They may take several strokes to highlight a full line of text and are often better suited to underlining. They are slightly more opaque over text than liquid or gel options.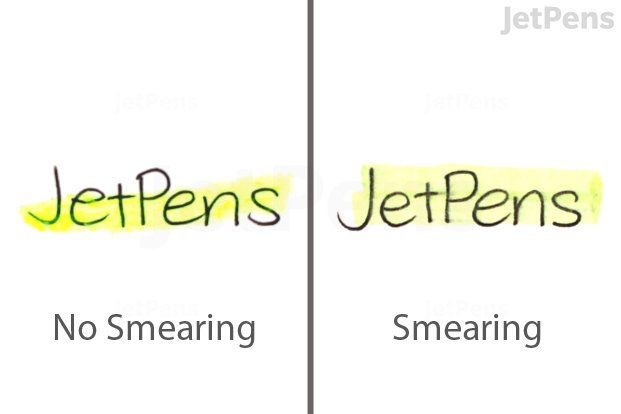 Text Smearing
Some highlighters interact with other writing meda and cause them to smear, even if the text is completely dry. As a general rule, gel pen ink, fountain pen ink, and inkjet printing are the most likely to react with highlighters.
Gel highlighters are often a better choice for fountain pen inks, but they also caused ballpoint ink to feather in our tests. Smearing depends on the formula of both the highlighter and the writing medium, as well as the paper you use, so it's always best to test highlighters on your specific ink and paper before you highlight large portions of text. If you're using a fountain pen, check out our fountain pen ink comparisons for resistance tests against representative gel and liquid highlighters.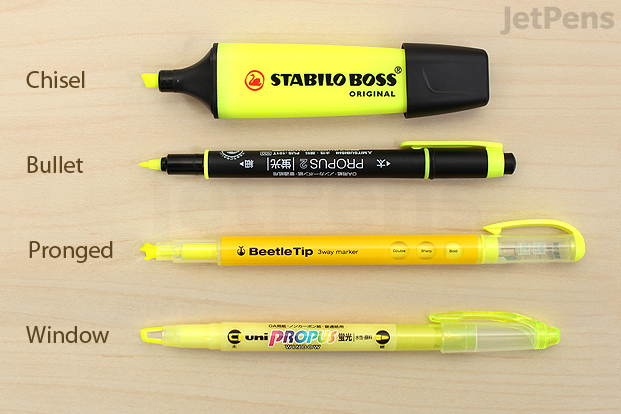 Tip Features
Highlighters can come with several different tip styles. Most have a chisel tip that can cover a single line of text, but others have extra-broad tips or fine bullet tips.
Some manufacturers add unique features to their highlighters' tips, like embedded windows that let you see the text as you highlight it or specially-shaped tips that can make multiple kinds of lines. Choose a highlighter that lets you be as precise or bold as you like to be.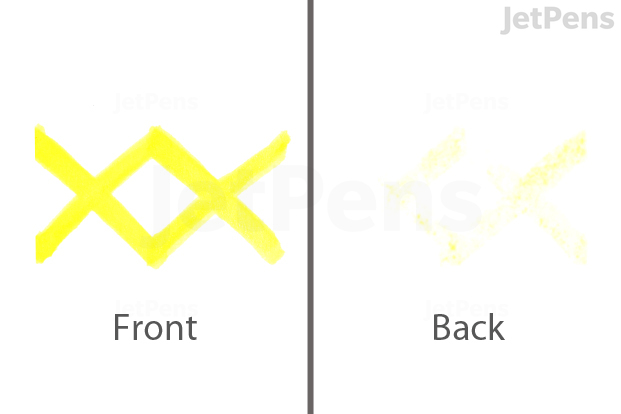 Bleeding & Showthrough
Because they put down a lot of ink and use prominent colors, highlighters frequently show through paper. They may even soak through the page and leave marks on the other side. This is called bleeding. Inks in general are more likely to bleed on thin or highly absorbent paper. You can reduce showthrough and bleeding by choosing highlighters that deposit less ink or are specially formulated to not bleed.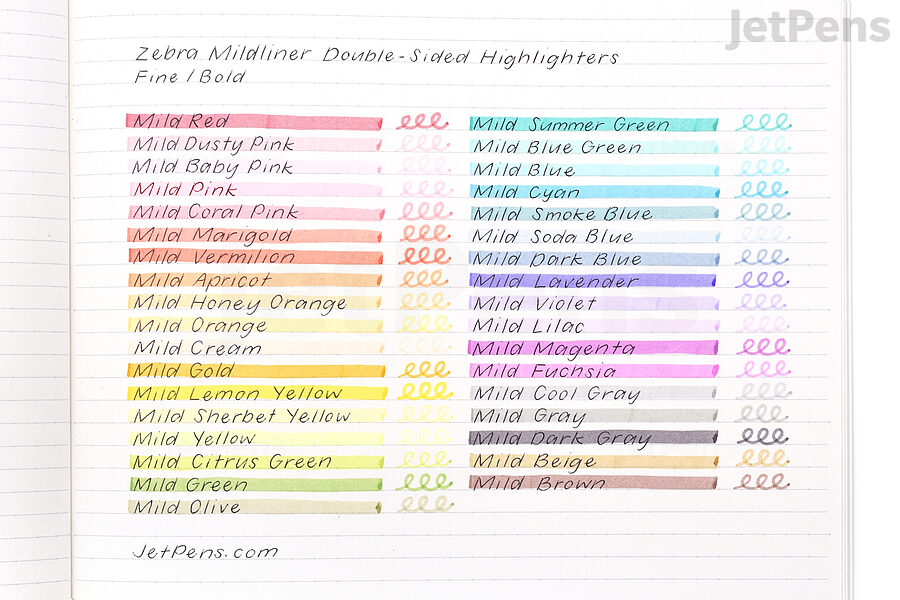 Colors
Highlighters traditionally come in fluorescent yellow, but many come in a variety of colors to allow for color-coding. Some lines of highlighters offer dozens of hues! Or, if you love one color in particular, our highlighter samplers are a great way to explore your favorite color in depth.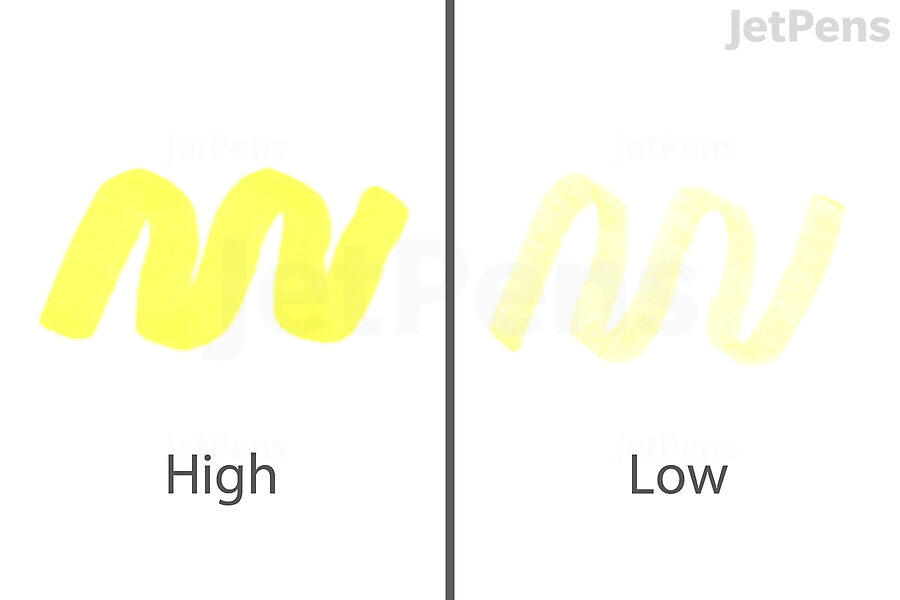 Brightness
Though all highlighters help emphasize text, they vary in just how emphatic they are about it. Some inks scream and some inks whisper. We've tested our selections so you can find soft and subtle colors, eye-searing neons, or something in the middle–it's truly a matter of personal preference. We've also noted which highlighters abandon standard fluorescent inks for calmer hues.
Highlighter Pen Test Results
We performed our tests with yellow highlighters for consistency. When product lines included both bright and pastel colors, we tested both versions to account for differences in ink formulation and color intensity.
Drying Time & Showthrough
We tested drying time in increments of 5, 10, 20, and 30 seconds on both Rhodia and copy paper. If a highlighter dried in under five seconds, we narrowed the drying time down to the second.
Drying Time & Showthrough Results
Drying Time & Showthrough Results
Text Smearing
Different pens and inks can have widely divergent formulas and react differently to the same highlighter. In addition, the paper you write on can make ink more or less likely to smear. We used Rhodia paper and tested our highlighters against some of the most popular options in each category of writing instrument. Other pens, inks, and papers may react differently.
Smear Test Results
Smear Test Results
Brightness
We tested brightness on Rhodia paper and broke it into tiers of "low," "medium" and "high." Low brightness indicates a soft, translucent color, while high brightness is almost startling.
We also noted which highlighters are not neon or fluorescent. This is important to separate because some fluorescent highlighters can be quite light on the page, while non-fluorescent highlighters and markers can still stand out like a dandelion in a sunbeam.
Click through to each product for writing samples, but please be aware that photographing fluorescence is extremely difficult and photos may not exactly match real life.
Brightness Results
Brightness Results
COMPARE THESE HIGHLIGHTERS
Do you want to see all our recommended highlighters at once? Use our comparison tool to see their specifications side by side.
Our writers draw on their personal expertise, consult our in-house subject matter experts, and do extensive research to make our guides as accurate and comprehensive as possible. We then test every finding that makes it through the research stage. Only the techniques and tools whose performance we personally confirm make it into our guides as recommendations.
Conclusion
Whether you're studying for a test, editing an article, or making notes, highlighters are the ideal tool to help you remember information and draw attention to important points. What are your favorite highlighters? Let us know in the comments below!
Shop This Post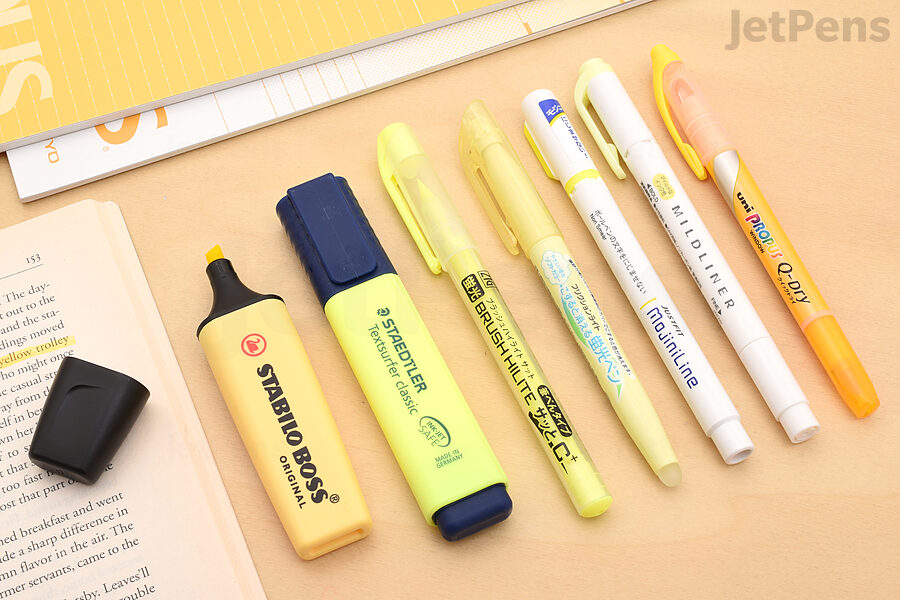 Are you still not sure what to try? Check out our
highlighter samplers
! These samplers offer a plethora of options, so look through and find your favorite color.
---
---