---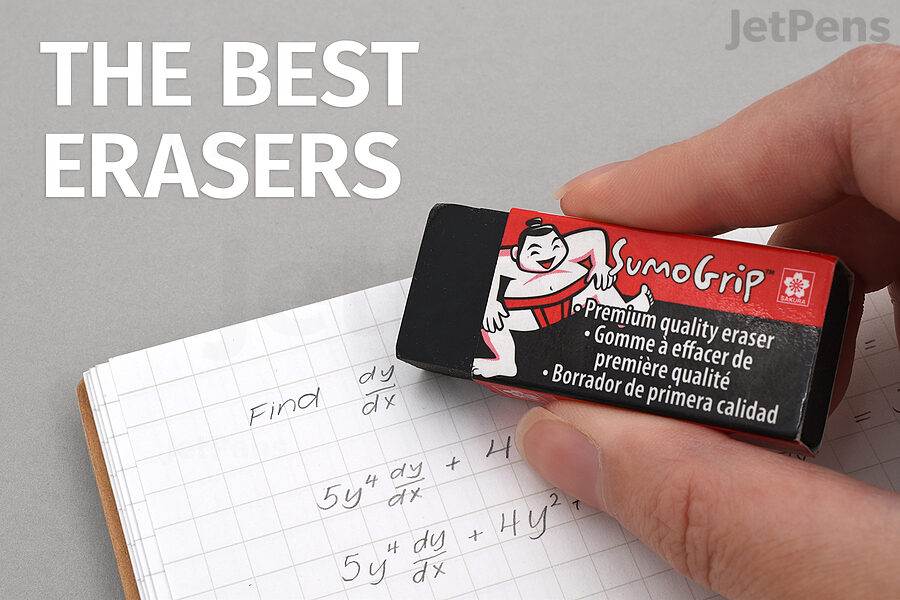 When you think of all the things you should have in your pencil case, what do you imagine? Gel pens, pastel highlighters, mechanical pencils... Wait! Did you forget an eraser? An eraser is regularly overlooked, but it's a must-have for anyone with pencils in their repertoire. The best erasers make mistakes disappear without effort, leave no graphite smears behind, and create eraser dust that rolls into easy-to-manage pills. Read this guide to learn what to look for in an eraser and which ones we recommend.
Top Choice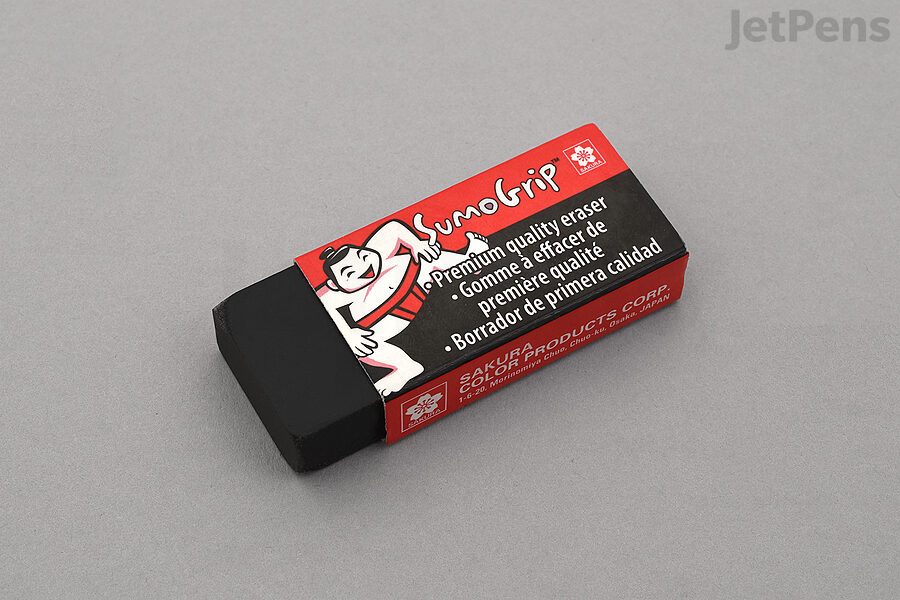 Sakura Sumo Grip Erasers
are fantastic all-around erasers. They're made from microporous plastic foam that lifts graphite almost effortlessly and traps it for a smudge-free clean. Additionally, Sumo Grip erasers are firmer and grippier than other foam erasers, which we found prevented slippage and accidental over-erasing. They're easy to clean up after as the crumbs roll together for disposal. And since they're black, they keep looking tidy no matter how much erasing you do. Sakura Sumo Grip Erasers come in two sizes.
Eraser Considerations
Erasers may seem simple, but they contain plenty of design details that can make or break your experience (or even your paper). Below are the factors we considered when selecting our picks. For more general background information, check out our breakdown of different eraser types.
Erasability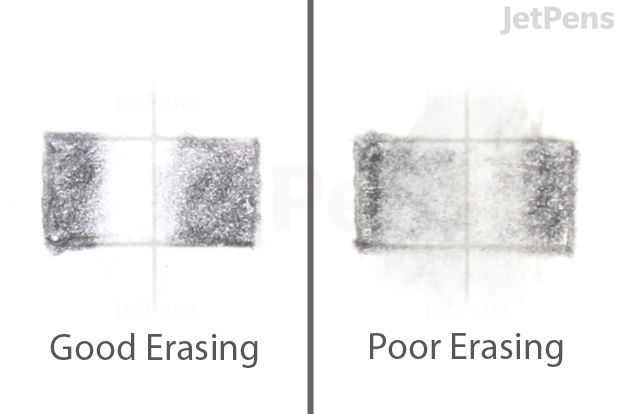 All erasers have the same job, but some are better at it than others. Look for an eraser that reliably removes graphite from paper with light pressure and little to no smearing.
Shape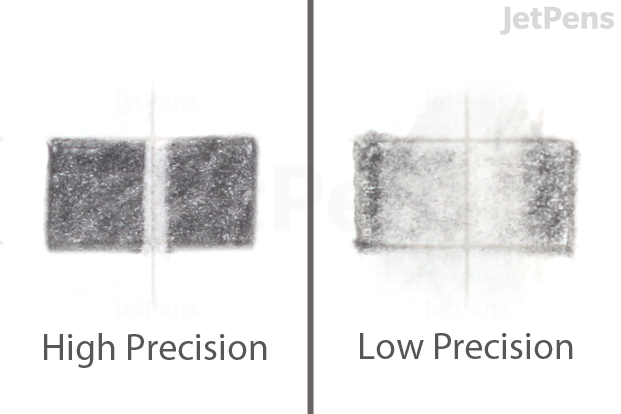 Erasers come in many different shapes, including large and small
blocks
, cylinders housed in
pen-like holders
, and even
animals
. Block erasers are best for erasing large areas and are less likely to break due to their broad shape. Thinner erasers offer more precision and control. They are better for erasing details without disturbing the graphite around them. Consider how you plan to use your eraser as well as what shape you find easier to hold.
Paper Damage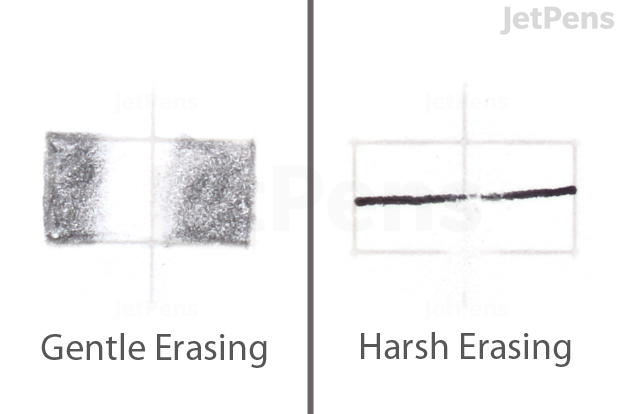 Some erasers, especially those that are low quality, are made of hard materials that end up scuffing the writing surface. Others include pumice and are meant to remove ink marks from thick paper. These kinds of erasers can rub holes through the paper, especially if used with hard pressure. Look for gentle erasers that don't require you to damage your work to remove mistakes.
Tidiness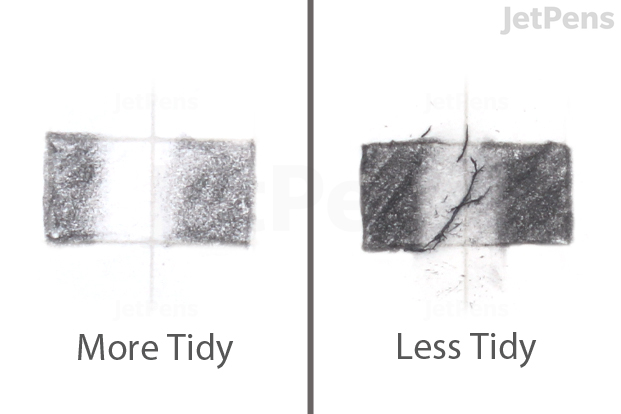 Most erasers leave some sort of mess behind as they rub the paper. This isn't entirely bad: sloughing off dirty surfaces allows erasers to expose fresh areas and erase more effectively. Still, that's no excuse for piles of fine eraser dust. Look for erasers that create residue which sticks together into larger pieces for easy cleanup—or consider an
eraser dust cleaner
to help keep your desk tidy.
Eraser Test Results
We divided our erasers into two categories for testing: traditional and kneaded. We defined traditional erasers as any erasers intended to erase pencil marks through rubbing. This includes retractable and novelty erasers in addition to more typical block erasers. Kneaded erasers are designed to lift pencil marks from paper without a rubbing motion.
Traditional Erasers
We tested three different pencils against our traditional erasers. We used Staedtler Mars Lumograph Graphite Pencils in HB and 4B lead grades for our graphite pencil swatches. The colored pencil swatches were created with a Prismacolor Premier Colored Pencil in Carmine Red. This colored pencil is difficult to erase due to its high wax content: other colored pencils should perform similarly or better. To make sure the tests were comparable, we rubbed each swatch the same number of times. The "Crumbs" column shows the "4B Graphite" swatch before we brushed away the debris generated by the eraser.
Click here to show traditional eraser test results.
Click here to show traditional eraser test results.
Kneaded Erasers
We tested the kneaded erasers against the same kinds of graphite and colored pencils as the traditional erasers. Instead of rubbing the swatches, however, we formed the erasers to a point and pressed down with a twisting motion.
Click here to show kneaded eraser test results.
Click here to show kneaded eraser test results.
Eraser Details
In the following table, an entry of "yes" in the "Latex/Phthalate Free" column means that an eraser is made without natural rubber latex or significant levels of phthalates. "No" means that the eraser is made with natural rubber latex or has enough phthalates inside that it cannot be considered phthalate free. An entry of "N/A" means that we have not confirmed whether that erase is made with natural rubber latex or harmful phthalates, or that the materials don't apply to the eraser.
Click here to show eraser details.
Click here to show eraser details.
Conclusion
A good eraser can mean the difference between a stunning presentation and a haphazard mess. Do you have any eraser recommendations or questions? Let us know in the comments below!
Shop This Post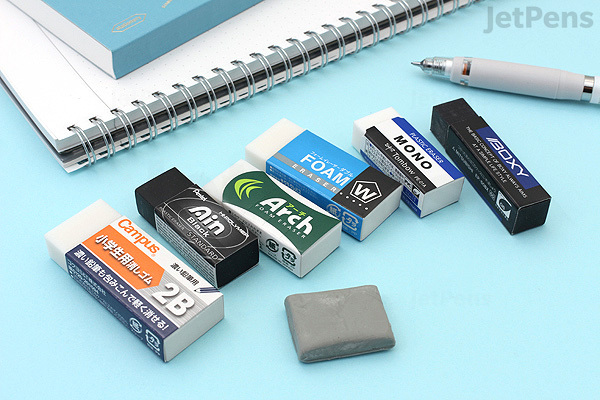 Are you still not sure which eraser you need? Check out our
JetPens Eraser Sampler
! It lets you try seven of our best-selling erasers at once so you can pick your favorite.
---
---