---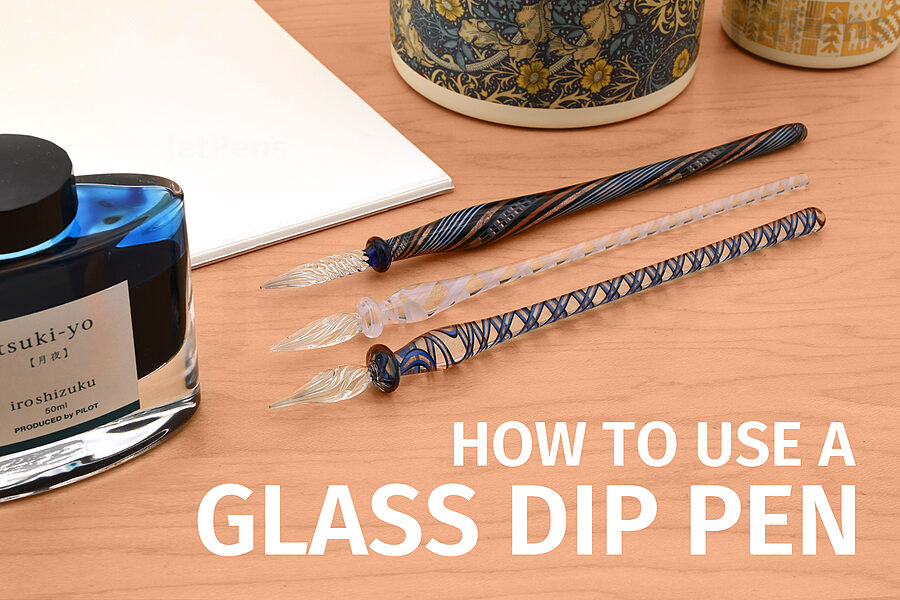 The alien beauty of a glass dip pen might seem intimidating, but despite appearances, they're easy to use and a fantastic complement to your favorite inks. Read on or watch the video below to understand the strengths and weaknesses of glass pens, our preferred inks and paper to pair them with, and glass pen calligraphy and drawing techniques.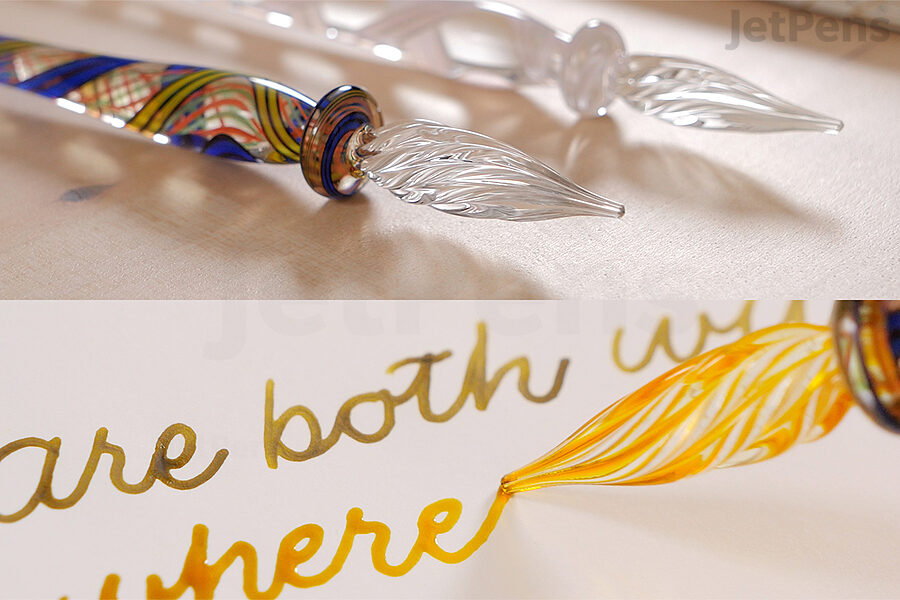 What is a Glass Dip Pen?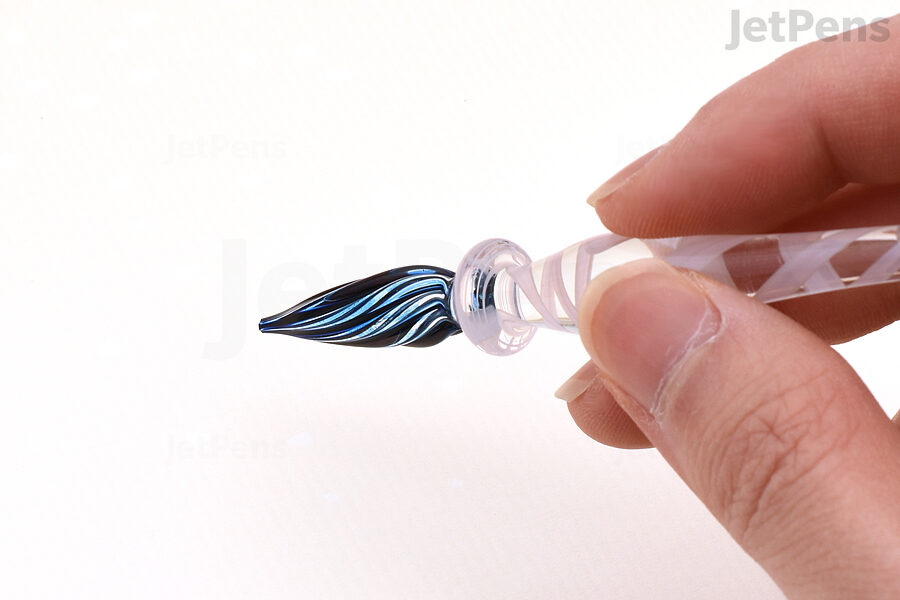 A glass dip pen is a writing instrument made of glass. A glass pen has no internal reservoir, but their tips—gently twisted into spiraling grooves—can store enough ink to write for several sentences. Dip one into an ink bottle and write away!
Glass pens are understandably more fragile than most writing instruments. Don't travel with one rattling around in your pencil case, or tap it forcefully against the edge of a bottle. If kept safe, however, a glass pen will outlive your metal pens, as they will never rust or clog.
Why Use a Glass Dip Pen?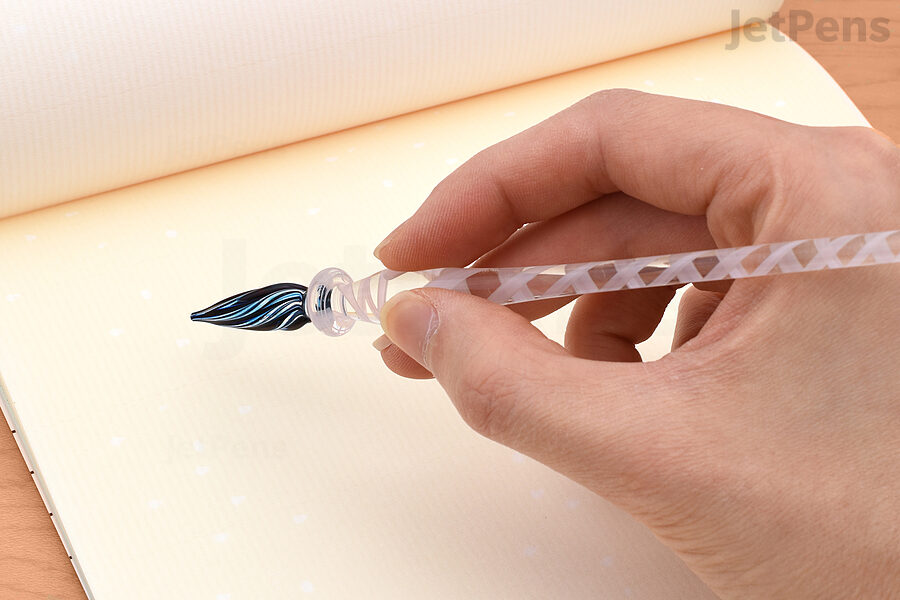 When its grooves fill with vivid ink, a glass pen's tip turns into a colorful jewel. It's easily rinsed clean, which makes switching between inks much easier than with a fountain pen. Together, these traits make glass pens popular for testing inks, but they're also well suited for letter writing, calligraphy, and drawing.
Use a glass pen if you want the best view of your ink before it's on the page, or if you want to outfit your desk with the most luxurious accoutrements.
How to Ink a Glass Dip Pen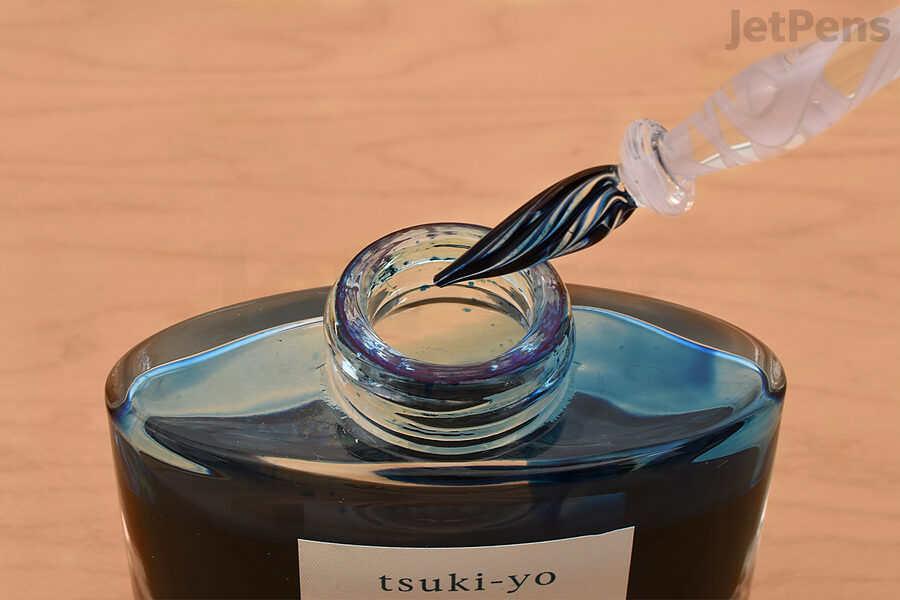 Glass pens are simple to use. No set-up is necessary beyond unpackaging the pen and opening your favorite bottle of ink. Follow these instructions to start writing.
Dip your pen into the ink bottle. To avoid storing excess ink and causing blots, submerge the tip only partially.
Glide the tip against the edge of the bottle opening to remove excess ink.
Write! As you write, turn the pen in your hand so you use the ink stored on all sides.
Dip again as necessary.
A glass dip pen writes with a line around the width of a typical broad nib. Unlike metal nibs, line width can't be controlled through varying pressure, and trying could break your pen. Lines will be thicker right after dipping and thinner when your pen needs a refill.
If your pen isn't writing, the tip may have been damaged. Clean and dry your pen and gently rub it over very fine sandpaper. We recommend either 2000-4000 grit or micromesh. Try one or two passes holding the pen perpendicular to the sandpaper, as well as some figure-eights while holding the pen in your normal writing posture.
Don't try to form a sharp or perfectly rounded tip, as a glass pen works best when the end is a little blunt. Like a mechanical pencil lead, it needs an edge to make contact with the page.
Selecting an Ink for a Glass Dip Pen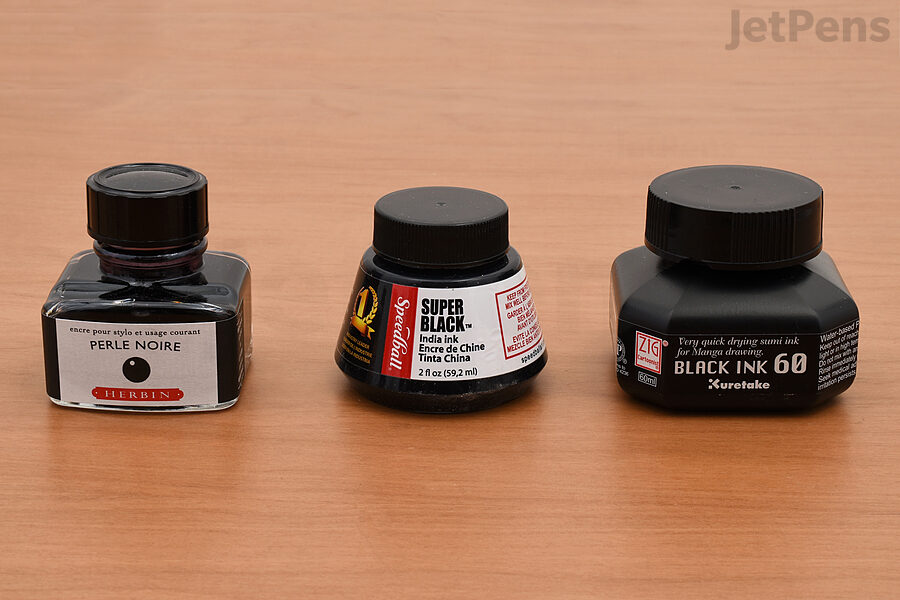 A glass pen will happily handle any ink you throw at it, from the most pigmented
dip pen ink
to diluted
watercolor
. Your only limits are your imagination and ink budget.
We've tested glass dip pens with different types of ink. Please note that your results may vary, as characteristics like viscosity won't be perfectly consistent between different brands of the same type of ink.
Fountain pen ink and metallic ink are our favorite options. Fountain pen ink comes in a range of brilliant, beautiful colors and cleans off a glass pen with almost no effort. It's lower-viscosity than other inks we tried, so it writes longer between dips.
Metallic ink gives a delightful glitter to a page. It takes a little bit of brushing to clean off, but the dramatic effect is worth it!
When it comes to picking specific brands and colors, we've already put a lot of thought into inks, so consider investigating our existing guides. J. Herbin, the manufacturer of the glass dip pens we carry, also offers fantastic inks. Or pick up an ink sampler and take advantage of how easy a glass pen makes switching between colors!
Selecting Paper for a Glass Dip Pen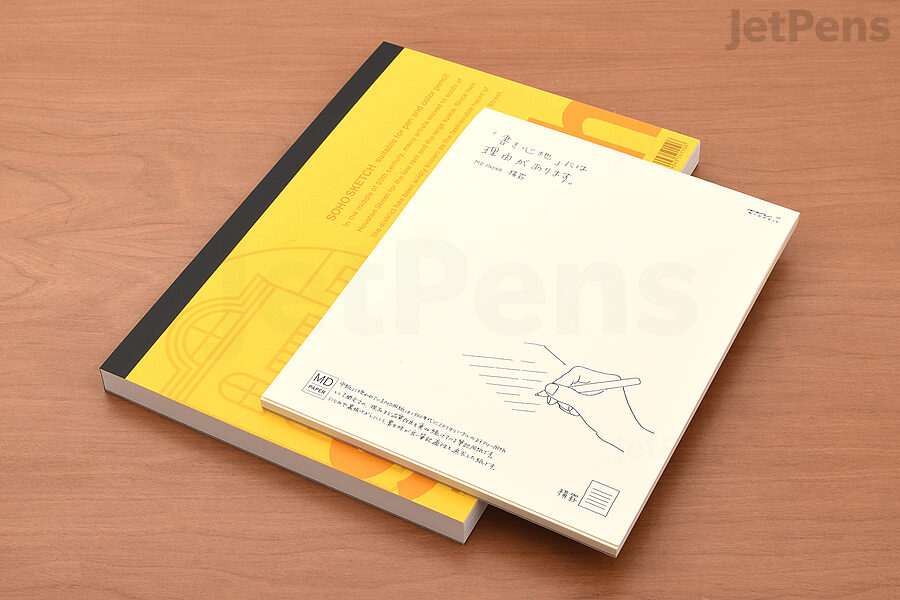 Glass dip pens are wet writers, especially right after they're dipped. Pick a less-absorbent paper that doesn't feather. Good options are
fountain pen-friendly paper
and heavyweight
art paper
made for ink and other wet media.
If you're writing a letter, try Midori MD stationery. Midori MD paper has a pleasant weight and holds ink beautifully. Matching envelopes are available, too. It's a glamorous choice to send to a friend. Why not commit to luxury and pick up a wax seal?
If you're using glass pens for calligraphy or another artistic pursuit, we recommend sturdy mixed media or watercolor paper. We like Global Art Fluid Watercolor Paper, which is great for wet lines or ink washes with a water brush.
Glass Dip Pen Calligraphy
The fixed-width tip of a glass pen means it's perfect for monoline lettering and faux calligraphy.
Monoline Lettering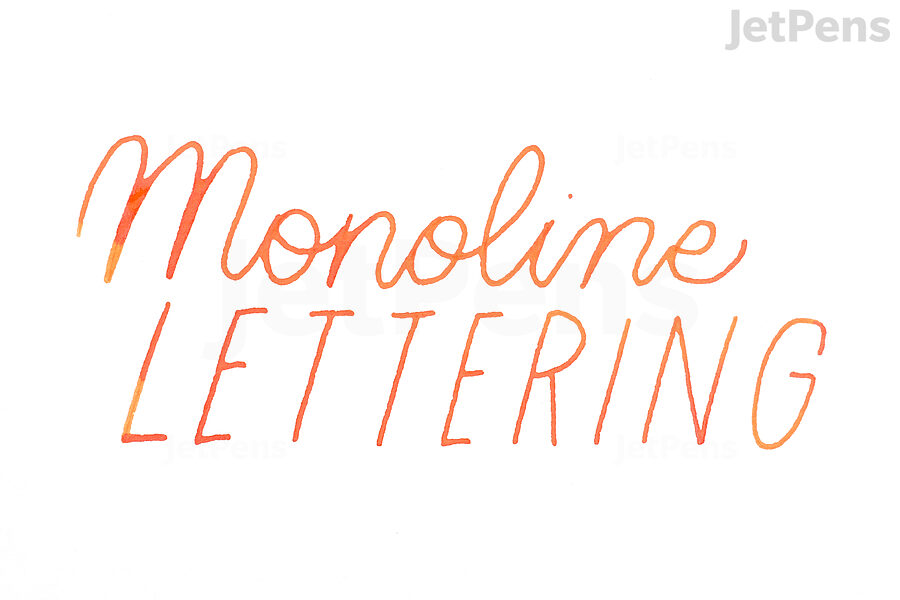 Monoline lettering is fantastic in a supporting role or as an unpretentious centerpiece. Glass dip pens produce bold lines that are sure to pop. Try neat cursive or all-caps print.
Faux Calligraphy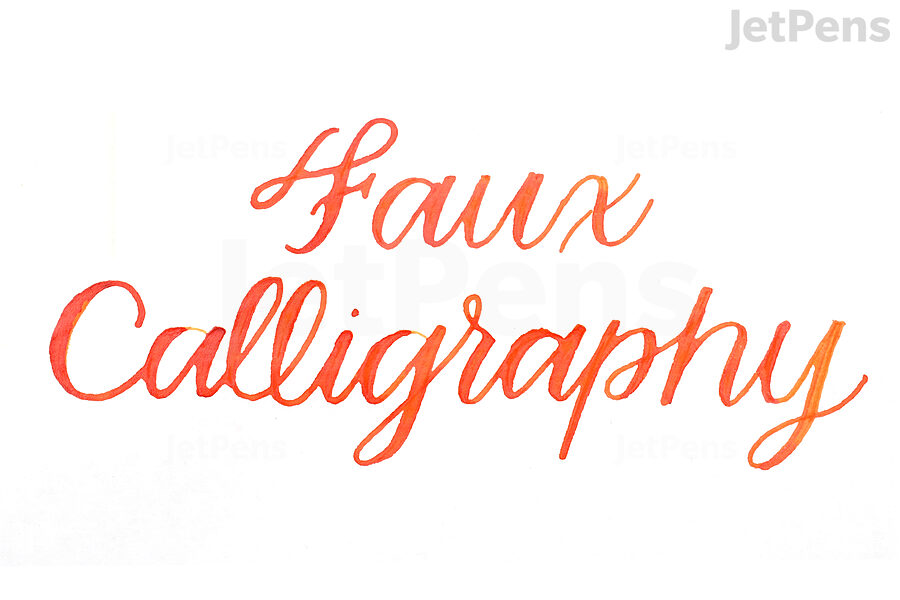 With
faux calligraphy
, instead of varying your line width with a flexible brush or metal nib, you do so by hand. How? Draw lines parallel to your downstrokes, then fill them in.
Practice your lettering with our free cursive and print worksheets. Glass dip pens feather and have a lot of showthrough on printer paper, so we recommend printing these worksheets on high quality paper for the best results. If you only have printer paper on hand, it will still work well to hone your muscle memory. Just be sure to put a piece of scratch paper under the writing surface to protect your desk from bleeding ink.
One more tip for the calligraphy process: have a test sheet to hand in order to check how your glass pen is writing after being inked. If it's wetter than you would like, it's better to find that out on a piece of scrap paper than on your final draft.
Glass Dip Pen Drawing Techniques
Glass pens might not be a commonly recommended art tool, but they perform beautifully when drawing for fun. Watch our video on drawing with a glass dip pen or read on.
Texture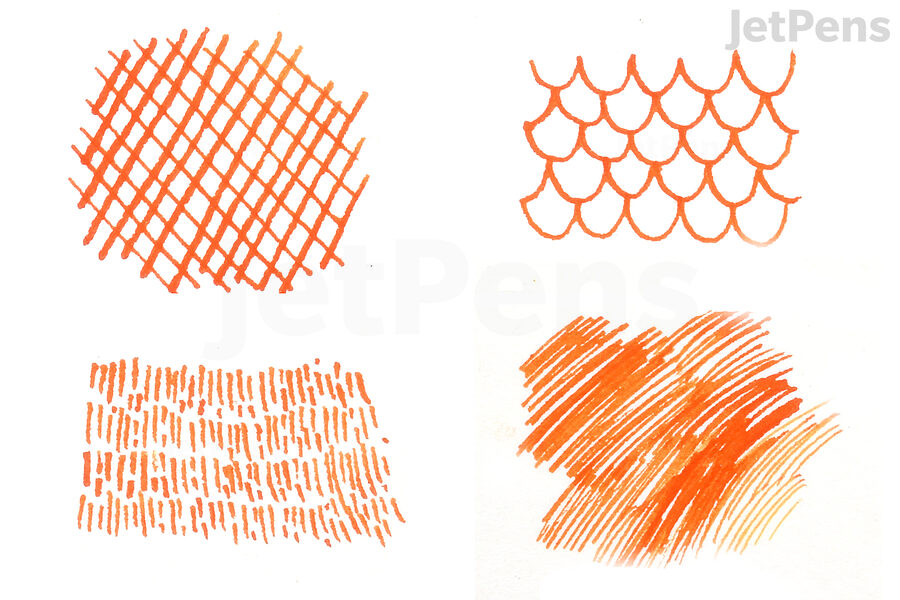 Glass pens write with a fixed-width line, so incorporating different textures will enliven your drawing.
Crosshatching, a fishscale pattern, short irregular lines, and curved hatching are shown to the left.
Water Brush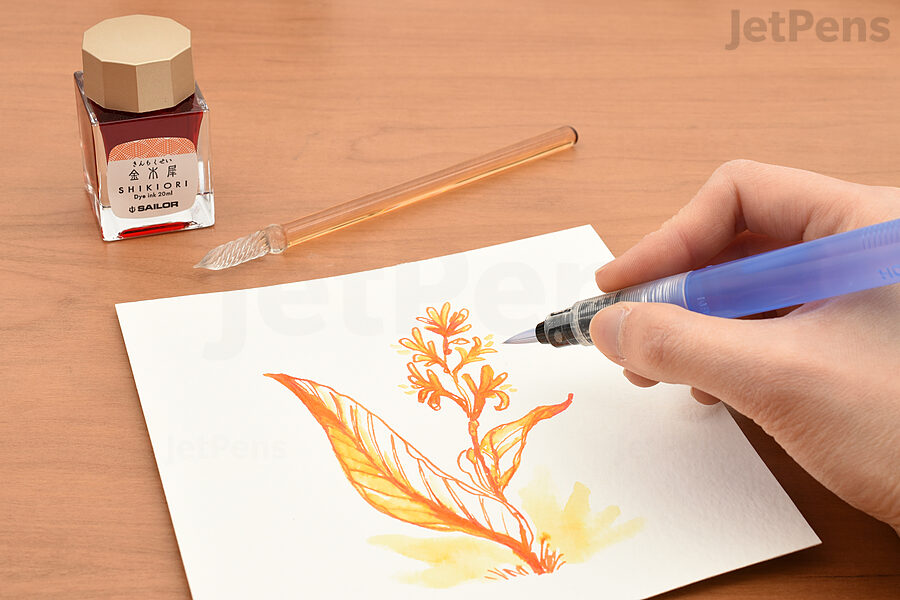 If you've picked a sturdy paper, a
water brush
on
water-soluble inks
can create beautiful ink washes.
For intense color mobility, use a water brush on wet ink. For a more moderate, but still notable, bloom of color, wait for your ink to dry and then paint with water over it. This technique will bring out undertones in the ink and can contrast beautifully against the sheen of a darkly-inked line. As your wash of water dries, lines may continue to bleed. You won't immediately know what the final effect will be when you first brush water over your drawing.
Learn more about these handy brushes in our guide.
Multiple Inks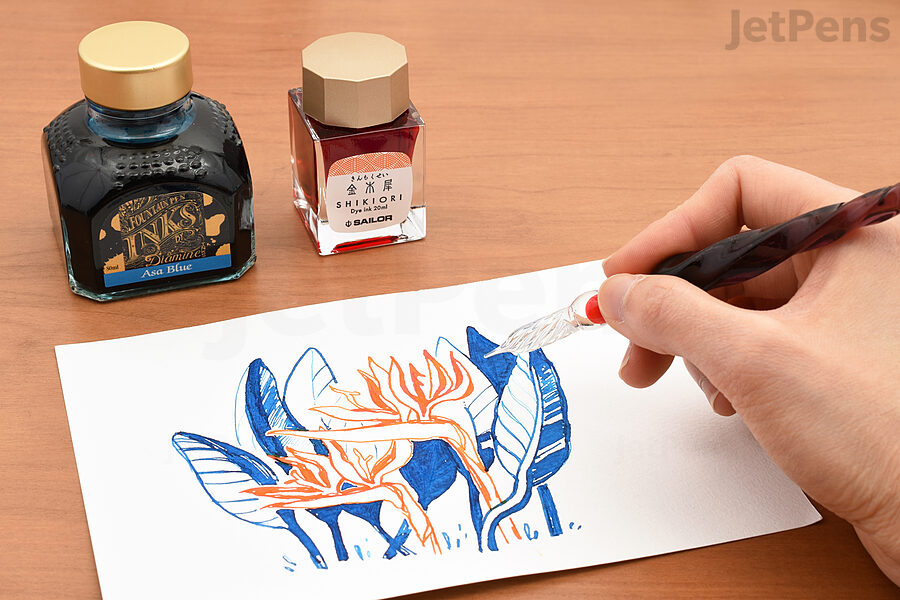 Glass pens are so easy to clean, combining multiple colors of ink in one drawing takes almost no extra effort.
Almost all fountain pen inks are water-soluble, so they will blend slightly when overlapped, even if one has dried. If you draw with complementary colors, this can look muddy. Test combinations of similar colors like orange and purple or blue and yellow first.
Cleaning and Storing a Glass Dip Pen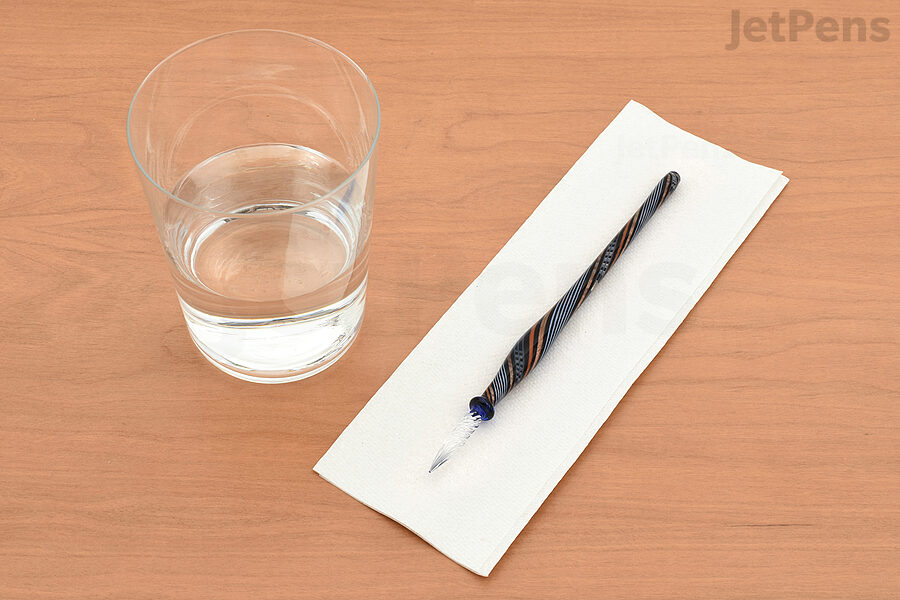 To clean a glass dip pen, swish it in water and then dry it with a cloth rag or a paper towel. If you used India ink or an ink with metallic particulates, a toothbrush or a small paintbrush will be necessary to get into the grooves and remove residue.
The first time you clean your pen, take a second and watch how the ink blooms and swirls in water. We won't say it's a necessary part of the process, but if you're enjoying the meditative experience of a dip pen, it's the perfect end to a session.
To store a glass dip pen, your most convenient and effective option is the original packaging. Pen stands or pen trays may also work, but be sure to set them somewhere they can't be knocked over.
Our writers draw on their personal expertise, consult our in-house subject matter experts, and do extensive research to make our guides as accurate and comprehensive as possible. We then test every finding that makes it through the research stage. Only the techniques and tools whose performance we personally confirm make it into our guides as recommendations.
Conclusion
A glass pen is a glamorous and surprisingly simple way to write. Pick one up and try it out. For a preview of the experience, enjoy the ASMR videos below.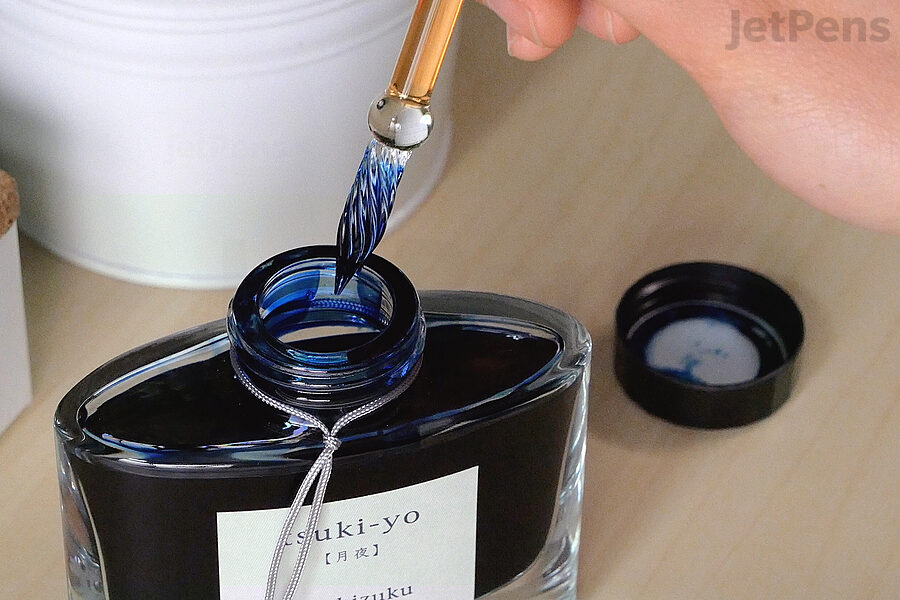 ---
---