---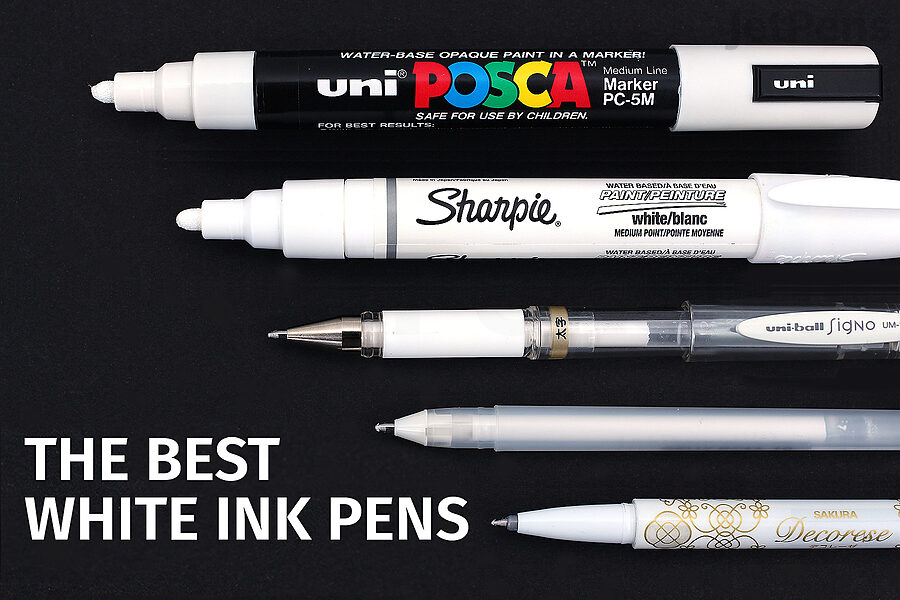 White ink creates unique contrast on dark-colored surfaces, making it a valuable tool in the pen case of any artist, scrapbooker, cartoonist, or designer. We carry a large selection of white ink products for all types of applications, and have created this guide to help you navigate through this white wonderland. Read on to learn more about white ink pens and find the ideal tool for your project!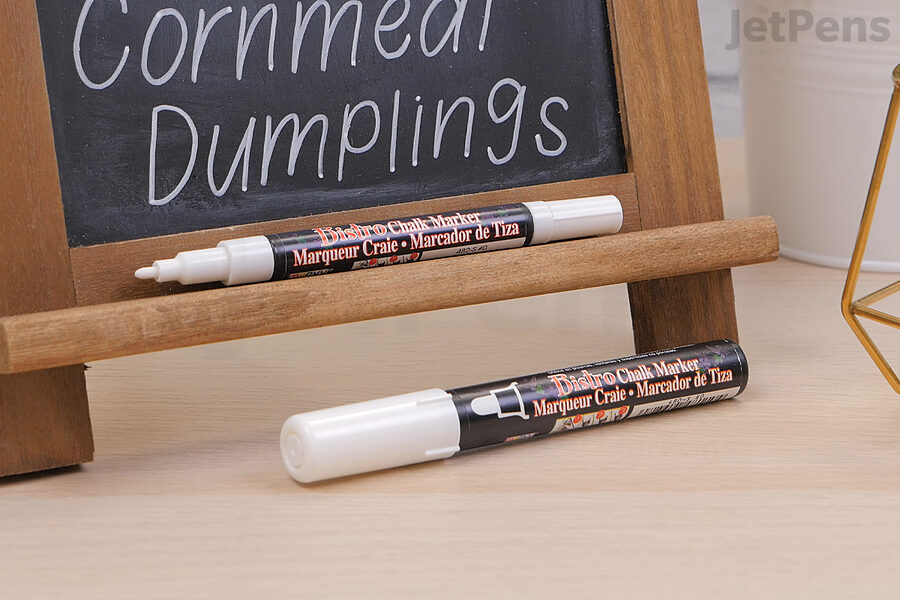 How to Choose a White Ink Pen
Tip Material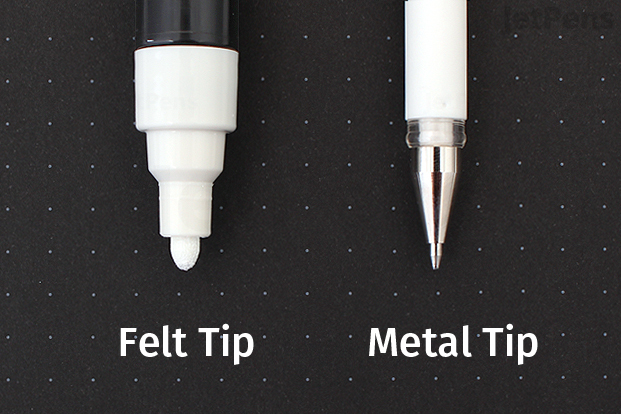 Felt tips, like those found on markers, produce bold strokes with some line variation depending on the amount of pressure applied. Metal tips, like those found on gel ink pens, produce thin and consistent lines.
Line Width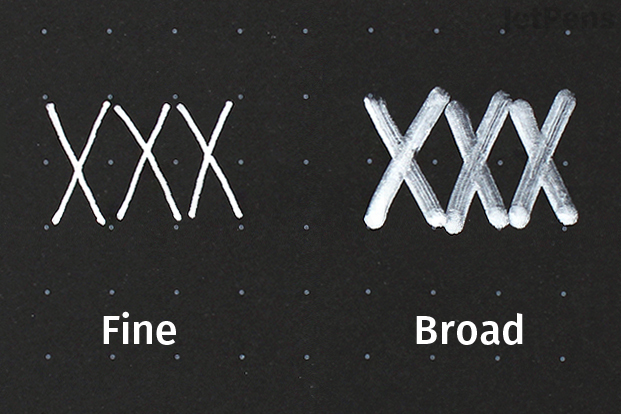 Fine-tipped pens are great for details — for example, adding white highlights to a drawing. On the other hand, if you're making a signboard that needs to be visible from a distance, broad-tipped markers are a more effective choice. Keep in mind that broader-tipped pens may have longer dry times.
Opacity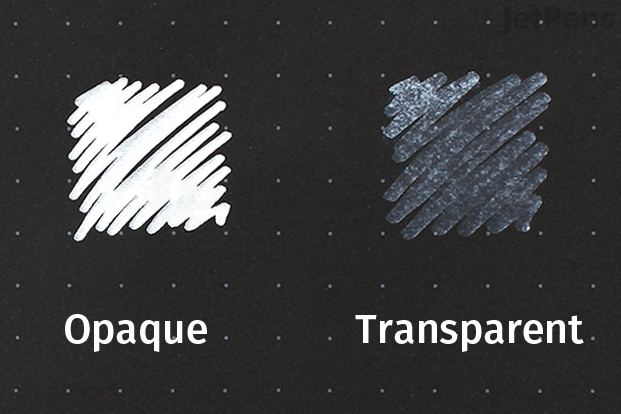 Opaque inks provide greater contrast, so choose an opaque pen for any project that calls for high visibility. Transparent inks are less opaque and allow the underlying surface color to show through, resulting in a more subtle look.
The Best White Gel Pens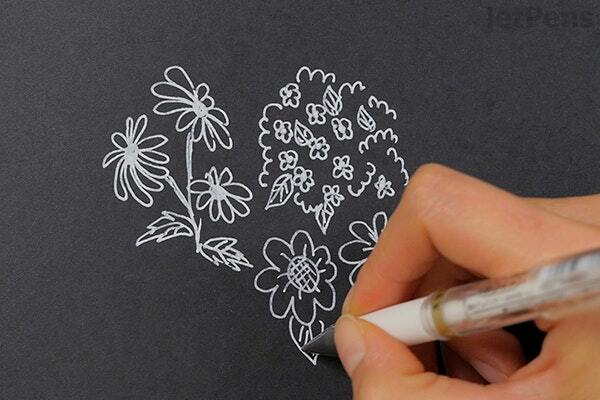 Our White Gel Pens Video offers a closer look at some of our top performers, including writing samples, craft ideas, and more.
White Gel Pen Recommendations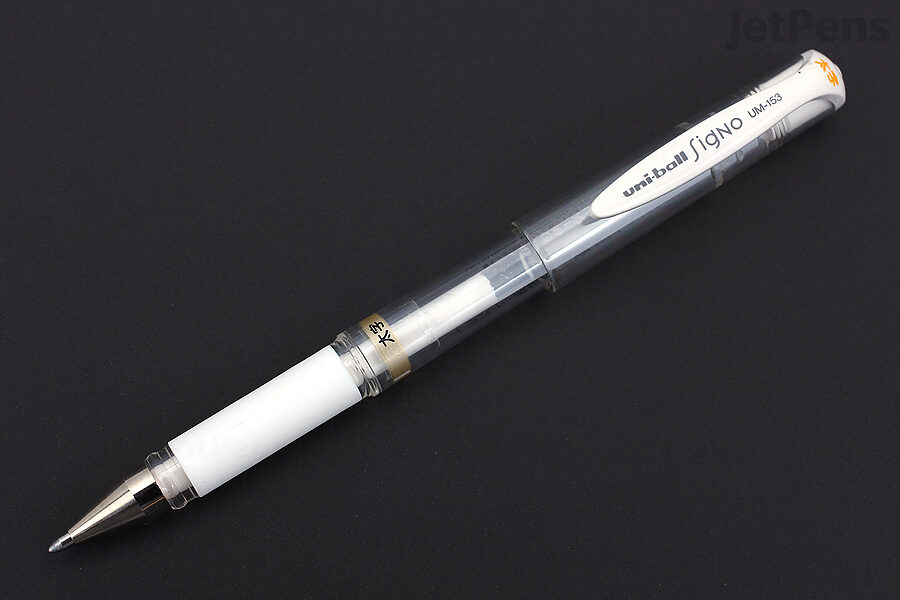 Top Recommendation: Uni-ball Signo Broad
The Uni-ball Signo Broad is our best-selling white gel pen. Artists and crafters all love its highly opaque and viscous ink. Though the pen tip may occasionally clog due to this thick ink, scribbling on a damp towel or piece of scratch paper will get the ink flowing again quickly. Long periods of unuse can cause the pen to dry out, so it's best for those who use white ink often or who are working on a large project. Like other Signo pens, it is archival safe and water-resistant.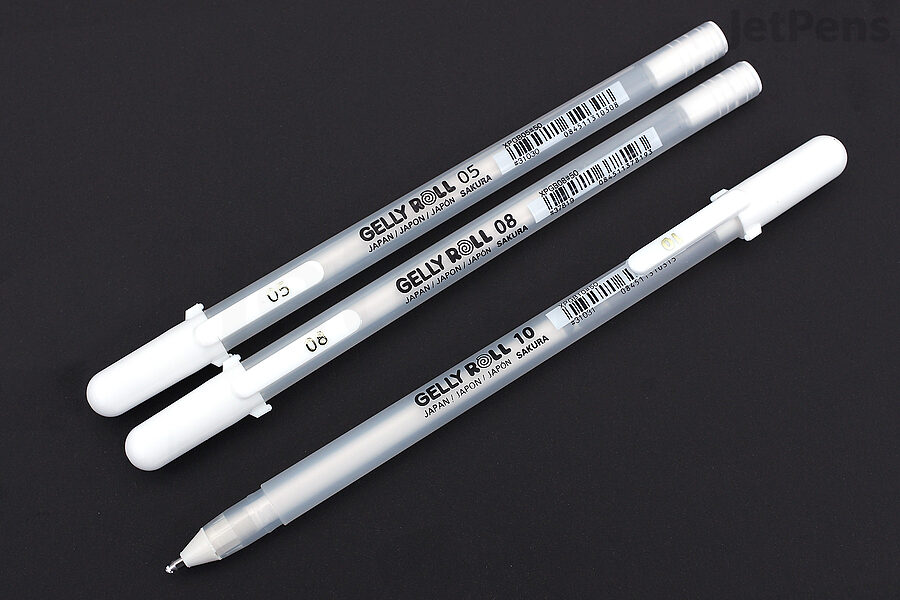 Also Consider: Sakura Gelly Roll
The Sakura Gelly Roll is also wonderfully opaque, with the bold tip size laying down a juicy line of white ink. Even its fine and medium tip sizes produce bright white lines, making the Gelly Roll great for detail work. Writing slowly yields the thickest lines, while quick scribbles produce a less opaque effect. The Gelly Roll is less likely to dry out than the Signo, so it's ideal for those who only use white ink every now and then. Its ink is waterproof, archival safe, fade-resistant, and fraud-resistant.
How to Use a White Gel Pen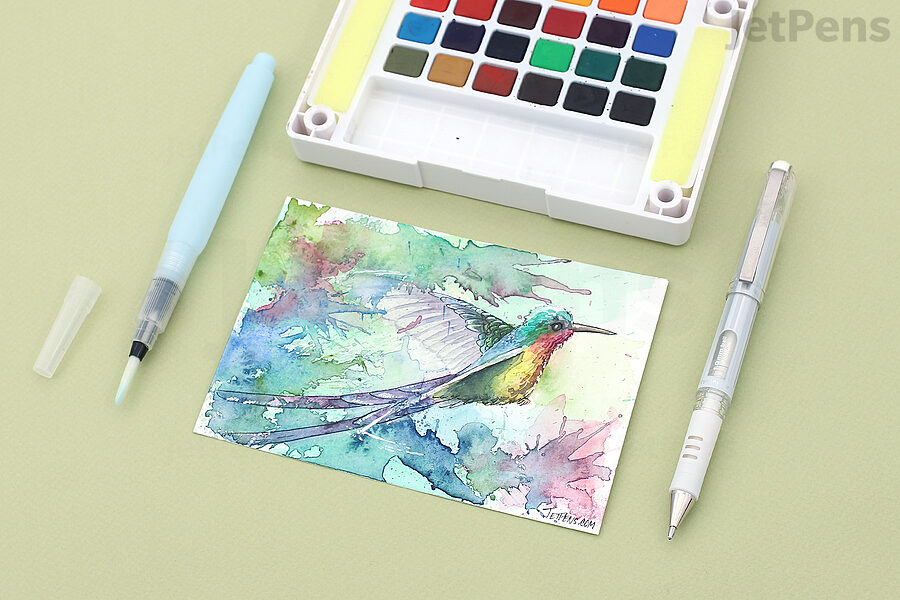 Many artists use white ink pens to add highlights to comic or manga art. After inking, add white highlights to eyes, hair, and clothing to make your drawings more vibrant. White accents mimic the reflection of natural light and will bring your artwork to life.
Product Used: Pentel Hybrid Gel Grip DX
Also Consider: Sakura Gelly Roll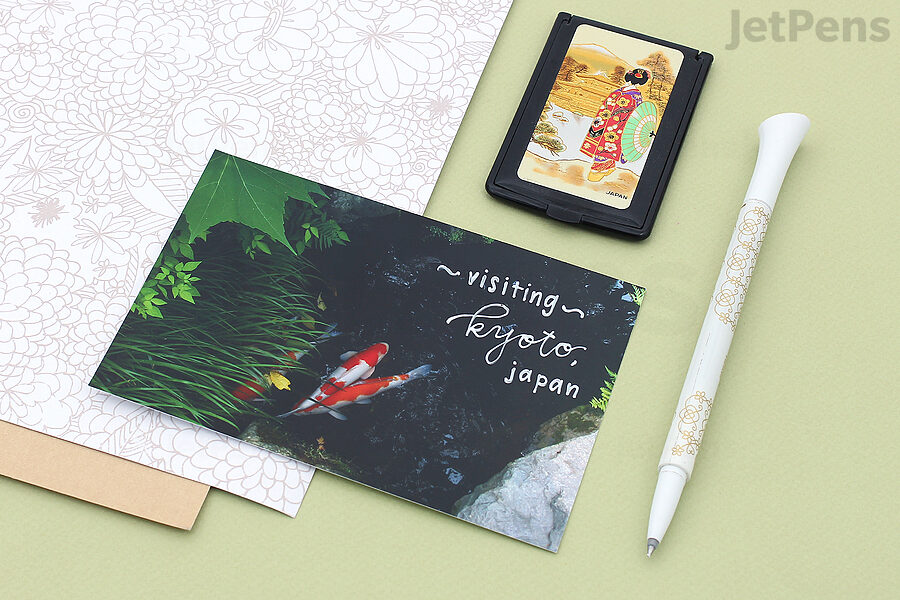 White ink is a must-have for scrapbooks and photo albums. Add fun captions and doodles to your photos with a smooth-writing gel pen. Certain pens, like the Sakura Decorese, are specifically made for writing on glossy photo surfaces.
Product Used: Sakura Decorese
Also Consider: Sakura Glaze, Sakura Souffle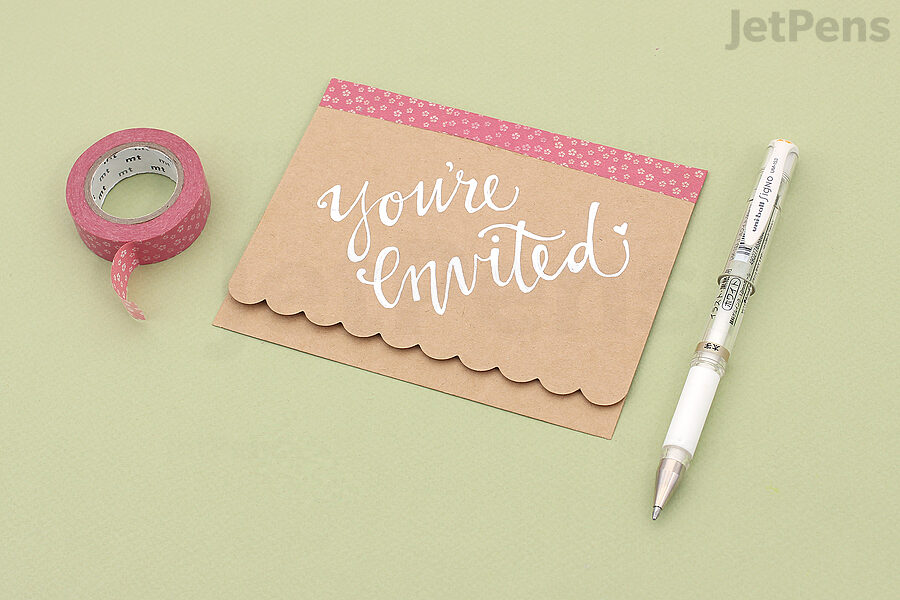 White ink is not only for writing on black paper! It also shows up wonderfully on kraft paper, dark cardstock, and colored envelopes. Use white ink on various backgrounds for unique DIY greeting cards, invitations, and other paper crafts.
Product Used: Uni-ball Signo Broad
Also Consider: Uni-ball Signo Angelic
The Best White Markers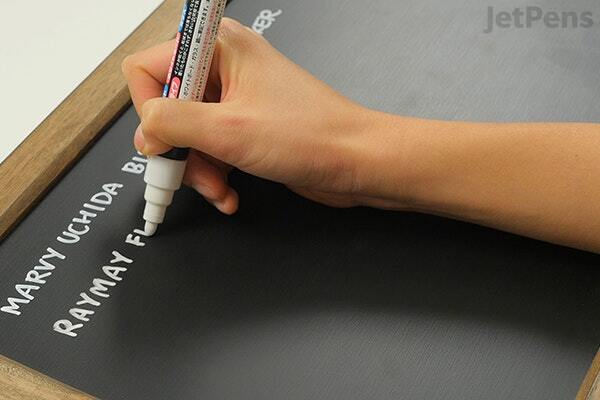 Watch our White Ink Marker Pens Video to see our favorite paint markers and chalk markers in action.
White Marker Recommendations
Top Recommendation: Uni Posca
The Uni Posca Paint Marker is our top recommendation due to its opaque ink and ability to write smoothly on almost any surface. It puts down a thick line on paper, glass, metal, and cloth. The extra fine tip is perfect for tiny details and is more opaque than the medium tip. Once dry, the ink is waterproof and lightfast. It also has a lower odor than most other paint markers. While we only show test results for the extra fine and medium tips, the white Posca is available in more tip sizes from ultra fine to extra broad.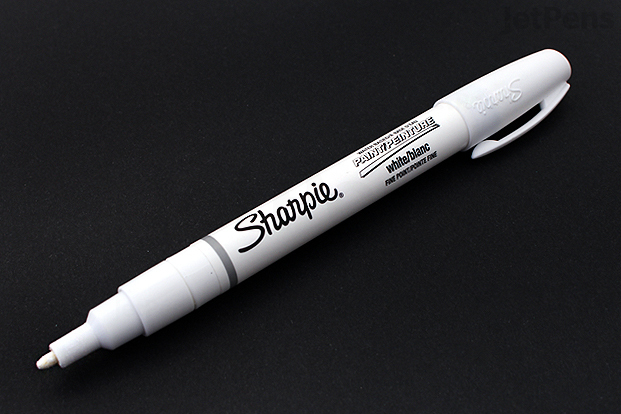 Also Consider: Sharpie Water-Based
While the Sharpie Water-Based Paint Marker isn't quite as smooth as the Posca, its vividly opaque ink can rival correction fluid. It is most opaque on paper but also works on a variety of surfaces, including glass, plastic, metal, wood, stone, and more..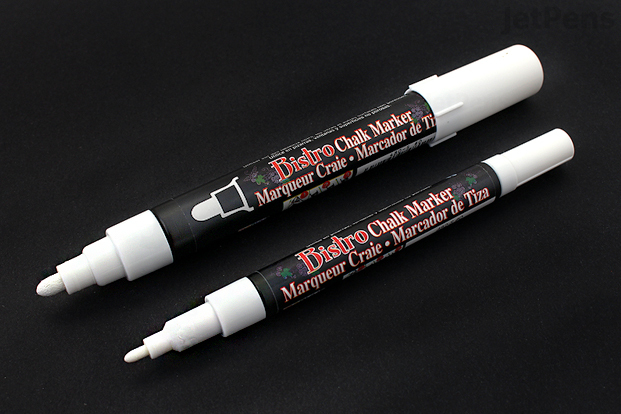 Chalkboard Recommendation: Marvy Uchida Bistro
Chalkboard signs can add a charming touch to weddings, coffee shops, and parties. Our top chalk marker recommendation is the Marvy Uchida Bistro Chalk Marker, which comes in two sizes and produces bold, opaque lines. If you make a mistake, simply use a damp cloth to wipe the ink away. Please note that these only work with plastic chalkboards and will not erase from traditional blackboards, which are porous.
White Marker Test Results
Markers

Product
Line Width
Swatch
Over Ink
Deleter Neopiko Line White Drawing Pen
Faber-Castell Pitt Paint Marker
Pentel Paint Marker
Pilot Juice Paint Marker
Sakura Pen-Touch Paint Marker
Sharpie Oil-Based Paint Marker - Extra Fine
Sharpie Oil-Based Paint Marker - Medium
Sharpie Water-Based Paint Marker - Medium
Teranishi Magic Glow Slim Black Note Marker
Uni Posca Paint Marker PC-1M - Extra Fine
Uni Posca Paint Marker PC-5M - Medium

Chalk Markers

Product
Line Width
Swatch
Smear
Marvy Uchida Bistro Chalk Marker - Fine Tip
Marvy Uchida Bistro Chalk Marker - Medium Tip
Raymay Fluorescent Board Marker
Paint marker tests were done on Pilot Black Notebook paper. The ink tests were done over Pilot Futayaku Brush Pen ink. Chalk markers were tested on a plastic chalkboard and not a traditional one that is porous.
How to Use a White Marker
To achieve a vintage chalkboard-inspired look, try a chalk marker— they're easy to use, you can update your design any time, and you won't have to deal with messy chalk dust. Best of all, chalk markers are erasable with just a bit of water, so you won't need to worry about making mistakes. Please note that they are not erasable on porous surfaces, so they will not erase from traditional blackboards. Make sure to test your surface before using the markers on it.
Product Used: Marvy Uchida Bistro Chalk Marker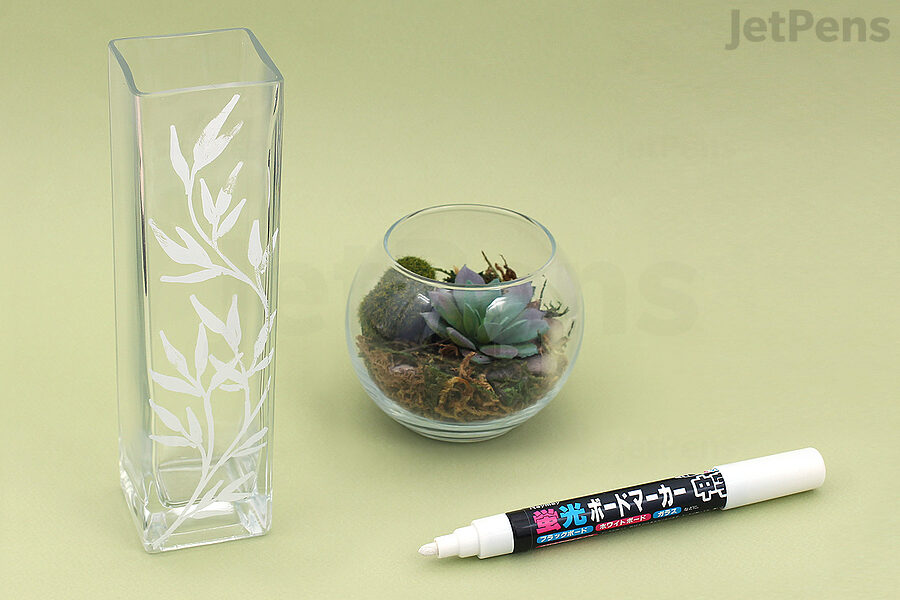 An erasable marker can add temporary decor to any smooth surface. Doodle festive artwork on storefronts and shop windows to attract customers, or ask the kids to decorate car windows on a family road trip. Both the Raymay Board Marker and Uni Posca Marker can be wiped away easily off glass with a damp cloth.
Product Used: Raymay Fluorescent Board Marker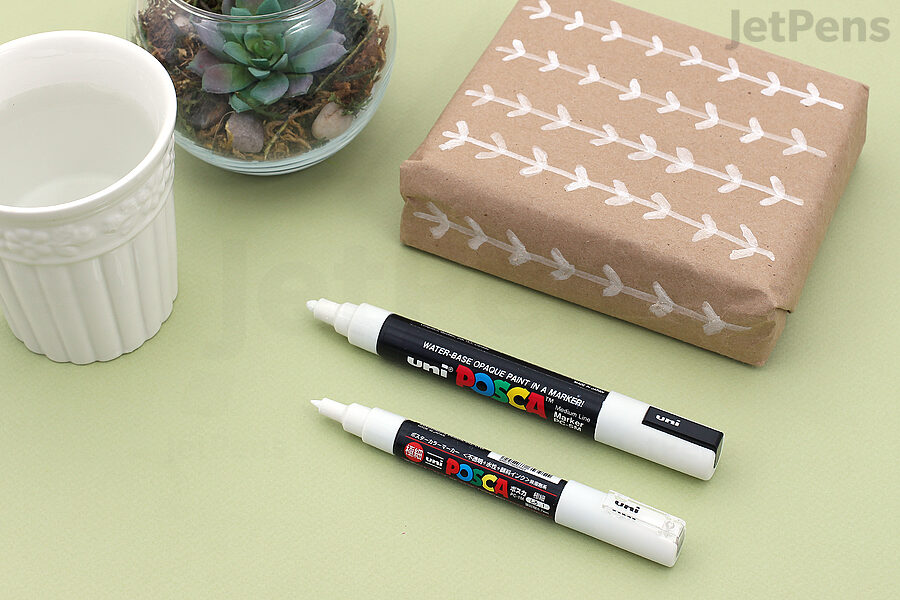 In need of a last-minute gift wrapping idea? Use a paint marker to make your own DIY wrapping paper! Depending on the size of your gift, you can use a grocery bag or a smaller lunch bag. Just cut the bag apart until it lays flat, and then use a white ink marker to add some flair. You can draw dots, swirls, stripes, or geometric patterns.
Product Used: Uni Posca Paint Marker
Conclusion
Though not as ubiquitous as black or blue, there are occasions when white ink truly shines. Our customers are always discovering unique uses for their white ink pens— some use them in research labs, or in medical clinics to mark x-ray radiographs.
Whether these pens inspire your creativity or simply get you through a busy workday, they are a valuable and versatile tool to have on hand. Pick up our JetPens White Ink Pen Sampler, which contains all of our favorites, or take a look at all of our white ink products. You can also check out The Best White Drawing Inks guide, which covers bottled drawing and calligraphy inks.
*Alcohol and oil-based pens (Sharpie Oil-Based Paint Markers) perform poorly on porous paper but very well on nonporous surfaces, such as plastic or glossy photo paper. They also tend to dry up faster and may not work well after a period of no use.
Shop This Post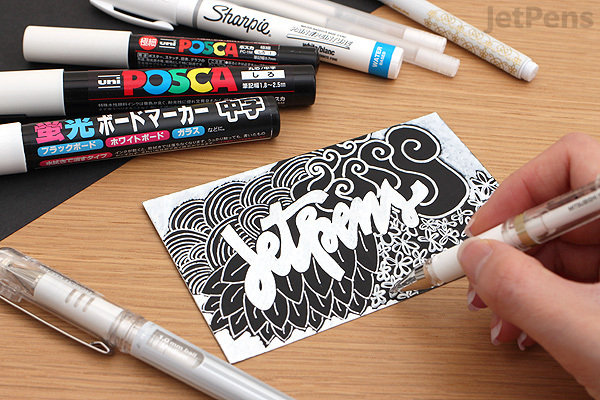 Still not sure what to try? Check out our
White Ink Pen Sampler
. This sampler set lets you try out nine of our favorite and most popular white gel pens and markers to see which ones work best for you!
---
---