---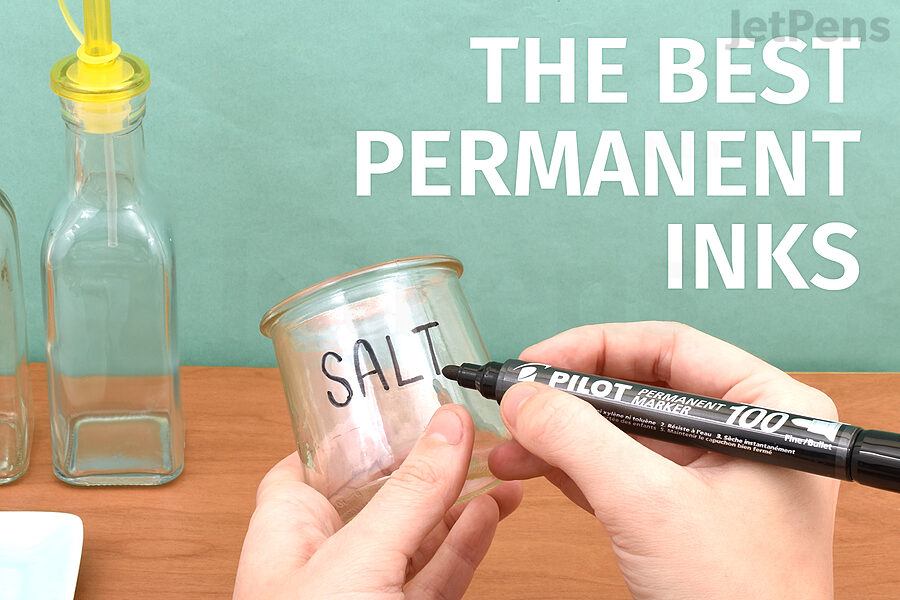 Permanent inks come in all kinds of pens. The most iconic permanent writing tool is the permanent marker, used to label different surfaces with waterproof, abrasion-resistant writing. But if you're writing on paper, you may prefer a permanent gel pen, ballpoint pen, rollerball pen, or fountain pen ink to pair with a favorite fountain pen.
By considering all aspects of permanence, from washability to fading over time, we've found the best inks for writing on all kinds of surfaces. With our guide to permanent inks, you can find the best choice for the words you plan to leave to the next generation.
What Makes An Ink Permanent?
True permanence is, of course, impossible. The oldest ink writing that has survived to the present day is over two thousand years old and was made with carbon from burnt lampblack or soot.1 Carbon-based inks are still available today, though now they compete against many others.
While "permanent" often refers to whether an ink is washable, and "archival" is used to describe inks that do not fade or deteriorate, neither term has a standardized industry definition. Below we describe the factors that work together to make a truly lasting ink.
Alcohol and Oil-Based Ink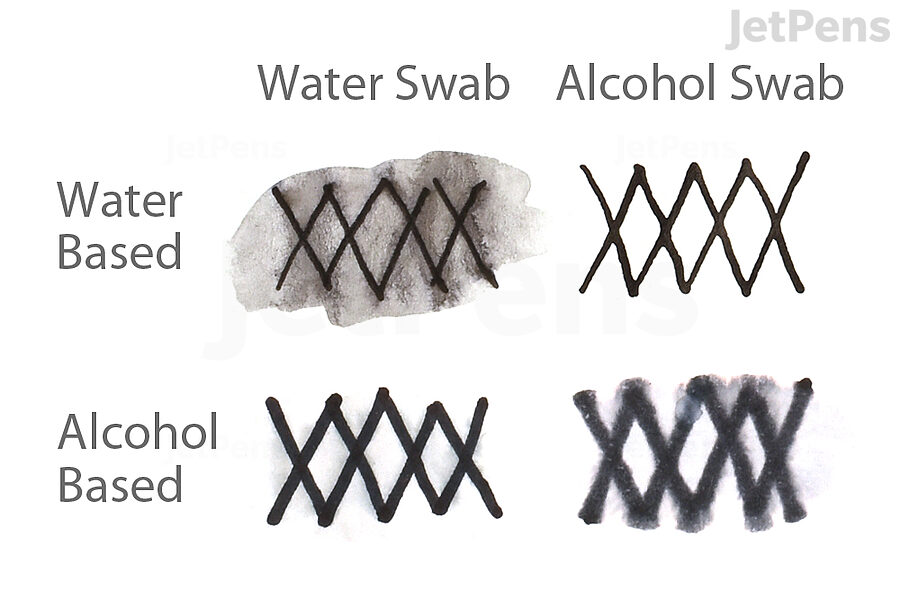 Permanent inks are generally alcohol or oil based, rather than water based. Alcohol and oil-based inks are more similar than they may sound. They perform almost identically in tests, and generally a pen is labeled with one or the other based on what the manufacturer wants to emphasize, versus real chemical differences. While alcohol/oil-based inks may still be vulnerable to rubbing alcohol or acetone, they provide increased resistance to water, a more common threat.
Pigment-Based Ink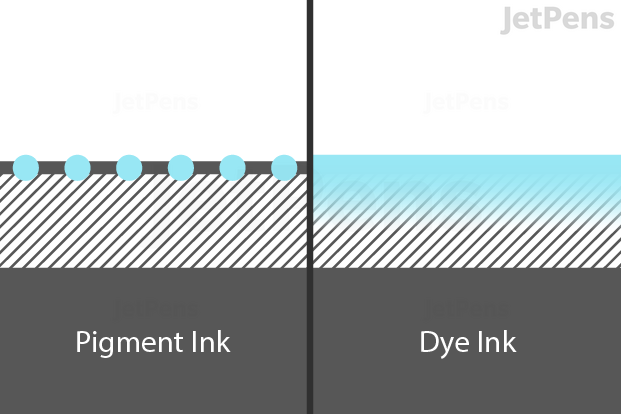 Most permanent inks are colored with pigments instead of dyes. When writing on paper, grains of pigment nestle on and in the fibers of a page instead of soaking through.
2
This means that pigment inks aren't as vulnerable to hazards that affect paper over time. Pigment inks are more resistant to light than dye-based inks, although not uniformly—other factors, like the size of pigment grains, their color, and whether they are synthetic or organic
3
will determine a pigment ink's overall lightfastness.
Pigment inks are also a necessary ingredient for a waterproof ink. By its nature, most dye-based ink is water soluble, as dye colorant needs to dissolve into its carrying solvent (usually water4) for the ink to function. Solid particles of pigment stay intact in their carrying solvent and thus are less vulnerable to spills once they bind to a page, though the binder that attaches them must be waterproof as well for full efficacy.
Fade-Resistant Ink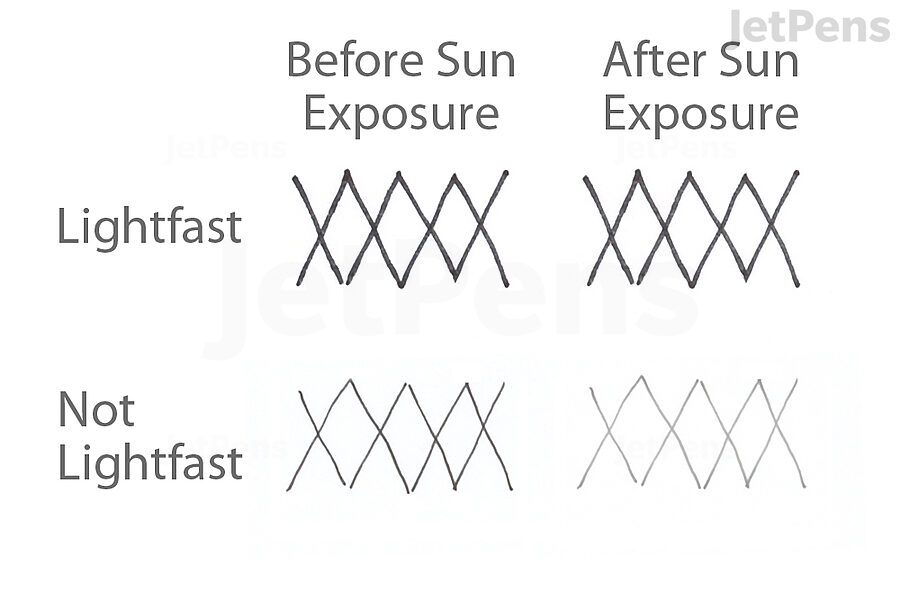 A permanent ink should be lightfast, not fade when exposed to sunlight, and not suffer chemical decay that causes fading over time when stored in darkness. Colorful or lighter inks are often more susceptible to fading than black inks or darker inks, even when those inks are marketed as archival or "eternal."
Fraud-Resistant Ink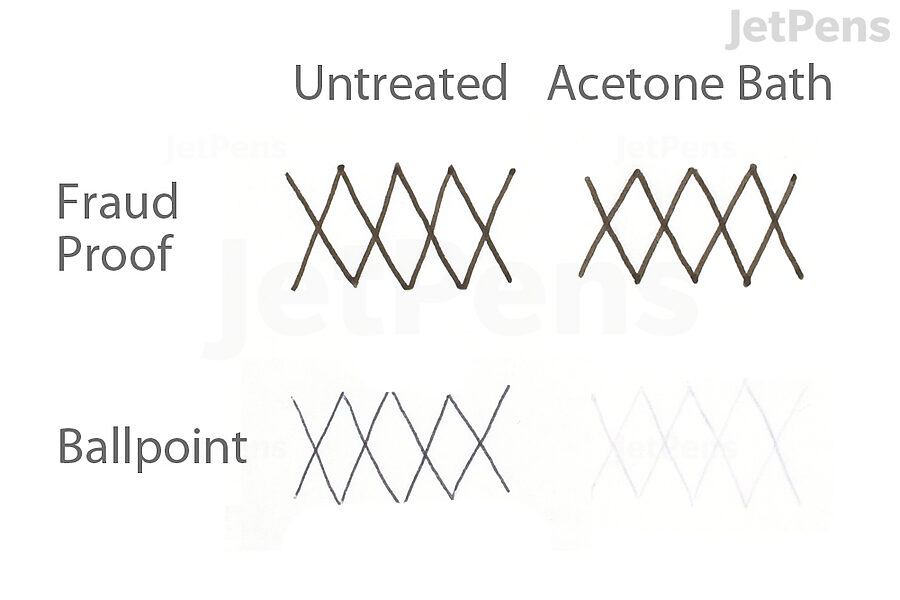 Permanent ink should be fraud resistant, surviving dips in water, alcohol, acetone, and mineral spirits. These substances represent the three basic types of solvent that can be used in check washing or other unsavory activities. Most inks achieve fraud resistance by bonding to cellulose fibers in paper.
All of these qualities at once is a pretty steep order, and no one ink is perfect in all aspects of permanence, but we have plenty of options for you to consider nevertheless.
This is a guide to ink, but we must note ink composition is only one aspect of permanence. Be sure to write on acid-free paper and store it in a dry, cool, dark place.
The Best Multi-Surface Permanent Markers
You can't discuss permanent ink without discussing permanent markers. When you think of a permanent writing tool, you likely picture a marker that can write on all kinds of surfaces. While multi-surface writing doesn't necessarily have anything to do with how long that writing will last, we've nevertheless picked out our most durable multi-surface permanent markers.
New surfaces add additional considerations.
Compatible Surfaces. We tested on paper, plastic, glass, stone, and fabric to make sure our multi-surface markers were truly multi-surface.
Abrasion. When used on nonporous surfaces, permanent markers may be more vulnerable to friction and scrubbing, as they leave a slick of ink on the surface of an object instead of a stain. We've tested how vulnerable these markers are to sustained abrasion.
Heat. While you wouldn't run a notebook through a dishwasher or a washing machine, that's not necessarily true of an object labeled with a permanent marker. These inks should resist heat in addition to water.
Resistance to Non-Water Solvents. On a nonporous surface, most permanent inks wash off with solvents like alcohol, acetone, or mineral spirits. Some have unexpected resistance to one or more of these, which is technically more permanent but inconvenient if you make a mistake.
That's a lot of factors! We've tested so you can compare and pick the permanent pen that will be best suited to your needs.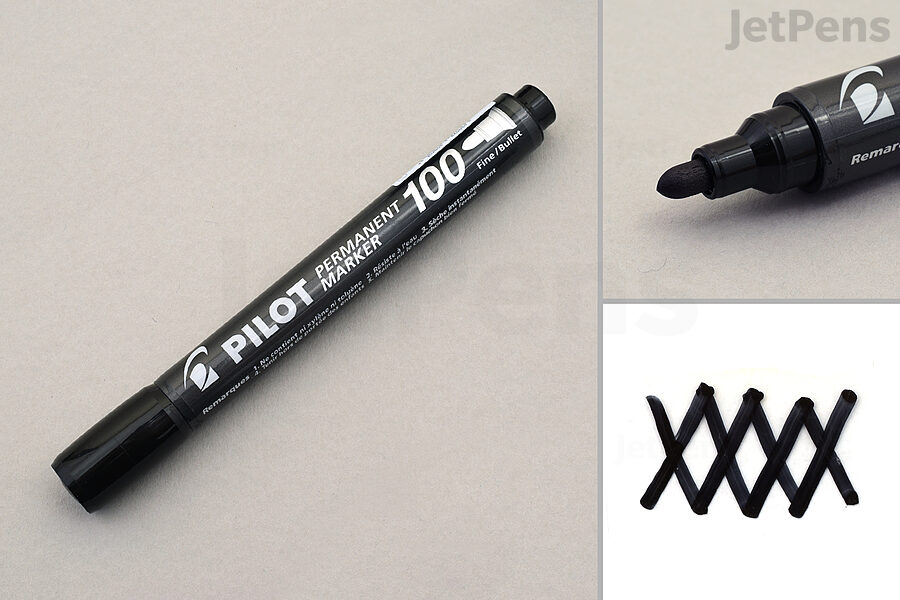 The
Pilot Permanent Marker 100
is a straightforward and effective permanent marker. Its bullet tip leaves dark, easy-to-read marks on paper, plastic, glass, and stone. We don't recommend it for fabric, as its ink wicks through fabric fibers and leaves a fuzzy line, but our fabric test was unaffected by a trip through the washing machine. Scrubbing fades the ink but doesn't render it illegible. This ink dries quickly and resists fading from light. Best of all, its smell is comparatively mild and unobjectionable for such an effective marker.
Our runner up is the Sharpie PRO Permanent Marker, which has more durable writing by all tests and comes in a wider range of tip sizes. However, it has a noticeable odor that we don't think is pleasant or necessary for everyday use. If you need to label wet surfaces on construction sites, pick the Sharpie PRO. Otherwise, the Pilot Permanent should serve you well.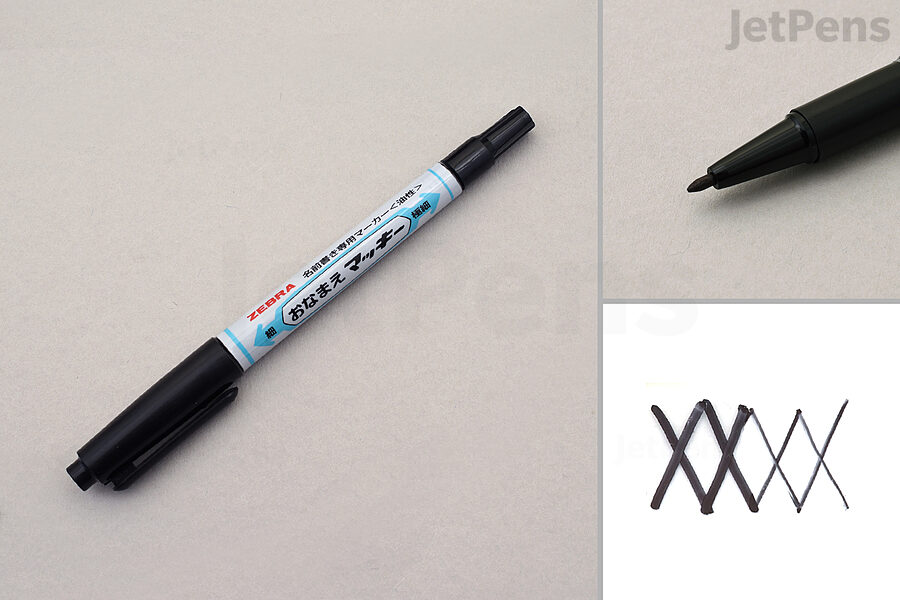 Name markers are usually used in Japan to label schoolchildren's possessions, but their combination of precision and durability makes them great for all sorts of uses around the home. Our favorite is the
Zebra Onamae Mackee Double-Sided Name Marker
.
The Zebra Onamae Mackee's fine and extra-fine tips write with dark, opaque ink. It's a true multi-tasker, handling paper, plastic, metal, glass, fabric, and more with only a few seconds of drying time. It's unaffected by water or washing machines. We don't recommend this pen for damp surfaces or surfaces that experience sustained abrasion. We also can't guarantee fade resistance, so don't use this one for journal entries. As a nice bonus, it's low-smell for delicate noses.
Our runner up is the Pilot Name Marker, which is less resistant to abrasion but has slightly stiffer tips that we found more fun to write with and a little bit neater on fabric. We also noticed that the Pilot's smaller cap posted less securely. Otherwise, it's almost identical and another good pick.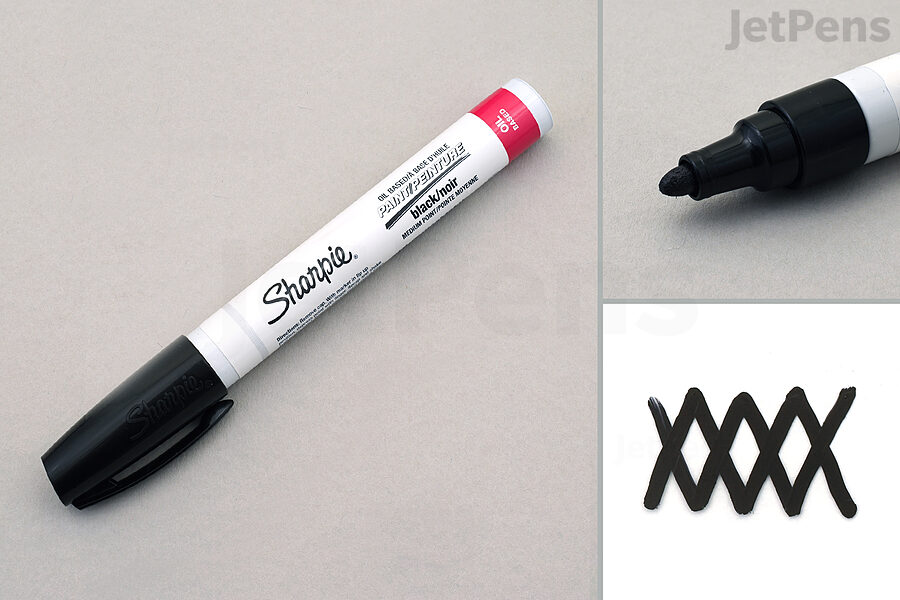 The
Sharpie Oil-Based Paint Marker
is free of pitfalls that can trip up other Sharpies. It was the most abrasion resistant of all the permanent markers we tested, as well as being waterproof and nontoxic. Its smell is noticeable but mild. When used on fabric, its lines hardly fuzz at all. It fades slightly after washing but remains bright and legible. It's also our top pick for writing on stone. All in all, the Sharpie Oil-Based Paint Marker is the perfect tool for lasting art.
The Best Permanent Inks for Paper
Now that you've seen our multi-surface pen picks, let's leap into the rest of our permanent ink choices for paper.
The Best Permanent Fountain Pen Ink
If you already have a favorite fountain pen, it's easy to start using a permanent ink. When creating these writing samples, we used a glass dip pen—it permits quick switches with less cleaning fuss.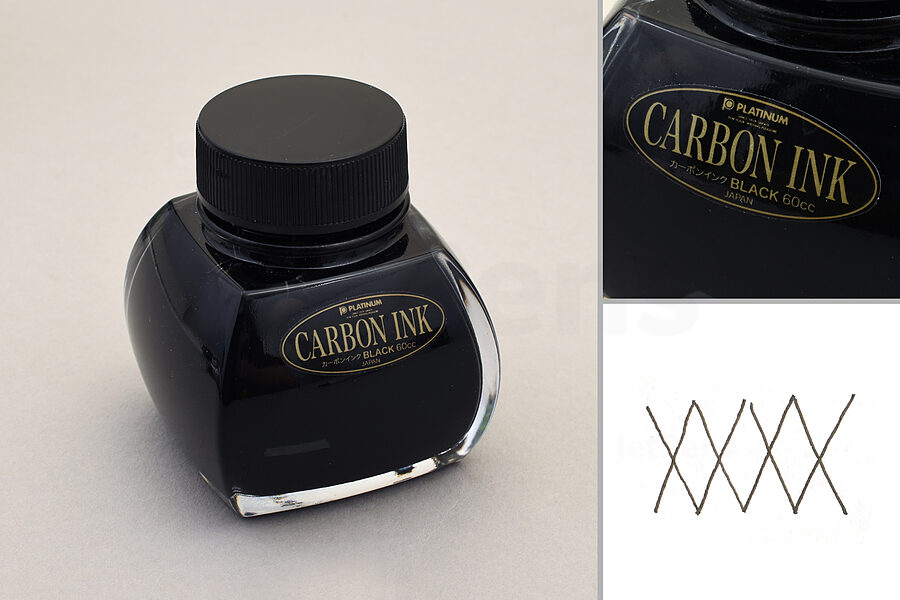 Remember we said the oldest ink in the world was made from carbon?
Platinum Carbon Ink
will give you a taste of that history. It shrugs off water, other solvents, and sunlight, leaving luxuriously glossy dark black lines. We did notice very slight bleeding when coloring over it with alcohol-based inks, so avoid that particular art application.
Carbon Ink is pigment based, so if left to dry out in your pen, it will clog. Remember to always clean your fountain pen regularly. It also has a slightly alkaline pH, which will have no effect on paper, but may affect the metal workings of your pen over a long lifetime of use.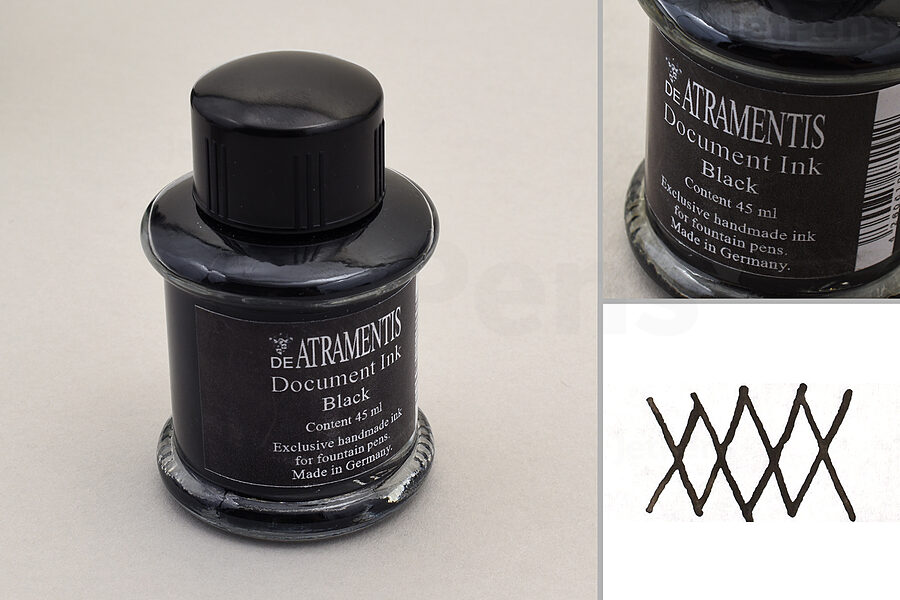 De Atramentis Document Ink
boasts incredible lightfastness and waterproofness. Applying water caused slight bleeding, but lines remained dark and perfectly legible. It's also pH neutral and temperature stable—De Atramentis set out to make a permanent ink, and they achieved it. This ink is perfectly suited to important papers you'll want to keep for the rest of your life.
Unlike Platinum Carbon Ink, De Atramentis Document Ink comes in a range of bright colors that can be used to distinguish your documents from fraudulent copies.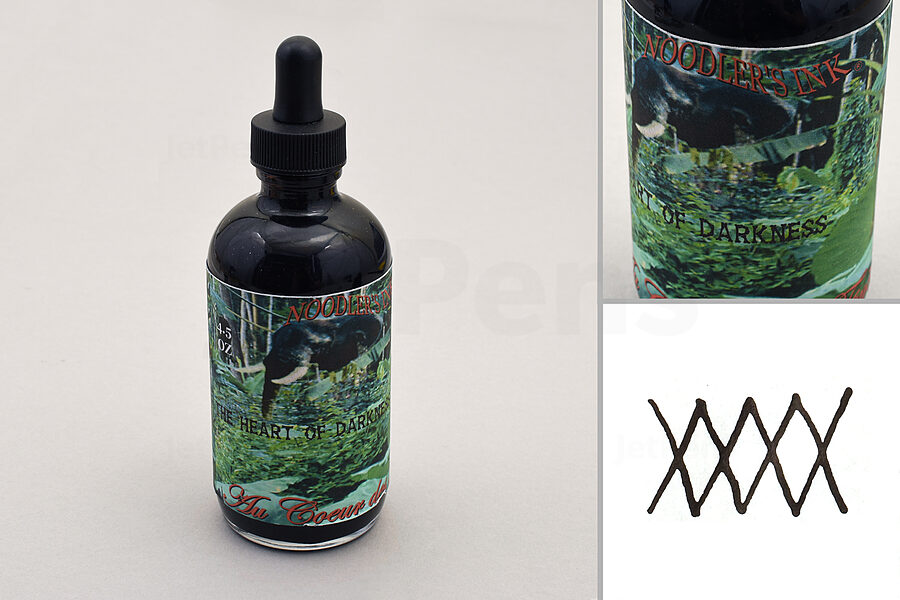 Noodler's Bulletproof Inks
are fade resistant, fraud proof, and unaffected by humidity or acidity in their environment. They are also fantastic value for money. Lightfastness varies between colors, and we recommend sticking with black for writing you plan to leave in the sun. They're made by hand, causing pH to vary slightly between colors and batches, but they generally stay in a near-neutral range. They do smear quite a lot when dipped in water, but if you write with a thin line, your damp journal entries or letters should stay legible. Due to their unique formulation, you should frequently clean Noodler's inks out of your pens to avoid damaging them.
Test Results
Testing Methods
For multi-surface pens, we swabbed writing with water, isopropyl alcohol, acetone, and mineral spirits to test how inks reacted to different solvents. A dip in water had no effect on any of the pens, so it is not included in the test results. We also scrubbed writing with the rough side of a sponge to test abrasion resistance and submerged writing samples on plastic in boiling water for 20 minutes to test temperature reactivity. All of these tests were performed on plastic.
Writing on fabric was washed in a washing machine (warm water, mild detergent); none of the pens we tested washed out, so our fabric test results simply describe how neatly the pen writes. Writing on stone was washed with soap and water.
For the smell tests, we noted a moderate result when the smell was noticeable when sniffed, but not at writing distance. A strong result (a bar with less blue) means the smell was noticeable even at writing distance.
Multi-Surface Pens
Click here to see our full testing results for multi-surface pens.
Click here to hide our full testing results for multi-surface pens.
Pens for Paper
Click here to see our full testing results for writing on paper.
Click here to hide our full testing results for writing on paper.