April 12, 2022 - Posted by Kristin to
Guides
,
Fountain Pens
,
Gel Pens
,
Brush Pens
,
Calligraphy Pens
,
Pens
,
Ballpoint Pens
,
Markers and Felt Tip Pens
,
Rollerball Pens
,
Inks
,
Highlighters
,
Fountain Pen Inks
,
Drawing Inks
,
Beginners' Guides
,
Stationery 101
---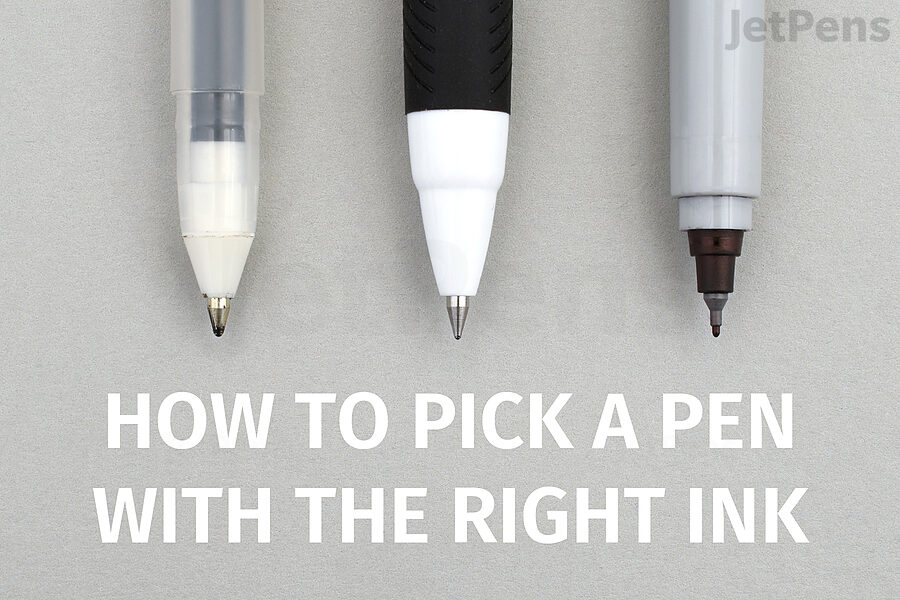 There's more to picking a pen than tip size and looks. The ink inside a pen is what makes it write better on certain papers than others, gives it waterproofness or a quick drying time, or infuses your writing with vivid color. Although the design of the pen tip has a lot to do with how smoothly a pen writes, the ink that flows from the tip is equally as important.
In this guide, we will help you choose the right type of pen—that is, a pen with the right type of ink—by exploring the basics of what pen ink is made of and the impact different formulations have on the ink's behavior. As non-chemists discussing a technical and complex topic, we will only touch on the broad generalities of ink composition. Still, even a surface-level understanding of ink types should make it easier to pick a pen that's right for you. Keep reading or watch the video below to learn how to pick a pen that's right for you.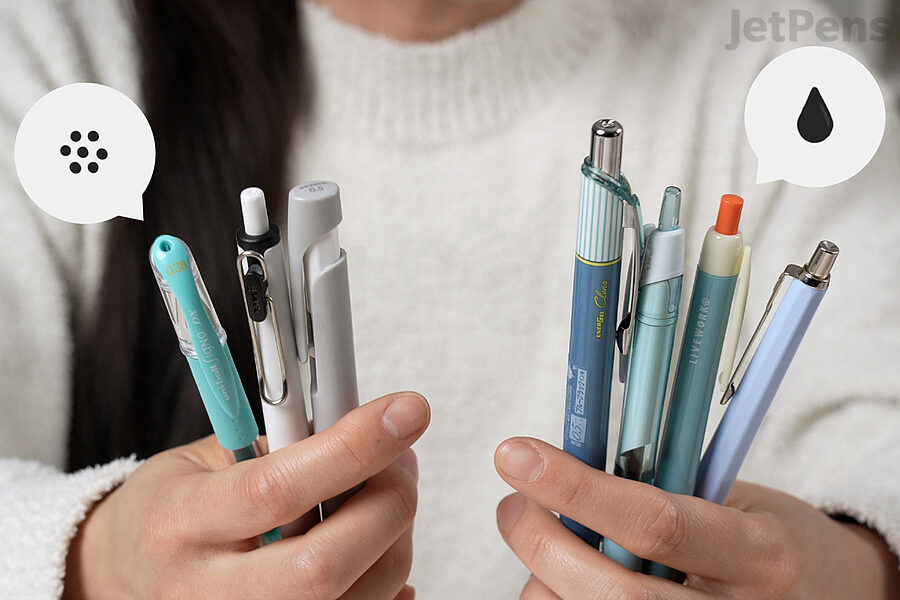 Can You Just Tell Me A Pen That Works?
If all you're looking for is a reliable pen that works on any type of paper, we suggest a ballpoint. The Uni Jetstream is our favorite! It uses low-viscosity ink that allows for effortless flow when writing. It also comes in several body colors and tip sizes ranging from 0.38 mm to 1.0 mm. If you want to learn more about specific ink compositions and their advantages, keep reading.
What Ink Should I Use?
If you don't want to read the whole guide, this table is a good place to start. The first column lists characteristics you may want in an ink. The second column lists ink types that often have those characteristics.
Bear in mind that this table only lists correlations. Not all representatives of the suggested ink types will have the characteristics you're looking for, but they are more likely to have them.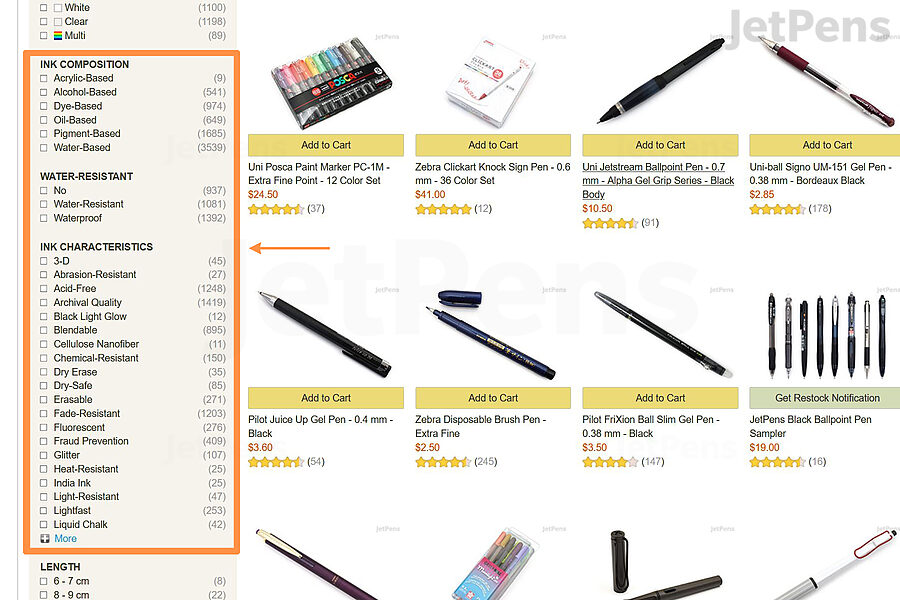 If you are looking for a specific ink characteristic or composition, you can use the facets on our website to quickly find what you are looking for. These are listed on the left-hand side of all of our product category pages.
| If you want a pen with ink that is: | Try these ink compositions: |
| --- | --- |
| Waterproof or water resistant | Oil-based ink, alcohol-based ink, pigment-based ink |
| Smooth | Liquid water-based ink (rollerball and fountain pen ink), gel ink |
| Able to write on almost any paper | Oil-based ink, alcohol-based ink |
| Vibrant | Dye-based ink |
| Deeply and intensely colored | Pigment-based ink |
| Available in many colors | Dye-based ink |
| Water soluble | Dye-based ink, water-based ink (rollerball and fountain pen ink) |
| Lightfast, fade resistant | Pigment-based ink |
| Archival* | Pigment-based ink |
| Permanent* | Oil-based ink, alcohol-based ink, pigment-based ink |
| Quick drying | Oil-based ink, alcohol-based ink, some specialized gel inks |
| Opaque | Pigment-based ink |
| Transparent | Dye-based ink |
*There is no standard definition of what "permanent" or "archival" means for an ink. See our Glossary for more information.
What Is Ink Made Of?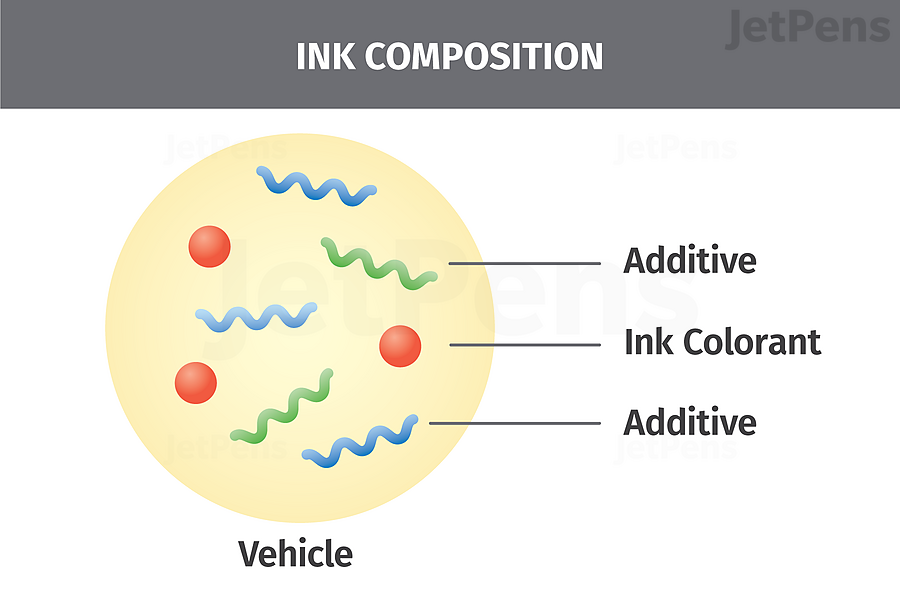 Fundamentally, all inks are made of color that is dissolved or suspended in a vehicle (also called a solvent or carrying medium) that delivers that color to the paper. Inks also contain several additives that fine-tune their performance. For example, manufacturers may use surfactants to give an ink the right surface tension to flow reliably through a pen, binders to help deposited color stick to the paper once the vehicle evaporates, and preservatives to prevent mold.
These ingredients are then combined in a specific way to ensure that the ink has the correct characteristics. Just like bread and pizza dough contain similar ingredients but turn out differently when baked, inks made with similar components can have different characteristics depending on how they are treated during the mixing process. Ink manufacturers are extremely protective of their proprietary formulas, so we aren't able to use the specifics of their ingredients or mixing processes to inform our ink choices. We do, however, usually know the two basic components of the ink: the vehicle and the colorant. Despite all the complexity and variability that the other elements of the ink introduce, this information gives us valuable clues about how the ink is likely to behave.
Ink Vehicles
Water-Based Inks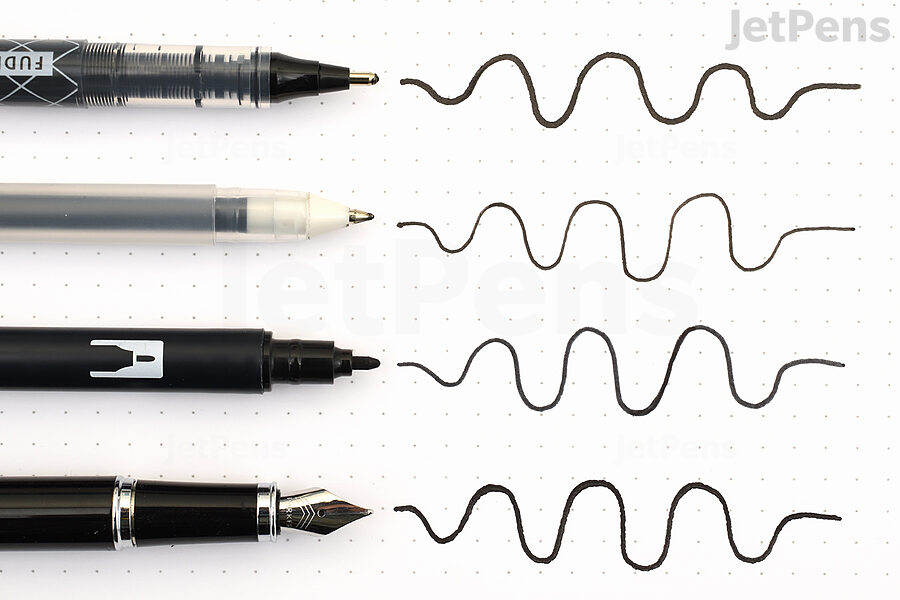 Water is an extremely common ink vehicle. Pens intended for writing are especially likely to use water-based ink, although there are also plenty of water-based art pens. Water-based inks can be colored with dyes or pigments and have a wide range of characteristics depending on the other additives in the ink. They are often thought of as having poor water resistance but can be water resistant or even waterproof. Water-based inks with good water resistance are usually colored with pigments.
Water-based inks include:
Oil-Based Inks and Alcohol-Based Inks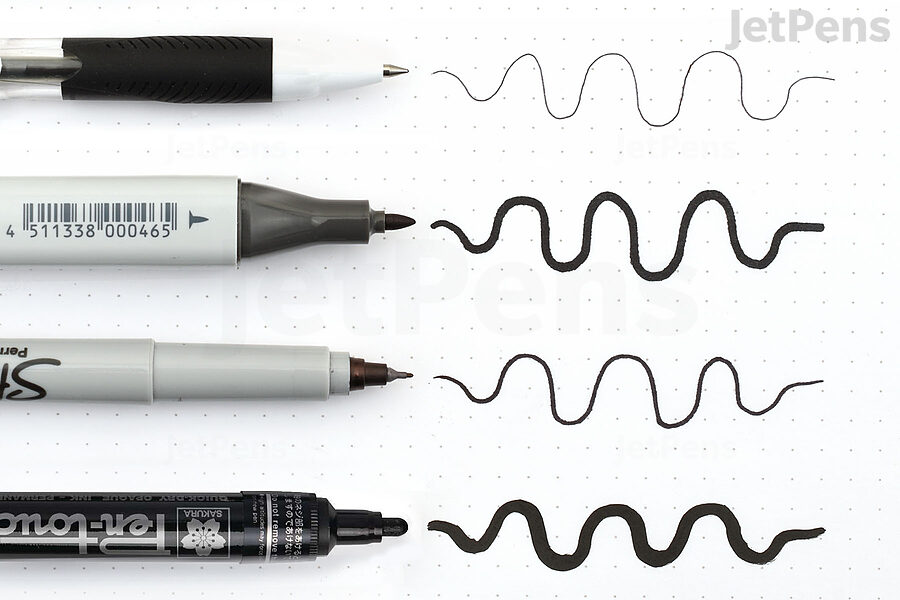 Although they're spoken of as distinct categories, there are no consistent differences between oil-based and alcohol-based inks either chemically or in terms of their performance.
In general, oil- and alcohol-based pens contain both alcohols and oils. They may be colored with dyes or pigments and are typically water resistant or waterproof. They are also able to write on slick surfaces better and with a more reasonable drying time than water-based inks.
The counterpoint to this benefit is that the oil- and alcohol-based inks used in markers spread out on regular paper, making wide lines that are hard to control. They may also have a strong smell that makes them unpleasant to use for long periods.
Given these similarities, what a particular pen is called has more to do with what the manufacturer wants to emphasize about its characteristics than an actual distinction in its composition. Markers labeled as alcohol based are often intended for art. They blend easily, produce consistent color, and dry quickly. Markers labeled as oil based are typically marketed as multi-surface or permanent markers, with the emphasis placed on the durability and versatility of their marks.
Ballpoint pens, although they fall into the same general category, behave differently from their marker cousins. They do not have the strong smell that is typically associated with oil-based and alcohol-based markers, and their thick ink prevents their writing from spreading out on paper the way that thinner marker ink does.
Oil- and alcohol-based inks include:
Ink Colorant Types
Dye-Based Inks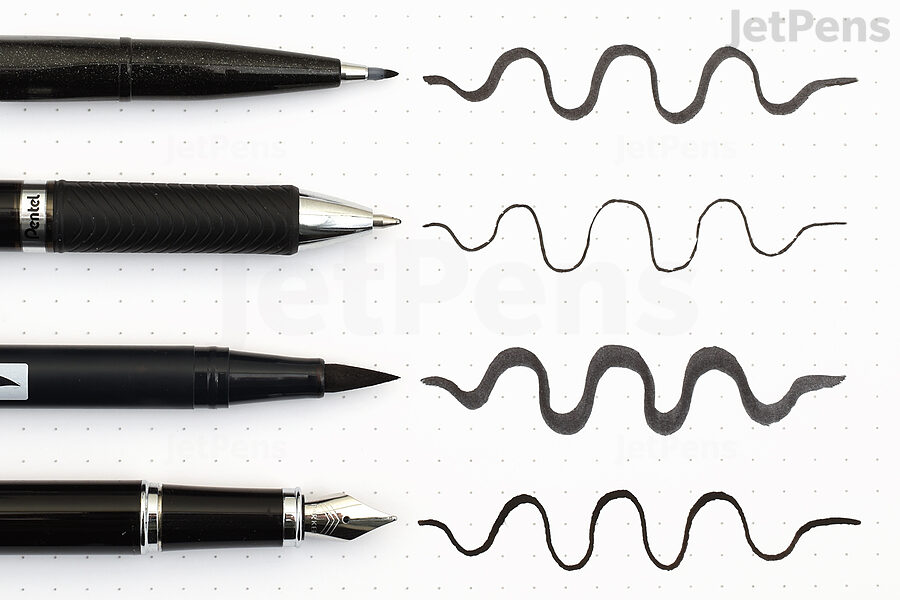 Dyes are colorants that completely dissolve in the liquid they are mixed with. Just like salt and sugar disappear when stirred into water but make their presence known by making it taste salty or sweet, dyes color the ink vehicle but cannot be distinguished from it once they are mixed together. Dyes are the most common type of colorant used in inks. They are generally cheaper than pigments, are available in many colors, and can produce very bright hues. Most dye-based inks are neither lightfast nor waterproof, so they're best for writing and art that doesn't need to last a long time.
Dye-based inks are often also less opaque than pigment-based inks. This can make the color appear less intense, but this is not usually a problem for writing. If you use dye-based inks for art, their relative transparency may allow for watercolor-esque effects. Dye-based fountain pen inks are unlikely to clog pens but particularly strong dyes can cause staining.
Dye-based inks include:
Pigment-Based Inks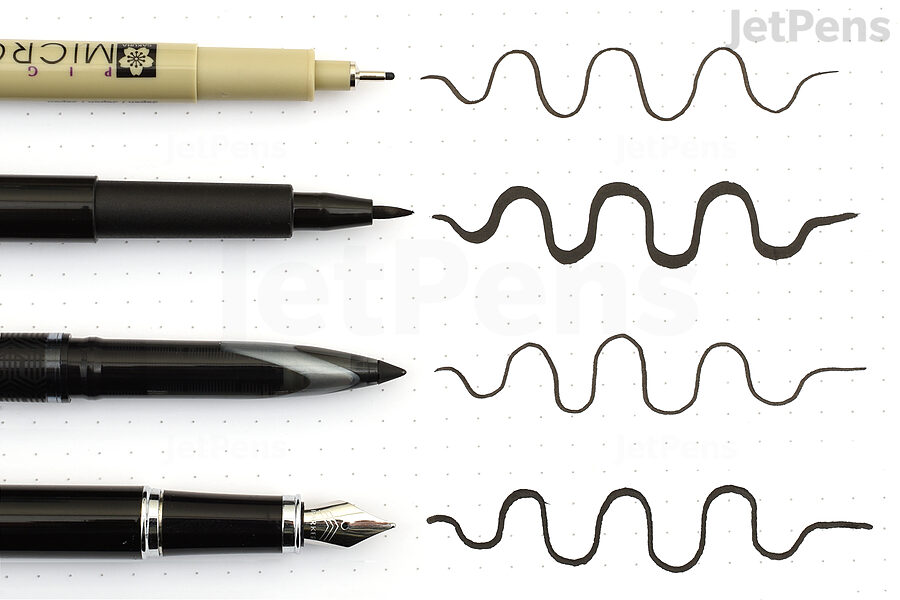 Pigments are tiny particles of colored material, such as certain minerals. Although the pigments used in pen ink are far too small to see with the naked eye, they are much bigger than dye particles and do not dissolve when mixed into a liquid. Instead, the pigment particles disperse throughout the carrying medium and give it color in the same way that mud churned up by a fast-moving river turns it yellow or brown.
Just like mud mixed in water, pigments can build up and clog small spaces they pass through, or settle out of their carrying medium over time. Pigments used in pen inks are extremely fine to allow them to pass smoothly through pen tips and feeds. Fountain pen users should clean out pigment-based inks more frequently, but other types of pens don't need extra maintenance. There isn't usually much risk of pigments settling out of pen inks due to how they are formulated, but storing pigment-based pens sideways or tip up minimizes the chance of the pigments becoming concentrated near the tip and potentially causing clogs.
Pigment-based inks are not available in as many colors as dye-based inks, but they are more likely to be lightfast and waterproof. Because the pigment particles block the light, pigment-based inks are usually more opaque than dye-based inks. Pigment-based inks may also appear to be "deeper" or more intensely colored even though dye-based inks are usually available in brighter hues.
Pigment-based inks include:
Our writers draw on their personal expertise, consult our in-house subject matter experts, and do extensive research to make our guides as accurate and comprehensive as possible. We then test every finding that makes it through the research stage. Only the techniques and tools whose performance we personally confirm make it into our guides as recommendations.
Conclusion
Picking the perfect pen can be tricky, but if you start with the ink—what characteristics you need from it, how it needs to behave on the page, and what writing feel you prefer—it's much easier to narrow down other factors like design and tip size. If you'd like to learn more about specific pens, inks, and recommendations for specific use cases, you can find much more information in our Guides. If you've already found your perfect pen body but it comes with lackluster ink, or if you just need a refill, our Ultimate Guide to Pen Refills will help you find a great ink that works in your pen.
---
---