---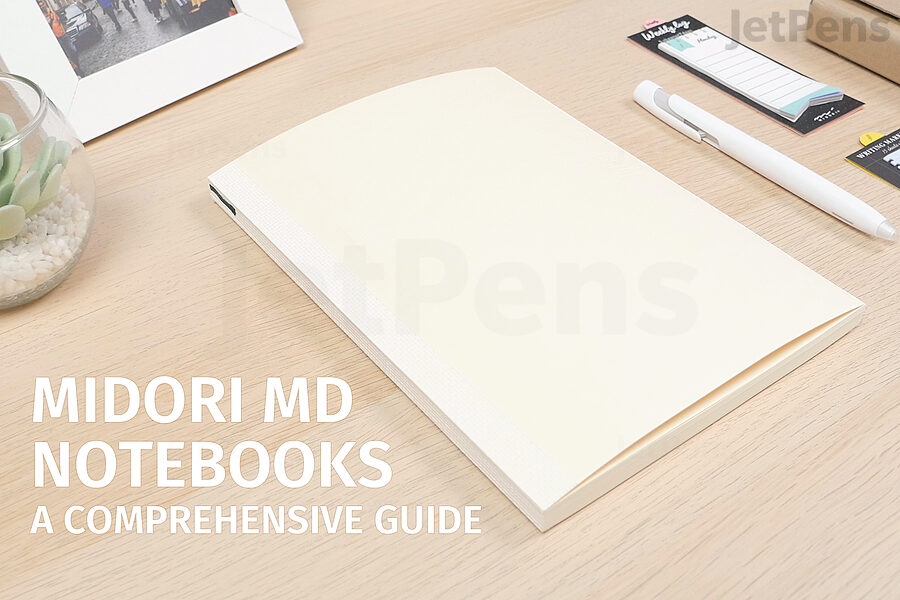 The Midori MD Notebook might seem humble, but beneath the simple cardstock cover is a high-quality notebook that is beloved by writers and artists alike. The smooth, cream-colored paper provides a pleasant surface for all kinds of creative endeavors. Read on or watch the video below to learn more about the Midori MD Notebook's minimalist aesthetic as well as its thoughtful details. We'll also introduce other products in the MD lineup at the end of the guide.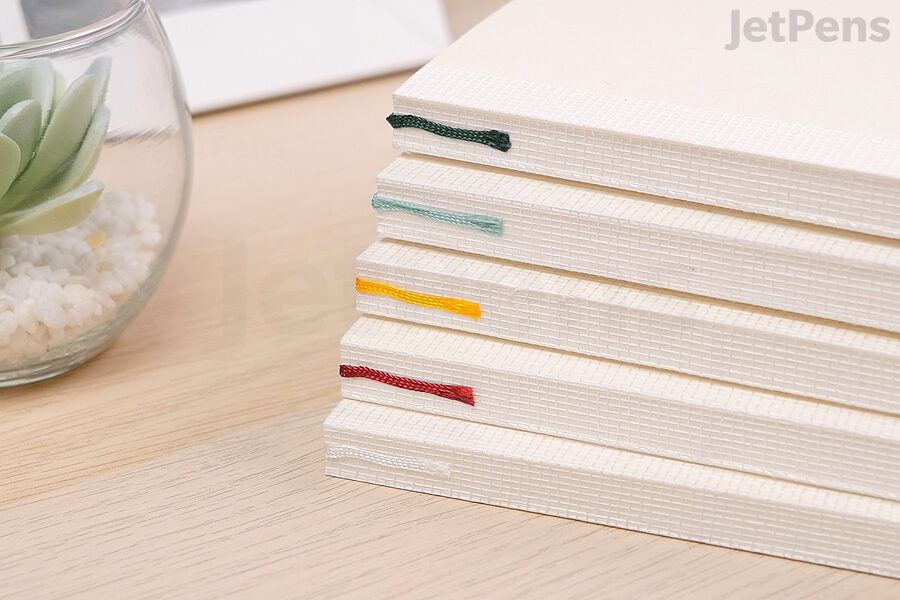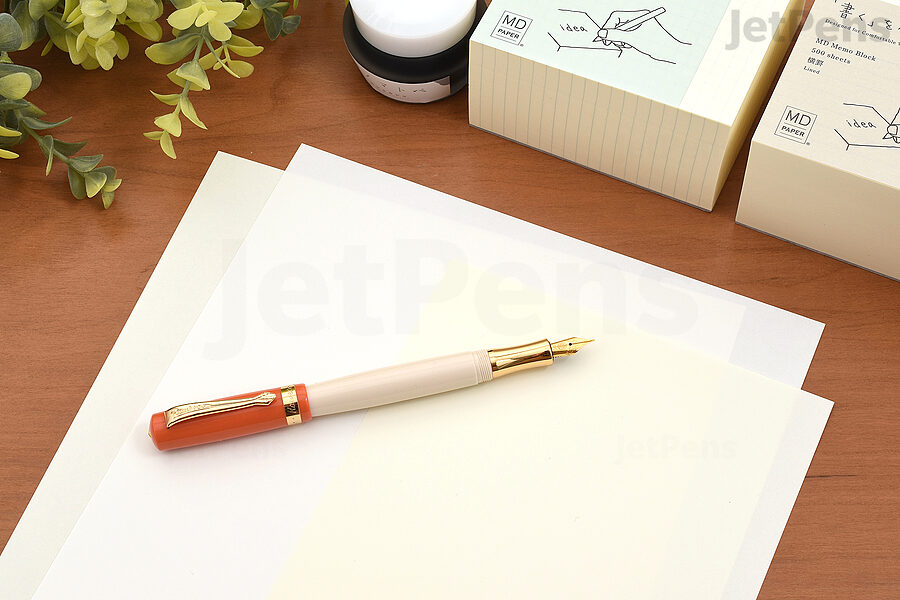 Midori MD Notebook Features
Midori MD Notebook Design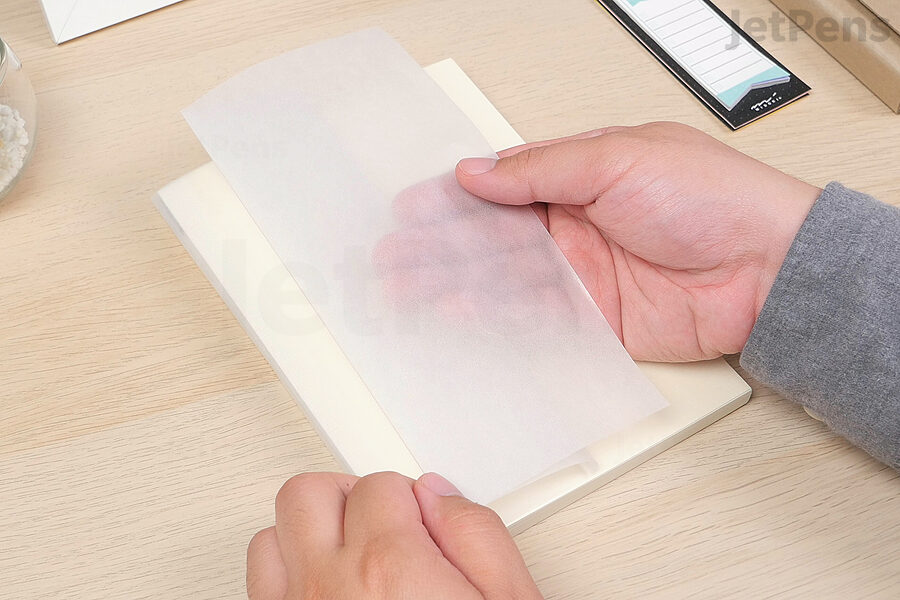 The
Midori MD Notebook
has a simple and no-nonsense appearance that focuses all of the attention on its superb construction. Many of the notebooks come with a book jacket made of delicate wax paper. When left on the notebook, it will crumple and burnish over time for a unique look. The jacket can be removed to reveal the cream-colored cardstock beneath.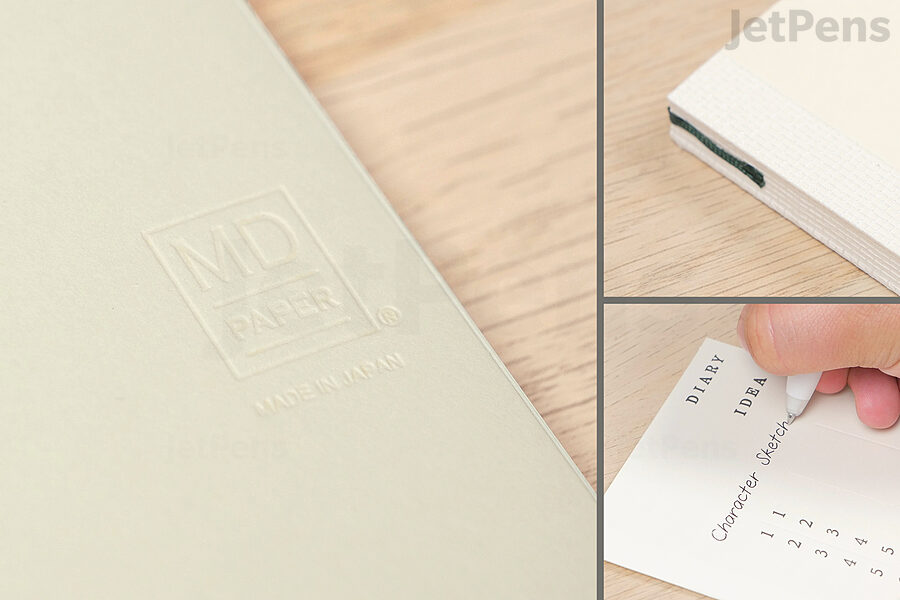 The cover is blind embossed with the MD logo in the front. The notebook is thread bound, which allows it to lie completely flat. Some of the notebooks expose the super, a cloth-like material that protects the threads on the outside. The tactile, mesh-like texture is a pleasant contrast against the smooth cardstock that makes up the rest of the cover. Almost all MD Notebooks come with a ribbon marker glued to the spine. The ribbon's color is different depending on what ruling the paper uses.
Each notebook includes a sheet of stickers that is made of the same paper found inside. The longer stickers can be used to label the spine, and a bookplate can be used to add details like who the notebook belongs to.
Midori MD Paper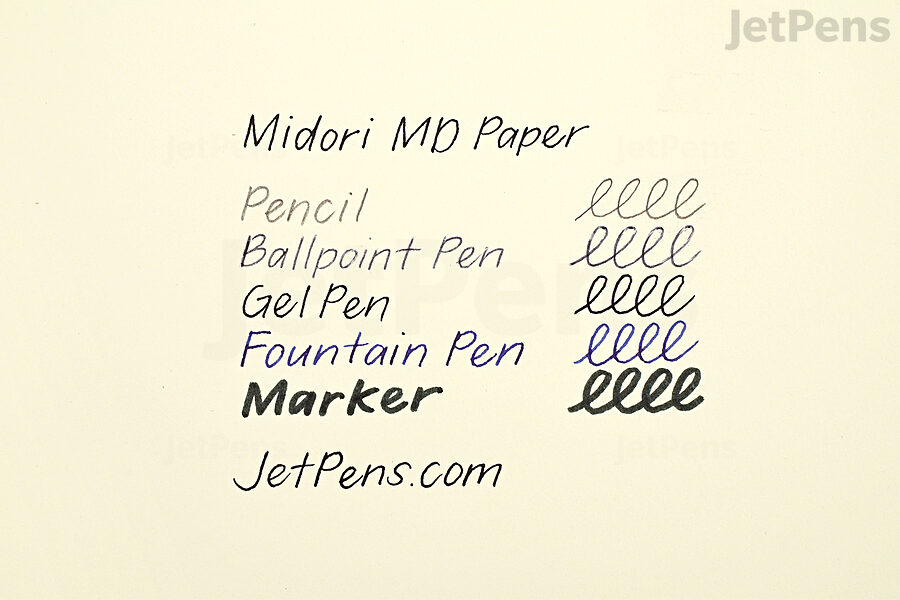 A notebook is only as good as its paper, and MD paper doesn't disappoint. The cream-colored Midori Diary paper found in MD
Notebooks
and
Diaries
has been continually refined since the 1960s. It pairs well with fountain pens and rollerballs thanks to its bleed-resistant and feather-resistant qualities. Light watercolor washes also work without the paper pilling, though the paper will crinkle as it absorbs water. The paper also has a subtle amount of texture so that pencils have plenty of grip as you write.
Midori MD Cotton Paper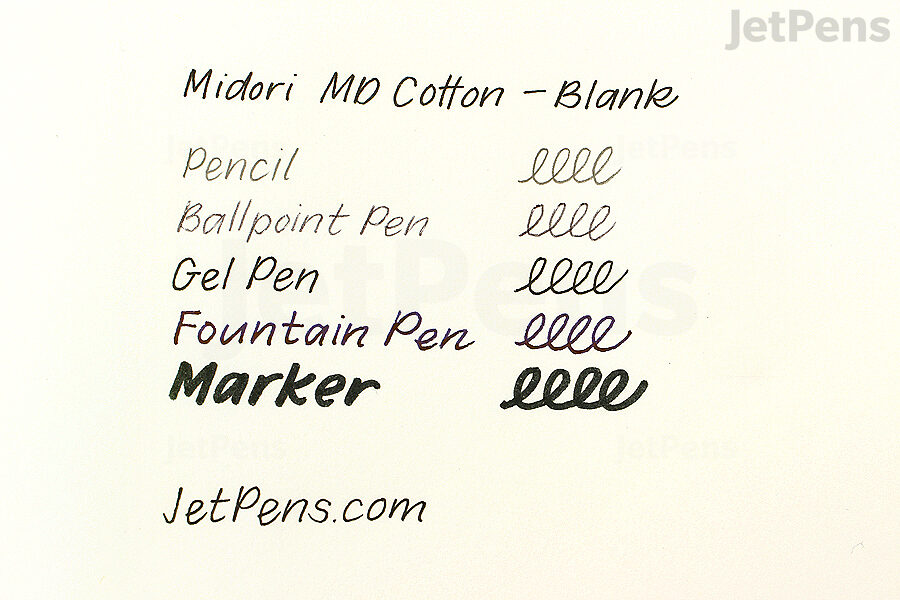 Made from 20% cotton pulp, Midori's luxurious MD Cotton paper is used in
notebooks
and
paper pads
. Compared to standard MD paper, MD Cotton paper is whiter in color, thicker, and has a cushioned feel. It is slightly more textured as well, which makes it especially suited for graphite. However, MD Cotton is just as bleed resistant, feather resistant, and fountain pen friendly as MD paper.
Midori MD Diary and Calendar Lineup
Midori also makes planners and calendars that match the notebook's aesthetic. Each MD Diary has dated monthly calendars for scheduling events, and undated pages for everyday planning and note-taking.
Midori MD Cotton Notebook Lineup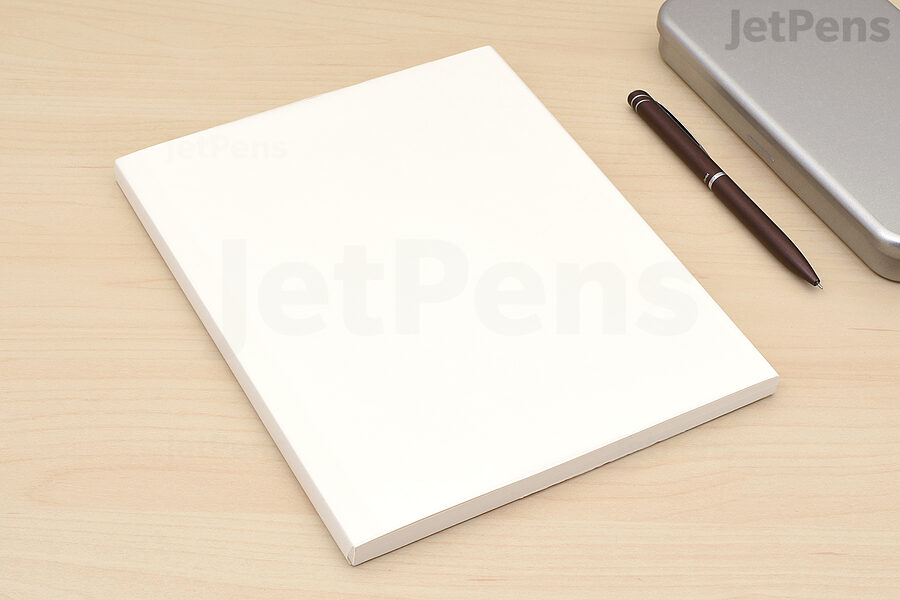 Filled with Midori's MD Cotton paper, this
notebook
is especially suited for those who enjoy drawing alongside journal entries. The paper is thick and durable due to its cotton pulp content, and it will handle watercolor washes and heavy applications of ink with ease. Rather than A or B sizes, these notebooks use Midori's proprietary "F" sizing system. Based on the golden ratio, the notebooks are shorter in length and evoke the appearance of 19th and 20th century French canvases.
Midori MD Notebook Covers & Bags
These covers and bags will keep your notebooks dust-free. They are sized to fit standard Midori MD notebooks and will not fit the Midori MD Cotton notebooks.
If you would prefer to carry multiple notebooks at once, the Roterfaden Taschenbegleiter uses a versatile clip binding system that can hold up to three Midori MD Notebook Light booklets. To add booklets to the Taschenbegleiter, simply lift the top and bottom clips, slide in the booklet, and close the clips.
Other Midori MD Products
Midori MD paper is not limited to notebooks and planners. This luxurious paper can also be found in letter pads, envelopes, and TRAVELER'S notebook refills.
Other Midori MD Cotton Products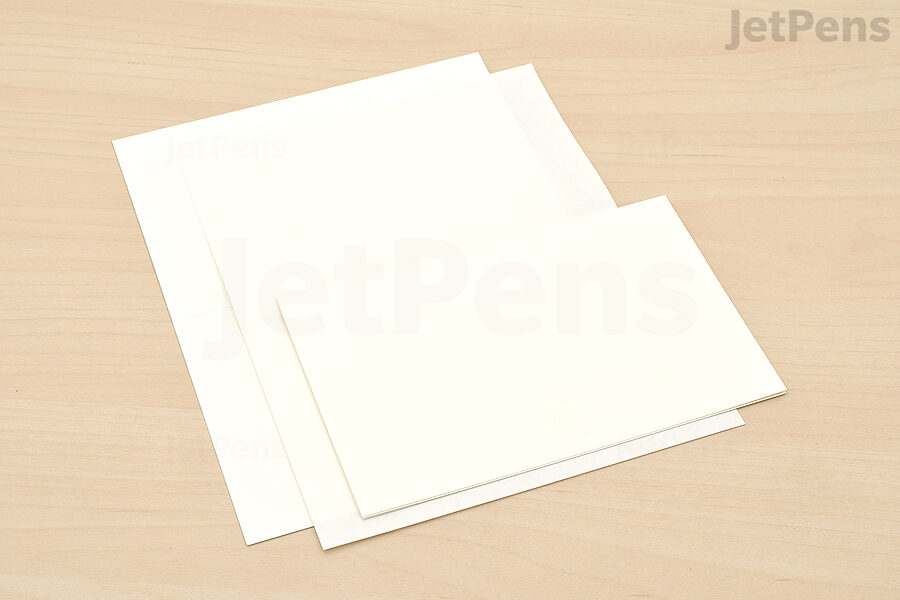 These
heavyweight cards
are sure to bring a smile to a penpal's face. The unlined pages are open to your creative output, whether that's a letter, calligraphy, or ink doodles. They are sized to fit in the matching cotton envelopes.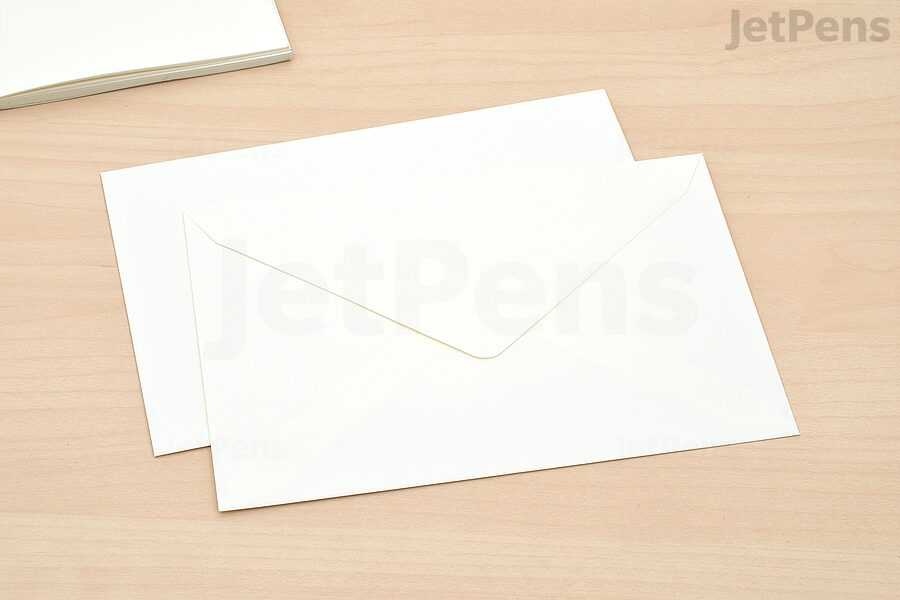 Midori MD Cotton Envelopes
are sized to fit Midori Cotton paper pad sheets that have been folded in half. The flaps have strips of water-activated gum so they don't require glue to seal.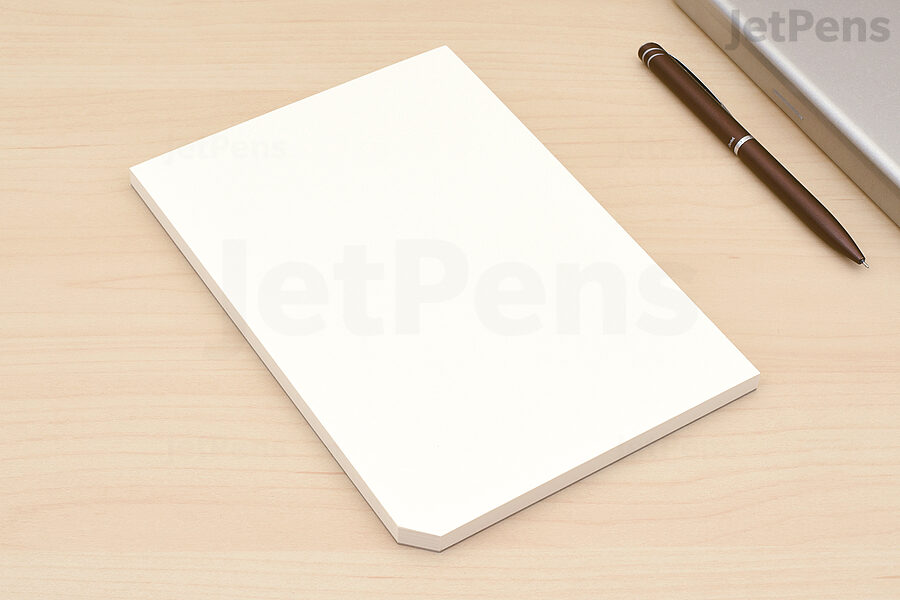 The
Midori MD Cotton Paper Pad
may soon become your favorite desktop companion for important notes. The pad is glued on two sides so it can be used vertically or horizontally without fear of flapping pages. The corner on the unglued side is cut out, so it is easy to tell which side to pull from when it is time to remove a sheet.
Conclusion
Midori MD Notebooks are carefully designed with high quality materials to ensure that they are receptive to all kinds of writing instruments. It's no wonder that artists and writers rely on these minimalist notebooks to help them express their creativity. If you'd like to see more specialty notebooks that will help your creativity flourish, check out our guide to the Best Fountain Pen Paper.
Shop This Post
Midori MD Notebook
Name
Sheet Styles
Sizes
Add to Cart
Midori MD 1 Day 1 Page Notebook Journal
Blank, Dot Grid
A5
Add Items to Cart
Midori MD Notebook
Blank, Lined, Grid
A4, A5, B6 Slim, A6
Add Items to Cart
Midori MD Notebook Journal
Dot Grid, Frame, Grid Block
A5
Add Items to Cart
Midori MD Notebook Light
Blank, Lined, Grid
A5, B6 Slim, A6, A7
Add Items to Cart
Other Midori MD Products
Name
Sheet Styles
Sizes
Add to Cart
Midori 1 Day 1 Page Diary
Lined
7.3" x 4.5"
Add Items to Cart
Midori 1 Year Diary
Lined
B6
Add Items to Cart
Midori 12 Month Diary
Lined
7.3" x 4.3"
Add Items to Cart
Midori MD Block Memo Pad
Blank, Lined, Grid
3.9" x 3.9"
Add Items to Cart
Midori MD Card
Blank
Medium
Add to Cart
Midori MD Correction Tape
N/A
N/A
Add to Cart
Midori MD Dip Pen
N/A
Medium
Add to Cart
Midori MD Envelopes
Blank
Medium
Add to Cart
Midori MD Fountain Pen
N/A
Medium
Add to Cart
Midori MD Fountain Pen Converter
N/A
N/A
Add to Cart
Midori MD Ink Cartridges
N/A
N/A
Add Items to Cart
Midori MD Letter Pad
Lined
8.3" x 6.6"
Add to Cart
Midori MD Paper Pad
Blank, Grid
A4, A5
Add Items to Cart
Midori MD Sticky Memo Pad
Blank, Lined, Grid, Dot Grid, Frame
A7
Add Items to Cart
Midori Multi Year Diary
Lined
7.3" x 4.5"
Add Items to Cart
TRAVELER'S COMPANY TRAVELER'S notebook Refills
Blank, Calendar, Dot Grid, Graph, Lined
Regular (8.3" x 4.3"), Passport (4.9" x 3.5")
Add Items to Cart
Other Midori MD Cotton Products
Name
Sheet Styles
Sizes
Add to Cart
Midori MD Card Cotton
Blank
Medium
Add to Cart
Midori MD Cotton Envelopes
Blank
Medium
Add to Cart
Midori MD Cotton Paper Pad
Blank
A4, A5
Add Items to Cart
---
---