---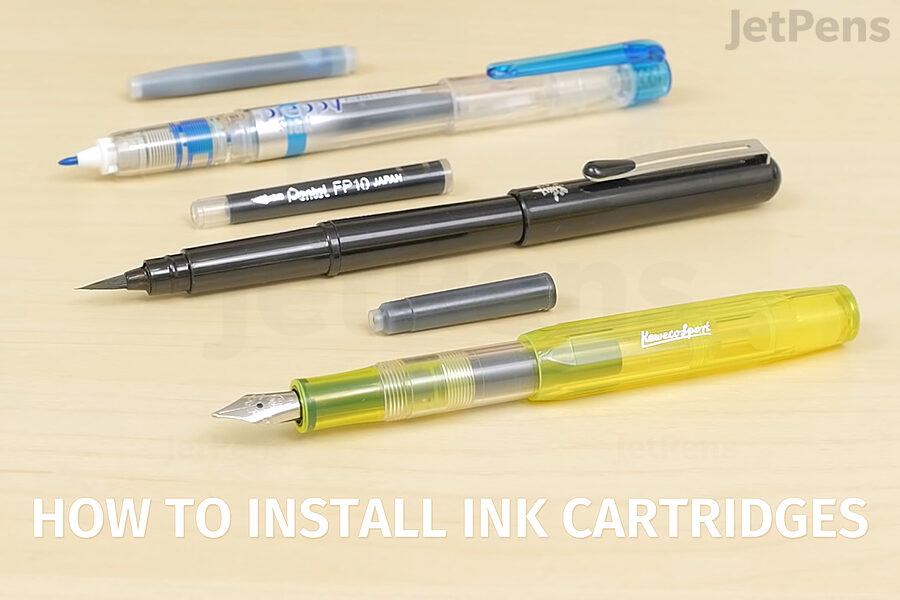 Cartridges are the most straightforward way to refill fountain pens. They are easy to carry, simple to install, and don't spill. Refillable brush pens and markers also often use cartridges, which work the exact same way as fountain pen cartridges. This article will show you how to install ink cartridges in any pen that uses them. If you want to learn about other ways to put ink in a fountain pen, read our Guide to Fountain Pen Filling Systems. It explains how to use the most common fountain pen filling methods and the pros and cons of each.
FIND THE OPENING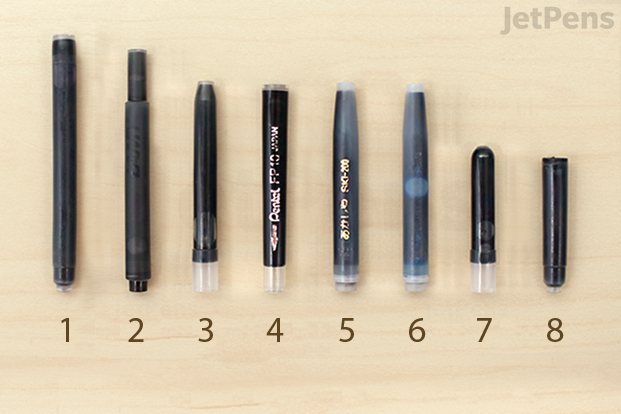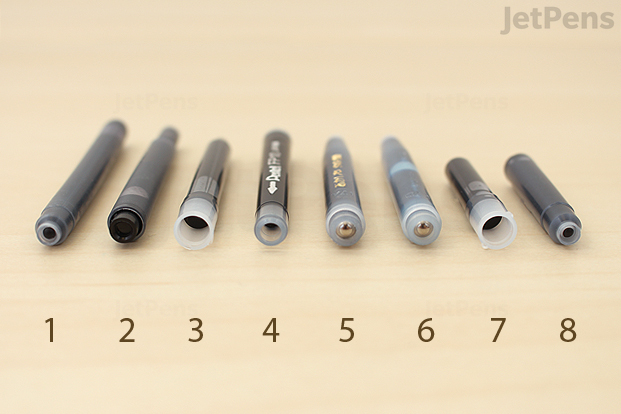 The first step to using a cartridge is to find the opening. You can usually identify the correct end of a cartridge by its cup-like rim. Sometimes you may even see a metal or plastic ball inside the rim to act as a seal for the ink. If there is a ball, it will be pushed in when the cartridge is punctured. It then functions as an agitator bead to improve ink flow by breaking the surface tension that causes ink to cling to the sides of the cartridge. The pictures above show some of our most popular refills.
The ink cartridges shown are:
HOW TO PUT IN AN INK CARTRIDGE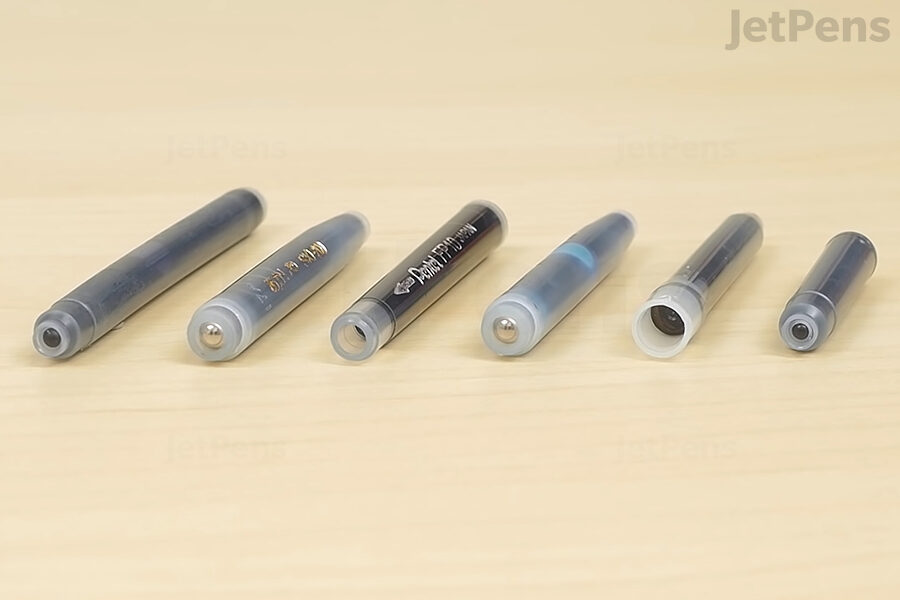 Step 1: Disassemble the Pen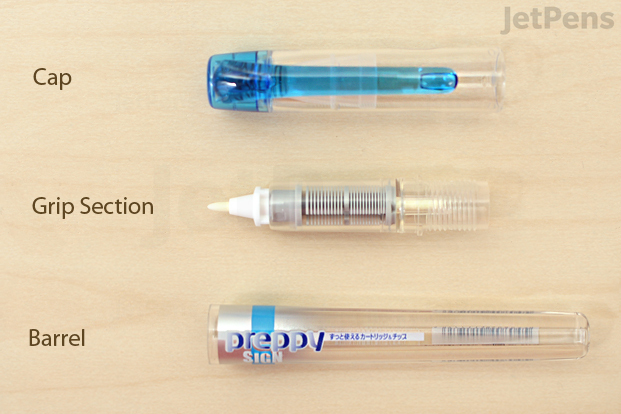 Unscrew the pen's barrel from its grip section. You may be able to see a plastic protrusion if you look into the grip section. This part of the pen's feed is what punctures the cartridge and carries ink to the tip.
Step 2: Insert the Opening into the Grip Section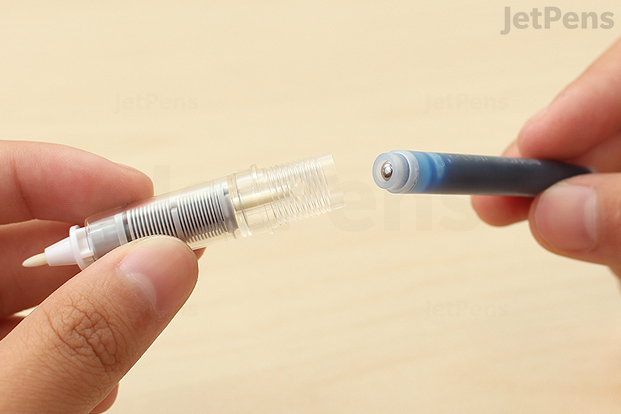 Find the opening of the cartridge as explained above and insert it into the pen's grip section. As you can see, the
Platinum Preppy Ink Cartridge
has a telltale metal ball at its opening. Other cartridges may show only a plastic cup.
Step 3: Press Firmly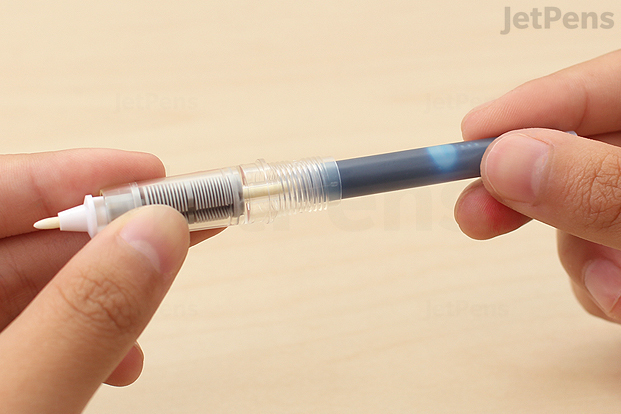 Push the cartridge in firmly until you feel the cartridge puncture. This may take more force than you expect.
Step 4: Leave the Pen Tip Down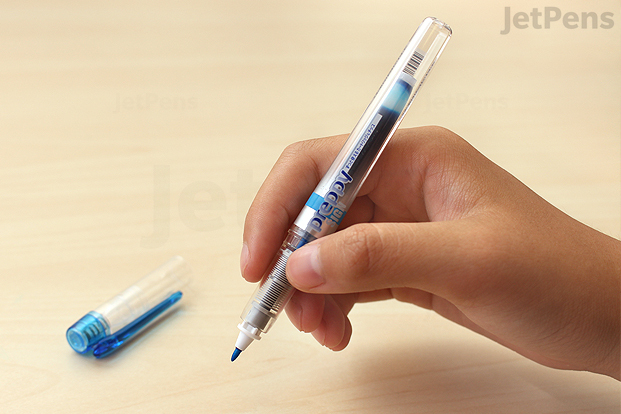 It takes time for ink from a cartridge to work its way to the tip of the pen. Leave your pen pointing down until ink saturates the feed. This can take an hour or two. If you're using a marker, you can tell that it's ready when the tip is soaked through.
THINGS TO KEEP IN MIND
Use the Right Cartridge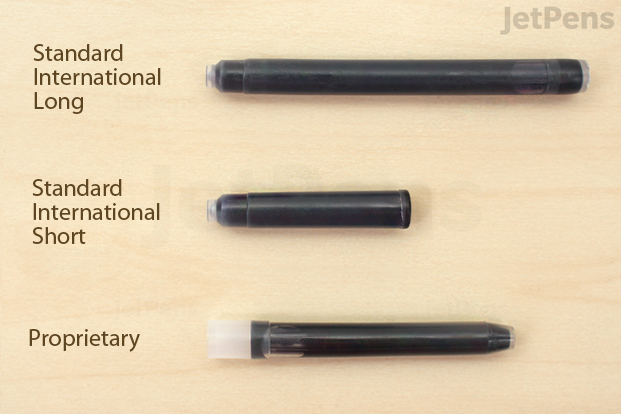 Check for Cartridges & Spacers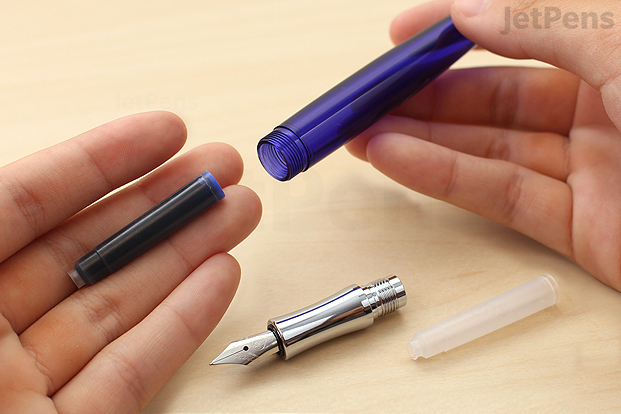 Cartridges that come with a pen are often shipped inside the barrel. Some manufacturers also include an empty spacer in the pen barrel to prevent cartridges from rattling around during shipping. These items may become stuck inside the pen if you try to install a cartridge without removing them. Check for cartridges and spacers in a new pen by unscrewing the barrel and giving it a firm tap to dislodge anything that's inside.
Prevent Writing Problems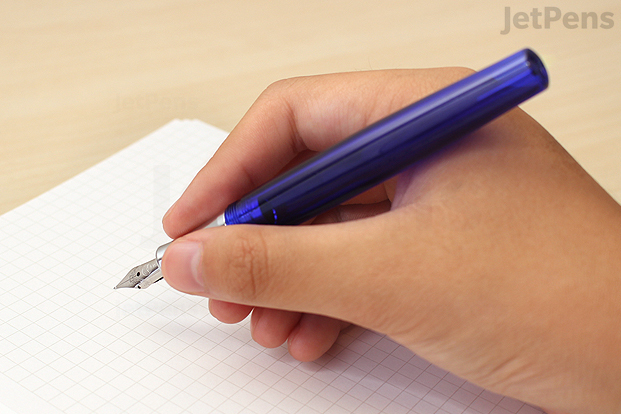 Sometimes a pen may seem dry after it has been recently filled. This is usually because ink has not yet saturated the feed. Try leaving the pen tip down for a while longer before writing. You can also encourage the ink to move down by covering the tip with a tissue and gently shaking the pen or lightly squeezing the cartridge. In the case of fountain pens, you can also dip the nib in water to draw the ink down.
Clean Your Pen When Changing Inks
Always clean your pen before installing a new cartridge if you plan to use a different ink. You can see detailed instructions in our
Guide to Cleaning a Fountain Pen
. You don't have to do this if you're just popping in a new cartridge of the same ink that's already in the pen, but you should still clean it every month or two. Markers also need to be cleaned if you change to a new ink, but it's difficult to remove all traces of ink from a felt marker tip. You may want to purchase
replacement tips
if they're available for your marker.
FINAL THOUGHTS
Cartridges are a simple and mess-free way to fill fountain pens and refillable brush and marker pens with ink. Do you have any thoughts or questions about using ink cartridges? Let us know in the comments below!
---
---