---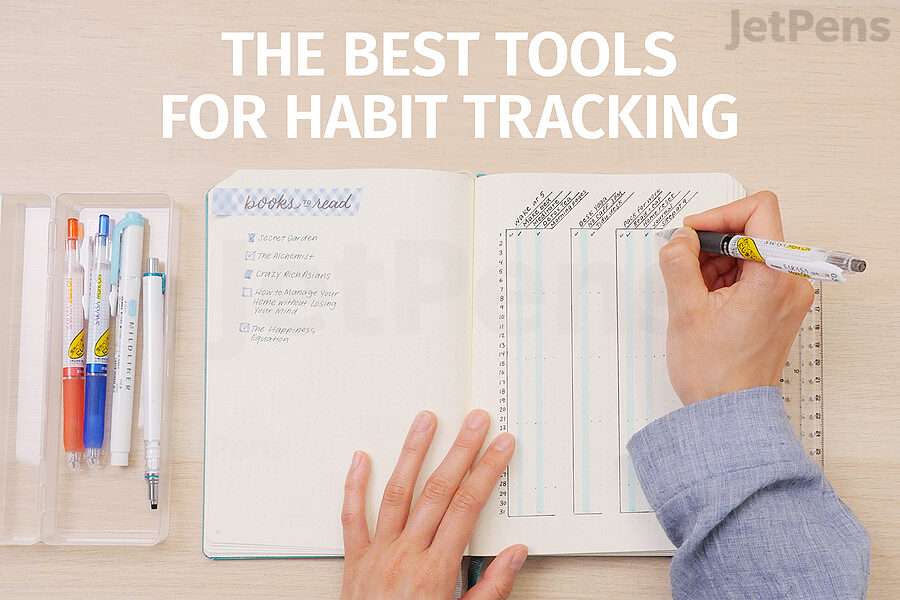 Habit tracking is an amazing way to hold yourself accountable to your resolutions. Whether it's starting a healthy routine or just being more mindful of how you spend your time, you can easily set up habit trackers to help manage your goals. In this guide, we'll share some of our favorite habit tracking tips and tricks, as well as tools to make your own habit trackers.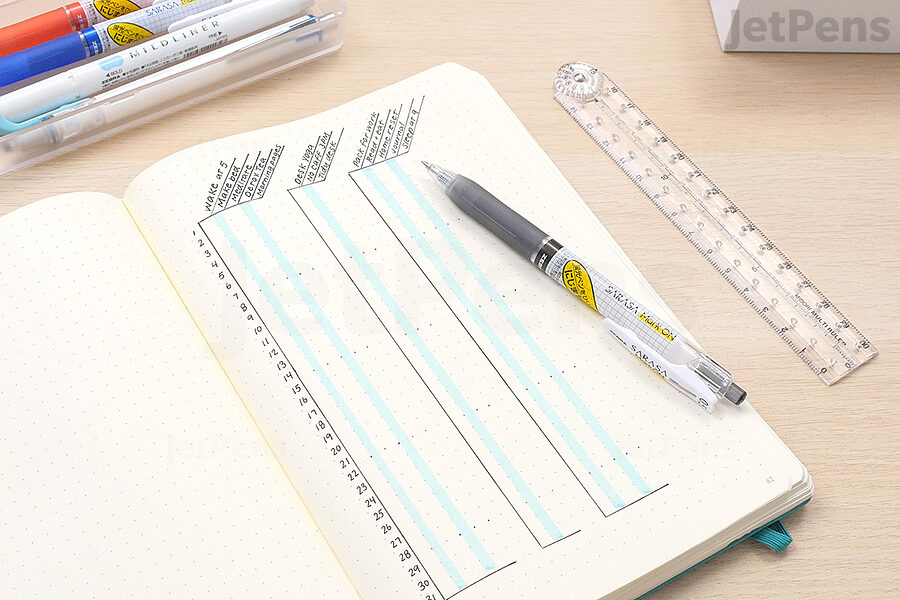 Why Use Habit Trackers?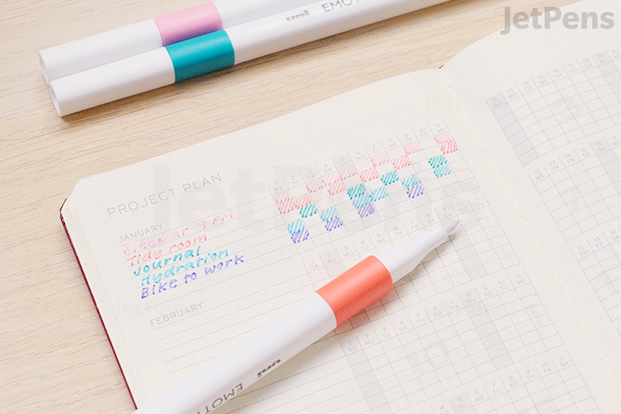 Habit tracking is a method for monitoring short- and long-term goals. It can give you a sense of accomplishment to see progress over a period of time—especially if a project takes weeks or months. Habit tracking also provides a space to log daily or weekly tasks, making it easier to remember specific things to complete on a regular basis. Even if you don't manage to complete your goal, you can learn from the experience.
Habit trackers are a helpful way to discover room for improvement (for example, by managing a schedule so there's more time to dedicate to a habit), or recognize where your intentions were too ambitious. Review your goals and adjust them so they become more achievable, or remove a goal entirely if it no longer suits your needs.
What Can I Track?
Habit tracking is completely flexible: create as many or as few habit trackers as you would like. Here are some of our ideas:
1. Things you want to do more
Building good habits starts with consistency. Keep track of all the times you drank water or got enough sleep and you will see that it's easier than you think to start a habit. A habit tracker also serves as a reminder for tasks, like taking vitamins.
2. Actions you want to limit
You can also record the times you limit yourself. Negative habits are formed over time, so you should give yourself space to create new, positive habits. By keeping track of the days where you actively strive to form positive routines—like not using your phone before you sleep or cooking instead of eating out—you can remind yourself that it's healthy to be a work in progress.
3. Self-care
It's important to take personal time, and habit tracking is a great way to make sure it happens. Mark down spa days or special treats like a night out at a restaurant. If you haven't allotted time for yourself in a while, schedule it in your planner so you won't forget.
4. New skills
When learning a new skill, it can be encouraging to visualize progress over time. Add a note when you've learned a special technique or made it past a difficult level.
How to Use a Weekly Habit Tracker
A week is a relatively short period of time, so it's a good span to judge whether or not to continue tracking a habit. If something isn't working out, there's no need to commit for a whole month. Additionally, using a weekly tracker turns a long-term goal into smaller, manageable steps.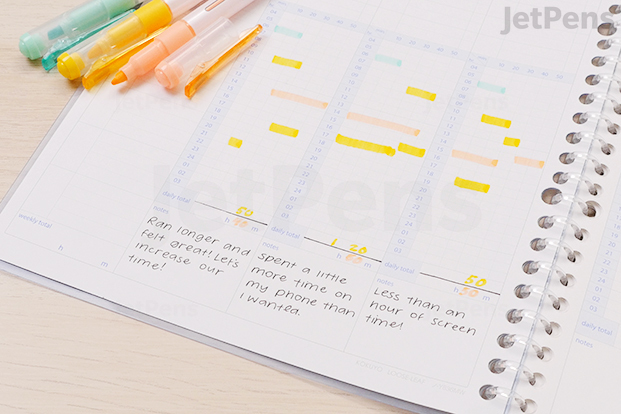 Create an in-depth plan to turn tasks into habits. The
Kokuyo Campus Weekly Visualized Study Planner
has plenty of space to write down tasks to spend time on. Assign a color to specific tasks and add detailed tracking in the hourly blocks.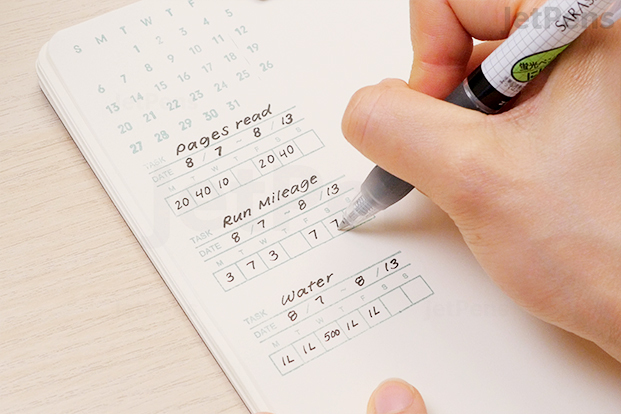 Use this
Nombre Mizushima Stamp
to set incremental goals. Add the weekly habit tracking stamp to the daily or weekly pages of a planner. As time passes, update the "Task" line. For example, increase the number of miles run or time spent exercising.
How to Use a Monthly Habit Tracker
Use a monthly habit tracker to turn short-term goals into sustainable habits. Monthly habit trackers are especially useful for binary goals that are either complete or incomplete.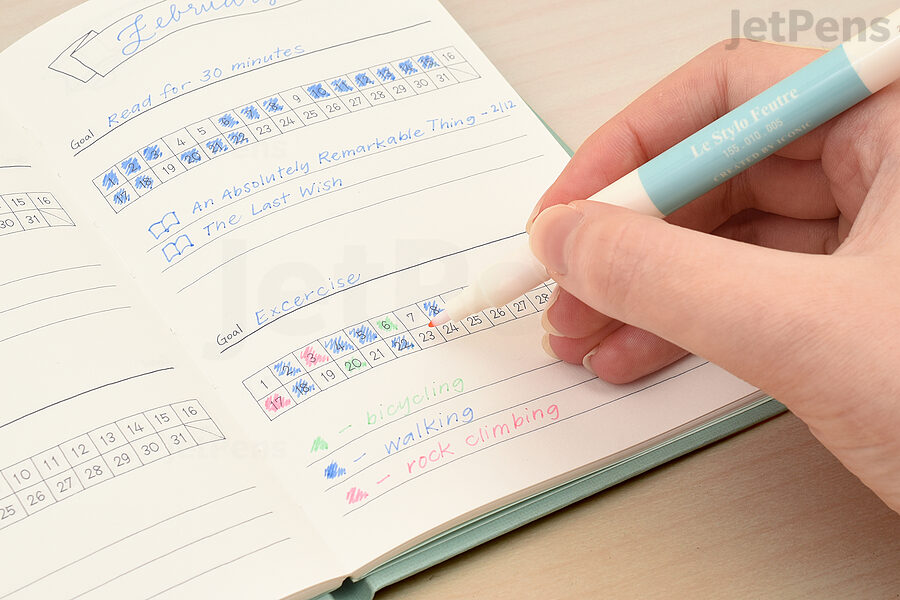 This cute
Midori Habit Tracker Diary
organizes all of your progress into one notebook. Each page has two trackers with space for a title, goal, and any extra notes. You can dedicate one page per month, or use the entire spread to track your habits. A section in the back of the diary features samples of illustrations and titles that you can copy to decorate the pages.
If you don't need an extra notebook, these sticky notes are a handy way to keep your trackers in the planner you're already using! The repositionable adhesive is especially useful on daily and weekly planners, so you don't have to keep flipping back to a page: just move the sticky note to a new spread.
If you prefer an option with days of the week, the Suatelier Planner Month Sticky Notes are Sunday-start calendars with space for dates.
Conclusion
Achieve your goals with ease by using habit trackers. Shop all of our recommendations below and be sure to let us know what you use habit tracking for in the comments.
---
---