---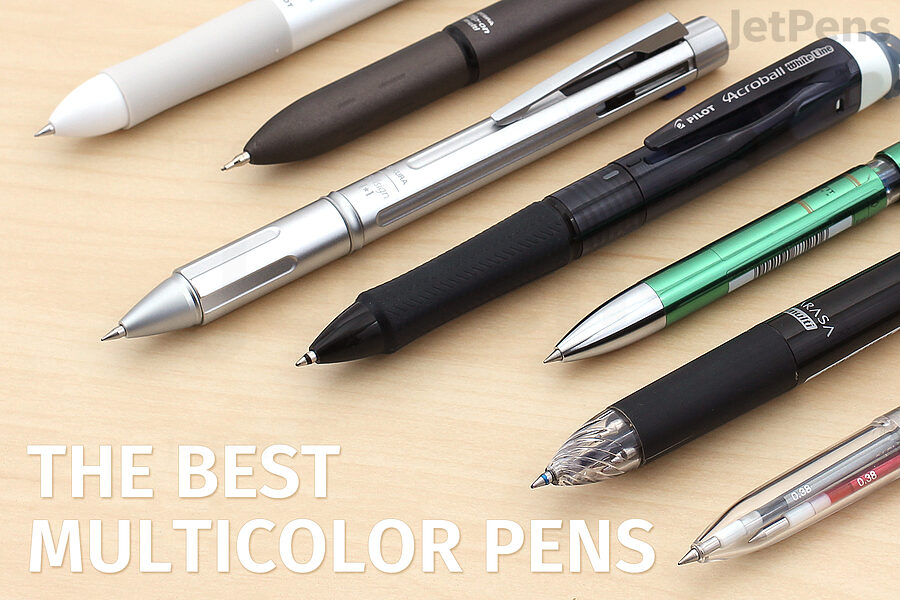 How many pens do you use in a day?
If you're like us, you often switch between pens as you need different colors and writing tools. Searching for the right implement can get tedious, not to mention how quickly pens can take up space. Multicolor and multifunction pens, shortened as "multi pens," streamline your pen collection by combining two or more components in one pen body so that the right writing tool is always at your fingertips.
Read on to learn how to choose a multi pen, along with multi pen recommendations for specific uses.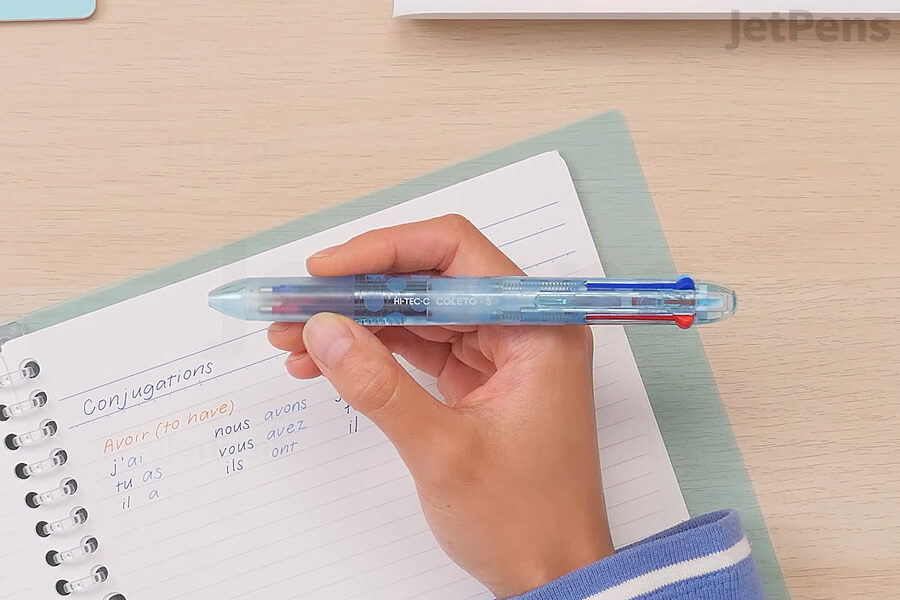 Watch the video above to see an overview of our multi pen recommendations.
Multicolor Pen Considerations
Components
Every multi pen is made of various components, which can be sold separately or as a unit. Usually, "component" refers to the refills, or the parts you use to write with. If an item is called a "body component" or "pen body," that means it is only the outer shell of the pen—the pen's body—and that writing components need to be purchased separately.
Type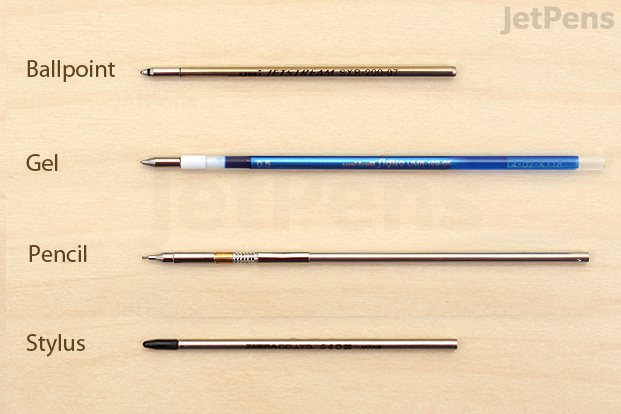 Multi pen components come in many different types. The most common varieties are ballpoint ink, gel ink, mechanical pencils, and styli. Gel inks are usually more pigmented but ballpoint inks tend to last longer—a helpful trait since multi pen components need to fit into a smaller space than typical pen refills and naturally hold less ink. Before you choose a multi pen, consider what kind of ink you prefer and whether you would use a pencil or stylus component.
Capacity
Multi pens can come with as few as two components. There isn't a maximum number of components a multi pen can have, but most top out at five. Think about how many components it would take to meet your most frequent writing needs and look for a multi pen with at least that many slots.
Customization Potential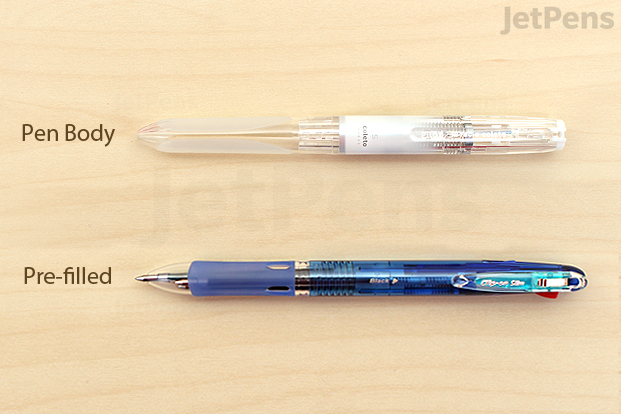 Most multi pens come pre-filled with standard colors. If this sounds limiting, look for a
customizable multi pen
that lets you choose from many colors, tip sizes, and ink types. Some multi pens use a standardized refill size called D1 to allow for cross-brand mixing, while others are part of
pen systems
that offer many choices within a single brand. To check what components a specific pen can use, visit that pen's product page and click on "
Recommended Refills/Parts
."
Be aware that some multi pens are sold as the pen body only, which means that you need to select refills separately in order to use the pen.
If you'd rather just get started without dithering about colors, or if black, red, blue, and green are just what you want, the wide world of pre-filled multi pens will meet your needs perfectly.
Extension Mechanism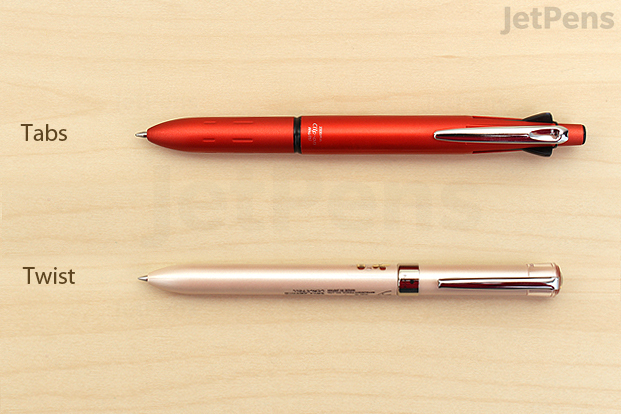 The two most common ways to switch between multi pen components are to use
push tabs
or a
twist mechanism
. Tabs are situated at the back of the pen. They let you change components one-handed by pressing tabs with your thumb but clearly mark the pen as a multi. Twist mechanisms allow you to select components by twisting the pen body. They permit more streamlined, under-the-radar designs but require you to use two hands every time you want to change colors.
You'll be using your pen's extension mechanism frequently, so think about whether you'd prefer the convenience of tabs or the stealth of a twist mechanism.
Size
Multi pens these days can be as slim as standard pens. Even so, more components means more girth. If you want four or five components but have small hands, look for skinny designs. If you plan to write for long periods or have large hands, try pens with thicker barrels.
Although most multi pens are about the same length as typical pens, a mini multi pen may be a better fit if you plan to carry it in a pocket or purse.
Appearance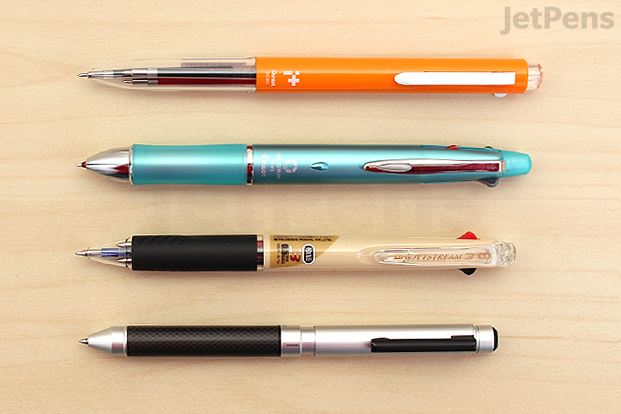 Even if everything else about your pen is perfect, you won't enjoy using it if you don't like how it looks. Multi pens come in a wide range of designs. Bright colors suit bubbly personalities, while people with low-key temperaments may prefer subdued finishes. Likewise, the pen you choose for a conservative office may be different from the one you use at home. Think about where you will use your pen and make sure it fits your personal style!
Conclusion
Multi pens are a great way to streamline your pen collection and keep your favorite ink colors at hand. Do you use a multi pen? Let us know in the comments below!
Multicolor Pen for Comfort

Name
Ships With
Refills
Capacity
Grip Width
Max Width
Customizable
Mechanism
Pilot Dr. Grip 4+1
Ballpoint & Pencil
Ballpoint, Gel
5
12.5 mm
14.2 mm
Yes
Tabs

Multicolor Pen for Everyday Carry

Name
Ships With
Refills
Capacity
Grip Width
Max Width
Customizable
Mechanism
Zebra bLen
Ballpoint
Ballpoint
3
11.5 mm
11.9 mm
Partially
Tabs
Pilot Birdy Switch
Ballpoint & Pencil
Ballpoint
2
5.6 mm
5.6 mm
No
Switch

Multicolor Pen for Lefties

Name
Ships With
Refills
Capacity
Grip Width
Max Width
Customizable
Mechanism
Uni Jetstream
Ballpoint & Pencil, Ballpoint
Ballpoint, Eraser,
3, 4, 5
Varies
Varies
Partially
Tabs, Twist
Zebra Sarasa
Gel & Pencil, Gel
Gel, Ballpoint, Pencil, Eraser
3, 5
Varies
Varies
Yes
Tabs

Multicolor Pen for Office Professionals

Name
Ships With
Refills
Capacity
Grip Width
Max Width
Customizable
Mechanism
Zebra Sharbo X
Pen Body Only
Ballpoint, Gel, Pencil, Eraser
3, 4
Varies
Varies
Yes
Twist
LAMY Tri
Ballpoint & Pencil
Ballpoint, Gel, Eraser
3
10.0 mm
10.1 mm
Partially
Twist

Multicolor Pen for Teachers

Name
Ships With
Refills
Capacity
Grip Width
Max Width
Customizable
Mechanism
Uni Style Fit
Pen Body Only, Pen Body and Eraser
Ballpoint, Gel, Pencil, Eraser
1, 3, 4, 5
Varies
Varies
Yes
Tabs, Twist
Pilot FriXion
Gel
Gel, Eraser
2, 3, 4
Varies
Varies
Yes
Tabs, Twist

Multicolor Pen for Students

Name
Ships With
Refills
Capacity
Grip Width
Max Width
Customizable
Mechanism
Pilot Hi-Tec-C Coleto
Pen Body Only
Gel, Pencil, Eraser
2, 3, 4, 5
Varies
Varies
Yes
Tabs

Multicolor Pen for Kids

Name
Ships With
Refills
Capacity
Grip Width
Max Width
Customizable
Mechanism
Pentel i+
Pen Body Only
Ballpoint, Gel, Pencil
3
10.9 mm
11.8 mm
Yes
Tabs
Zebra Clip-On Slim 3/4 Color
Ballpoint
Ballpoint
4
11.4 mm
14.0 mm
Partially
Tabs
---
---