---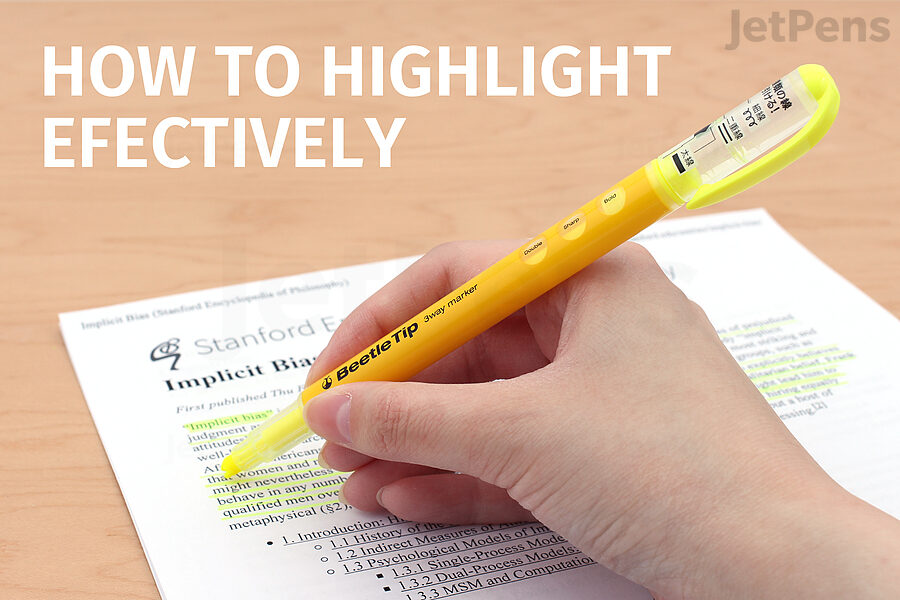 Highlighting is a favorite study method of students everywhere. It's accessible and satisfying—what's better than using your favorite colors to help you remember important points? However, not knowing how to highlight can turn this useful tip into a distraction. In this guide, we'll show you some ideas on how to get more out of highlighting. Plus, we'll share our picks for the best highlighter pens for studying! Watch the video below to see the tips in action.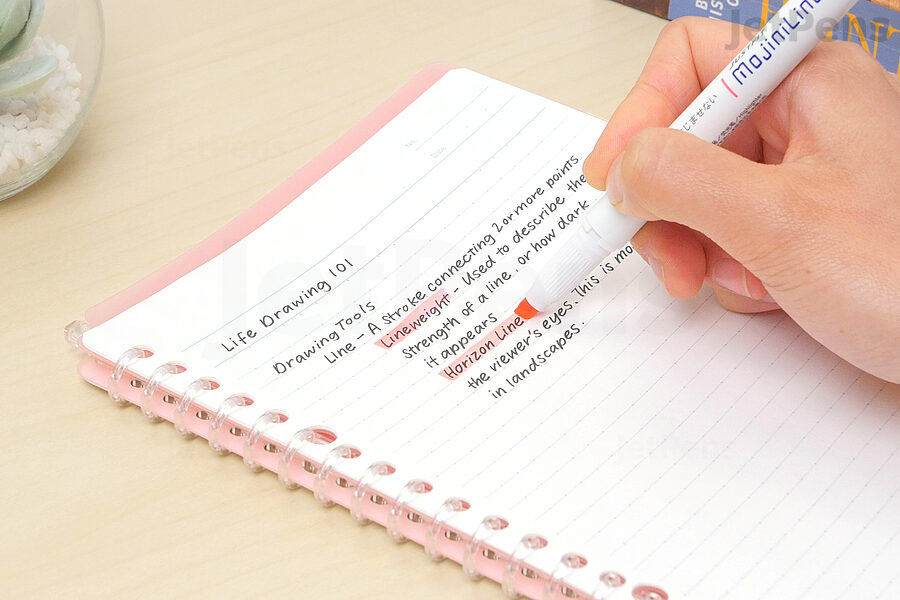 Know What You're Highlighting
Haphazard highlighting can result in useless notes, wasted ink, and lost time. Instead of highlighting the text as it comes, try a goal-oriented approach to your material.
2,3
Remind yourself of these questions as you survey your text and prepare to highlight:
What is the text about?
What do you want to gain from highlighting it?
What do you need to know to reach your goal?
By asking yourself these questions, you'll be able to focus on the significant portions of the text without getting distracted.
When you're ready to highlight, make sure you've read the text and have a firm idea of what the paragraph is about. Also check that what you've highlighted makes sense in isolation. It'll save you the extra work of re-reading when you go back to it.
Create a System
There's often more kinds of information worth paying attention to than a yellow highlighter can handle on its own. Try devising a system to help you efficiently navigate information. You can identify different types of content or topics to pay attention to. Color-coding and creating keys are a great way to let your system take form.
Choose Colors Carefully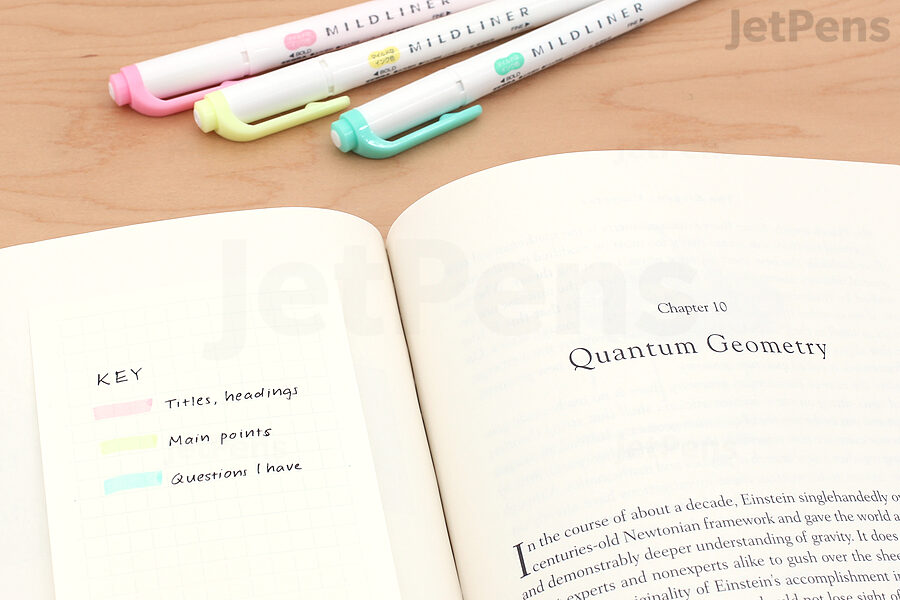 Before you start, think about what colors and how many of them you should choose. Here are three good rules to stick by when selecting colors:
Limit your color count. Using too many colors can get overwhelming. Pick three to five different colors and stick with them.
Pick readable colors. Strike a balance between conspicuous and mild. Pastel highlighters are great candidates: they are visible enough to pick out without being too harsh on the eyes. You can check out our Best Pastel Highlighters guide for recommendations.
Pick dissimilar colors. You want to be able to tell the different types of information apart!
Highlight in Different Ways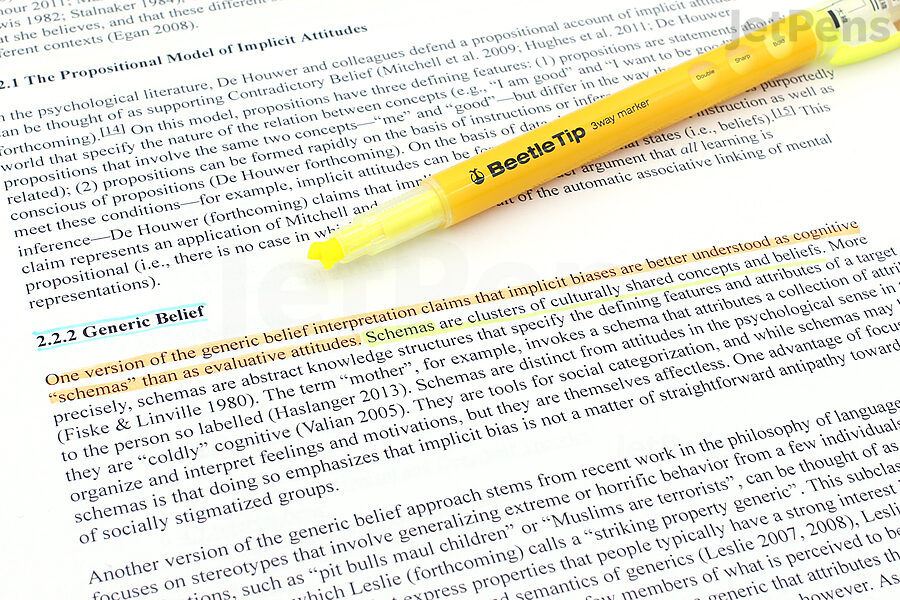 You can cut down on the number of colors by highlighting in different ways with the same color. For example, you can underline the main point, highlight key terms, or draw a box around important formulas. Remember to keep track of what each style means in your key.
Double-sided highlighters are especially handy for diversifying your highlighting, although you can draw lines with the pointed ends of chisel tips too. The Kokuyo Beetle 3way Highlighters deserve a special mention for their unique tip design that lets you easily draw double lines as well.
Highlight in Moderation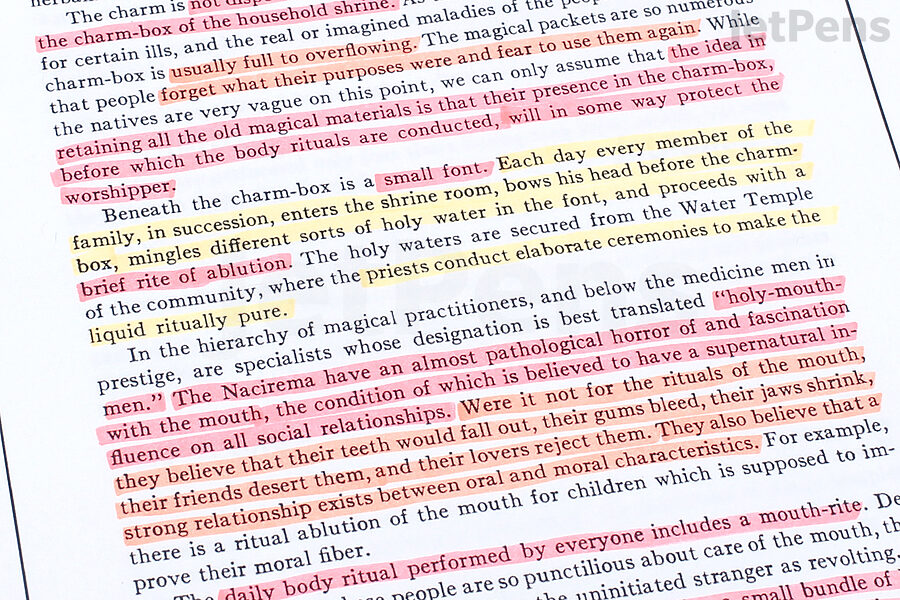 No matter how you've set your system up, remember to enforce it. Consistency is crucial to a system's success. If you use red to indicate the main point of a text, don't use it to highlight a term's definition.
As you highlight your text, do so in moderation. A common problem is over-highlighting, when virtually everything is marked as important. If every sentence on the page stands out, then nothing will be distinct enough to remember.
Research suggests that the quality of your highlighting is more important than how much you highlight.1,2 You can try setting limits—for example, only one sentence per paragraph. Having a restriction may make highlighting more effective by forcing you to prioritize information.1
Annotate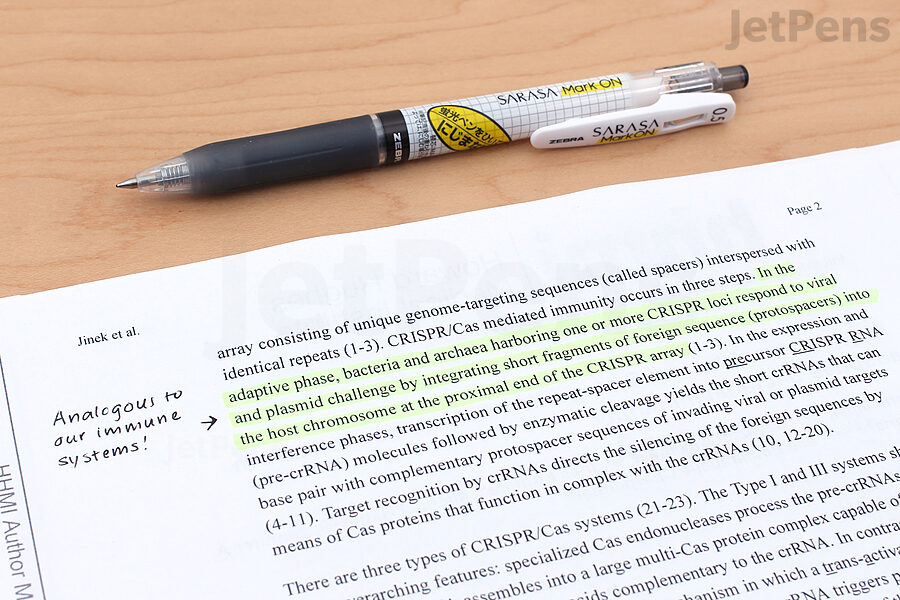 You can also enrich your highlighting with annotations. They can remind you of things that aren't immediately obvious from the text. Key terms, definitions, connections, and questions for further research are all examples of things you can jot down in the margins.
Study Actively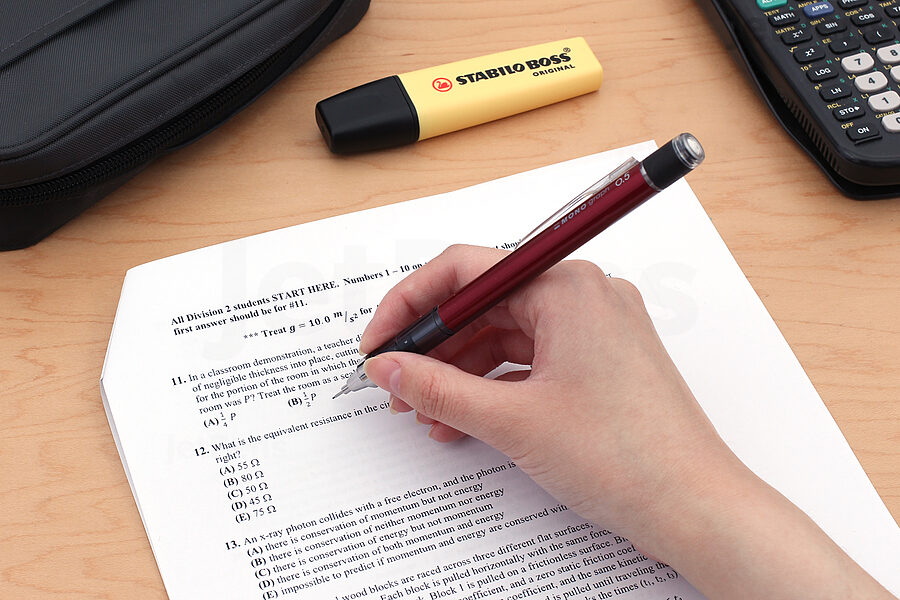 Highlighting can be a good way to keep track of your material, but it shouldn't be the only way you study. Make sure you stay on top of everything you learn by critically engaging with and practicing what you're learning. Some of the most effective learning strategies include practice tests and distributed practice, which is when you study in short sessions over a long period of time.1
Highlighter Recommendations
Our writers draw on their personal expertise, consult our in-house subject matter experts, and do extensive research to make our guides as accurate and comprehensive as possible. We then test every finding that makes it through the research stage. Only the techniques and tools whose performance we personally confirm make it into our guides as recommendations.
Conclusion
We hope we've helped you find new ways to use your highlighters more effectively. No matter how you highlight, remember to keep active studying methods at the heart of your regimen.
If you'd like more stationery recommendations or tips for studying, check out some of our other blogs:
---
---