---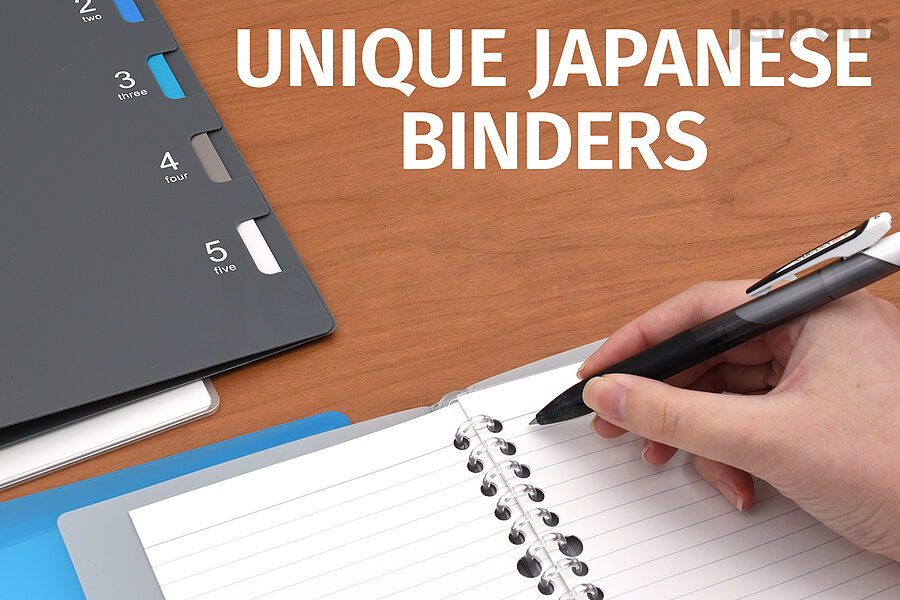 You may think of binders as clunky yet necessary tools to store loose leaf paper, but Japanese binders are here to change your mind. These binders are innovative with special features that eliminate the frustrations associated with standard binders. Read on or watch the videos below to learn more about our top recommendations.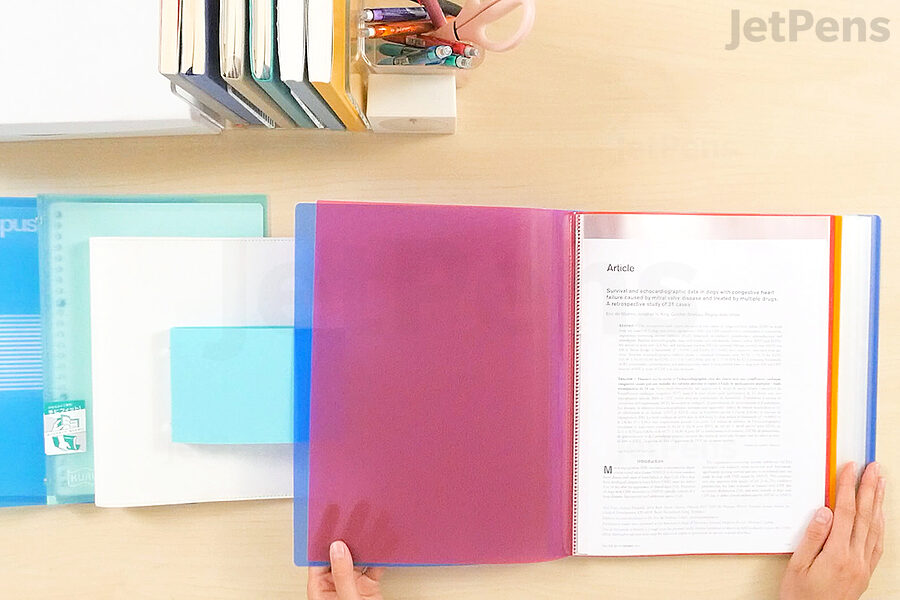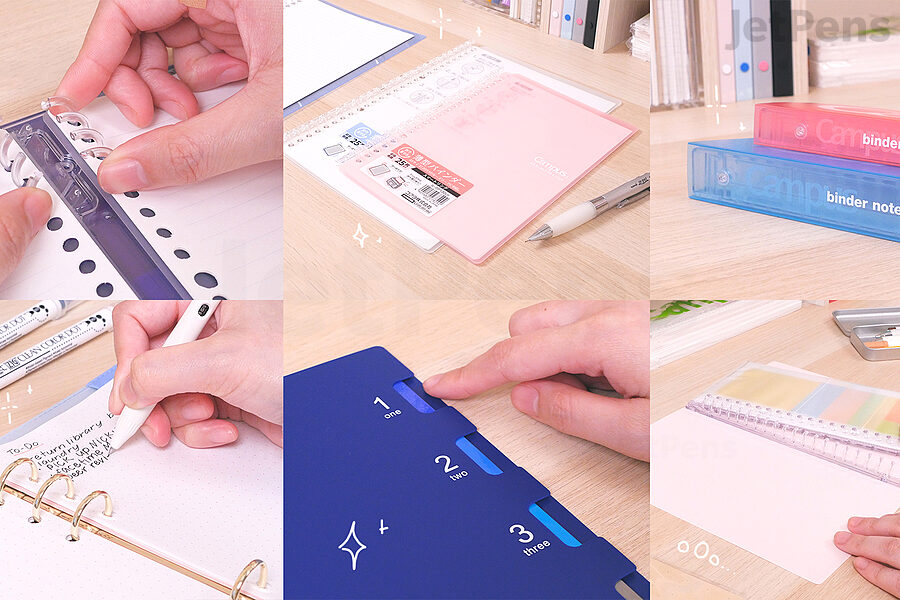 Japanese Binder Considerations
Number of Rings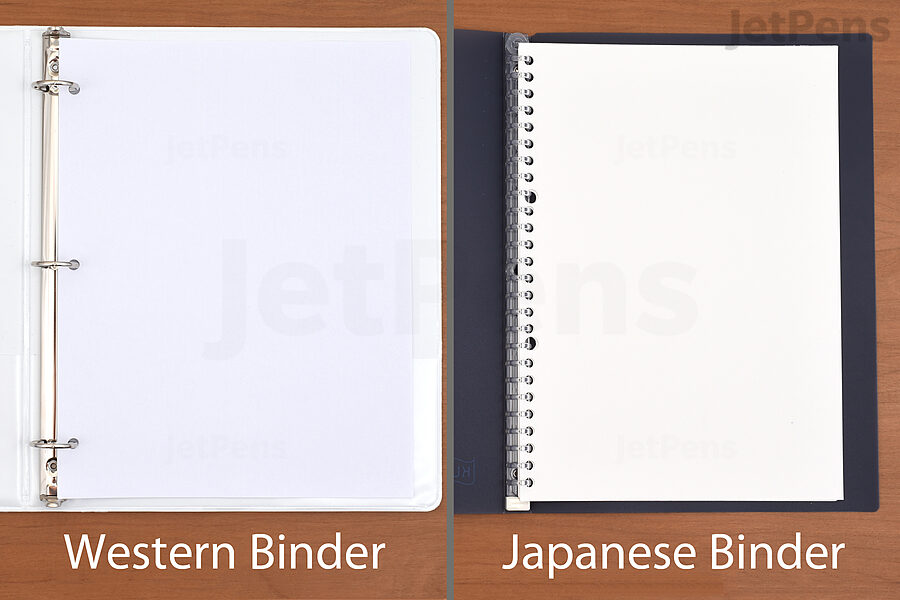 The biggest difference between Japanese binders and other binders is the number of rings used. Unlike American three-ring binders or European two-ring binders, Japanese binders can have as many as thirty rings to accommodate Japanese loose leaf paper. Because the number of rings and holes are so different, Japanese binders cannot be used with three-hole punched paper, nor can a three-ring binder fit Japanese loose leaf paper. However, most two-ring binders can use Japanese loose leaf paper.
Why do Japanese loose leaf papers have so many holes? A binder's rings produce more stress on the paper when there are fewer holes. Two- or three-hole punched papers often need hole reinforcement stickers. By designing sheets with many more holes, the stress is spread out evenly over the entire edge of the paper. This leads to fewer tears. In addition, if a tear does occur, the paper won't have to rely on just one or two holes to keep it inside the binder.
Binder Opening Mechanism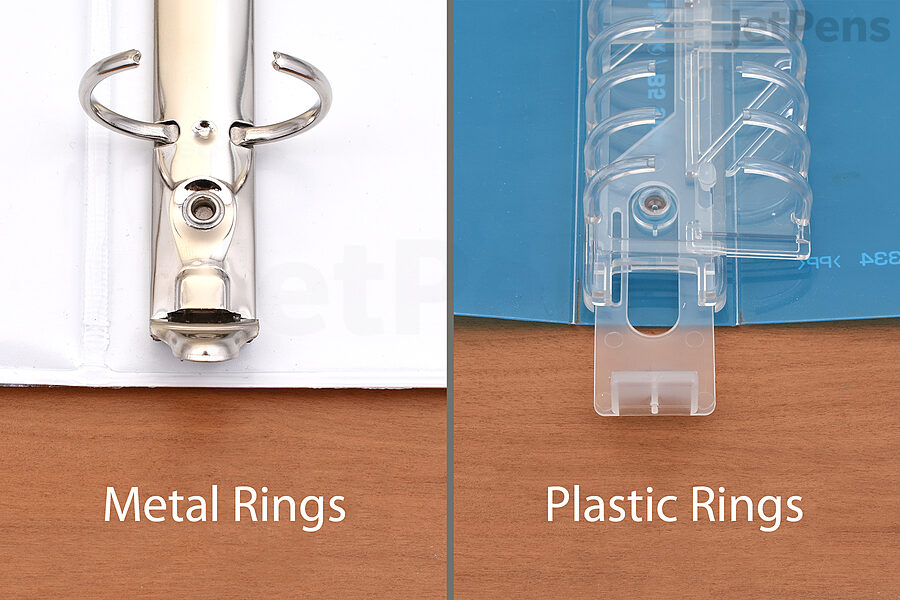 Western binders use metal rings with a spring mechanism that can be difficult to open. In addition, closing the rings usually means squeezing them shut, which can be painful if a finger gets caught in the prongs. Almost all Japanese binders use small plastic rings with special mechanisms that can be opened with ease. Many of them do not require you to touch the rings to snap them shut, so you don't have to worry about squeezed fingers.
Flexible Cover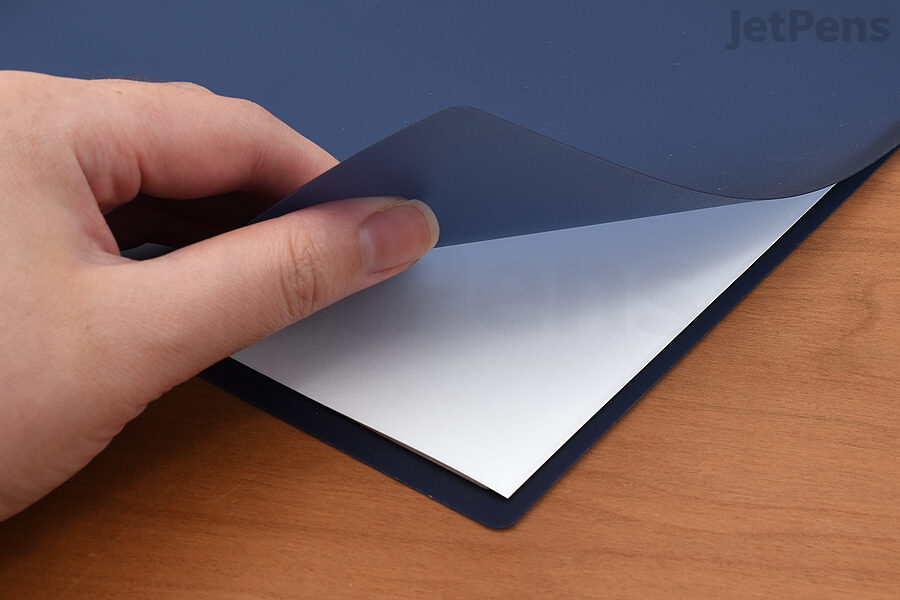 Most Japanese binders have covers that are made of firm yet flexible plastic, which makes them lighter than their Western counterparts. Though the difference may not seem like much, students who carry notebooks, textbooks, and binders in a backpack will definitely appreciate the lighter weight.
Paper Size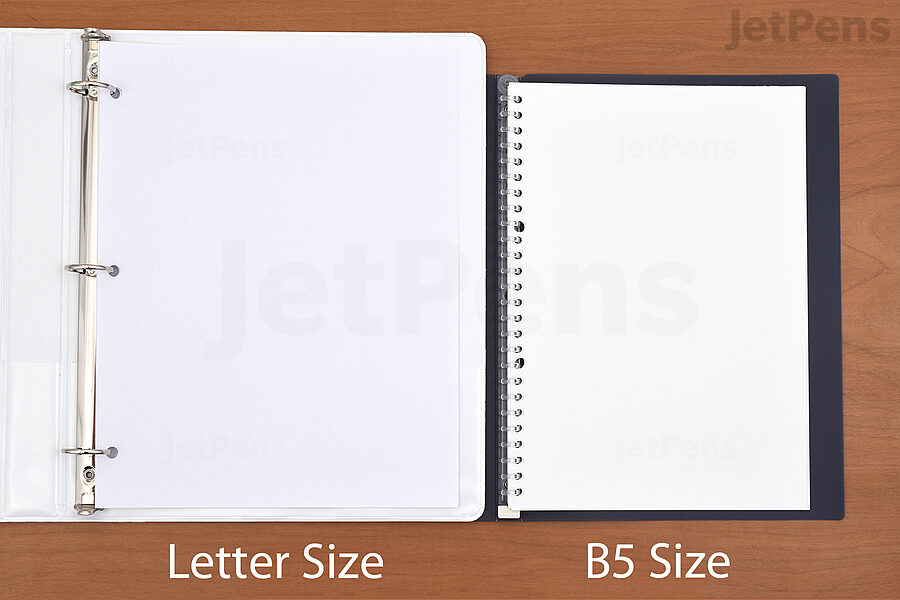 The most common Japanese binder size fits B5 papers. This paper size has plenty of space for notes without being unmanageably large. At 7.2 inches wide and 10.2 inches tall, it's similar in size to Western filler paper (which measures 8 inches by 10.5 inches) and about three quarters of an inch shorter than letter-sized paper. Some Japanese binders are also available in A5 and A4 sizes, which are smaller and larger than B5, respectively. You can learn more about paper sizes in our
guide
.
Paper Compatibility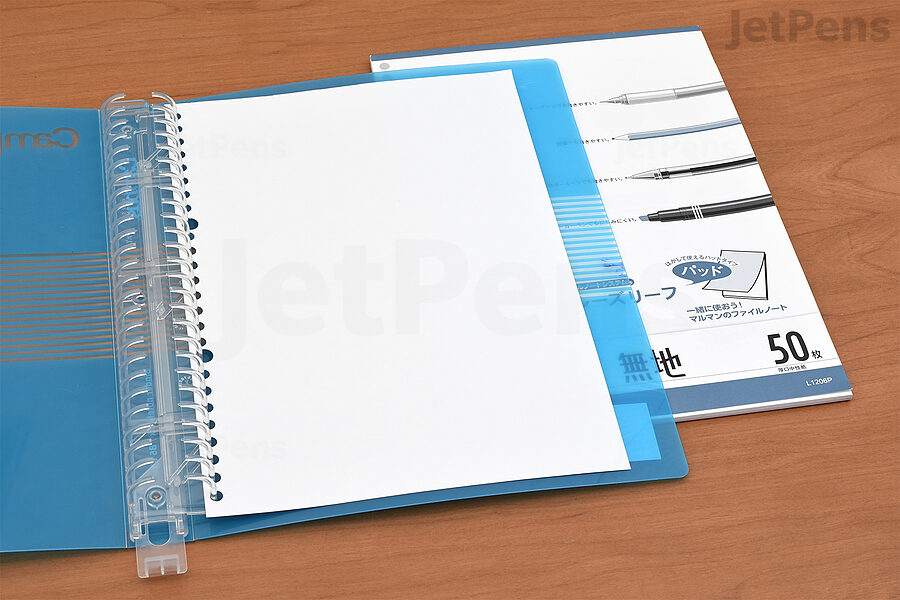 Most manufacturers also make refill papers for their binders, though it's rarely necessary to match the paper and binder brands. There is an international standard for the placement of the holes, which Kokuyo and Maruman follow. Thus, papers made by these two companies are generally interchangeable as long as the size of the paper and binder are the same. Helpfully, Maruman designed their loose leaf paper so that you can put smaller sheets in larger binders. Be sure to check out the "Recommended Refills/Parts" link in the description of a binder, or the "Compatible Products" link on a loose leaf paper's page, to see what products they can be used with.
Those who use A5 binders and want to use their own paper can purchase a hole punch. It punches the correct number of holes into sheets of A5 paper so that they can be added to a compatible 20-ring binder.
Lihit Lab notebooks and memo pads are the exception to the rule. They cannot use paper that would otherwise fit in a Kokuyo or Maruman binder and can only use sheets that are made by Lihit Lab. However, a hole punch is available so that you can make your own refills.
Japanese Binder Recommendations
More Great Japanese Binders
These binders are made for unpunched sheets, or only certain kinds of paper can fit in them.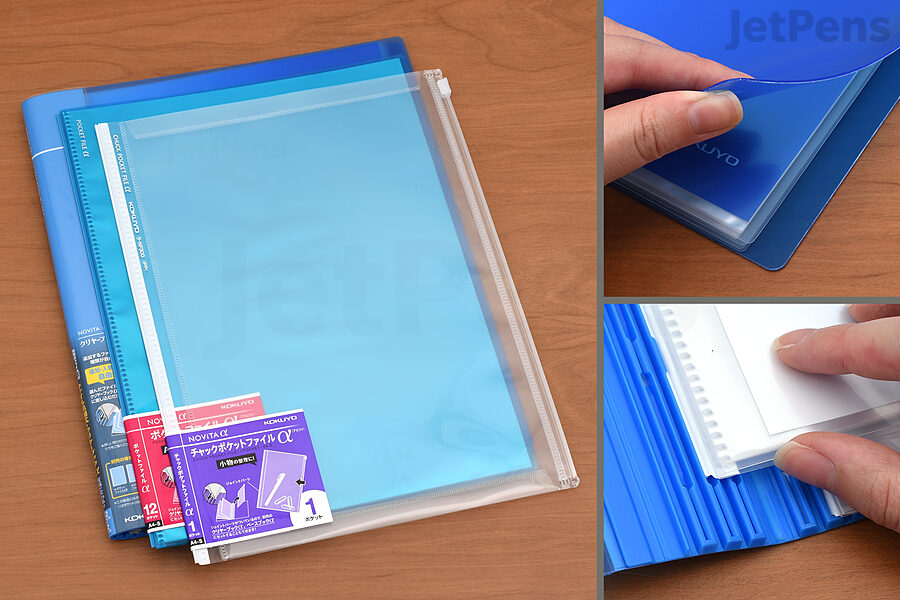 The
Kokuyo Novita Alpha
is not your typical binder, but we find it so useful that we just had to mention it. This filing system uses a
Clear Book
as the binder cover and
Files
as the document holders. Instead of a bulky ring mechanism, the files slide into the grooves on the inside of the Clear Book's spine. The cover expands to fit as many as six file holders, with a maximum capacity of six hundred sheets. The Novita Alpha works especially well with documents and handouts that must be organized and stay pristine. The pocket holders come in different colors so you can color code the contents, and accessories like zipped pockets are also available.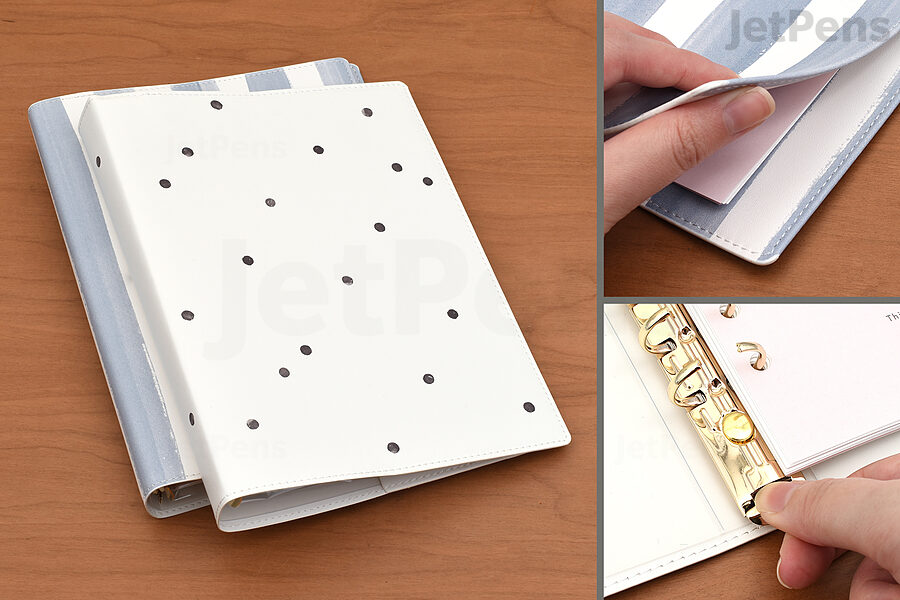 The charming
Mark's System Planner Binder
is a completely customizable planner system. The undated planner pages include weekly vertical, weekly horizontal, and monthly calendar formats. Pages can be added or removed throughout the week as necessary, and dot grid sheets can be used for extra notes. The System Planner uses six hole punched paper rather than standard Japanese loose leaf, though it's also compatible with A5 Filofax Organizer or Clipbook refills.
Conclusion
Which of these unique Japanese binders is your favorite? Let us know in the comments below. If you would prefer notebooks, we explore our favorite ones in this guide on The Best Notebooks for Every Use.
---
---