---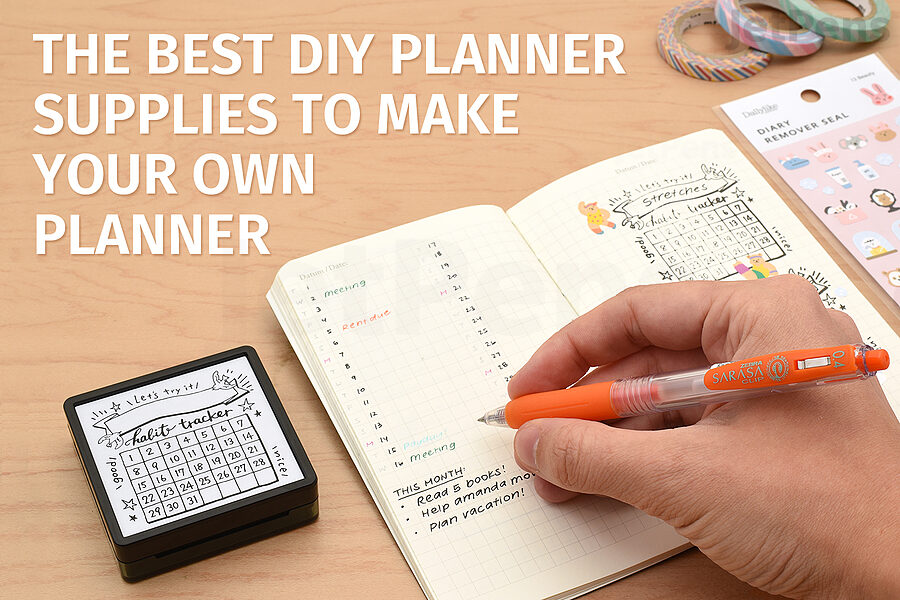 When it comes to getting things done, we trust our planners to hold every to-do list, habit tracker, and deadline along the way to fulfilling our goals. Planners are as personal as your style, and we've covered all kinds of planners in our search for the perfect one. But if the way you plan defies pre-printed options, a DIY custom planner could be the answer to your troubles.
A DIY planner is exactly what it sounds like: it's a planner that you make yourself. Whether you want a planner to double as a journal, have dozens of tasks to complete in a day, or simply want to use up your stash of notebooks, a DIY planner lets you include everything that might not have a place in a premade planner. Read on to see our favorite DIY planning tools, including stamps, washi tapes, and more.
Why Make Your Own Planner?
1. Use the space exactly how you see fit.
A pre-printed planner might dedicate too many pages to something you won't use, like a yearly index or hourly tracker. By making your own custom planner, you can make sure every spread stays flexible and pages won't go to waste. You can create a personal planner that works exactly the way you like to schedule your days.
2. Exercise your creativity more freely.
If you want to use your planner as a space to be more creative, adding a sticker here or there might not be enough to scratch the itch. Making your own planner lets you use washi tapes, stickers, stamps, and more to create every page that you will be using. Not only will you be able to express your creativity, you'll have a planner that fits your aesthetic.
DIY Planning Tools
Now that you have all your DIY planner supplies, you'll need somewhere to use them! The most exciting part of DIY planning is that you can use any of the supplies you already enjoy using. If you have a specific notebook and pen combination in mind, you don't need to compromise on any of the features you like. For DIY planner newbies, we've gathered some of our favorite notebooks and pens below.
How to Make Your Own Planner
More Planner Resources
Check out our planner guides with even more recommendations:
Need some inspiration for your DIY planner? Check out our guides on existing planners:
Make Your Plans
A DIY planner lets you use your favorite pens and notebooks to craft a planner that works best for you. Have you made a DIY planner? Let us know in the comments below.
---
---