---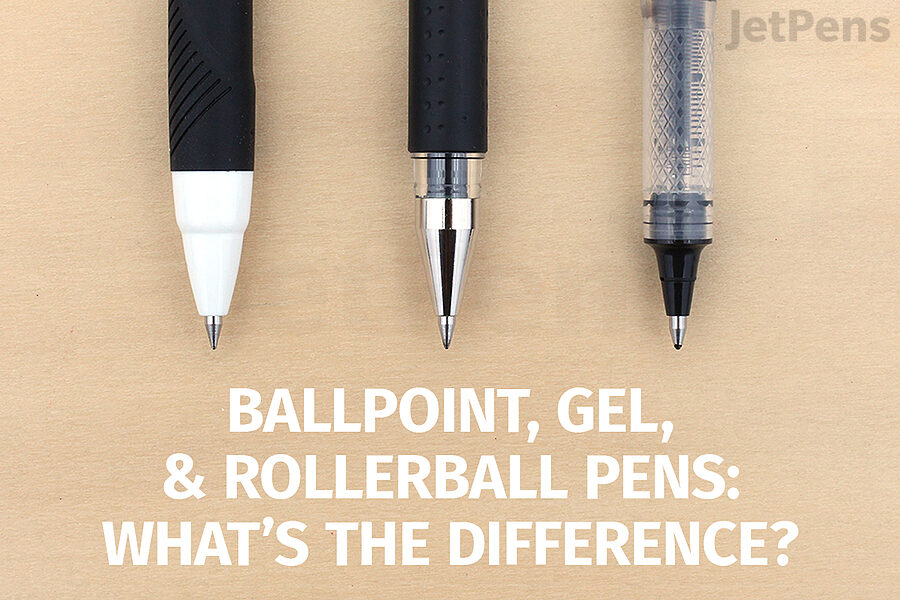 You've probably stumbled across ballpoint, gel, and rollerball pens in your quest for the perfect stationery before. They all look similar, but have their own quirks--so what exactly makes each one different from the other? In this guide, we'll explain what distinguishes these pen types, and when to use them. Read on for our recommendations on the top pens in each category!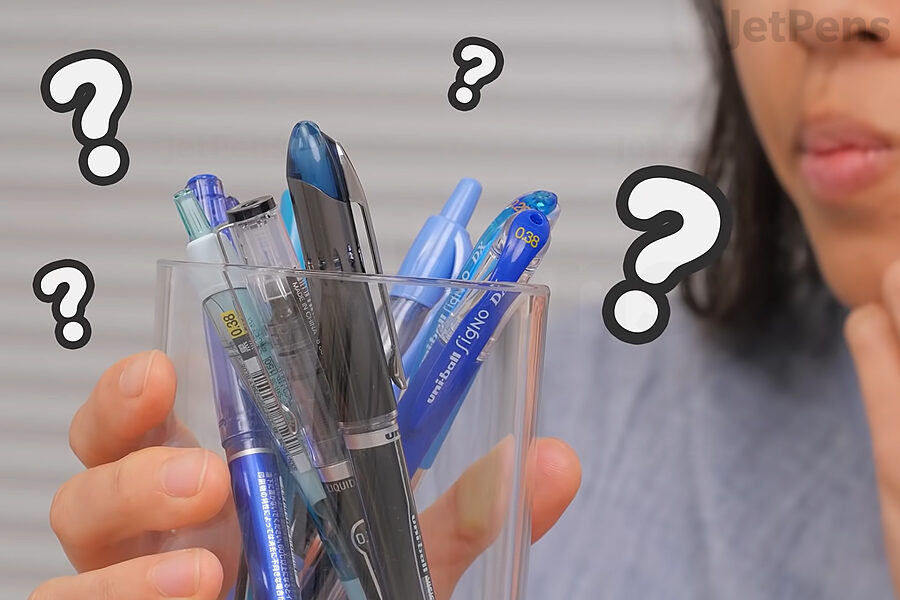 What's the Difference?
Ballpoint, gel, and rollerball pens all have one feature in common: they use a small, revolving ball in the tip to dispense ink. As you write, the surface of the ball is exposed to the ink reservoir, thus coating the ball and continuing the flow of ink. Where they differ is how the ink is formulated.
Ballpoint Ink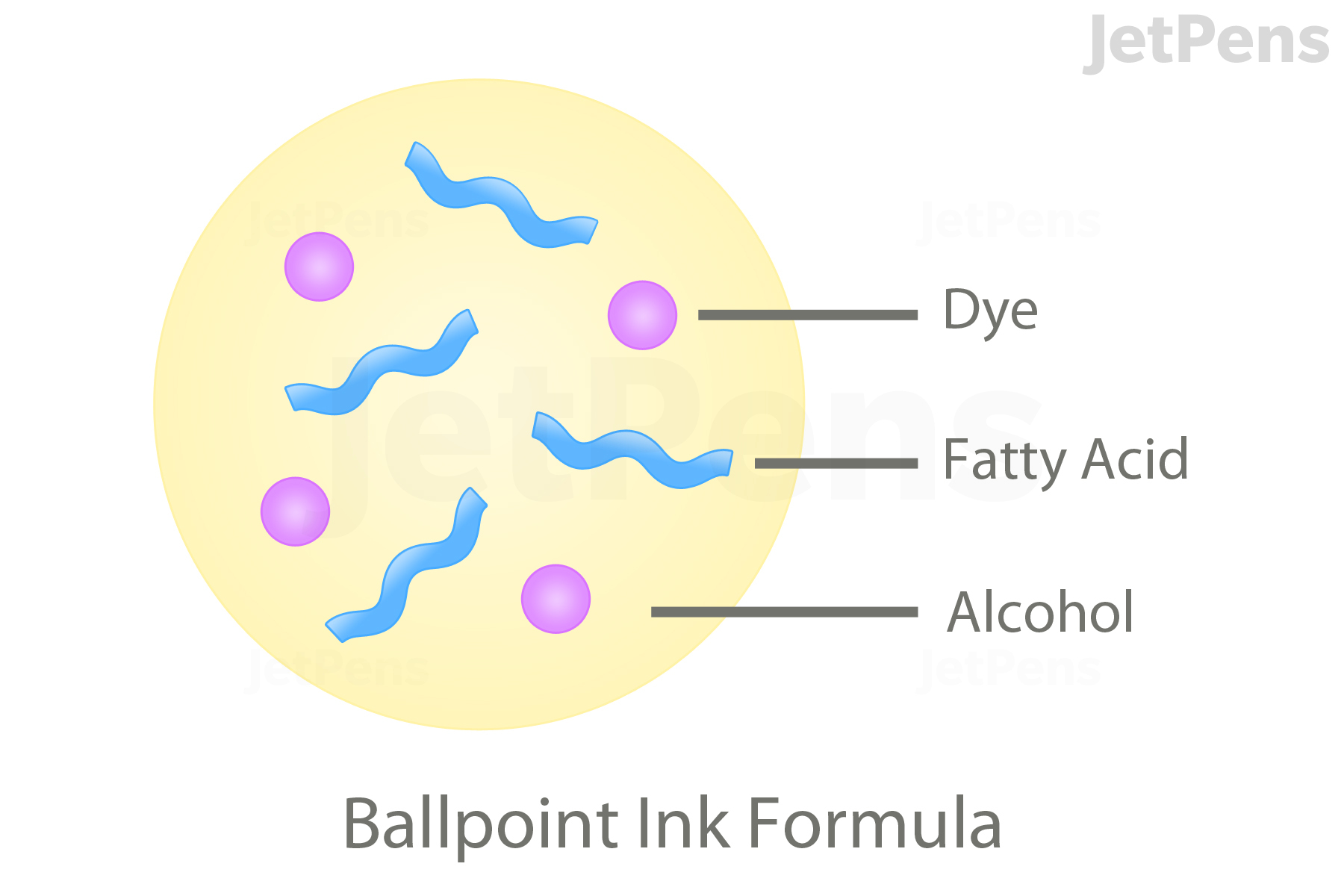 Ballpoint
pens use viscous, oil-based inks. They're made by dissolving dyes in a mixture of alcohols and fatty acids. Alcohols promote smooth ink flow, while fatty acids lubricate the tip of the pen. Because the ink is so thick, ballpoints work well on low-quality papers with little to no bleedthrough. However, they do require more pressure to write. This can be tiring over long periods of time, but some find these pens easier to control. Ballpoint inks are usually smudge resistant, quick drying, and waterproof.
Hybrid Ink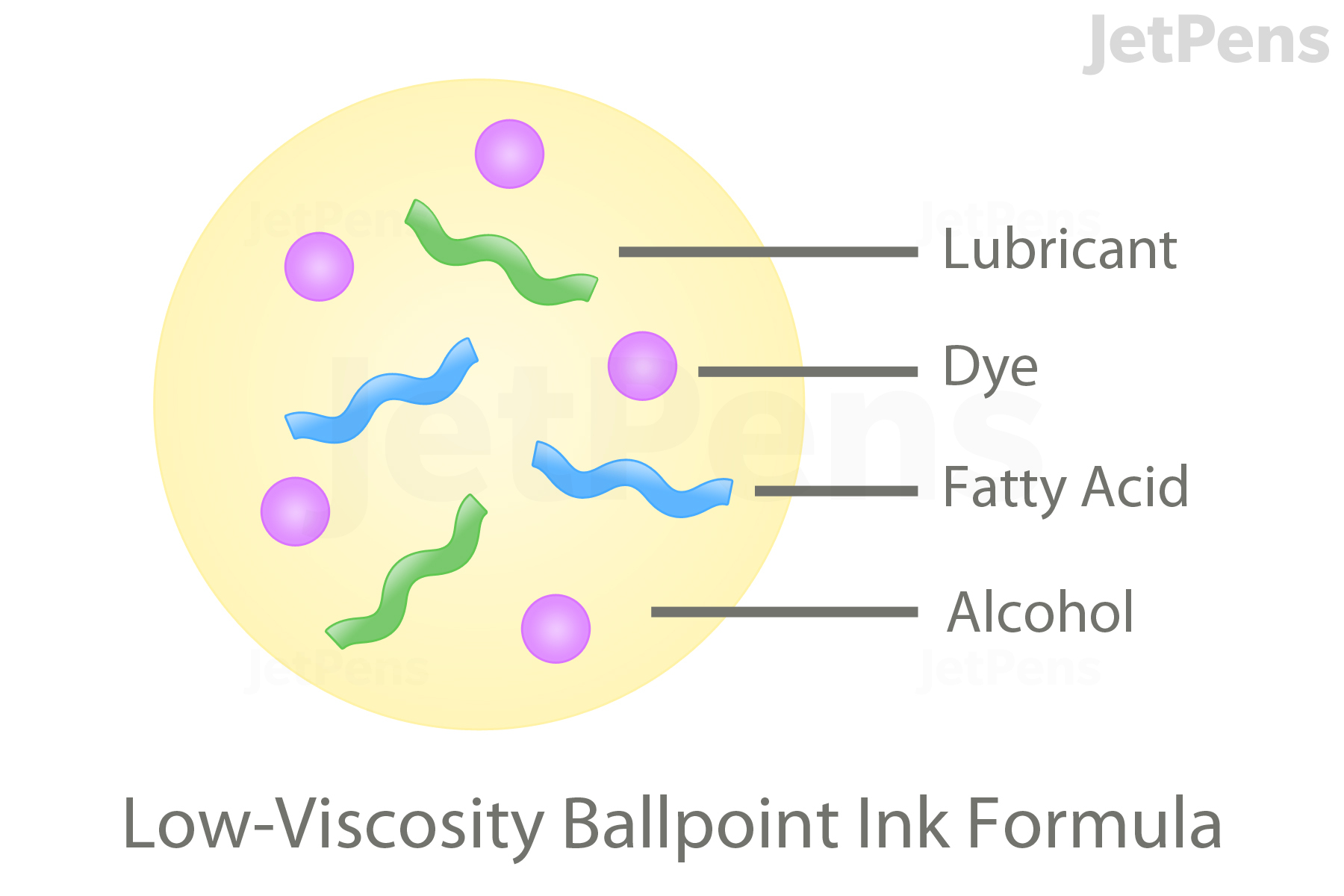 Some ballpoints use hybrid or low-viscosity ink. This refers to an ink formulation that is enhanced with lubricants, making the ball at the tip rotate smoothly. They combine the best of the gel and ballpoint pen worlds. Hybrid ballpoints have the smooth flow and vibrance of a gel pen and the quick-drying ability and waterproofness of a ballpoint.
To learn more about low-viscosity ink, check out our guide.
Gel Ink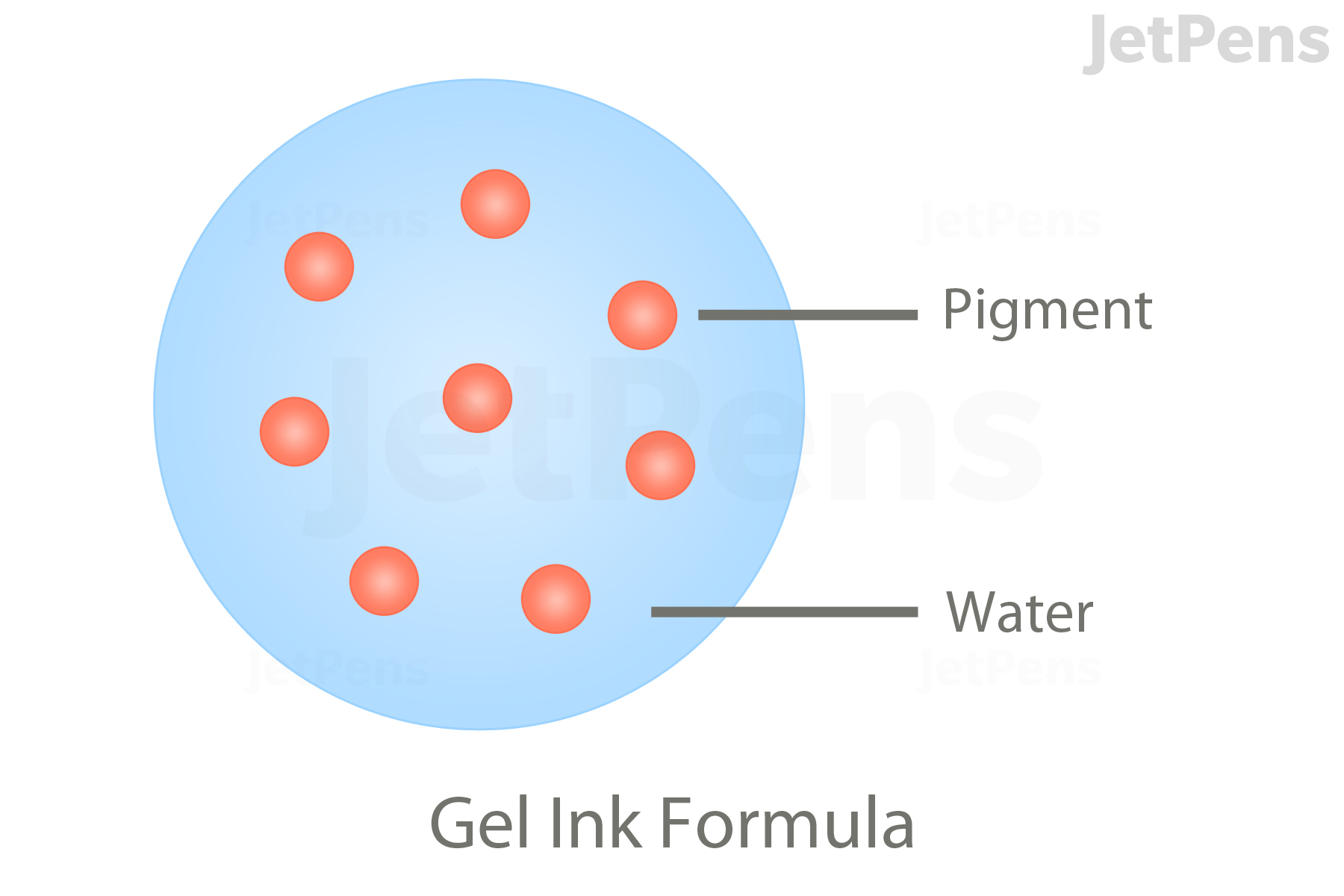 Gel
ink consists of pigment suspended in a water-based gel. This particular formulation makes gel pens precise and vibrant. Very few other pens come in tip sizes as small as 0.28 mm--or as many colors. The smooth ink flow makes it much easier to write for long periods of time with less pressure, so you won't get hand cramps as easily. However, gel pens tend to skip more than ballpoints or rollerballs. This is because their tips are not as evenly coated with the thinner, water-based ink. Gel pens also have longer dry times, so they can smudge if you're not careful.
Rollerball Ink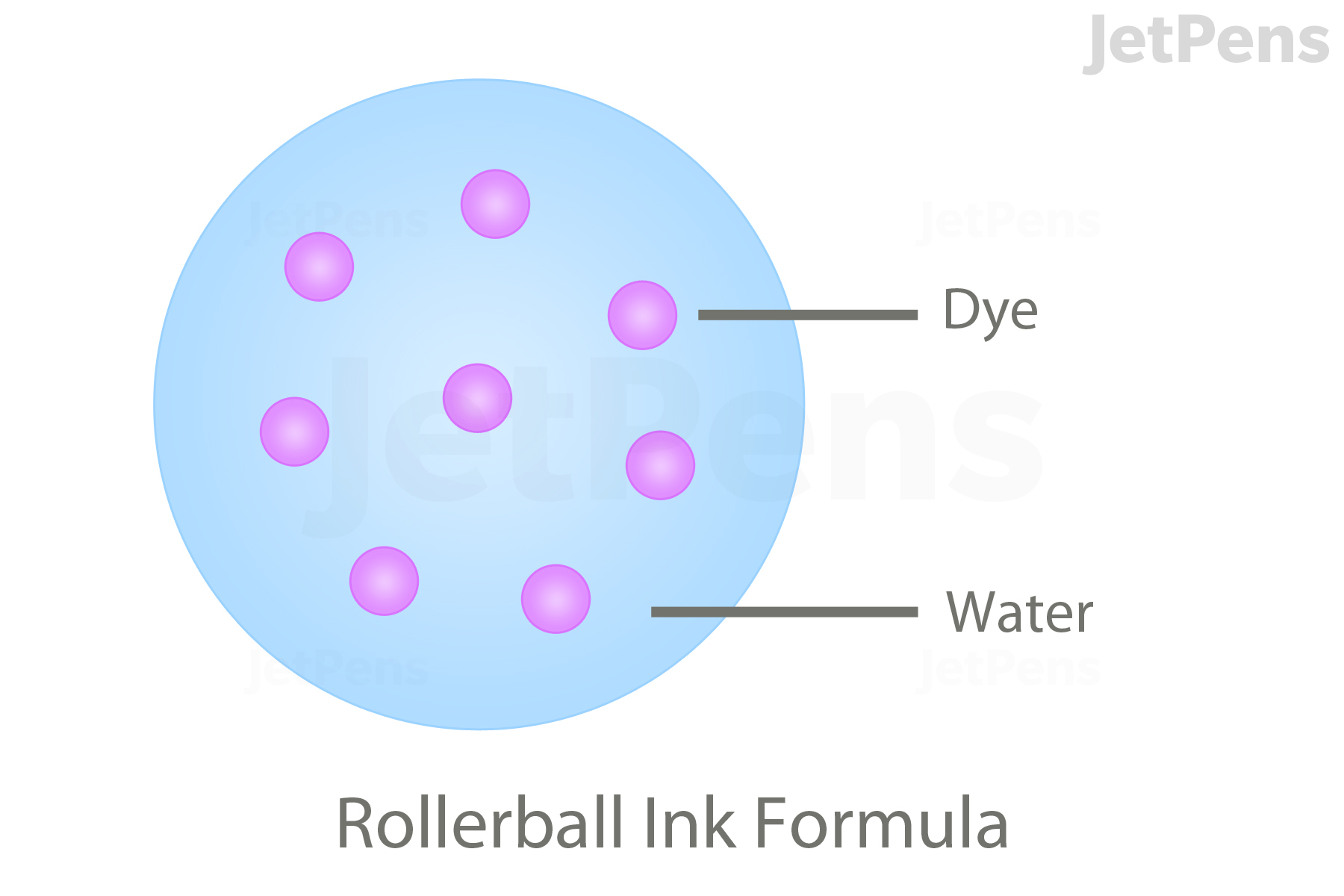 A
rollerball
pen uses liquid ink consisting of dyes dissolved in water--similar to what's commonly used with
fountain pens
. The ink flows freely in comparison to ballpoint and gel pens, so a rollerball requires less pressure to write. This helps to reduce hand strain and keeps you comfortable for long missives or note-taking sessions. However, using a liquid ink does mean that paper choice is important, as it will bleed through lower-quality papers. Rollerball pens often have more feedback (a tactile sensation where you "feel" the paper through the pen's tip) due to the thinness of the ink. For those who prefer the smooth writing experience of other pens, broader tips and wetter writers deliver a more lubricated feel.
When Should I Use Each Pen?
Ballpoint Pens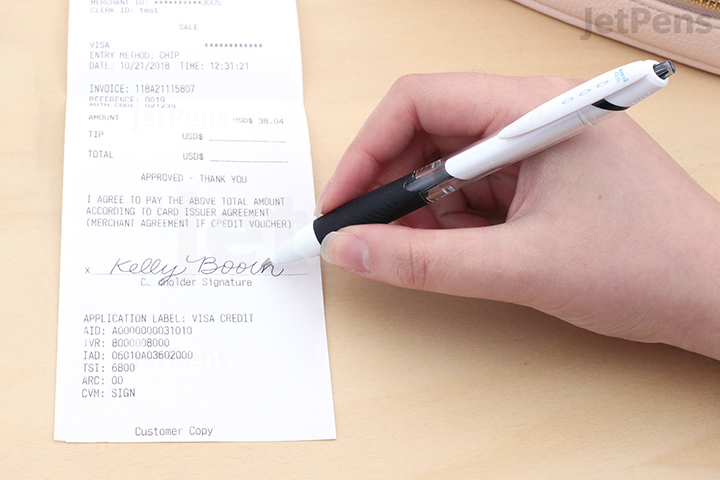 The viscous ink found in ballpoints is uniquely suited to writing on slick surfaces (like receipts or other thermal papers) that might smudge water-based inks. Thanks to their dependability, ballpoints make excellent
everyday carry
additions.
Because ballpoints require some pressure to write, they work well to ensure dark marks when paired with carbonless copy paper.
Gel Pens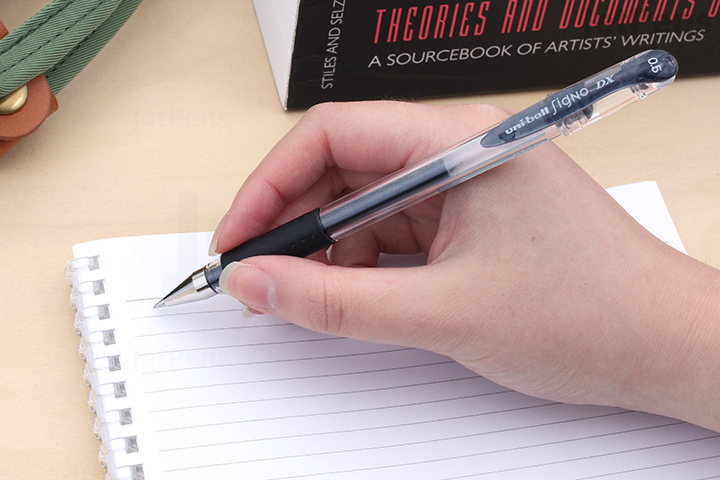 Gel pens are great for everyday note-taking. We recommend them highly for students who fill dozens of notebooks over the course of their school years. The wide variety of colors is simply unmatched by other pens, making it easy to color-code your notes in a veritable rainbow of shades.
Recommendations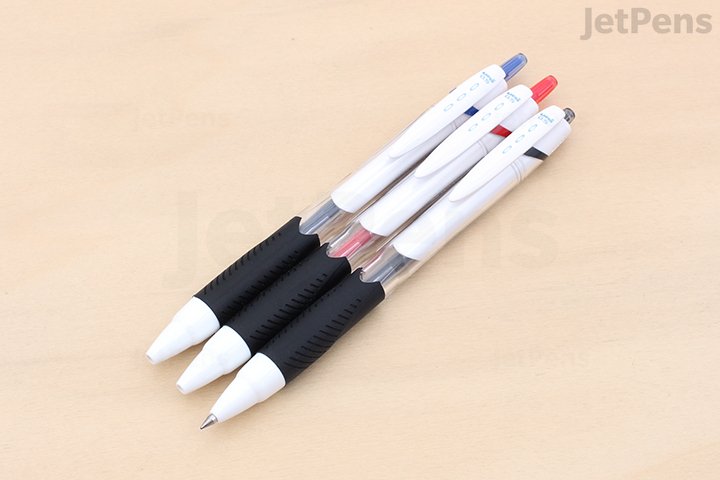 Our favorite ballpoint pen is the
Uni Jetstream
. It uses a special low-viscosity ink that just might change your mind on what a ballpoint pen should be. It writes smoothly with little effort, and even comes in tip sizes like 0.38 mm. We've found that Jetstreams run out a bit faster than other ballpoints, but we think it's a worthwhile trade-off for the writing experience.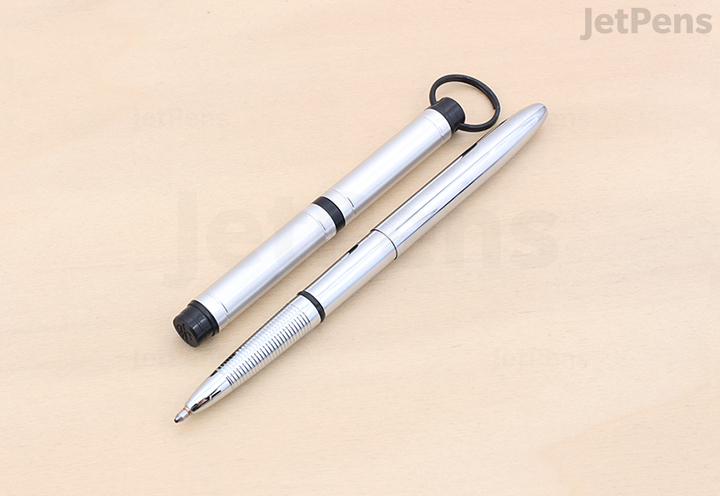 If you need your pen to write anywhere, including zero gravity, check out the
Fisher Space Pen
. With a pressurized ink refill, this pen writes upside down, on wet paper, and in extreme temperatures. The stylish Bullet is a sleek addition to any everyday carry kit, while the Backpacker includes a key ring so you won't have to think about bringing it along.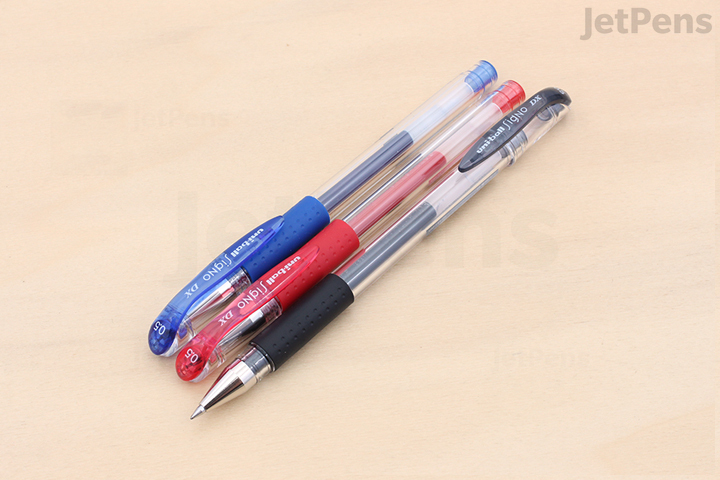 We recommend the
Uni-ball Signo UM-151
time and time again, and for good reason. This tried and true gel pen writes particularly smoothly in any tip size, from bold 0.7 mm to delicate 0.28 mm. Its vibrant ink comes in a wide array of colors, including pastel and metallic inks. Plus, the pigment-based formulation is waterproof and resists fading from light-exposure.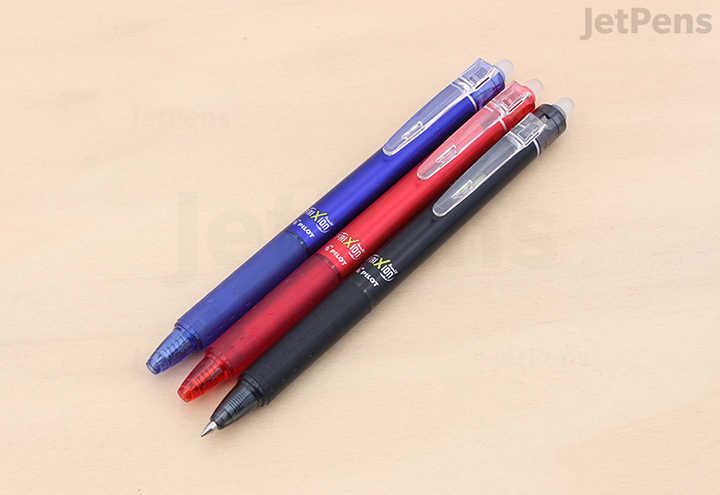 The
Pilot FriXion
is by far the best erasable pen, and the secret lies in the ink's formula. The thermosensitive ink turns invisible when exposed to heat, like that generated with friction. Because FriXion ink is heat-sensitive, don't leave your notebooks in hot cars or other warm environments. We also don't recommend signing important documents with a FriXion pen.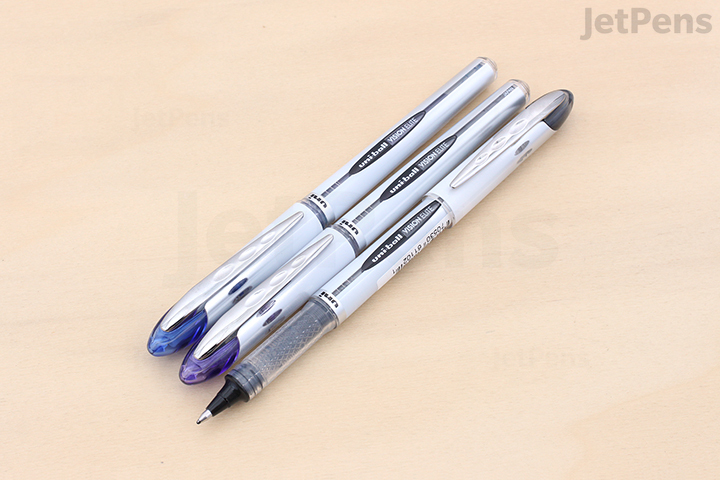 Though it looks humble, the
Uni-ball Vision Elite
packs a punch. Its velvety-smooth ink is skip-free and richly pigmented for an excellent writing experience. As a bonus, the ink is fraud-resistant and archival, so you can feel confident that checks and legal documents will stay unaltered.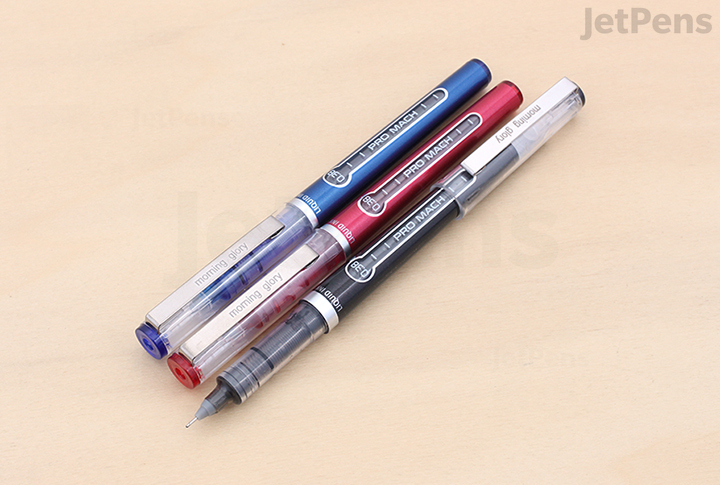 The
Morning Glory Pro Mach
boasts a 0.38 mm tip, almost unheard of in rollerball pens. You might even mistake it for a gel pen. It doesn't trade its fineness for scratchy writing either--the Pro Mach makes satisfyingly smooth lines with a hint of feedback for control.
CONCLUSION
Though
ballpoint
,
gel
, and
rollerball
pens may look similar, they each use different ink formulas--and they work best in different scenarios too. Which pen do you prefer to use? Let us know in the comments below!
---
---